Theater / Dance musics
2019.11.22
The musical "Mamma Mia!" That makes everyone happy Is in Yokohama!
KAAT KANAGAWA ARTS THEATRE Period: 2020.03.28-2020.08.10
39 days to go
「Theatrical company Shiki musical "Mamma Meer! "Yokohama Performance」
(Please note that this page was created using Google's automatic translation service and understand that because of this, its translation may not necessarily be accurate.)
(TOP image) Photo: Atsushi Shimosaka
From March 28, 2020 (Saturday), the troupe Shikiki will hold the KAAT Kanagawa Arts Theater <Hall> (Yokohama), the first musical in Yokohama, "Mamma Mia!" ] Will be performed. "Mamma Meer! Is a work made up of 22 hit numbers from the pop group "ABBA" that represents the 1970s. The story of mother-daughter bonds and friendship is set on a small island in Greece, and is played on familiar ABBA songs. It is said to be the pioneer of "Jukebox Musical", which arranges existing songs into a single story. At the time of a curtain call, the audience is full of energy, and the phenomenon that the audience stands and dances occurs.
Since its world premiere in London in 1999, it has performed many times around the world, reaching a cumulative audience of 65 million. Of course, this momentum is the same in Japan during the four seasons, and since its premiere in Tokyo in 2002, it has been performed in nine cities nationwide (Sapporo, Sendai, Shizuoka, Nagoya, Osaka, Kyoto, Hiroshima and Fukuoka). The total number of performances is 3,015 and the total number of mobilizations is about 2.68 million. In addition, the film was made into a movie in 2008 following a huge hit on the stage, and recorded the world's No. 1 worldwide box office revenue in musical movie history at that time. It has been proven to be a work loved for generations. And in 2018, a sequel movie was released, and the momentum never stops.
"Mamma Meer!" Will be performed in Fukuoka (Canal City Theater) in the fall of 2020 and in Kyoto (Kyoto Theater) in 2021. The musical "Mamma Meer!" -Please look forward to a performance in Yokohama where the port is full of fragrance.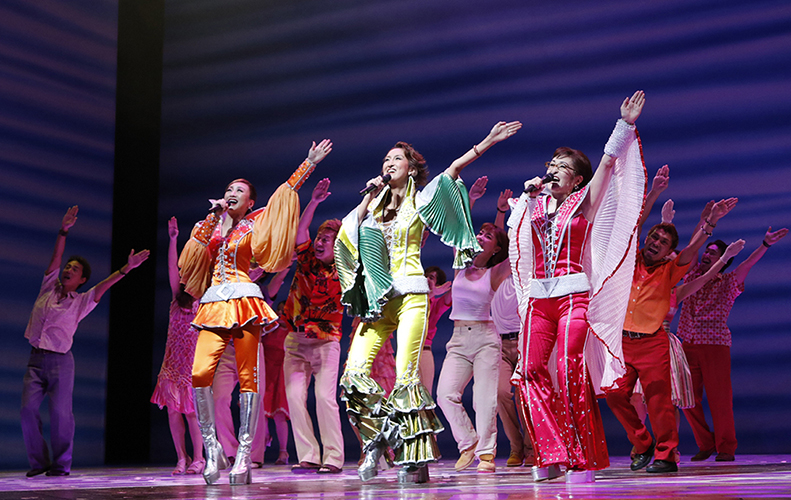 # 808080; "> Photo by Atsushi Shimosaka
Ticket release on Saturday, December 14, 2019!
Theatrical company Shiki musical "Mamma Meer! "Yokohama Performance
[Date] March 28 (Sat)-August 10 (Mon / Holiday) 2020
* Time varies depending on the day. Please check KAAT official website .
[Venue] KAAT Kanagawa Arts Theater <Hall>
[Price] S seat ¥ 11,000, A seat ¥ 8,800, Side A seat ¥ 8,800, B seat ¥ 6,600, Side B seat ¥ 6,600, C seat ¥ 3,300, Side C seat ¥ 3,300, Standing seat with side chair ¥ 3,300
[Organizer] Kanagawa Prefecture, Yokohama City, Kanagawa Arts Foundation, Shiki Theater Company
[Ticket sales]
■ Ticket Kanagawa WEB reservation here ! TEL.0570-015-415 (10: 00-18: 00)
■ Theatrical company four seasons WEB reservation from this ! TEL.0570-077489
■ JR East Four Seasons Theater Reservation Center TEL.03-5953-5490 (10: 00-18: 00)
■ Ticket Pia WEB reservationor: # 33cccc; "> Click here !! TEL.0570-02-9999
[Inquiry] 0570-008-110 (10: 00-17: 00 / Shiki Theater Company four seasons)
A facility dedicated to performing arts such as theater, musicals and dance. With Akira Shirai, an actor and director, as an artistic director, we create and disseminate outstanding performing arts works such as plays, musicals and dances.

(External photo) © Hideo Mori

Address

281 Yamashita-cho, Naka-ku, Yokohama-shi, Kanagawa

TEL

045-633-6500

Map