Theater / Dance musics
2020.01.31
Ryohei Kondo and Takashi Nagazumi invite "great journey 4th" to yesterday and tomorrow
YOKOHAMA RED BRICK WAREHOUSE Period: 2020.03.19-2020.03.22
Ends in 9 days
「Ryohei Kondo (Condors) x Takashi Nagazumi (Hanaregumi) "great journey 4th"」
(Please note that this page was created using Google's automatic translation service and understand that because of this, its translation may not necessarily be accurate.)
Now, where to go
Invited by the scent of the tide
Ninato Yokohama overlooking the sea
Ryohei Kondo (Condors)
With Takashi Nagazumi
A journey around music and dance
Set in a historic building, Yokohama Red Brick Warehouse
Every day is a special session
Great journey to yesterday and tomorrow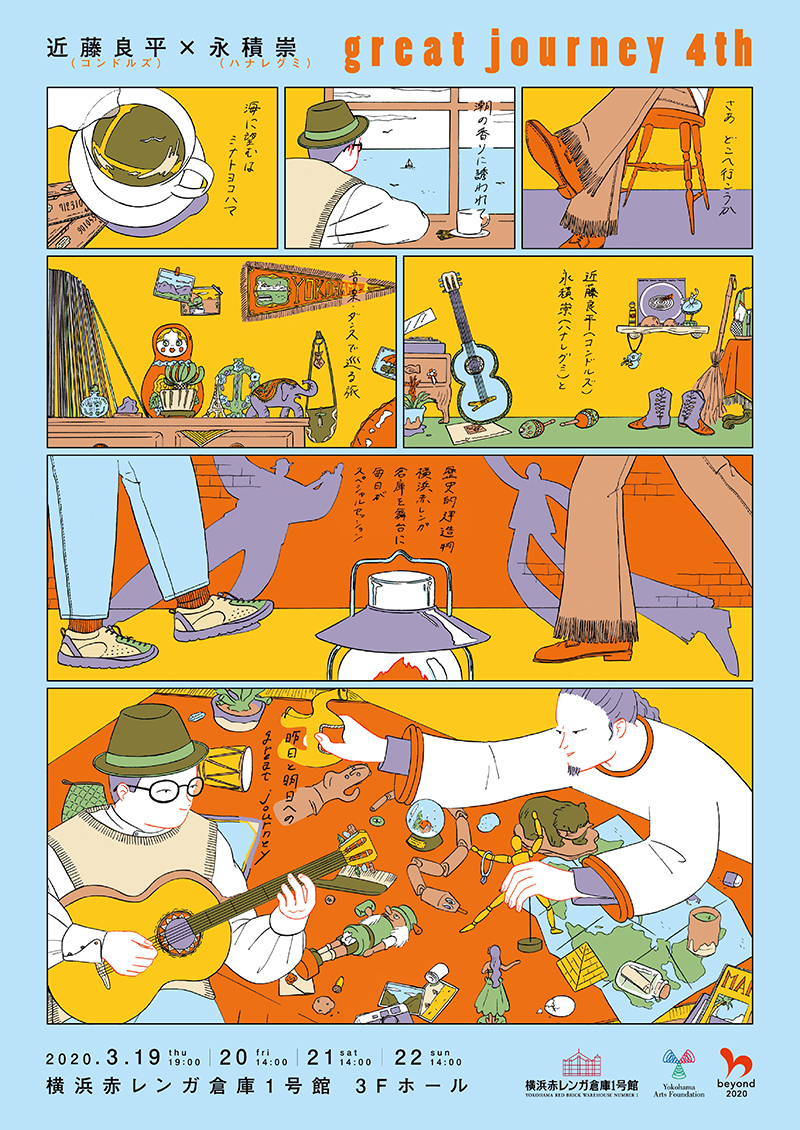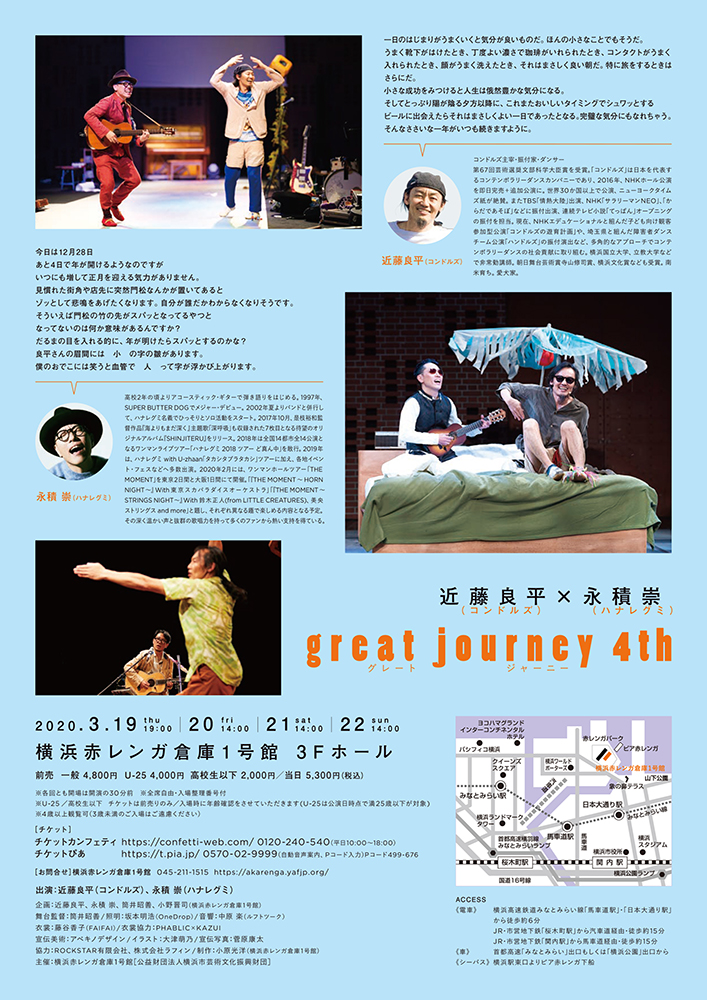 Ryohei Kondo (Condors) x Takashi Nagazumi (Hanaregumi)
`` Great journey 4th ''
[Date] March 19 (Thu)-22 (Sun)
3/19 (Thu) 19: 00-
3/20 (Friday / holiday) 14: 00-
3/21 (Sat) 14: 00-
3/22 (Sun) 14: 00-
* Every time 30 minutes before the opening
[Venue] Yokohama Red Brick Warehouse No. 1 Building 3F Hall
[Performers] Ryohei Kondo (Condors), Takashi Nagazumi (Hanaregumi)
[Price] (All seats / admission number included) (advance ticket) General ¥ 4,800, under 25 years old ¥ 4,000, high school students ¥ 2,000, (same-day ticket) ¥ 5,300
* Discount tickets for under 25 and high school students are only for advance tickets. You will be asked to confirm your age at the time of entry (25 years and under must be at least 25 years old as of the performance date).
[Ticket sales]
■ Kanfeti TEL.0120-240-540 (weekdays 10:00 to 18:00)
■ Ticket Pia (P code: 499-676) TEL. 0570-02-9999 (Automatic voice guidance, P code input)
[Organizer] Yokohama Red Brick Warehouse No. 1 (Yokohama Arts Foundation)
[Inquiry] 045-211-1515 (Yokohama Red Brick Warehouse No. 1 Building / 10: 00-18: 00)
* Available for viewers aged 4 and over (Please refrain from entering under 3 years old).
The Yokohama Red Brick Warehouse was established in the Meiji and Taisho eras as a model warehouse for the country. On the shopping floor where small shops line the eaves, leaving a remnant of the warehouse at the time, there are a wide variety of shops from various brands originating in Yokohama, souvenirs from Yokohama, shops with individuality unique to Yokohama Red Brick Warehouse. .
As for cafes and restaurants, there are shops that can be used in various scenes, from food courts that can be used easily to stores that have a mood that takes advantage of the great location.
Various events are held in the event square every season, and the hall and space of the first building creates and transmits art and culture unique to Yokohama through dance, drama, concerts and other performances and various exhibitions.
Address

1-1 Shinko, Naka-ku, Yokohama-shi, Kanagawa

TEL

[Building No.1 (Hall Space)] 045-211-1515 / [Building No.2] 045-227-2002

Business Hour

[Building No.1] 10: 00-19: 00 * Hall space varies depending on the event / [Building No.2] 11: 00-20: 00 * Cafes and restaurants vary by store
Map