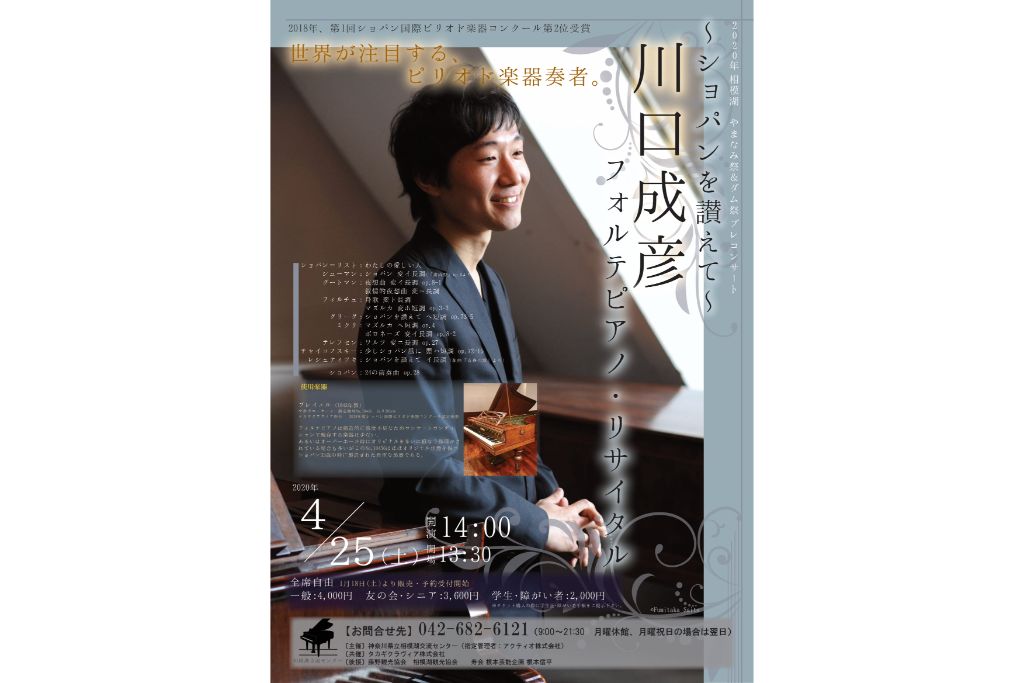 音楽
[Postponed] The tone of the time played by a period instrument player who is drawing attention from around the world.
* The "-In Honor of Chopin-Naruhiko Kawaguchi Fortepiano Recital" scheduled to be held at the Sagamiko Exchange Center has been postponed to prevent the spread of the new coronavirus infection. Please see " here " for details.
Pianos that are often seen at schools and the Bösendorfer that the hall is proud of. Did you know that there is a piano called "Fortepiano" among such pianos?
In this performance, a very valuable piano called Fortepiano, which was made in the 18th and 19th centuries, will come to our hall, which is famous for its good sound.
Naruhiko Kawaguchi, who won the second prize at the 1st Chopin International Period Instrument Competition in 2018, will perform.
Using Chopin's favorite piano Pleyel (made in 1843), we will deliver the tone of Chopin and his disciples at the time of composition.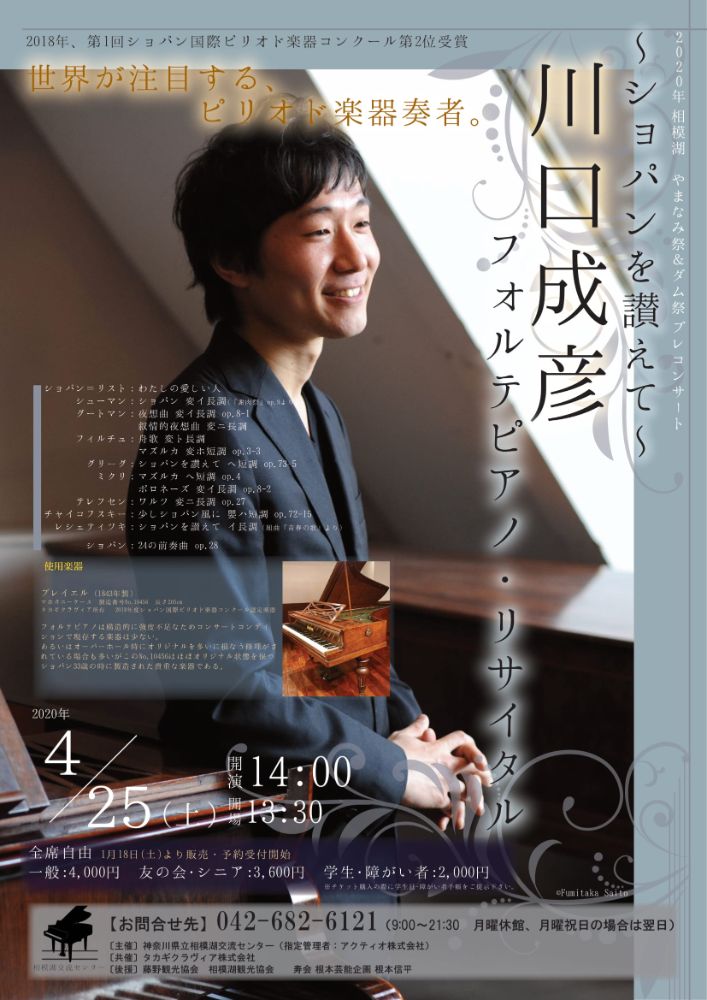 ~ Praise Chopin ~
Naruhiko Kawaguchi Fortepiano Recital
[Date and time] April 25 (Sat) 14:00 start (13:30 open)
[Venue] Sagamiko Exchange Center Multipurpose Hall
[Cast] Naruhiko Kawaguchi (piano)
[Song]
Chopin-List: My dear one
Schumann: Chopin in A flat major (from "Carnaval" op.9)
Gutman: Nocturne in A flat major op.8-1
Gutmann: Lyrical Nocturne in D flat major
Filchu: Barcarolle in G flat major
Filchu: Mazurka in E-flat minor op.3-3
Grieg: In praise of Chopin in F minor op.73-5
Mikuri: Mazurka in F minor op.4
Mikuri: Polonaise in A flat major op.8-2
Telefsen: Waltz in D flat major op.27
Tchaikovsky: A little Chopin-like in C sharp minor op.72-15
Leschetizky: In praise of Chopin in A major (from the suite "Song of Youth")
Chopin: 24 Preludes op.28
[price]
All seats are free General: ¥ 4,000 / Senior / Friends Association: ¥ 3,600 / Students / Persons with disabilities: ¥ 2,000
[Ticket] Reservations and reserves can be made at the counter or at 042-682-6121 (Sagamiko Exchange Center).
[Organizer] Kanagawa Prefectural Lake Sagami Exchange Center (Designated Manager Aktio Co., Ltd.)
[Co-sponsored] Takagi Clavier Co., Ltd.
[Support] Sagamiko Tourism Association Fujino Tourism Association Kotobukikai Nemoto Performing Arts Planning Shinpei Nemoto
[Inquiries] 042-682-6121 (Sagamiko Exchange Center / Reception hours 9:00 to 21:30)
* Closed on Mondays (the next day if Monday is a national holiday)
Outline of the event
Schedule
Place

Kanagawa Prefectural Lake Sagami Exchange Center

A Kanagawa prefectural cultural facility built on the shores of Lake Sagami.
A 456-seat multi-purpose hall with Bösendorfer, an art gallery, a training room and a lesson room are available.
The dam card distribution place of Sagami Dam. The cafe on the 2nd floor, Ao Ringo, is the place to sell Sagami dam curry.
The multipurpose hall is also called the sacred place for recording CDs such as classical music, and is a very popular hall.

Owns a grand piano Bösendorfer Model 275 that can only be used in multipurpose halls.
Flexible exhibition is possible in the art gallery with movable walls.

<Access> Get off at "Sagamiko" station on the JR Chuo Main Line and walk for 10 minutes.

About the facility Access