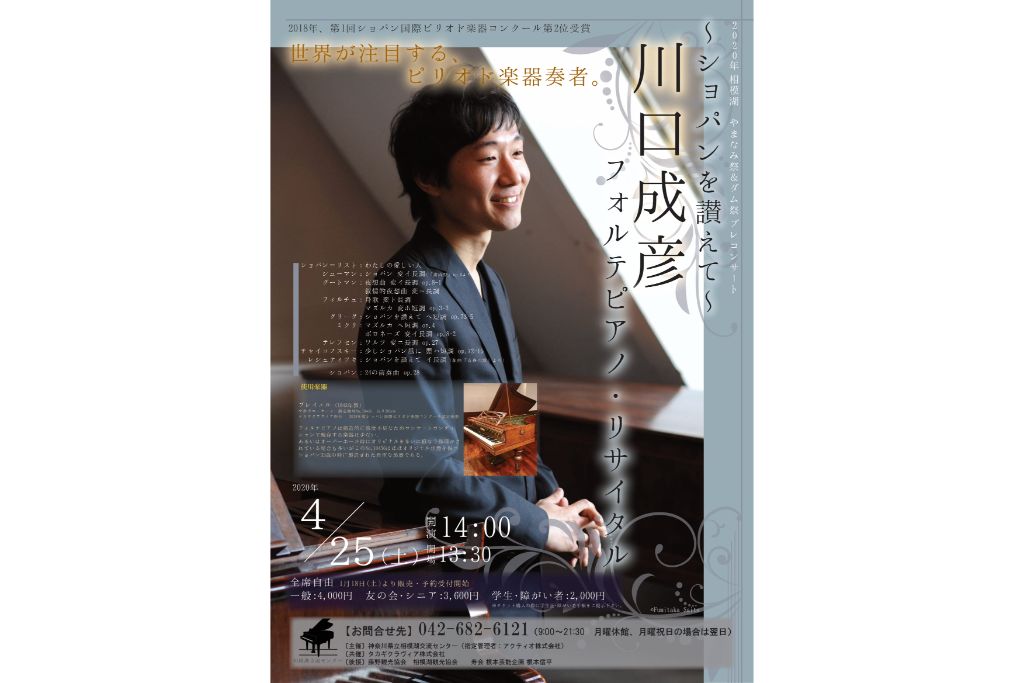 音楽
[Postponed] The tone of the time played by the world-famous period instrument player
*The "~In Praise of Chopin~ Shigehiko Kawaguchi Fortepiano Recital" scheduled to be held at the Sagamiko Exchange Center has been postponed to prevent the spread of the new coronavirus infection. For details, please check here .
We often see pianos such as Bösendorfer, which is the pride of our school and our hall. Did you know that among such pianos there is a piano called "fortepiano"?
In this performance, a very valuable piano made in the 18th and 19th centuries, called a fortepiano, will come to our hall, which is famous for its excellent sound.
The performer is Shigehiko Kawaguchi, who won the 2nd prize at the 1st Chopin International Competition for Period Instruments in 2018.
Using Chopin's favorite piano Pleyel (made in 1843), we will deliver the sounds of the time when Chopin and his disciples composed.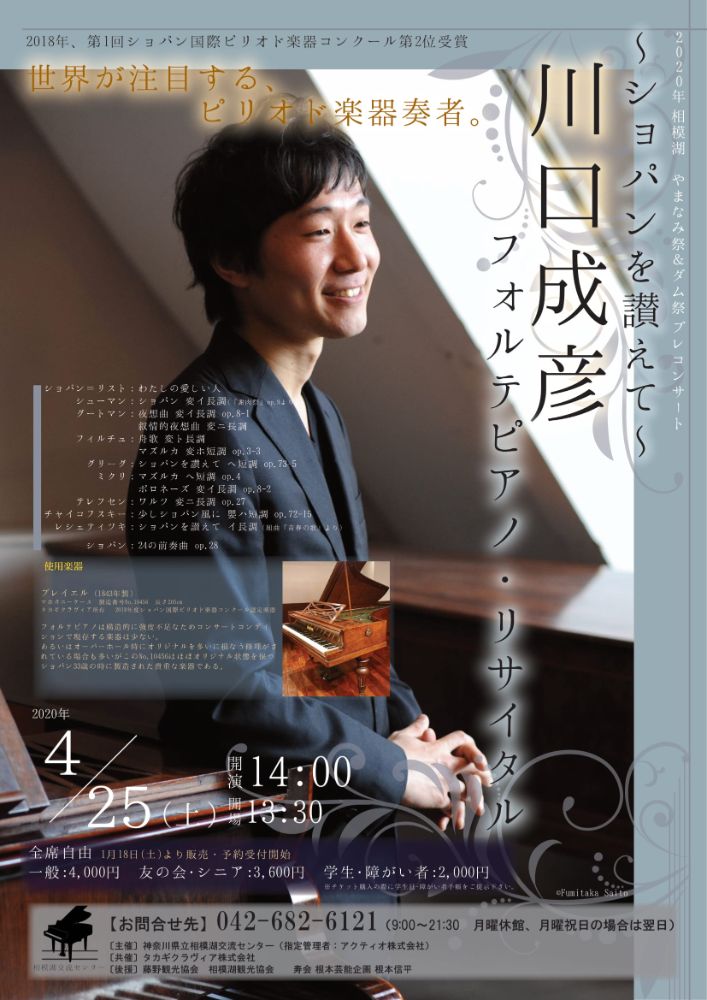 ~Homage to Chopin~
Shigehiko Kawaguchi Fortepiano Recital
[Date and time] April 25 (Sat) 14:00 start (13:30 open)
[Venue] Sagamiko Exchange Center Multipurpose Hall
[Appearance] Shigehiko Kawaguchi (piano)
[Songs]
Chopin Liszt: My Beloved
Schumann: Chopin in A flat major (from "Carnival" op.9)
Gutmann: Nocturne in A-flat major, op.8-1
Gutmann: Lyrical Nocturne in D flat major
Filchu: Barcarolle in G-flat major
Filtu: Mazurka in E-flat minor op.3-3
Grieg: Homage to Chopin in F minor, op.73-5
Mikuli: Mazurka in F minor op.4
Mikuri: Polonaise in A-flat major, op.8-2
Terefsen: Waltz in D flat major op.27
Tchaikovsky: A little like Chopin in C sharp minor op.72-15
Leshetitzki: In Praise of Chopin in A major (from Suite "Song of Youth")
Chopin: 24 Preludes op.28
[price]
All seats are unreserved General: ¥4,000 / Seniors and Friends: ¥3,600 / Students and people with disabilities: ¥2,000
[Tickets] Reservations and reservations can be made at the counter or at 042-682-6121 (Sagamiko Exchange Center).
[Organizer] Kanagawa Prefectural Sagamiko Exchange Center (designated manager Actio Co., Ltd.)
[Co-organizer] Takagi Clavia Co., Ltd.
[Sponsor] Sagamiko Tourism Association Fujino Tourism Association Kotobukikai Nemoto Performing Arts Planning Shinpei Nemoto
[Inquiries] 042-682-6121 (Sagamiko Exchange Center/Hours 9:00-21:30)
*Closed on Mondays (If Monday is a holiday, the following day will be closed)