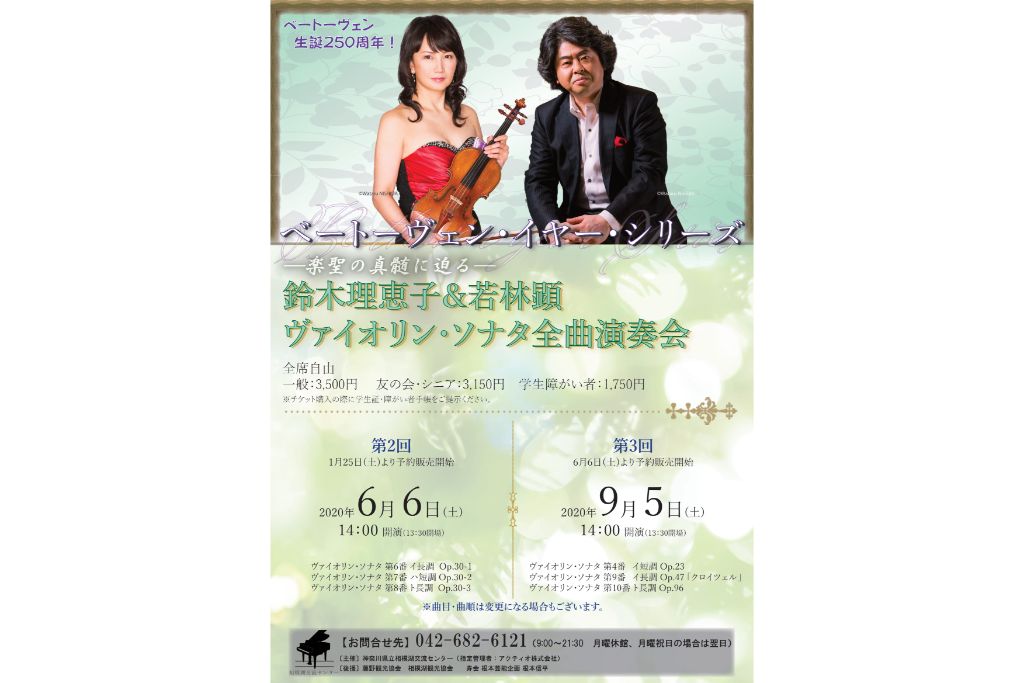 音楽
[Postponed] Commemorating the 250th anniversary of Beethoven's birth! violin sonata concert
*The "Beethoven Year Series Rieko Suzuki & Akira Wakabayashi 2nd Complete Violin Sonata Concert" scheduled to be held at the Sagamiko Exchange Center has been postponed to prevent the spread of the new coronavirus infection. rice field. For details, please check here .
"Destiny", which starts with "jajajajaan", and "Ninth", which is familiar to hear in December, along with "Ode to Joy".
2020 marks the 250th anniversary of the birth of music history revolutionary Ludwig van Beethoven, who created many famous songs.
In this memorable year, the Sagamiko Exchange Center will hold a total of four violin sonata concerts by two people who are familiar with recordings and concerts and the hotel.
On the occasion of the 250th anniversary of his birth, we trace Beethoven's violin music!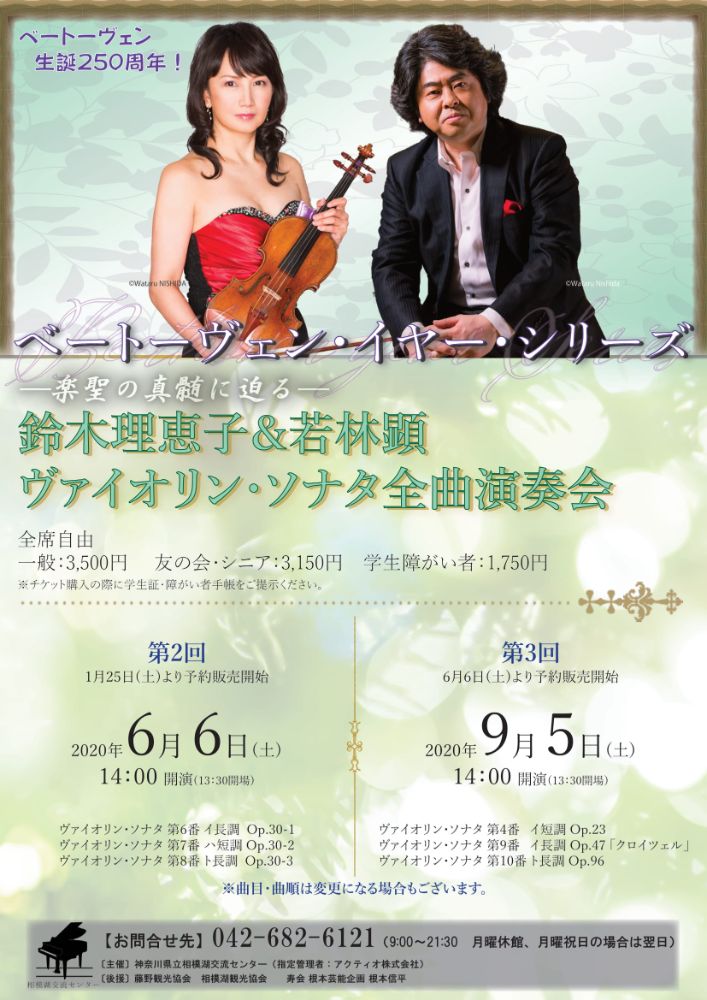 Beethoven Year Series
Rieko Suzuki & Akira Wakabayashi 2nd Complete Violin Sonata Concert
[Date and time] June 6th (Sat) 14:00 start (13:30 open)
[Venue] Sagamiko Exchange Center Multipurpose Hall
[Appearance] Rieko Suzuki (violin) Akira Wakabayashi (piano)
[Songs]
Beethoven: Violin Sonata No.6 in A major, Op.30-1
Beethoven: Violin Sonata No.7 in C minor, Op.30-2
Beethoven: Violin Sonata No.8 in G major, Op.30-3
*Songs and song order are subject to change.
[price]
All seats are unreserved General: ¥3,500 / Seniors and Tomonokai: ¥3,150 / Students and people with disabilities: ¥1,750
[Tickets] Reservations and reservations can be made at the counter or at 042-682-6121 (Sagamiko Exchange Center).
[Organizer] Kanagawa Prefectural Sagamiko Exchange Center (designated manager Actio Co., Ltd.)
[Sponsor] Sagamiko Tourism Association Fujino Tourism Association Kotobukikai Nemoto Performing Arts Planning Shinpei Nemoto
[Inquiries] 042-682-6121 (Sagamiko Exchange Center/Hours 9:00-21:30)
*Closed on Mondays (If Monday is a holiday, the following day will be closed)