Top singer Ryoko Moriyama's 2020 concert tour will be from Yamato!
大和市文化創造拠点シリウス Date: 2020.05.17
47 days to go
「Ryoko Moriyama Concert Tour 2020-2021」
(Please note that this page was created using Google's automatic translation service and understand that because of this, its translation may not necessarily be accurate.)
Ryoko Moriyama, the top singer who has a miraculous crystal voice that attracts in an instant, appears on Sirius! Yoshiko Moriyama has been fascinated with beautiful singing voices even after more than 50 years since her debut. He made his debut in 1967 with "a lot of this wide field" and produced a number of hit songs such as "Sato Cane Field" and "Tear Sorry", and is overwhelmingly popular. The 2020 concert tour starts from Yamato! Don't miss the top singer's stage!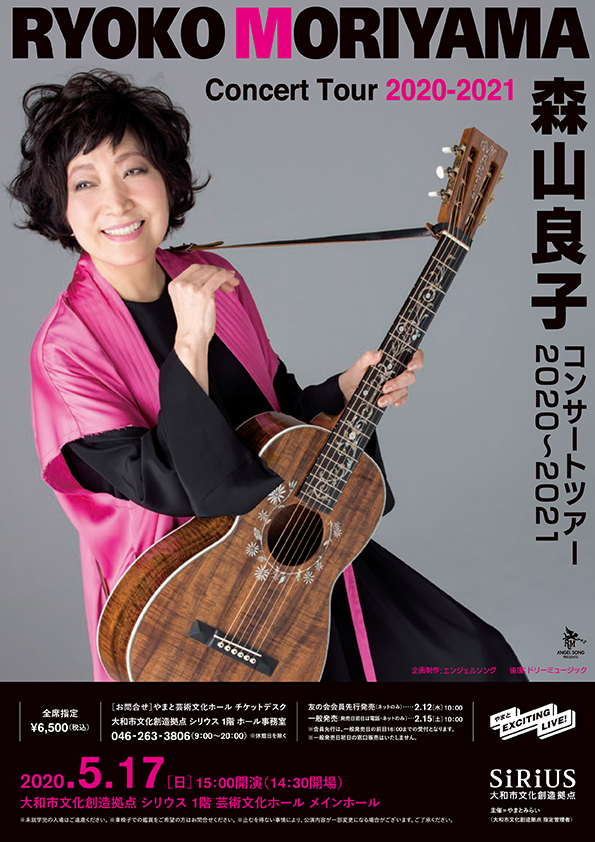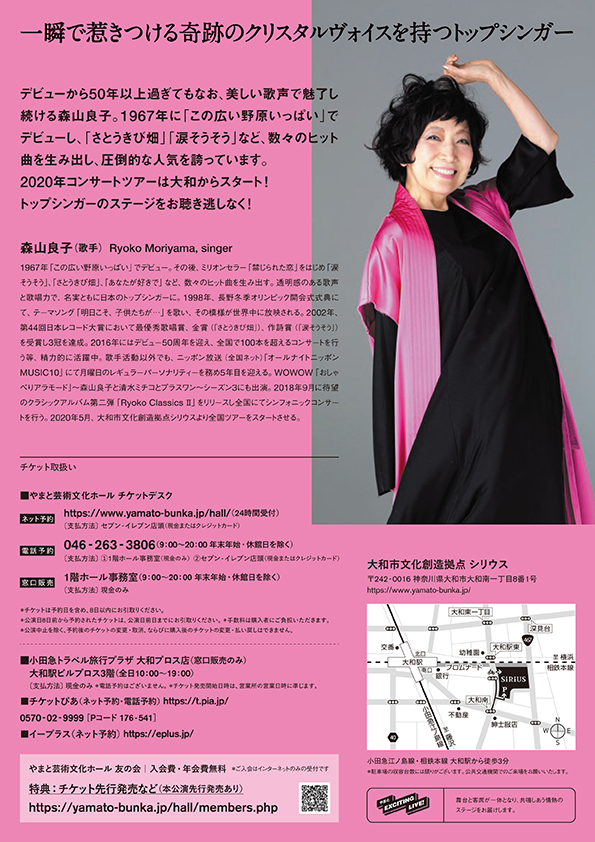 February 15, 2020 (Sat) 10:00-General Ticket Release !!
Ryoko Moriyama Concert Tour 2020-2021
[Date] May 17th (Sun) 15:00-(14:30 opening)
[Venue] Yamato City Cultural Creation Center Sirius 1F Arts and Culture Hall Main Hall
[Cast] Ryoko Moriyama (singer / songwriter)
[Price] (All seats reserved) ¥ 6,500
[Ticket sales]
■ Yamato Arts and Culture Hall Ticket Desk (Net / Telephone / Tour Desk)ener noreferrer "> From the official website !! TEL.046-263-3806 (9: 00-20: 00)
■ Odakyu Travel Travel Plaza Yamato Pros Store (Window / All day from 10:00 to 19:00)
* Payment method at each Odakyu Travel office is cash only.
※ There is no telephone reservation.
■ Ticket Pia (P code: 176-541) TEL.0570-02-9999
■ Eplus
[Inquiry] 046-263-3806 (Yamato Arts and Culture Hall Ticket Desk / 9: 00-20: 00)
* Please refrain from entering preschool children.
* Please contact us if you would like to watch in a wheelchair.
* Some performers, songs and song order may be changed due to unavoidable circumstances. Please note.
Yamato City Cultural Creation Center (nickname: Sirius) provides arts and culture, lifelong learning, new knowledge, and resilient encounters with people, from children to adults. Was born as a place to create At the core are the library, the Arts and Culture Hall, the Lifelong Learning Center, and the Indoor Children's Square. The four facilities will create more energy through the fusion of their individuality, foster creativity that will lead to the future, and will become a guidepost for your art and cultural activities, and will evolve every day.
[1F / Place of sensitivity and creation where excitement is born] Main hall, sub hall, gallery, general information, library, etc.
[2F / Citizens 'exchange floor where people talk happily] Citizens' exchange lounge, library, Yamato City Hall Yamato Office, etc.
[3F / Yamato Children's Country to learn by playing with it] Genkikko open space, little child open space, childcare room, consultation room, children's library, studio, etc.
[Healthy city library which gets close to book while relaxing on 4F] Health corner, health terrace, reservation book corner, others
[5F / Library by studying] Reference counter, information retrieval corner, reading room, etc.
[6F / Lifelong Learning Center to gather and learn with friends] Citizen exchange space Plato Yamato, training room, large conference room, etc.
(Slide image) © Toshihiko SSS
Address

1-8-1 Yamato Minami, Yamato City, Kanagawa Prefecture

Business Hour

(Arts and Culture Hall) 9: 00-22: 00 / (Lifelong Learning Center) 9: 00-21: 30 / (Library) 9: 00-21: 00 ※ Sunday and public holidays until 20: 00 / (Child Library) 9 9: 00-19: 00 / (Indoor Children's Square) 9: 00-19: 00 / (Citizens Exchange Lounge) 9: 00-21: 00 * Sundays and public holidays until 20:00

Parking Area

Available (paid) 8: 15-22: 30
Map