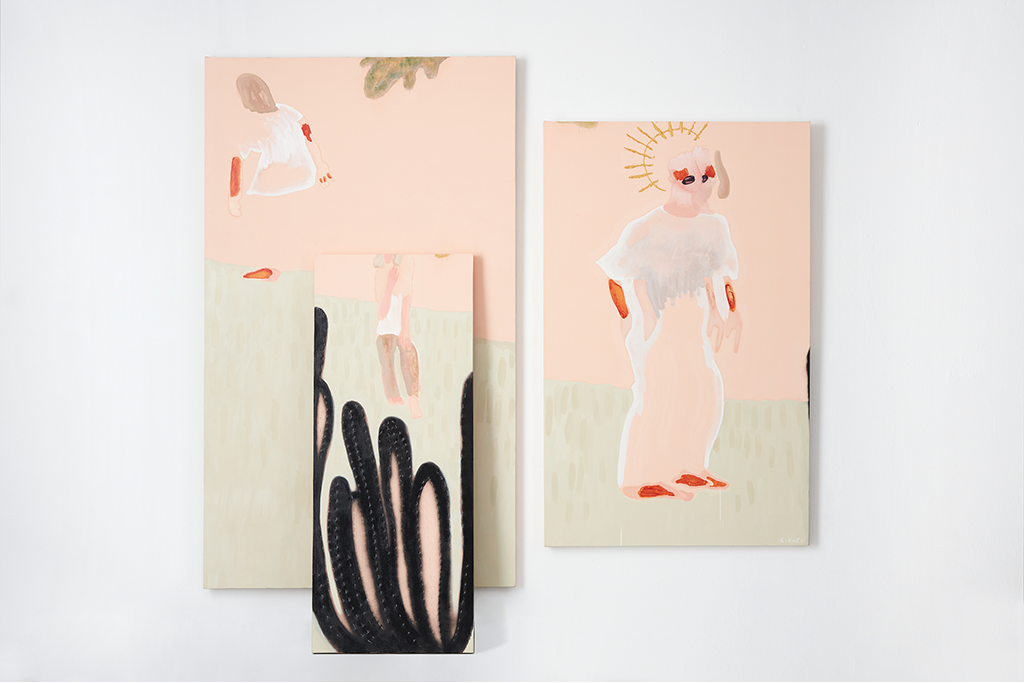 Title: When you were happy like a fish in water
oil, acrylic, wire 200×100cm/150×60cm/162×100cm
What made you decide to apply for the Kanagawa Prefectural Art Exhibition?
Since the exhibition also accepts installations, I thought that I might be able to exhibit my works, which are slightly different styles from normal paintings. The size that can be exhibited was set larger than other competitions, which made the challenge worthwhile and attractive.
Please tell us about the theme of the award-winning work and your thoughts during production.
Inspired by the fundamental impulse of rhythm and the ancient human act of moving the body in response to force, I started drawing. I wanted to express how people were more free and happy than they are now, like fish in the water, before words were invented.
What are your honest thoughts on receiving the award?
I couldn't believe it, so I asked the person in charge again (laughs). It was a style that I had never tried before, so I was happy that people thought it was interesting, and it also gave me confidence.
Please let me know if there are any reactions from people around you or any changes in your activities since then.
Winning the grand prize at the Kanagawa Prefectural Art Award, one of the most prestigious prefectural art exhibitions, naturally caused a great reaction from the people around me, and I was also influenced by the next exhibition.
Please give a message to artists who are considering applying.
The Kanagawa Prefectural Art Exhibition accepts works in a wider range of styles than other "painting" competitions, so I think that by trying it, something new will open up.
"profile"
Rikako _
1997 Born in Tokyo
2020 4th year student majoring in Oil Painting, Faculty of Art and Design, Musashino Art University
2020 Scheduled to study abroad at the Berlin University of the Arts
Award
2018 20th Setryosha Firenze Award Honorable Mention
2018 47th Shell Art Award Tomoko Yabumae Selected
2019 Selected for the 37th Ueno Forest Art Award
2019 55th Kanagawa Art Exhibition Grand Prize
Scholarship
2019 Moriya Ikueikai Art Encouragement Award
Other activities
2017 Artist in Residence "Cokun, Artist Village"
2017 The 10th Wara Art Festival, produced and exhibited jointly by Nishikan Ward, Niigata City and Musashino Art University
2017 Super Shiodome Paradise Shiodome Street Festival 2017 SUMMER (Shiodome Siosite)
2018 Fashion show "Kikazaru Tsunagaru Yokomiru" management and planning / Koenji Neighborhood Association (Tokyo)
■ Future activity schedule
・March 20th to April 11th: Solo exhibition "Kuchizuke wo Kanashimi ni Kuchizuke wo" is being held at Shibuya LOKO GALLERY
・June: A two-person exhibition will be held at Koganei Art Spot Chateau
・September 2020-: Scheduled to study abroad for half a year at Berlin University of the Arts