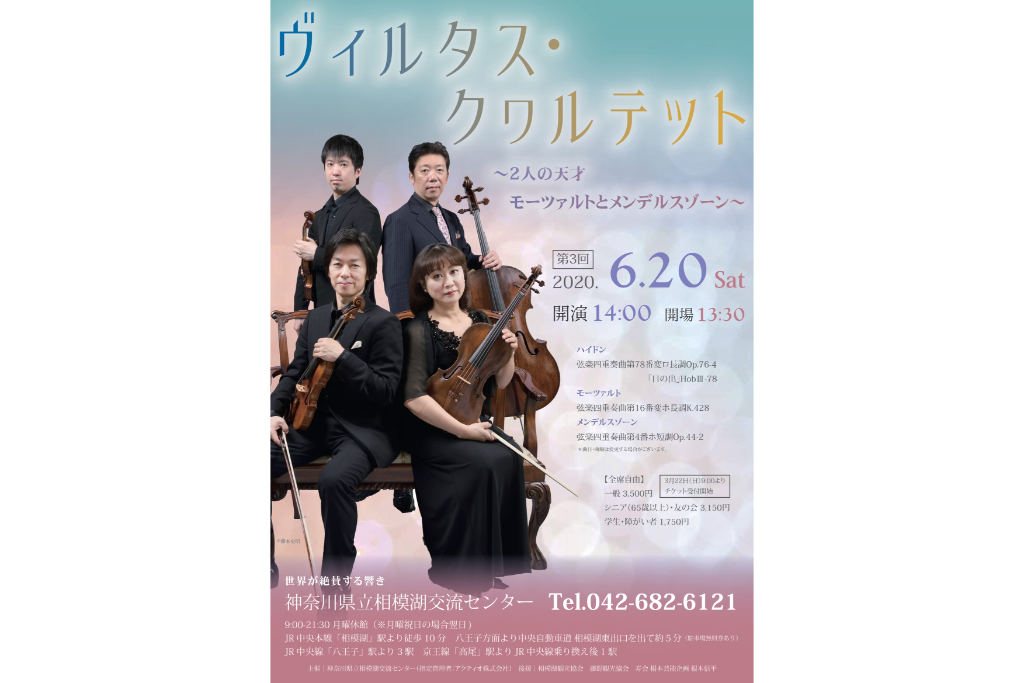 音楽
[Postponed] Performance of the complete string quartets of Mozart Mendelssohn
*The 3rd Virtus Quartet-Two Geniuses Mozart and Mendelssohn, which was scheduled to be held at the Sagamiko Exchange Center, has been postponed to prevent the spread of the new coronavirus infection. For details, please check here .
A complete string quartet performance series by Mozart and Mendelssohn, known as "geniuses who died young" in the history of classical music.
The challenge to the string quartet produced by them is the Virtus Quartet, a "strong string quartet" formed by soloists and four people who are active in major Japanese orchestras.
People are moved by the music they spin.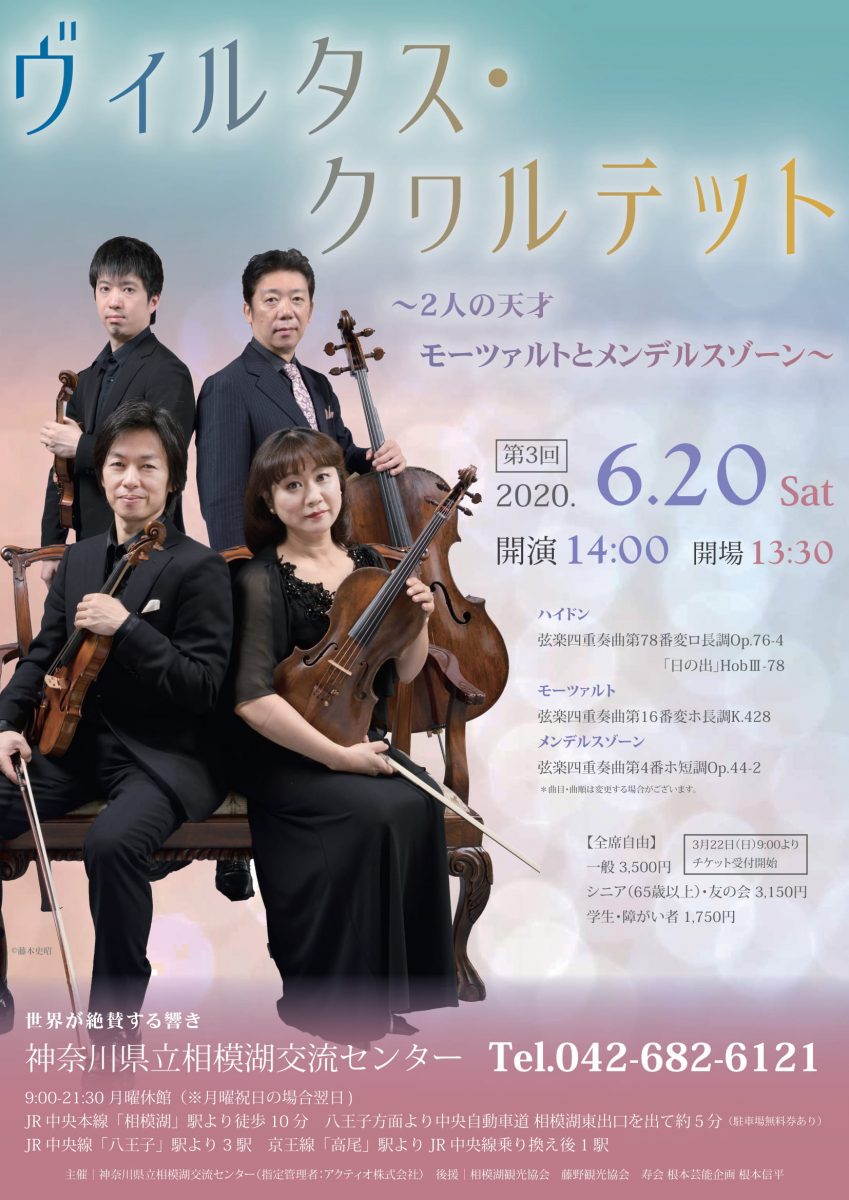 The 3rd Virtus Quartet
~Two Geniuses Mozart and Mendelssohn
[Date and time] June 20 (Sat) 14:00 start (13:30 open)
[Venue] Sagamiko Exchange Center Luxman Hall
[Appearance]
virtus quartet
Ryo Mikami, Keisuke Tsushima (violin)
Masako Mabuchi (viola)
Yasuo Maruyama (cello)
[Songs]
Haydn: String Quartet No. 78 in B flat major, Op.76-4 ``Sunrise'' HobⅢ-78
Mozart: String Quartet No. 16 in E-flat major, K.428
Mendelssohn: String Quartet No. 4 in E minor, Op.44-2
*Songs and song order are subject to change.
[price]
All seats are unreserved General: ¥3,500 / Seniors and Tomonokai: ¥3,150 / Students and people with disabilities: ¥1,750
[Tickets] Reservations and reservations can be made at the counter or at 042-682-6121 (Sagamiko Exchange Center).
[Organizer] Kanagawa Prefectural Sagamiko Exchange Center (designated manager Actio Co., Ltd.)
[Sponsor] Sagamiko Tourism Association Fujino Tourism Association Kotobukikai Nemoto Performing Arts Planning Shinpei Nemoto
[Inquiries] 042-682-6121 (Sagamiko Exchange Center/Hours 9:00-21:30)
*Closed on Mondays (If Monday is a holiday, the following day will be closed)