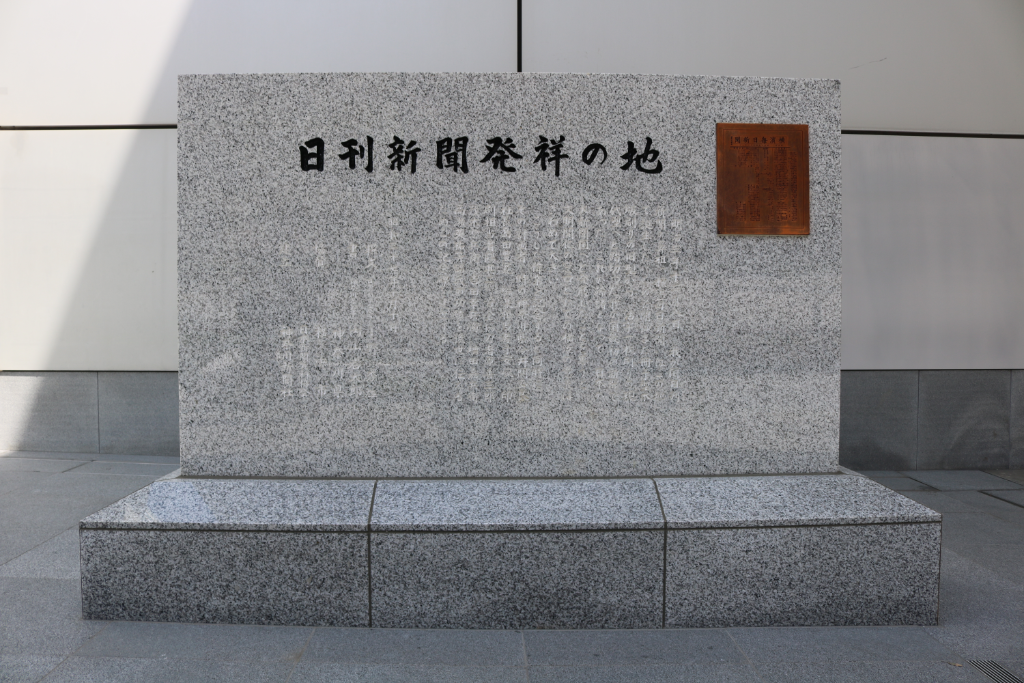 その他
Rebuilt and open to the public on the premises of the new Yokohama City Hall! "Birthplace of Daily Newspapers" Monument
(TOP image) Courtesy of the Japan Newspaper Museum
The ``Birthplace of the Daily Newspaper'' monument commemorating the launch of the Yokohama Mainichi Shimbun, Japan's first Japanese-language daily newspaper, is located on the premises of the new Yokohama City Hall (6-chome, Honmachi, Naka-ku, Yokohama). was rebuilt in Along with this, the Japan Newspaper Association, which operates Newspark, has opened the monument to the public from April 27th.
The monument was erected in 1962 by the Kanagawa Shimbun on the site of the former Yokohama Raw Silk Inspection Office, which is said to have been the site of the Yokohama Letterpress Company that published the newspaper. Later, it turned out that the original birthplace was about 400 meters west. It was relocated in 2009 with the cooperation of Yokohama City, which had acquired the land, but was removed for the construction of the new city hall. With the completion of the new Yokohama City Government Building, it was rebuilt on the premises of the government building in 2020, and was donated by the Kanagawa Shimbun to the Japan Newspaper Association.
In the permanent exhibition room of the News Park, in addition to the first issue (reprint) of the "Yokohama Mainichi Shimbun", a kawaraban reporting that Perry's fleet arrived in Uraga, the 20th issue of the "Overseas Newspaper" founded by Joseph Heco, Kanagawa We display materials unique to Yokohama, the birthplace of daily newspapers, such as the first issue (reproduction) of the newspaper's predecessor, the Yokohama Trade Newspaper.