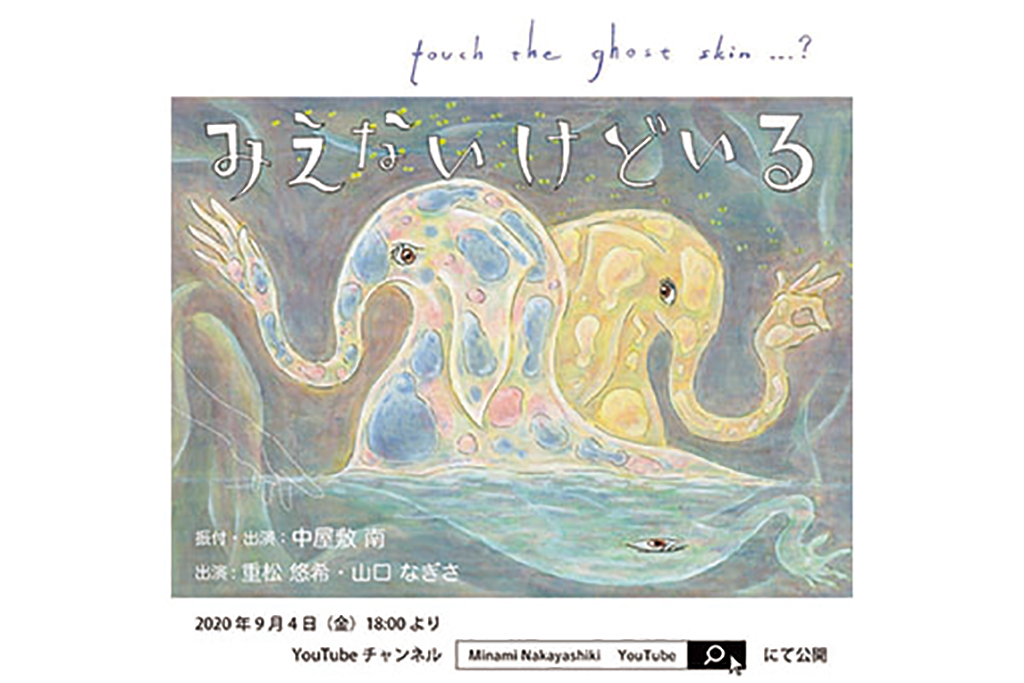 演劇・ダンス
Communicating with Youray...? Dancer/choreographer Minami Nakayashiki's work world online
It's like communicating with Yurey...?
Study for non-contact work, a slightly different form of contact work
《Profile: Nakayashiki Minami》
dancer/choreographer
Joined the dance club in the first year of junior high school. The foundation cultivated through club activities and school education influences the creation of works. He expresses human emotions, sensations, and desires contained therein with delicate and expressive movement and compositional power. Graduated from the Faculty of Education and Human Sciences, Yokohama National University, and completed the Y-GSC at the same university. Received the Za Koenji Dance Award, was selected as the Japanese representative for the Japan-Korea exchange project in the same project, received the Yokohama Dance Collection EX 2015 Best New Artist Award, was invited to the Shanghai Contemporary Dance Exhibition, etc.
Nakayashiki Minami Trial Performance
Mienai but Iru ~touch the ghost skin…?~
[Date and Time] Friday, September 4, 18:00-
[Venue] Released on the online YouTube channel " Minami Nakayashiki "
[Choreography] Nakayashiki Minami
[Cast] Yuki Shigematsu, Nagisa Yamaguchi, Minami Nakayashiki
[Organizer] Nakayashiki Minami
[Co-organizer] ZOU-NO-HANA TERRACE
[TEL] 045-661-0602 (Zou-no-hana Terrace)
*Yokohama City Video Distribution Support Program