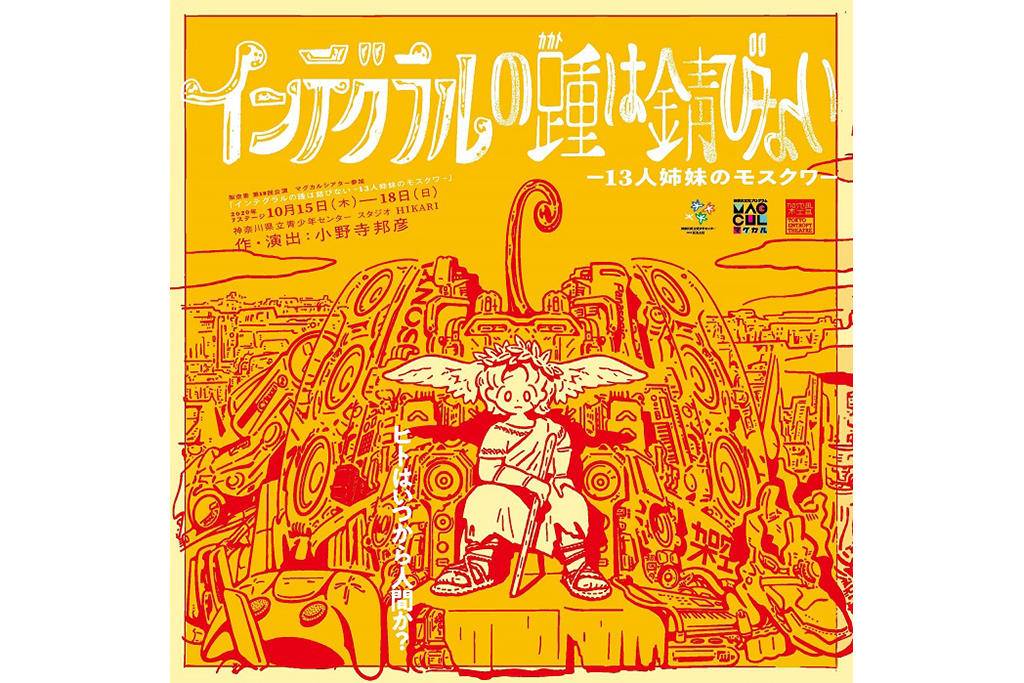 演劇・ダンス
"Integral heels do not rust" performed by fictitious tatami mats at the Youth Center
"Magcal Theater" aims to discover and nurture young talents who will create future live performances. The group adopted as the performance group can use Studio HIKARI free of charge (including incidental equipment) to perform the performance. Due to the temporary closure of the Youth Center due to the spread of the new coronavirus infection, the performances from April to August were canceled, but they have resumed from September.
<< Story >>
rainy evening. I met 13 sisters heading to Moscow. However, they are not allowed to leave the country. Because each of the Wonders + One sisters lacked a part of their body and supplemented it with electronic machines. Currently, their status is classified as "machine" rather than "human". Machines are allowed to ship, not leave, but the order is filled until next century.
I visited the lab where I operated on the 13 sisters to make them leave the country. However, the surgeon's doctor has already passed away, and it was the only daughter of a forgotten keepsake who greeted me. She told me. I was cursed by my father's wrongdoing during my lifetime. curse? I heard. What is it like It is sexual desire. I have a tremendous amount of libido. This is more violence than libido.
I have to undertake two requests at once. Sending 13 sisters to Moscow. To break the curse on the surgeon's daughter and restore her sexual desire to the level of a normal person. I'm Culvert Bukowski. A poet with hallucinations who accepts requests.
As you can see, this story goes back and forth between several times, places and people. And, as you think, the story will eventually become one. It's a tricky technique. However, I would like you to think this way. The story is one from the beginning, and all the time is now. Please be assured. There is no trauma in this story. Do not match the present with the answers of the past. Everything I draw is a drama that appears in front of me at this moment.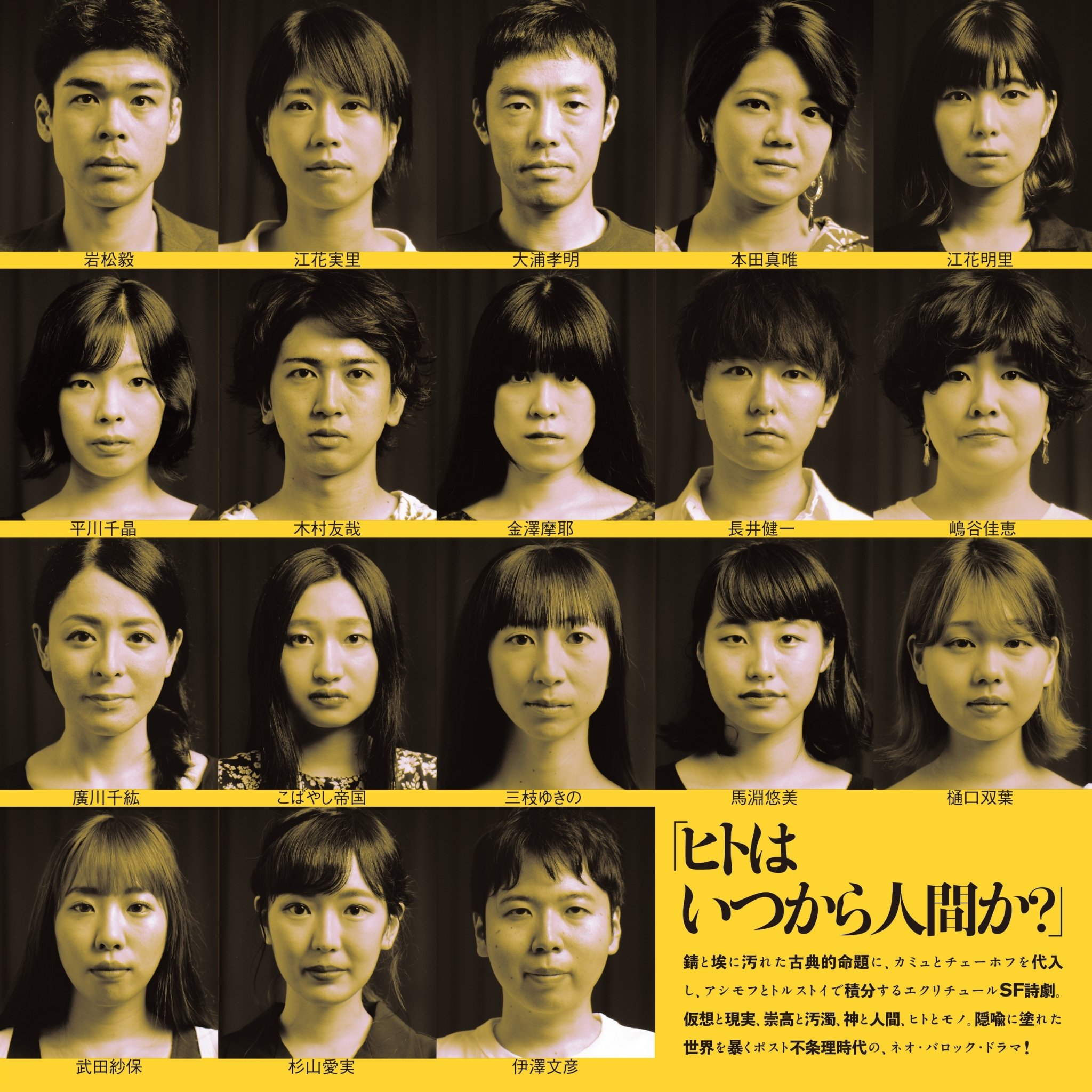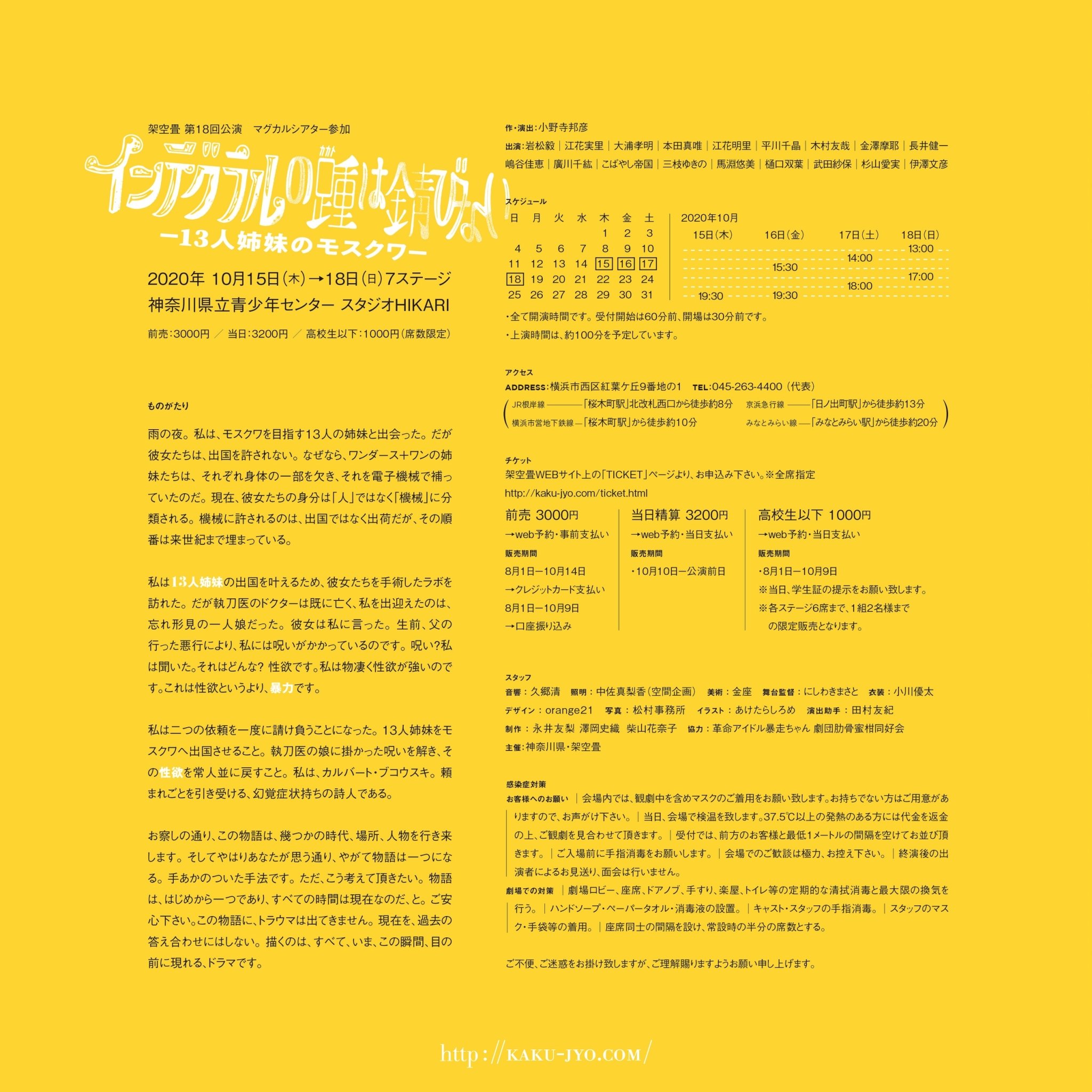 The 18th performance of fictitious tatami mats "Integral heels do not rust"
[Date and time] October 15th (Thursday) to 18th (Sunday)
10/15 (Thursday) 19: 30-
10/16 (Friday) 15: 30 ~ / 19: 30 ~
10/17 (Sat) 14: 00- / 18: 00-
10/18 (Sun) 13: 00- / 17: 00-
* Reception and opening is 30 minutes before the start of the performance.
* The performance time is scheduled to be about 105 minutes (10 minutes break on the way).
[Venue] Kanagawa Prefectural Youth Center 2F Studio HIKARI
[Production / Direction] Kunihiko Onodera
[Cast] Takeshi Iwamatsu, Mari Ebana, Takaaki Oura, Mayu Honda, Akari Ebana, Chimasa Hirakawa, Tomoya Kimura, Maya Kanazawa, Kenichi Nagai, Yoshie Shimatani, Chihiro Hirokawa, Kobayashi Empire, Yukino Saegusa, Yumi Mabuchi, Futaba Higuchi, Takeda Saho, Aimi Sugiyama, Fumihiko Izawa
[price]
■ Advance (advance payment) ¥ 3,000
Sales period
・ Credit card payment → August 1st-October 14th
・ Account transfer → August 1st-October 9th
■ Same-day settlement (advance reservation, same-day payment) ¥ 3,200
Sale period October 10-the day before the performance
■ High school students and younger (advance reservation, same-day payment) ¥ 1,000
Sale period August 1st-October 9th
* Please show your student ID card on the day of the event.
* Limited to 6 seats on each stage and up to 2 people per group.
* All seats are reserved.
[Ticket reservation] You can apply from the ticket page of the fictitious tatami official website.
[Home page] http://kaku-jyo.com/next.html
[Organizer] Kanagawa Prefecture, fictitious tatami mat