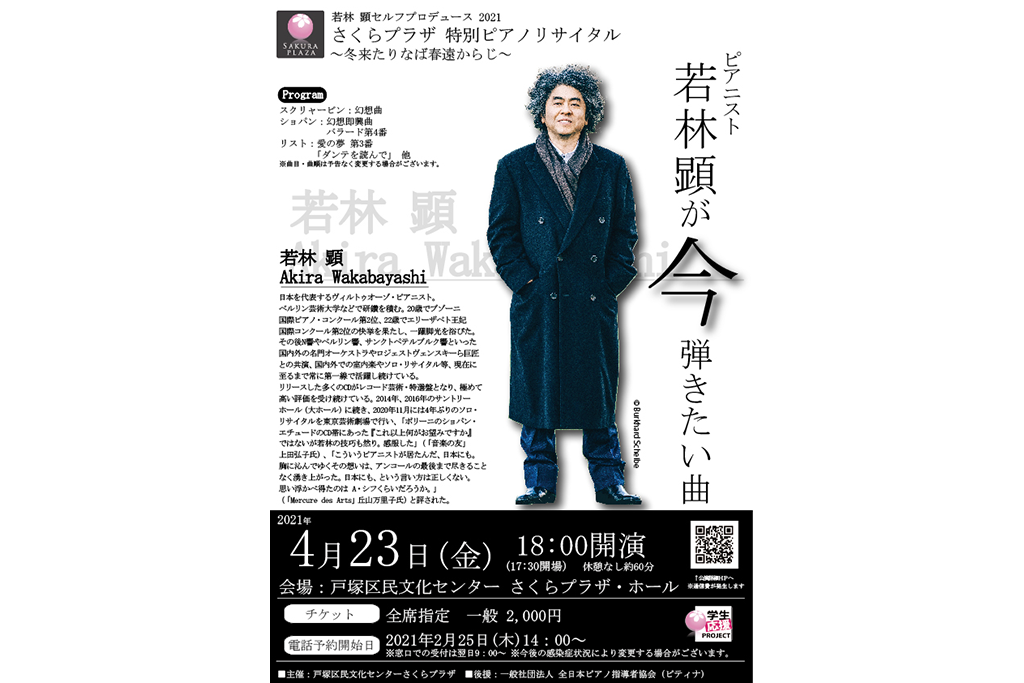 Pianist Akira Wakabayashi carefully selects "the songs you want to play now"! Delivering masterpieces of gems
Totsuka Ward Cultural Center Sakura Plaza Date: 2021.04.23
1 day until the event
「Akira Wakabayashi Self-Produced 2021 Sakura Plaza Special Piano Recital-Winter Comes and Comes from Haruen」
(Please note that this page was created using Google's automatic translation service and understand that because of this, its translation may not necessarily be accurate.)
The song that pianist Akira Wakabayashi wants to play now-Winter is coming, Naba Haruen-
A year in which the world has undergone major changes due to the effects of the new coronavirus. What do you think as a musician ...
Masterpieces of gems that I want you to listen to now. Akira Wakabayashi talks on the piano!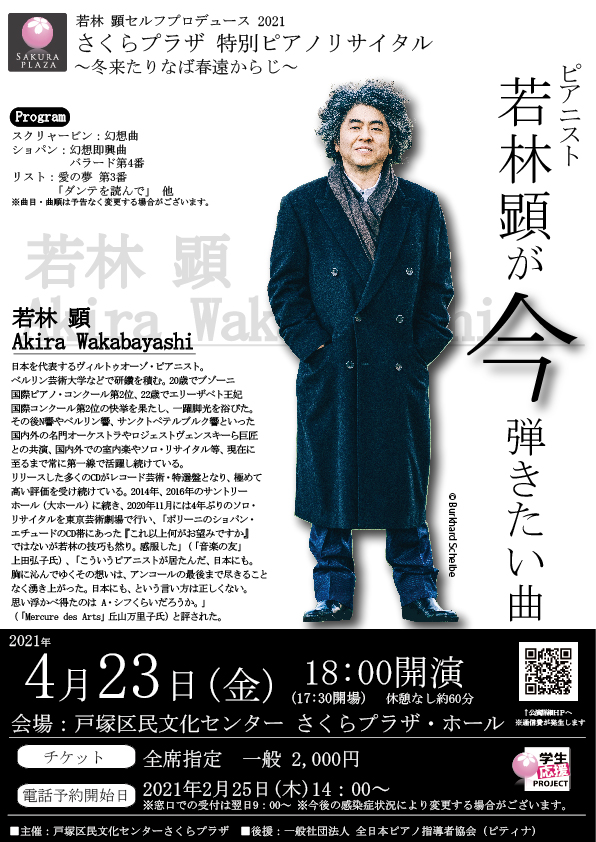 February 25th (Thursday) 14: 00-Ticket phone reservation starts !!
February 26th (Friday) 9: 00-Reception starts at the counter !!
Akira Wakabayashi Self Produce 2021
Sakura Plaza Special Piano Recital
-Winter is coming from Haruen-
[Date and time] April 23 (Friday) 18: 00- (Open at 17:30)
* No break, about 60 minutes.
[Venue] Totsuka Ward Cultural Center Sakura Plaza Hall
[Cast] Akira Wakabayashi (piano)
[Songs] Scriabin: Fantasy, Chopin: Fantasy Improvisation, Ballade No. 4, List: Ai no Yume No. 3, "Read Dante", etc.
* Song order and songs are subject to change without notice.
[Price] (All seats reserved) General ¥ 2,000
[Ticket reservation] Reservations can be made by phone (TEL.045-866-2501) or at the counter. (Reception hours 9:00 to 21:00)
* Please make a reservation and pay the ticket in cash on the day of the performance.
[Organizer] Totsuka Ward Cultural Center Sakura Plaza
[Inquiry] 045-866-2501 (Totsuka Ward Cultural Center SakuLa Plaza)
* Click here for the official page of Sakura Plaza!
* Please refrain from entering preschool children.
* If you are looking for a wheelchair seat, please let us know when you book your ticket.
* The capacity will be 50% of the audience seats to prevent infectious diseases.
* Even if two or more seats are reserved, the seating arrangement will be based on social distance.
* Sales will end as soon as the planned number of sales is reached. Please note.
* Tickets cannot be exchanged or refunded after purchase. Please note.
* The content of the performance may change depending on the infection status of the new coronavirus. For the latest information, please contact the website or Sakura Plaza.
Totsuka Ward Cultural Center Sakura Plaza is a "hall with advanced production functions" in response to the growing needs of residents for "high-quality art appreciation opportunities" and "places for high-quality cultural activities." A culture that combines "a place for practice that can be easily used by residents" and "a place for presentations with advanced content" that is fully equipped with a "gallery with a high ceiling" and a "large practice room that can be used for various activities". It is a facility.
A hall with about 450 seats equipped with a Steinway full concert piano (D-274), a rehearsal room that can be used for production, a gallery that boasts one of the largest and highest ceilings in the city, and is suitable for practicing musical instruments and dance. There are 4 practice rooms.
Address

16-17 Totsuka-cho, Totsuka-ku, Yokohama-shi, Kanagawa 3F (gallery), 4th floor (hall, rehearsal room, practice room) in Totsuka-ku General Government Building

TEL

045-866-2501

Business Hour

[Opening hours] 9:00 to 22:00 [Reception hours] 9:00 to 21:00 [Closed days] 2nd Tuesday of every month, 2nd Tuesday and Wednesday of February and August, 12/29 to 1/3

Parking Area

[Available time] 7:00 to 22:30 [Number of cars that can be parked] 100 cars [Parking fee] (7:00 to 22:30) ¥ 200 per 30 minutes, (weekdays) between 8:45 and 17:00 (Excess if parking time exceeds 3 hours) ¥ 250 per 30 minutes, maximum charge on the day (only on Saturdays, Sundays, and holidays) ¥ 1,800
Map