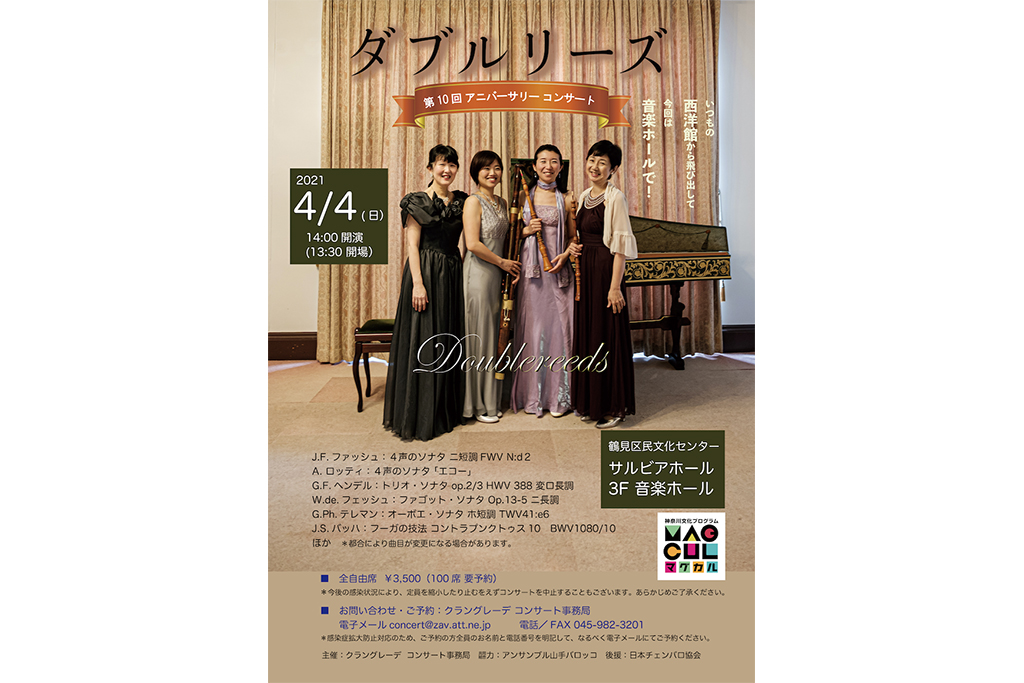 音楽
Jumping out of the usual Western-style building, this time at a music hall!
"Double Leeds" is a group of four women organized in the style (period instrument) oboe and bassoon used in the 18th century, and the harpsichord. Since 2012, we have been holding baroque music concerts every year at the Yokohama Yamate Seiyoukan. This is the 10th concert. We will jump out of the cozy hall of the Western-style building and perform with gratitude at the Salvia Music Hall, which boasts wonderful sound.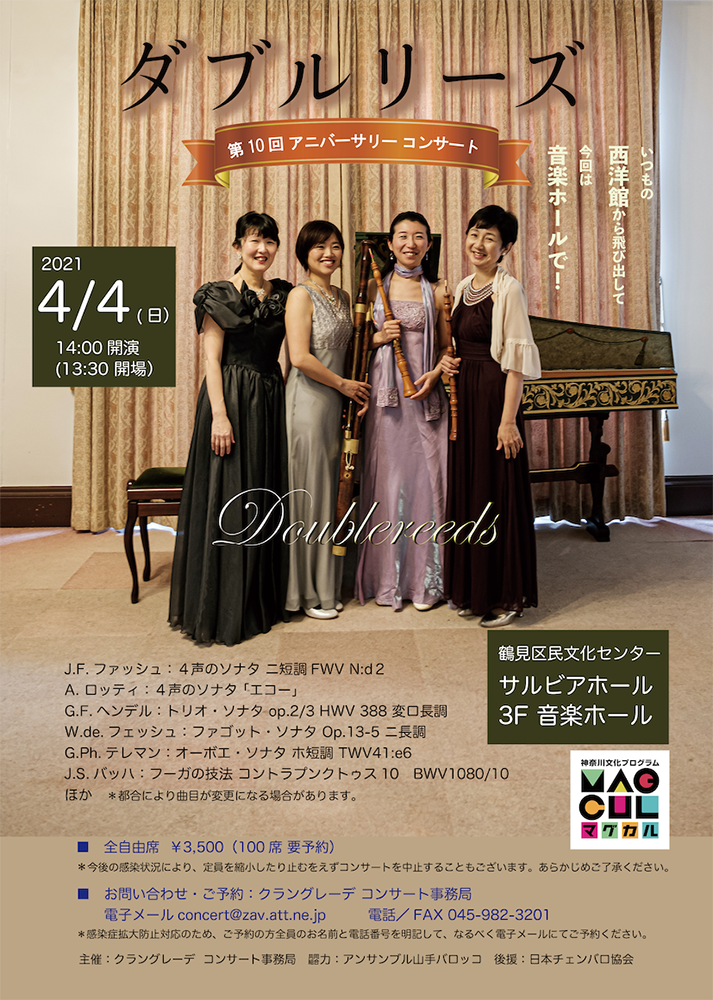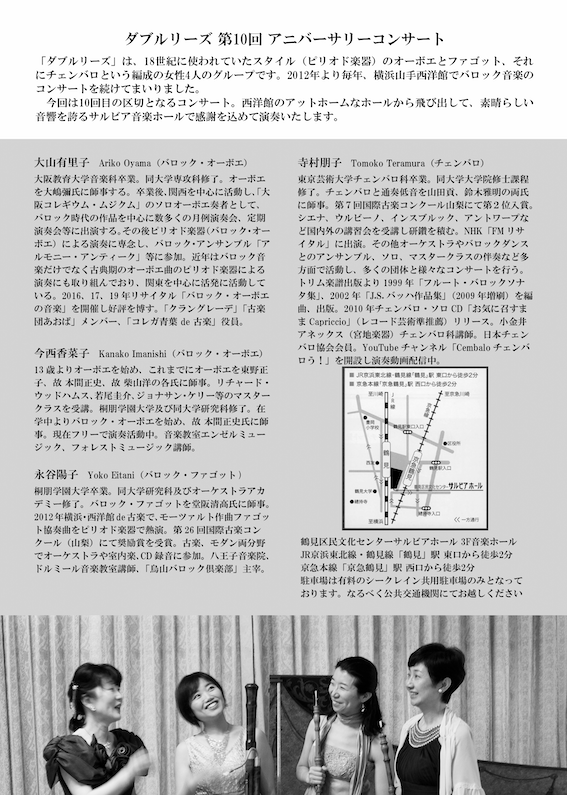 Double Leeds 10th Anniversary Concert
[Date and time] April 4th (Sun) 14: 00- (Open at 13:30)
[Venue] Yokohama City Tsurumi Ward Cultural Center Salvia Hall 3F Music Hall
[Cast] <Double Leeds> Yuriko Oyama (Baroque Oboe), Kanako Imanishi (Baroque Oboe), Yoko Nagatani (Baroque Bassoon), Tomoko Teramura (Harpsichord)
[Songs] Fash: 4-voice sonata in D minor FWV N: d2, A. Lotti: 4-voice sonata "Echo", GF Handel: Trio Sonata op.2 / 3 HWV 388 in D major, W.de. : Fagot Sonata Op.13-5 in D major, G.Ph. Teleman: Oboe Sonata in E minor TWV41: e6, JS Bach: Fuga's Technique Contra Punctus 10, 10 Degree Deployment Contrast 4 Voices BWV1080 / 10, other
* Songs are subject to change due to circumstances.
[Capacity] 100 seats (reservation required)
[Fee] (All seats are free) ¥ 3,500
[Ticket sales] To prevent the spread of infection, please specify the names and phone numbers of all the people who made the reservation and make a reservation by e-mail as much as possible.
■ Crangrade Concert Secretariat
Email: concert@zav.att.ne.jp
Phone & FAX: 045-982-3201
[Organizer] Crangrade Concert Secretariat
[Inquiries] 045-982-3201 (Crangrade Concert Secretariat)
* Depending on the infection situation in the future, the capacity may be reduced or the concert may be canceled due to unavoidable circumstances. Please note.
[To visitors] We appreciate your understanding and cooperation.
■ Please measure the temperature at home in advance. Please refrain from visiting if you have a fever (37.5 ° C as a guide) or a cold.
■ Please wash your hands or disinfect your hands with alcohol when you enter the facility. (Available at the venue)
■ Please wear a mask or cover your mouth with a handkerchief for cough etiquette.