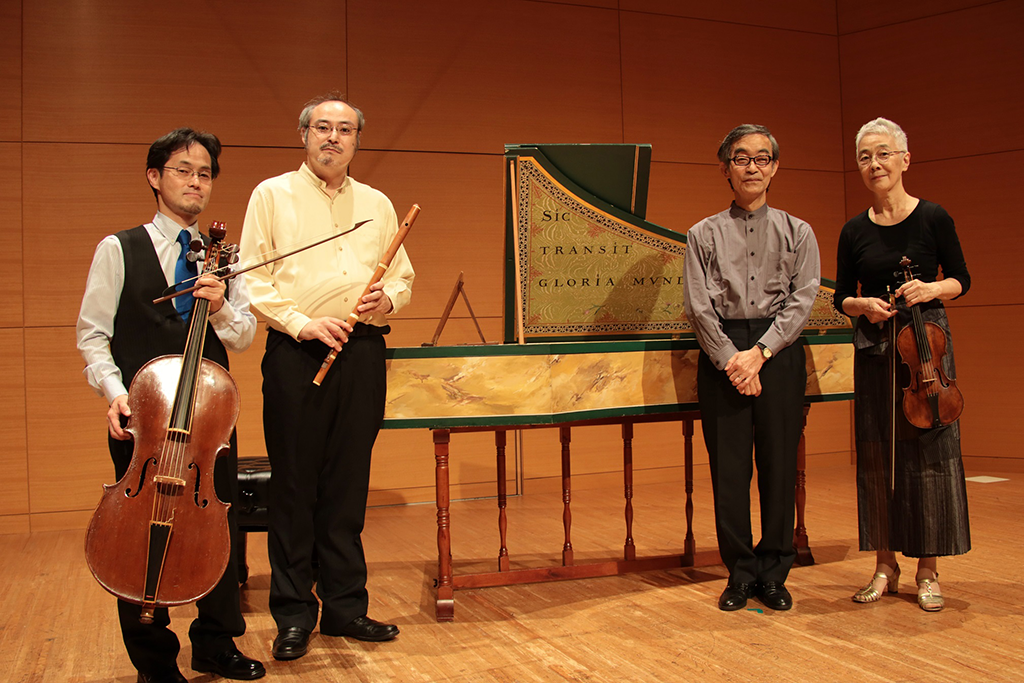 音楽
The long-awaited program of suites, sonatas and concertos from the first series of the Telemann Paris Quartet
Tsurumi de Kogaku in September last year, Musica Reservata, which was filled with applause, and the long-awaited reappearance in June. Boasting a 10-year history and achievements, the mastered early music ensemble, Musica Reservata, consists of masters of Tsurumi de Early Music, Shuntaro Kunieda (recorder, traverso), Koji Takahashi (baroque cello), Ryunosuke Okada (harpsichord), baroque ensemble. Pioneer of violin in Japan: Banri Ono and virtuoso quartet. The seasoned ensemble, musical depth and dynamic power, and the precision of the true value that cannot be heard in other ensembles!
Continuing from the last time, this is the long-awaited program of Telemann Paris Quartet's first series suites, sonatas and concertos. In a mature ensemble, the individuality of each player collides with each other, and the music and power that fuses together! The masterpiece of baroque chamber music boasted by Telemann, the superstar of the time. Please order as soon as possible so that you do not miss it.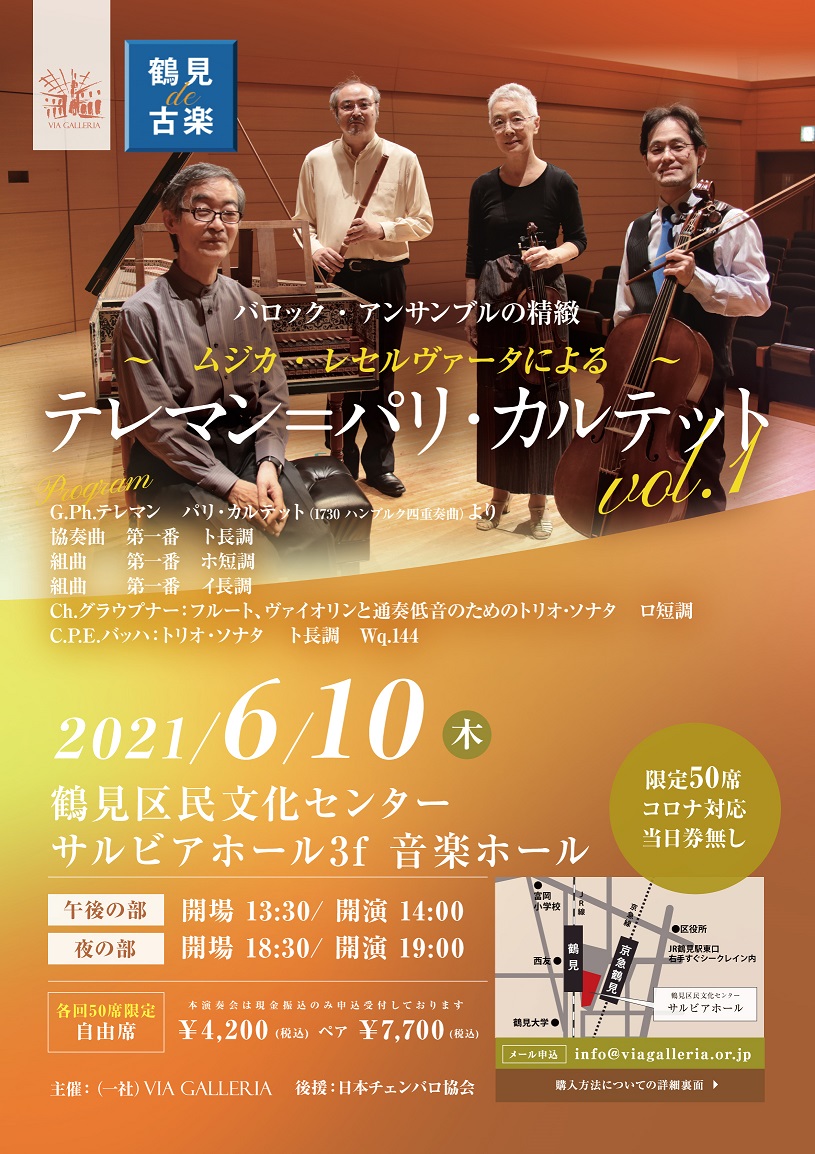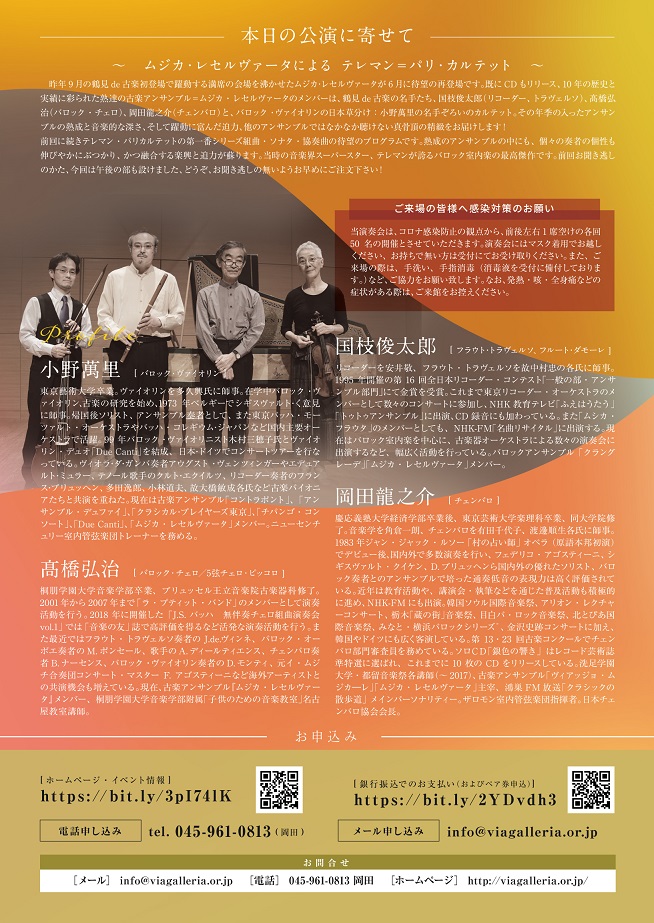 Limited to 50 seats Complete reservation system
Telemann-Paris Quartet Vol.1 by mature musica reservata
[Date and Time] June 10 (Thursday) <Afternoon> 14:00- (doors open at 13:30) / <Night> 19:00- (doors open at 18:30)
[Venue] Tsurumi Citizens Cultural Center Salvia Hall 3F Music Hall
[Performers] Shuntaro Kunieda (Flout Traverso, flute d'amore), Banri Ono (baroque violin), Koji Takahashi (baroque cello, 5-string cello piccolo), Ryunosuke Okada (harpsichord)
[Programme] G.Ph. Telemann: Concerto No. 1 in G major from Paris Quartet (1730 Hamburg Quartet), Suite No. 1 in E minor, Sonata No. 1 in A major, Ch. Graupner: Flute, violin and basso continuo Trio Sonata in B minor for CPE Bach: Trio Sonata in G major Wq.144
*Songs may change without notice. note that.
[Fee] (All seats are unreserved / 50 seats in total) General ¥4,200, pair ticket ¥7,700
*This performance only accepts applications by cash transfer.
[Ticket sales] Please specify afternoon session or evening session.
Only pre-payment applications are accepted here .
[Organizer] General Incorporated Association Via Galleria
[Inquiries] 045-961-0813 (Via Galleria)
It's a concert for Corona
In order to avoid contact, there will be no ticket issuance or same-day ticket sales. 50 unreserved seats with 50% capacity (each time). Please note that we cannot accept cancellations due to a complete reservation system by cash transfer in advance. Please check the "visitor list" at the reception on the day to enter.