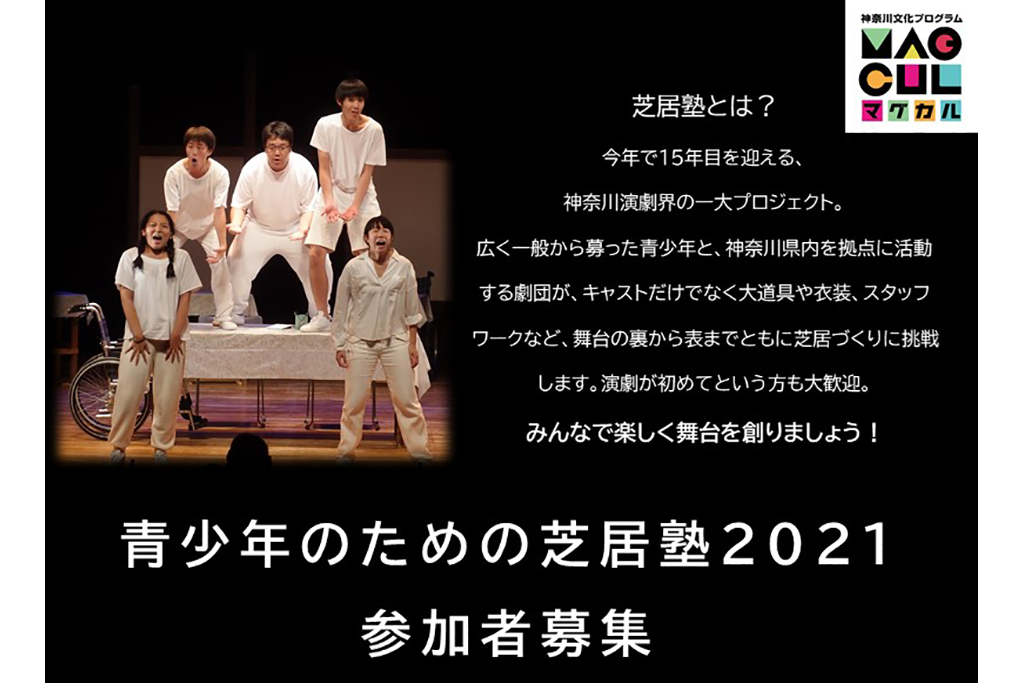 Theater / dance
2021.02.24
Recruitment of 2021 participants for the play school for young people for the performance in August!
Kanagawa Prefectural Youth Center Holding period: 2021.02.22 ~ 2021.05.17
Ends in 7 days
「Recruitment of participants for the play school 2021 for youth」
(Please note that this page was created using Google's automatic translation service and understand that because of this, its translation may not necessarily be accurate.)
This year marks the 15th year of "Theatrical School for Youth". A wide range of young people recruited from the general public and a theater company based in Kanagawa Prefecture will challenge not only the cast but also the making of plays from the back to the front, such as props, costumes, and staff work. Those who are new to theater are also welcome, and let's all have fun creating a stage! In August, we will hold a performance at Kanagawa Prefectural Youth Center Studio HIKARI and announce the results of the practice.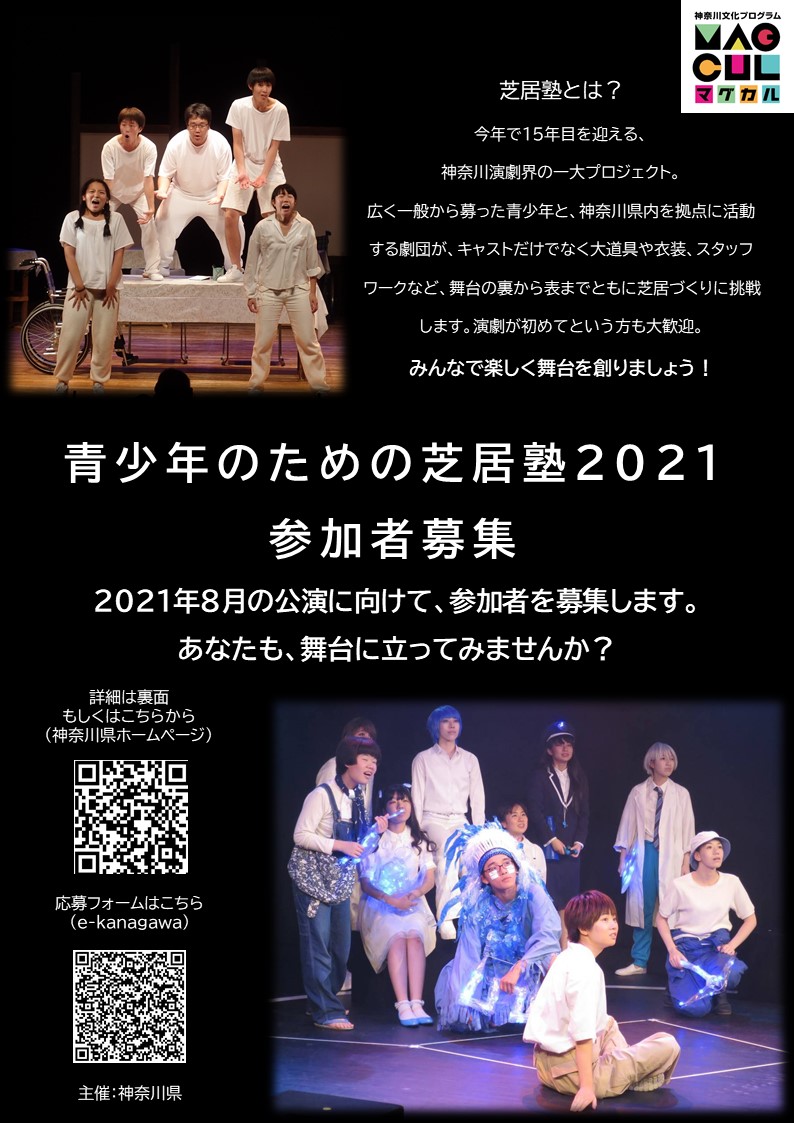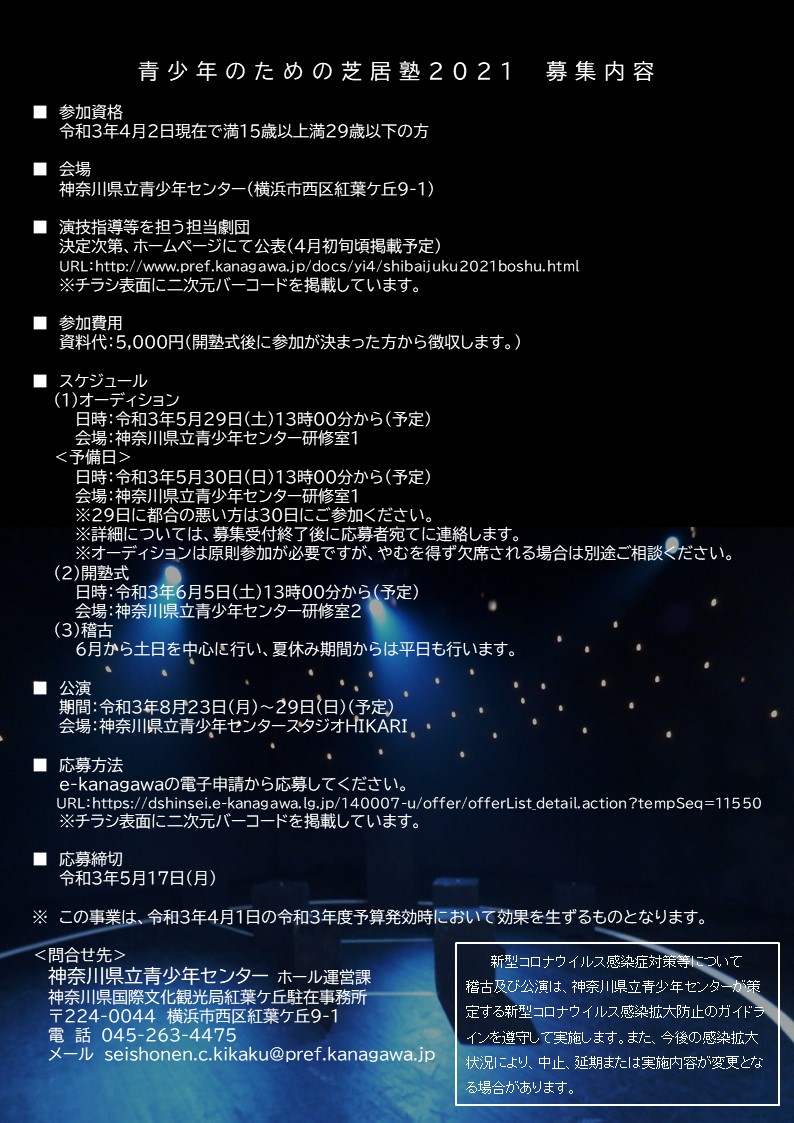 Recruitment of participants for the play school 2021 for youth
[Eligibility] Must be between the ages of 15 and 29 as of April 2, 2nd year of Reiwa.
[Venue] Kanagawa Prefectural Youth Center
[Theatrical company in charge of acting guidance, etc.] Marshmallow Wave
[Participation fee] Material fee ¥ 5,000 (collected from those who have decided to participate after the opening ceremony.)
[Performance period] Scheduled for August 23rd (Monday) to 29th (Sunday), 2021
[How to apply] Apply electronically. (No pre-registration required)
thisor: # 008080; "rel =" noopener noreferrer "> Please apply from the electronic application form.
[Application deadline] May 17, 2021 (Monday)
* Please check the website for details such as the schedule.
<< About measures against new coronavirus infectious diseases >>
Practices and performances will be conducted in compliance with the guidelines for preventing the spread of new coronavirus infections established by the Kanagawa Prefectural Youth Center. In addition, depending on the spread of infection in the future, the content may be canceled, postponed, or changed. Click here for guidelines.
The Prefectural Youth Center is a facility that aims to foster the healthy development of young people and contribute to the improvement of the culture of the citizens of the prefecture. I am working on.
1. Development of human resources to promote experiential learning for young people
2. Correspondence to youth withdrawal, school refusal, delinquency, etc.
3. Support for promoting youth science experience activities
4. Support for youth and prefectural performing arts activities
Address

9-1 Momijigaoka, Nishi-ku, Yokohama-shi, Kanagawa

TEL

045-263-4400

Business Hour

* Autumn leaves slope hall, studio HIKARI, practice room (excluding reception desk) 9: 00-22: 00 * Theater reference room 9: 00-22: 00 * Youth reference room 9: 00-17: 00 * Youth support plaza 9 : 00-21: 00 (until 17:00 on Sundays) [Closed] Year-end and New Year holidays (12 / 28-1 / 4) * However, the Youth Support Plaza, Youth Library, and Theater Library are closed every Monday. ..
Map