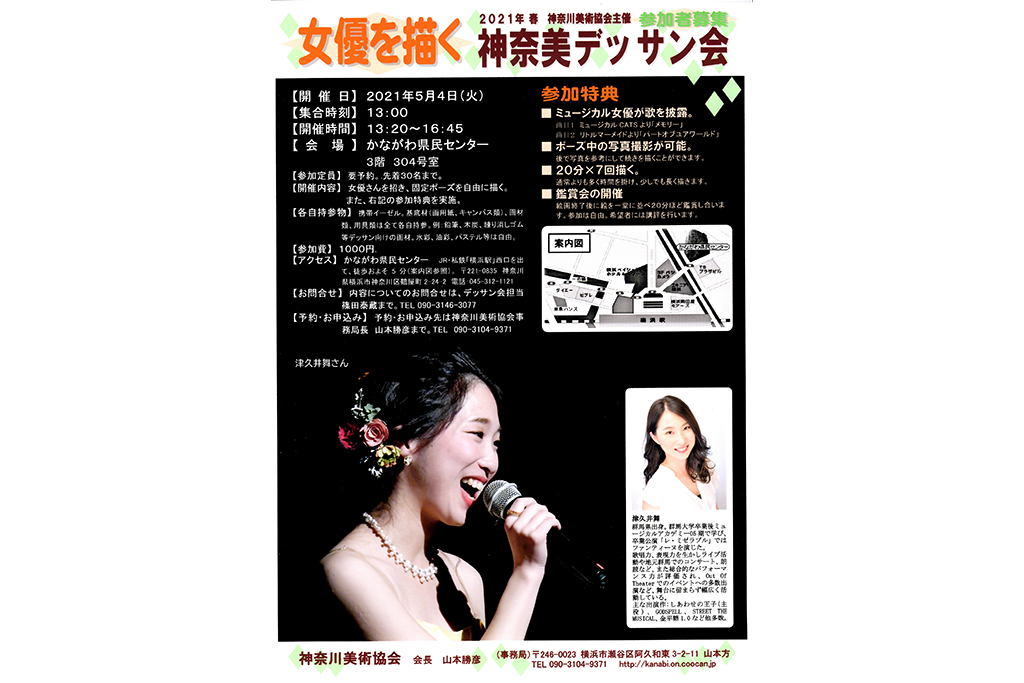 美術・写真
講座・ワークショップ
Let's draw a musical actress, Mai Tsukui! Also show off the song!
Inviting actress Mai Tsukui to freely draw fixed poses. A musical actress performs a song. Reservation required, up to 30 people on a first-come, first-served basis.
《Participation benefits》
◎ A musical actress performs a song.
Song 1. "Memory" from Musical CATS / Song 2. "Part of Your World" from The Little Mermaid
◎ You can take pictures during the pose.
You can draw the continuation later by referring to the picture.
◎ Draw 20 minutes x 7 times.
Take more time than usual and draw as long as possible.
◎ Holding an appreciation party
After finishing the painting, arrange the paintings in one place and watch each other for about 20 minutes. Participation is free. We will give a comment to those who wish.
"Drawing an actress" Kanami drawing party
[Date and time] May 4th (Tuesday) 13: 20-16: 45 (13:00 meeting)
[Venue] Kanagawa Prefectural Center 3F Room 304 (2-24-2 Tsuruya-cho, Kanagawa-ku, Yokohama-shi, Kanagawa / TEL: 045-312-1121)
[Cast] Mai Tsukui (actress)
[Participation fee] 1,000 yen
[How to apply] To Katsuhiko Yamamoto, Secretary General of Kanagawa Art Association (TEL: 090-3104-9371)
[Organizer] Kanagawa Art Association
[Inquiries] 090-3146-3077 (To Taizo Shinoda, in charge of drawing)
Outline of the event
Schedule
Place

Kanagawa Prefectural Citizens Center

The "Kanagawa Prefectural Citizens Center" is a facility that is set up and operated by Kanagawa Prefecture, and is a building that houses institutions that provide various services to the citizens of the prefecture. The museum is open from 9 am to 9 pm (partly until 10 pm) throughout the year, but the hours and holidays that can be used differ depending on the institution you use, so please check in advance. .. The Kanagawa Prefectural Citizens'Activity Support Center manages the facilities of the Kanagawa Prefectural Citizens' Center.

* This text / photo is quoted from the website of Kanagawa Prefecture.

About the facility Access