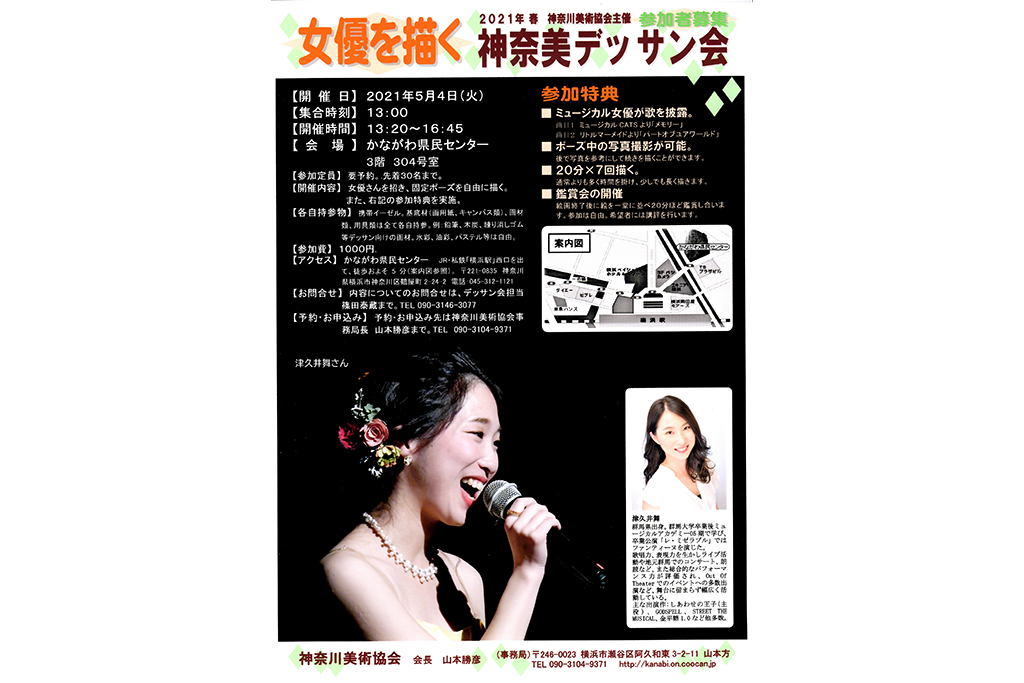 Invited actress Mai Tsukui to freely draw fixed poses. A musical actress performs a song. Reservation required, limited to the first 30 people.
《Participation privilege》
◎ A musical actress performs a song.
Song 1. "Memory" from the musical CATS / Song 2. "Part of Your World" from The Little Mermaid
◎ You can take pictures while posing.
You can refer to the picture later to draw the rest.
◎ Draw 20 minutes x 7 times.
Take more time than usual and draw a little longer.
◎Holding an appreciation party
After the painting is over, the paintings are arranged in one place and they appreciate each other for about 20 minutes. Participation is free. Applicants will be evaluated.
"Draw an actress" Kanami drawing meeting
[Date and time] Tuesday, May 4, 13:20-16:45 (Meet at 13:00)
[Venue] Kanagawa Prefectural Center 3F Room 304 (2-24-2 Tsuruya-cho, Kanagawa-ku, Yokohama-shi, Kanagawa / TEL: 045-312-1121)
[Appearance] Mai Tsukui (Actress)
[Participation fee] ¥ 1,000
[How to apply] Katsuhiko Yamamoto, Secretary General of Kanagawa Art Association (TEL: 090-3104-9371)
[Organizer] Kanagawa Art Association
[Inquiries] 090-3146-3077 (Taizo Shinoda, in charge of the drawing meeting)