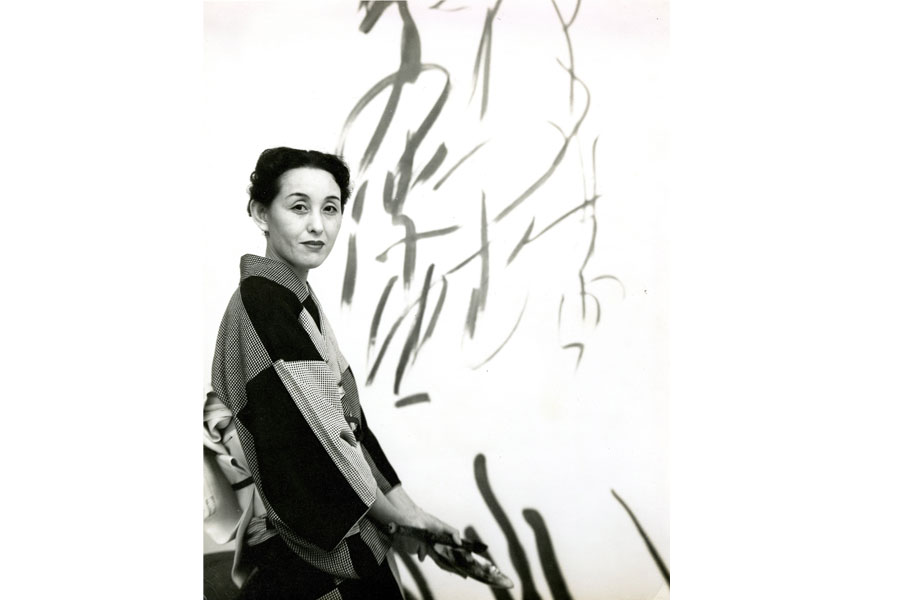 美術・写真
Sogo Museum of Art to hold an exhibition of Toko Shinoda, an artist of "abstract ink painting"
(TOP image / in New York in 1956 (photographed by HAMS NAMUTH))

From Saturday, April 3, 2021 to Sunday, May 9, 2021 at the Sogo Museum on the 6th floor of the Sogo Yokohama store.
Toko Shinoda Exhibition Unstoppable, Colors of Ink, Shapes of Heart.
Toko Shinoda has established her own style of ink abstract painting that is not bound by the shape of letters.
I have continued to challenge new expressions until now.
Staying close to the "unstoppable" drifting in nature and the changing times,
The line of "black ink" found there plays a rhythm that makes you feel infinite expanse.
This exhibition presents works from the early period when Toko began studying classical Japanese literature and calligraphy,
Aside from letters, he pursued the colors and lines of ink and established his own abstract expression in New York.
Then, we cut off the excess to the limit and sublime it into a new form,
The transition to the present, which continues to pursue the momentary "shape of the heart,"
Follow through about 80 works and materials.
Toko Shinoda Exhibition
The unstoppable, the color of ink, the shape of the heart
[Holding period] Saturday, April 3, 2021 to Sunday, May 9, 2021 * Open daily during the exhibition
[Place] Sogo Yokohama 6F = Sogo Museum
[Hours] 10:00-20:00 (Last entry 30 minutes before closing)
* Subject to change according to the business hours of Sogo Yokohama store.
[Price] General ¥1,200 / University and high school students ¥1,000 / Junior high school students and younger free
[TEL] 045-465-2111