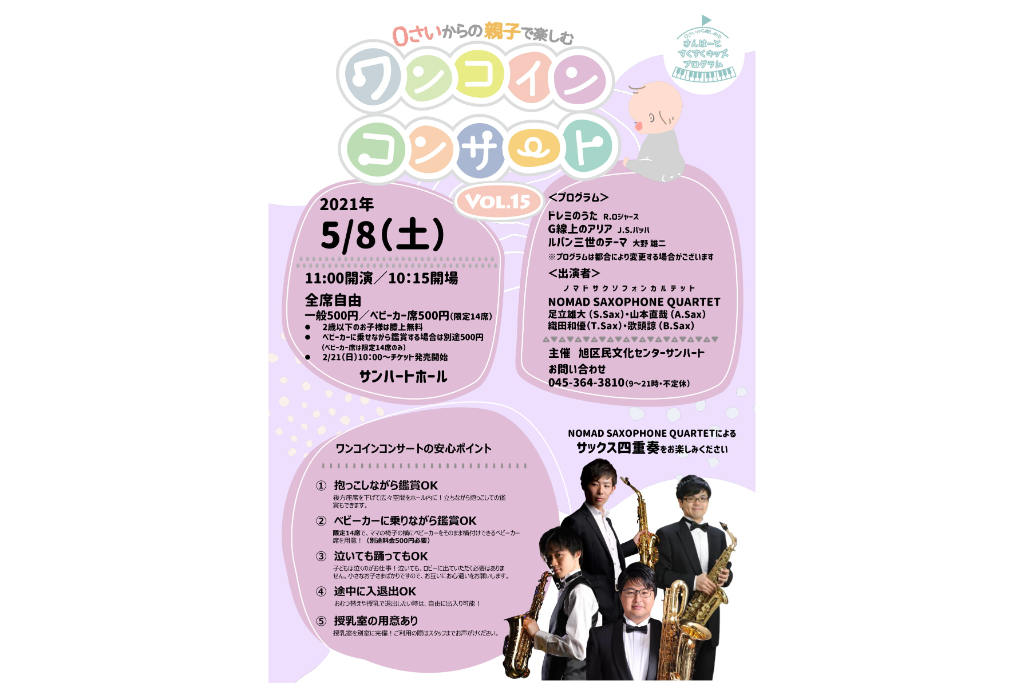 音楽
Appreciation is OK from 0 years old! Concerts that parents and children can enjoy together
Not to mention children! Both mom and dad can enjoy!
I'm worried that the concerts I listen to in the hall will make noise when my children are with me … Don't you think that way?
Don't worry about moms at the concerts of the Kids Program! You can cry or dance!
It is natural that children do not have concentration. Since the concert is designed to be enjoyed at the pace of children, you can enter and leave the concert freely.
How about a concert that you can enjoy without hesitation?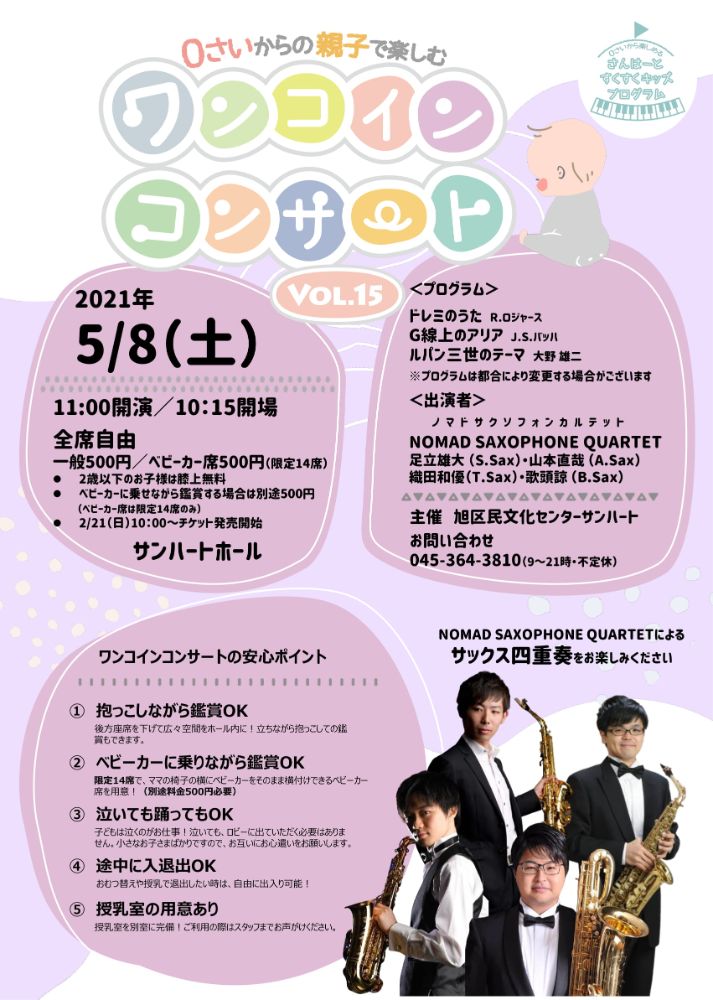 Sukusuku Kids Program
One Coin Concert Vol. 15
[Date and time] May 8th (Sat) 11:00 start (10:15 open)
[Venue] Sunheart Hall , Asahi Ward Cultural Center, Yokohama City
[Cast]
■ Nomad Saxophone Quartet
Yudai Adachi (soprano saxophone)
Naoya Yamamoto (alto saxophone)
Kazuyu Oda (tenor saxophone)
Ryo Uta (Ryo Uta)Baritone saxophone)
[Price] All seats are free ¥ 500
* Free above knees under 2 years old
* Additional ¥ 500 for viewing while riding in a stroller (only 14 stroller seats are available)
* If the advance tickets are sold out, the tickets will not be sold on the day.
[Inquiries] 045-364-3810 (Sunheart, Asahi Ward Cultural Center, Yokohama City * 9: 00-21: 00 Irregular holidays)
[URL] http://www.sunheart.info/event
Outline of the event
Schedule
Place

Asahi Ward Cultural Center Sunheart

Yokohama City Asahi Ward Cultural Center "Sunheart" is located on the 5th floor of Futamatagawa Life, which is directly connected to "Futamatagawa Station" on the Sotetsu Line, and is a cultural center for citizens (ward residents) with good transportation access.
~ Sun Heart that loves people, Sun Heart that is loved by people ~
Based on the concept, we aim to "create joy" through the cultural arts of Asahi Ward residents, "revitalize the region" and "improve regional value" of Asahi Ward.

In addition to the "Hall", which is ideal for music performances, plays, dances, and lectures, there is also a "Music Hall" dedicated to music, which is ideal for performances, presentations, and practice of acoustic music such as pianos, stringed instruments, and woodwind instruments.
The 110-square-meter "art gallery" is used as a place for presenting and exhibiting art and craft works such as paintings, calligraphy, and photography.
In addition, there is a "meeting room" that is ideal for meetings and gatherings of cultural activities, a floor and mirror with flooring that is ideal for dance, drama, and music practice, and an 83-square-meter "culture studio" with a lesson bar. It is equipped with a "music studio" that can be used for practicing various music, and is used as a place for your culture and art.

About the facility Access