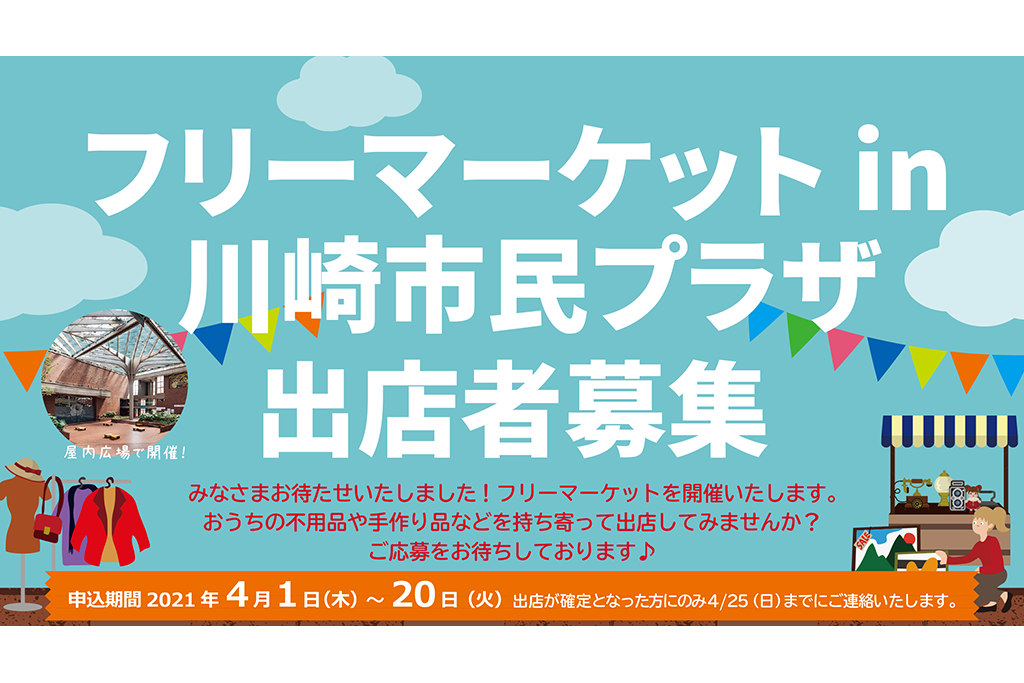 その他
"Flea Market in Kawasaki Civic Plaza" Recruitment of vendors! (from 4/1 to 4/20)
We will hold a flea market that is crowded with many visitors every year. Why don't you open a store by bringing your own unwanted items and handmade items? We look forward to receiving your application. The event will be held indoors regardless of the weather.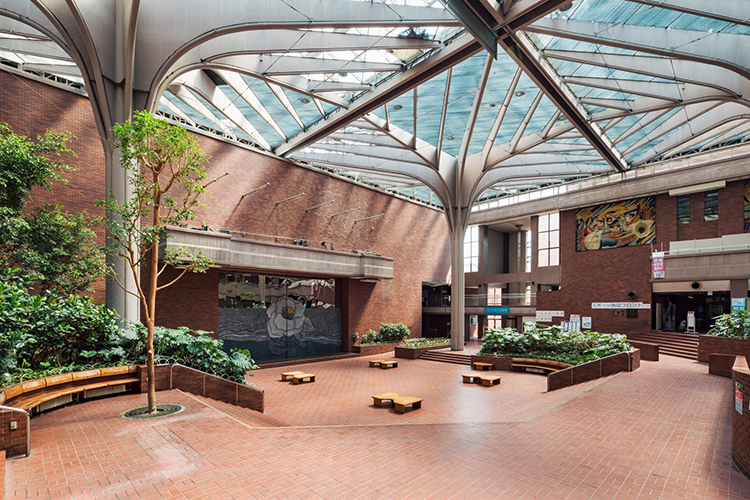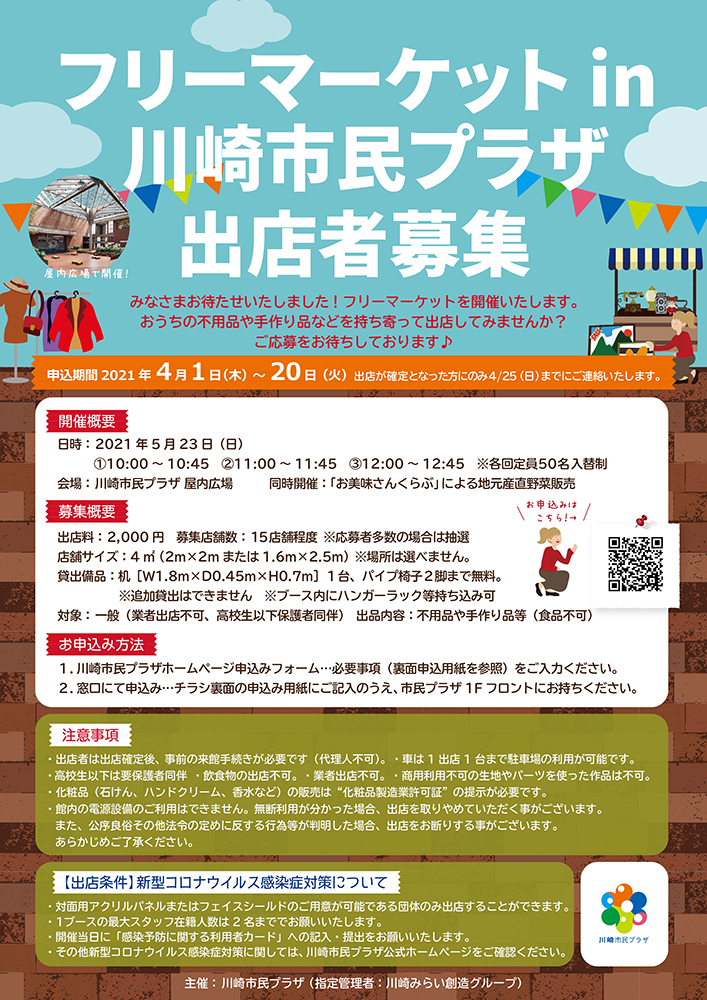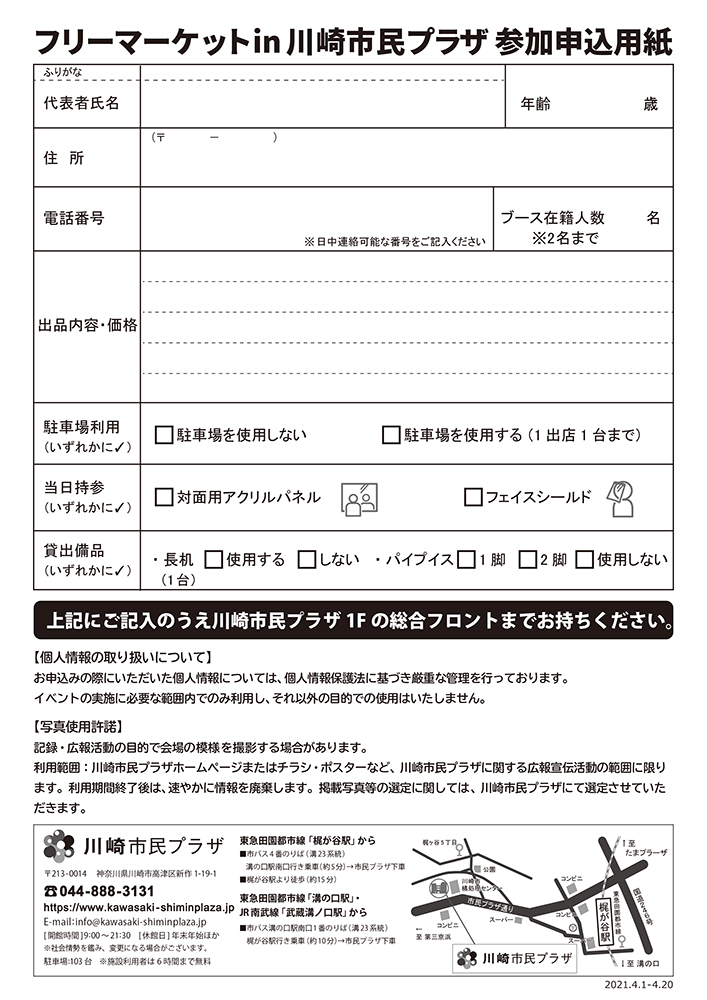 Flea Market in Kawasaki Civic Plaza Recruitment of Vendors
[Date] May 23 (Sun) ①10:00-10:45/②11:00-11:45/③12:00-12:45
[Venue] Kawasaki Civic Plaza Indoor Plaza
[Target] General (No vendor opening, accompanied by guardians under high school students)
[Recruiting stores] About 15 stores (lottery if there are many applicants)
[Store size] 4㎡ (2m x 2m) or (1.6m x 2.5m) *You cannot choose the location.
[Equipment for rent] 1 desk (W1.8m x D0.45m x H0.7m), up to 2 pipe chairs (free)
*Additional lending is not possible. Hanger racks can be brought into the booth.
[Store opening fee] ¥ 2,000
[How to apply] Apply at the website or at the general front desk.
[HP required items]
(1) Name of representative / (2) Age / (3) Address / (4) Phone number / (5) Exhibit contents and price / (6) Use of parking lot / (7) Number of people in the booth (up to 2) / (8) Number of rental equipment / (9) Face-to-face acrylic panel or face Shield *Please indicate which one you will bring on the day.
[General reception] Please fill out the application form on the back of the flyer and bring it to the general reception.
Download the back of the flyer here !
[Application period] April 1st (Thursday) to 20th (Tuesday)
* Only those who have been confirmed to open a store will be contacted by April 25 (Sun).
[Store opening conditions] Measures against new coronavirus infectious diseases
・Be sure to prepare a face-to-face acrylic panel or face shield.
・The maximum number of staff members in one booth is 2.
[Organizer] Kawasaki Civic Plaza (designated administrator: Kawasaki Future Creation Group)
■ Precautions
・Vendors are required to complete a visit procedure in advance (representatives are not allowed).
・Please fill out and submit the "User Card for Infection Prevention" on the day of the event.
・Works that use fabrics or parts that cannot be used for commercial purposes cannot be opened.
・Food and beverage stalls are not allowed.
・Vendors are not permitted to open stores.
・To sell cosmetics (soap, hand cream, perfume, etc.), it is necessary to present a "cosmetics manufacturing license".
・You cannot use the power supply facilities in the building. Please note that we may ask you to cancel the store opening if we find out that you are using it without permission.
・We may refuse to open a store if we find that it violates public order and morals or other laws and regulations. Please note.
・Parking is available for up to 1 car per store.
・High school students and younger must be accompanied by a guardian.