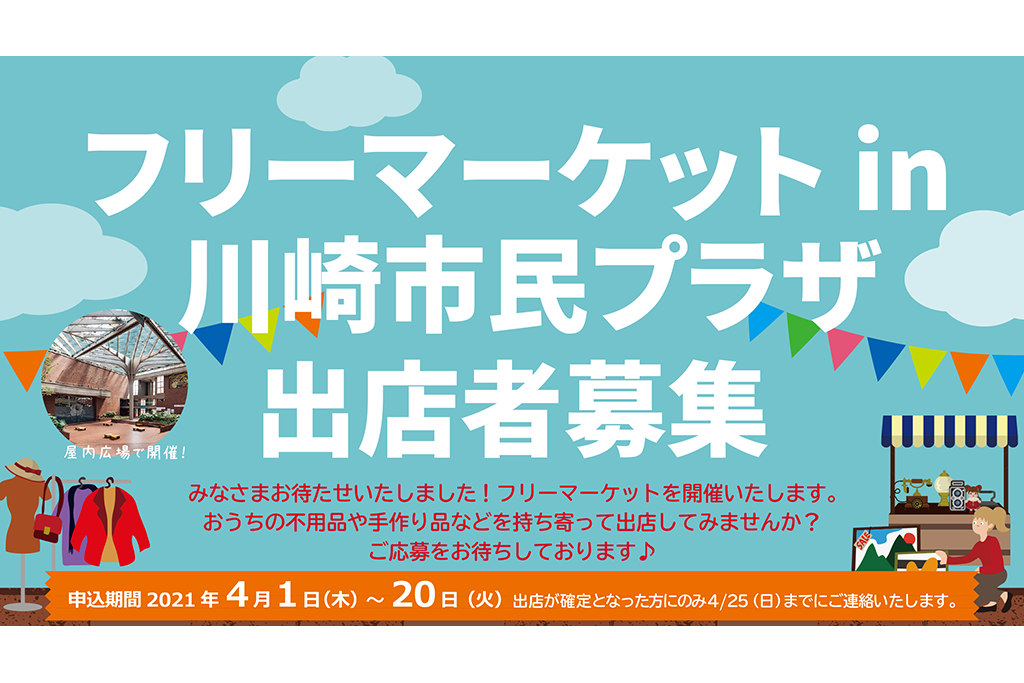 その他
Recruitment of "Flea Market in Kawasaki Shimin Plaza" store openings! (From 4/1 to 4/20)
We hold a flea market that is crowded with many visitors every year. Why don't you bring your own disused items and handmade items to open a store? We are looking forward to your application. Since the venue is indoors, it will be held regardless of the weather.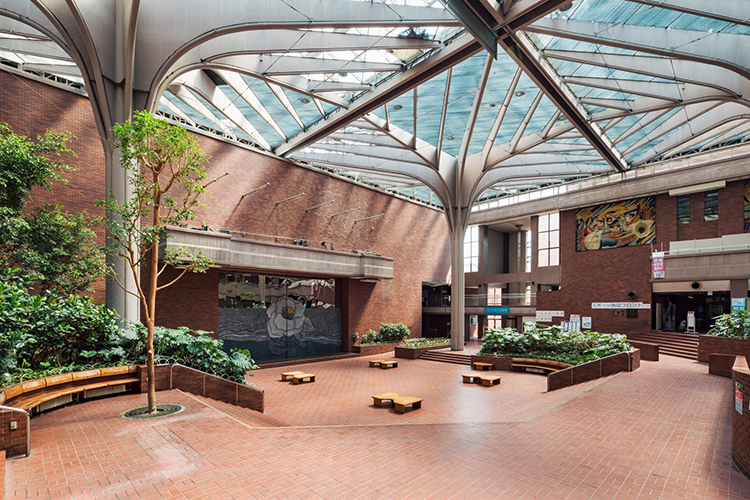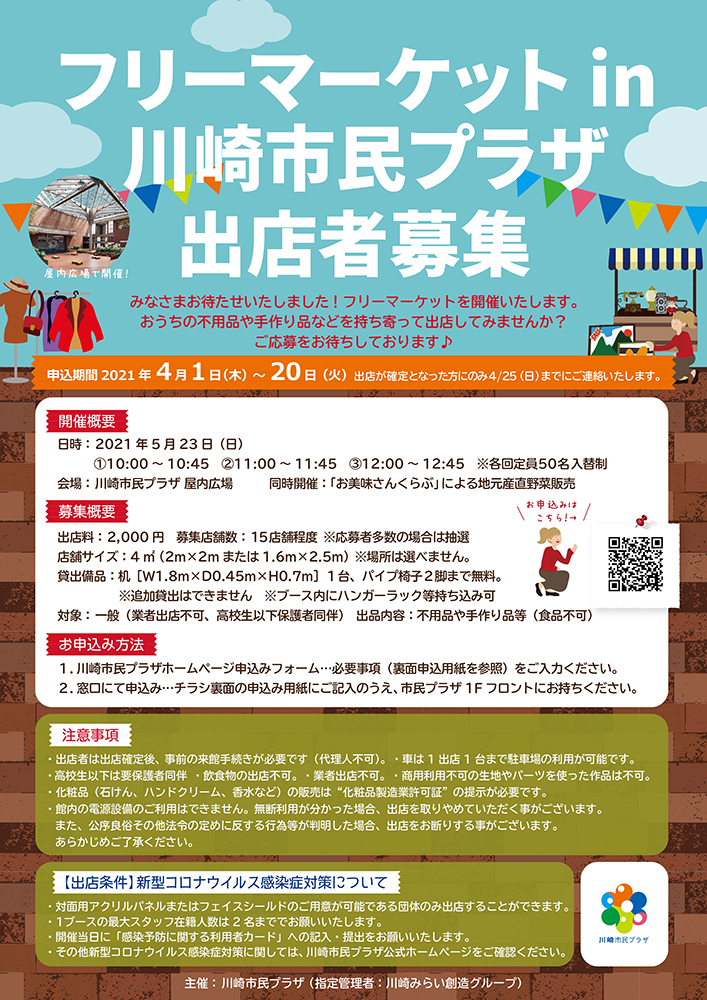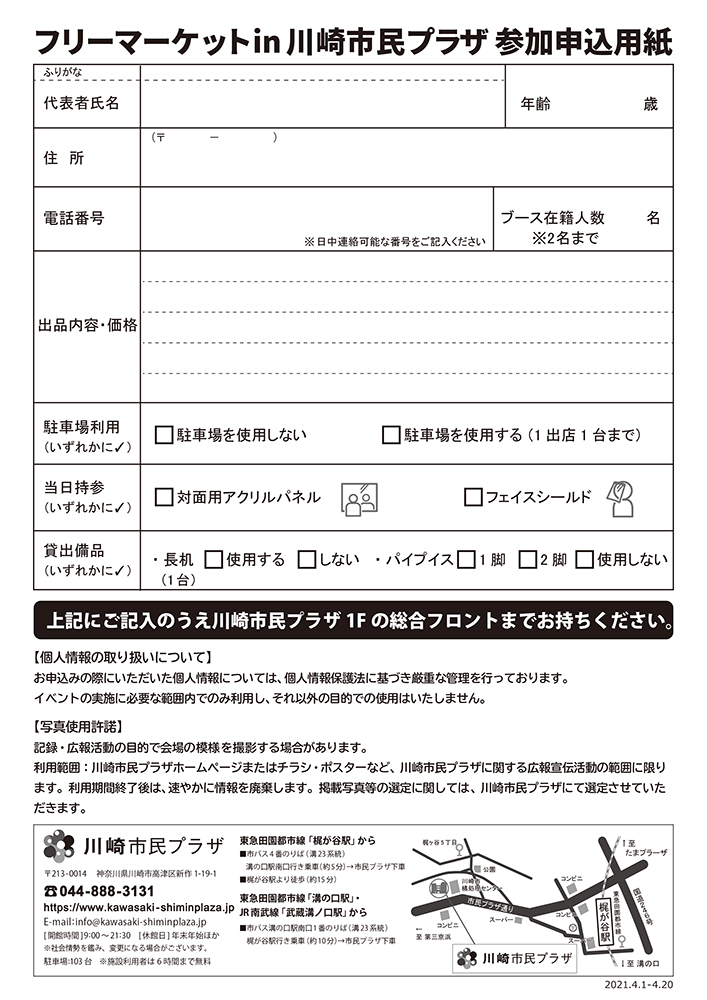 Flea Market in Kawasaki Shimin Plaza Recruitment of store openings
[Date] May 23 (Sun) ① 10:00 to 10:45 / ② 11:00 to 11:45 / ③ 12:00 to 12:45
[Venue] Kawasaki Shimin Plaza Indoor Square
[Target] General (No store opening, accompanied by parents under high school students)
[Recruitment stores] About 15 stores (lottery if there are many applicants)
[Store size] 4㎡ (2m x 2m) or (1.6m x 2.5m) * You cannot choose the location.
[Rental equipment] Up to 1 desk (W1.8m x D0.45m x H0.7m) and 2 pipe chairs (free of charge)
* Additional lending is not possible. You can bring hanger racks, etc. into the booth.
[Store opening fee] ¥ 2,000
[How to apply] Please apply at the HP or the general front desk.
[HP requirements]
(1) Name of representative / (2) Age / (3) Address / (4) Telephone number / (5) Exhibit details / price / (6) Parking lot usage / (7) Number of people enrolled in the booth (up to 2 people) / (8) Number of rental equipment / (9) Acrylic panel or face for face-to-face Shield * Please indicate which one to bring on the day.
[General front desk] Please fill out the application form on the back of the leaflet and bring it to the general front desk.
Click here to download the back of the leaflet !!
[Application period] April 1st (Thursday) to 20th (Tuesday)
* We will contact you by April 25 (Sun) only for those who have confirmed the opening of the store.
[Store opening conditions] Measures against new coronavirus infections
・ Be sure to prepare a face-to-face acrylic panel or face shield.
・ The maximum number of staff in one booth is two.
[Organizer] Kawasaki Shimin Plaza (Designated manager: Kawasaki Mirai Creation Group)
■ Notes
・ Openers are required to visit the museum in advance (no agent is allowed).
・ Please fill in and submit the "User Card for Infection Prevention" on the day of the event.
・ Works using fabrics and parts that cannot be used for commercial purposes cannot be opened.
・ No food or drink can be opened.
・ It is not possible to open a store.
・ To sell cosmetics (soap, hand cream, perfume, etc.), you need to show a "cosmetics manufacturing permit".
・ You cannot use the power supply equipment in the building. Please note that you may be asked to cancel the store if you find out that you are using it without permission.
・ If public order and morals or other acts that violate the provisions of laws and regulations are found, we may refuse to open the store. Please note.
・ Up to 1 car can be used in the parking lot.
・ High school students and younger must be accompanied by a guardian.
Outline of the event
Schedule
Place

Kawasaki Shimin Plaza

Kawasaki Shimin Plaza was established to promote the health of citizens and promote culture, provide mutual exchanges between citizens, and contribute to the publicity of citizens' welfare. It is a versatile facility with Japanese-style rooms, conference rooms, Go / Shogi rooms, gymnasiums, training rooms, tea rooms, Japanese gardens, restaurants, bathrooms, etc. In addition, we have sports schools and hobby classes that can be attended by people of all ages, so it is possible to participate in classes that are rich in genres.

The Furusato Theater, which boasts 489 seats, holds various events as a medium-sized hall that can be used for music, theater, butoh, and holds events at any time in the indoor plaza. In addition, the heated pool is available year-round, and there are two types of pools: a 25m pool with 5 courses and a children's pool. The 25m pool is usually used by the school depending on the course, and the remaining courses are decided to be "one-way (swim)" or "swim (swim, walk)", but all courses are open to the public during the summer vacation. To do. As the rules are set, it is highly supported by people who want to swim well and those who have a healthy purpose.

About the facility Access