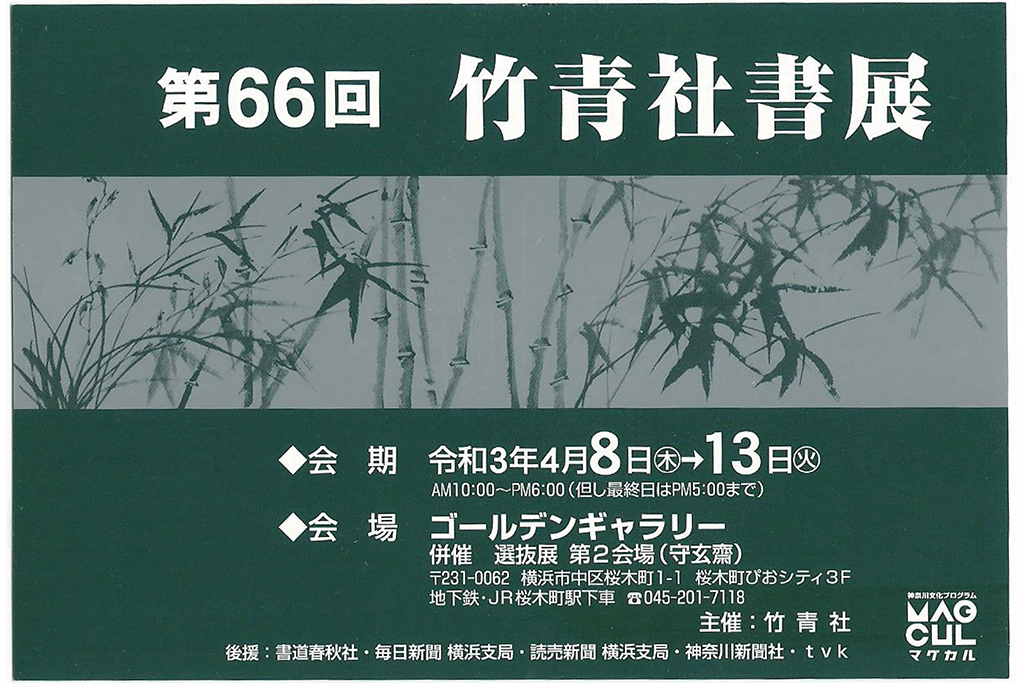 Immediately from Sakuragicho Station! 6 days when book works are lined up in the Golden Gallery
Golden Gallery Gallery Morigensai Holding period: 2021.04.08 ~ 2021.04.13
「66th Takeseisha Calligraphy Exhibition」
(Please note that this page was created using Google's automatic translation service and understand that because of this, its translation may not necessarily be accurate.)
Our project will contribute to the mutual study of members by classical analysis of calligraphy and the pursuit of new things, and to the development of local communities and Japanese culture. The 66th "Takeseisha Calligraphy Exhibition" will be held at the Golden Gallery for 6 days from April 8th (Thursday).
66th Takeseisha Calligraphy Exhibition
[Date and time] April 8th (Thursday) to 13th (Tuesday) 10:00 to 18:00 (last day until 17:00)
[Venue] Golden Gallery (Co-sponsored by: Selection Exhibition 2nd Venue (Morigensai)
[Fee] Free
[Organizer] Takeseisha
[Inquiry] 045-201-7591 (Takeseisha)
Two rental galleries operated by "Golden Stationery", a store specializing in calligraphy supplies on the 3rd floor of Sakuragicho Pio City in Yokohama.
[Golden Gallery] This is a gallery attached to the store. It can be used for various exhibitions, mainly calligraphy exhibitions.
(Area: 180 square meters, wall length: fixed 65 meters, ceiling height: 2.6 meters)
[Gallery Morigensai] This is the gallery in front of the store.
(Area: 180 square meters, wall length: fixed 65 meters, ceiling height: 2.6 meters)
Address

1-1 Sakuragicho, Naka-ku, Yokohama-shi, Kanagawa Sakuragicho Pio City 3F

TEL

045-201-7118

Business Hour

10: 00-19: 30 [Regular holiday] 3rd Wednesday
Map