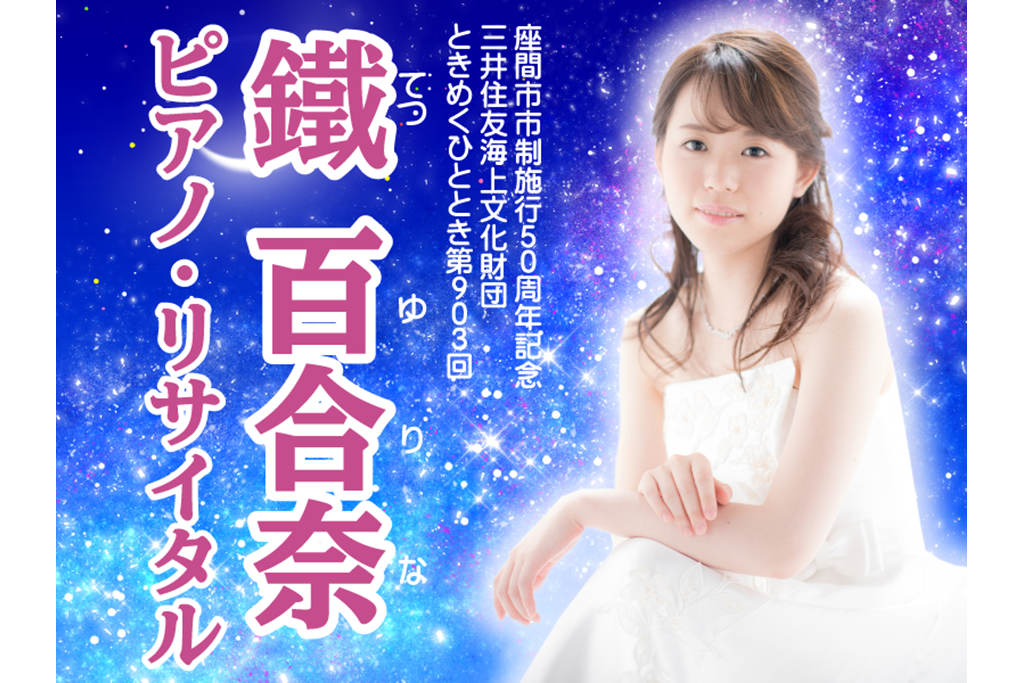 音楽
Recital held by pianist Yuri Yuri in Harmony Hall Zama
On Saturday, June 26th, a recital by pianist Yurina Tetsu will be held at Harmony Hall Zama.
Tickets will be on sale on Wednesday, March 24, 2021 !!
* Up to 4 tickets per person on the first day
Yuri Yuri
Piano recital
[Date and time] June 26th (Sat) 14: 00- (Opening at 13:30)
[Venue] Harmony Hall Zama Large Hall
[Cast] Yurina Tetsu (piano)
[Price] (All seats reserved) 1,000 yen
[Ticket sales]
■ Harmony Hall Zama TEL.046-255-1100
■ Kumagiri Shoten (in front of Zama Station) TEL.046-251-0006
■ Wine Food Wakabayashi (under Zama Camp) TEL.046-251-0040
■ Saito Camera Digital Print Building (in front of Yamato Station) TEL.046-200-5001
■ Sankyo Fort Service (Odakyu Sagamihara South Exit) TEL.042-742-8917
■ Eplus
[Organizer] Harmony Hall Zama
[Inquiry] 046-255-1100 (Harmony Hall Zama)
* Please refrain from entering preschool children.
* Another concert for elementary school students "Yurina Tetsu Children's Mini Concert" * When making inquiries or booking tickets by phone, please check the phone number and make sure there are no mistakes.
* Please refrain from lining up before the release date to purchase tickets.
* Resale of commercial tickets is prohibited.
* If not specified on the first day of ticket sales, tickets will be sold at the hall window from 9:00. After that, telephone reservations will be handled from 10:00, but if they are sold out at the counter, you will not be able to purchase them, so please forgive me.
Outline of the event
Schedule
Place

Harmony Hall Zama

A large hall with the concept of "Forest Concert Hall" that can produce a special music space, a small hall with a motif of "Water Hall" that can accommodate various events, rehearsal rooms, practice rooms, conferences and workshops It is a facility equipped with a large, medium and small conference room, large and small Japanese-style rooms that can be used for flower arrangement, Japanese dance, tea ceremony, etc., and a gallery for exhibition.

About the facility Access