その他
Enjoy yoga while feeling the scent of the sea and the sea breeze in the open lawn garden
We will hold a yoga class in the lawn garden in front of the former Hirobumi Ito Kanazawa Bettei.
You can enjoy yoga in the open garden while feeling the scent of the sea and the sea breeze.
Pre-registration will be closed on a first-come, first-served basis as soon as the capacity is reached. Please hurry.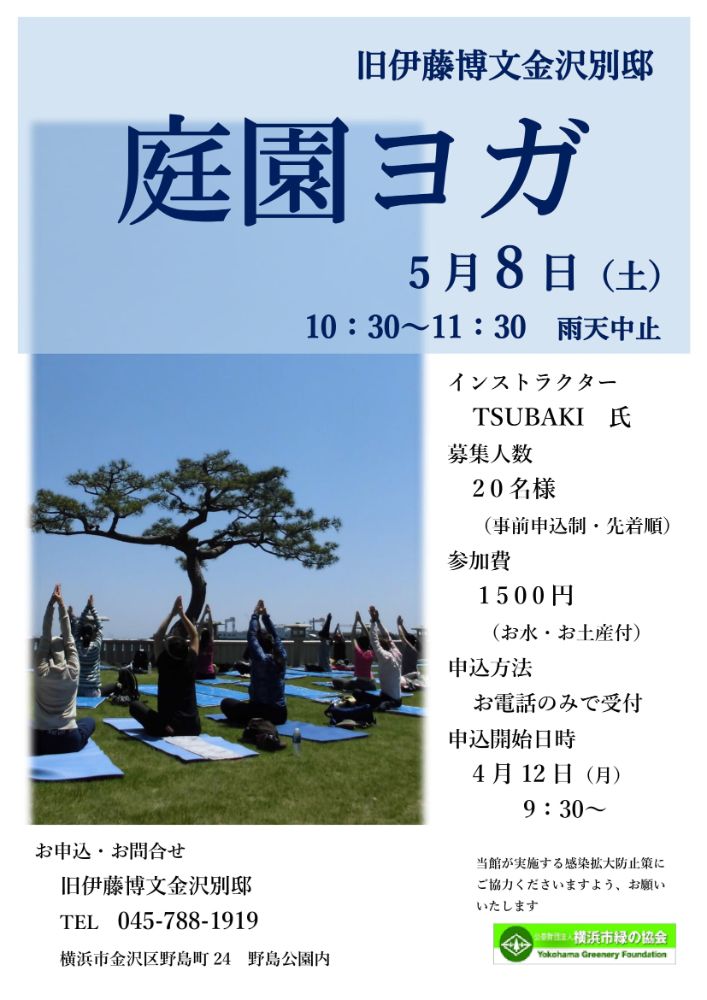 Garden yoga
[Date and time] May 8th (Sat) 10: 30-11: 30 * Canceled in case of rain
[Place] Former Hirobumi Ito Kanazawa Bettei in Nojima Park
[Instructor] Mr. TSUBAKI
[Number of applicants] 20 people (advance application system, first-come-first-served basis)
[Participation fee] 1500 yen (with water and souvenirs)
[How to apply] Accept by phone only
* Application start date and time: April 12 (Monday) 9: 30-
[Request at the time of advance application]
* To prevent infection, we will not accept applications directly at the counter this time.
* Please note that only telephone calls will be accepted.
* If you would like a yoga mat for rent, please let us know at the time of advance application.
[Inquiries] 045-788-1919 (former Hirobumi Ito Kanazawa Bettei)
[URL]ost-380.php "> http://www.hama-midorinokyokai.or.jp/park/nojima/details/post-380.php
[About measures to prevent infection with the new coronavirus]
* Please refrain from participating if you are not feeling well on the day (the temperature will be measured at the reception).
* Yoga mats for rent are available, but please cooperate in bringing your own yoga mats.
* It is okay to remove the mask during the lesson, but please keep a distance of 2m or more from other people and refrain from talking.
* When visiting the residence, please wear a mask and fill out the user declaration form.

Outline of the event
Schedule
Place

Former Hirobumi Ito Kanazawa Bettei

Former Hirobumi Ito Kanazawa Bettei is a country-style beach villa with a thatched roof built in 1898 by Hirobumi Ito, who was the first Prime Minister. It is said that Hirobumi Ito liked to build the scenic land of Kanazawa, and Emperor Taisho and Crown Prince of Korea also visited.

In the Meiji era, the area around Kanazawa such as Tomioka attracted attention as a beach villa in the suburbs of Tokyo. Tamado and others have set up villas. After that, Oiso and Hayama prospered as villas, and Kanazawa finished its role. The former Hirobumi Ito Kanazawa Bettei is one of the few valuable architectural remains of the villa area at that time.

In November 2006, it was designated as a tangible cultural property designated by Yokohama, but due to the remarkable deterioration of the building, dismantling work and investigation were conducted in 2007, and the non-existing part was removed. Including, it will be restored to its original appearance.

Construction began in June 2008, and was completed in October 2009 along with the garden.

In the residence, materials and furniture related to Hirobumi Ito are exhibited. In addition, the garden overlooks the sea, and you can enjoy seasonal flowers such as the flower "Button" in Kanazawa Ward, which is open to the public as a place of relaxation for citizens who come into contact with history and culture.

<Access> 5 minutes walk from Nojima Koen Station on the Seaside Line

About the facility Access