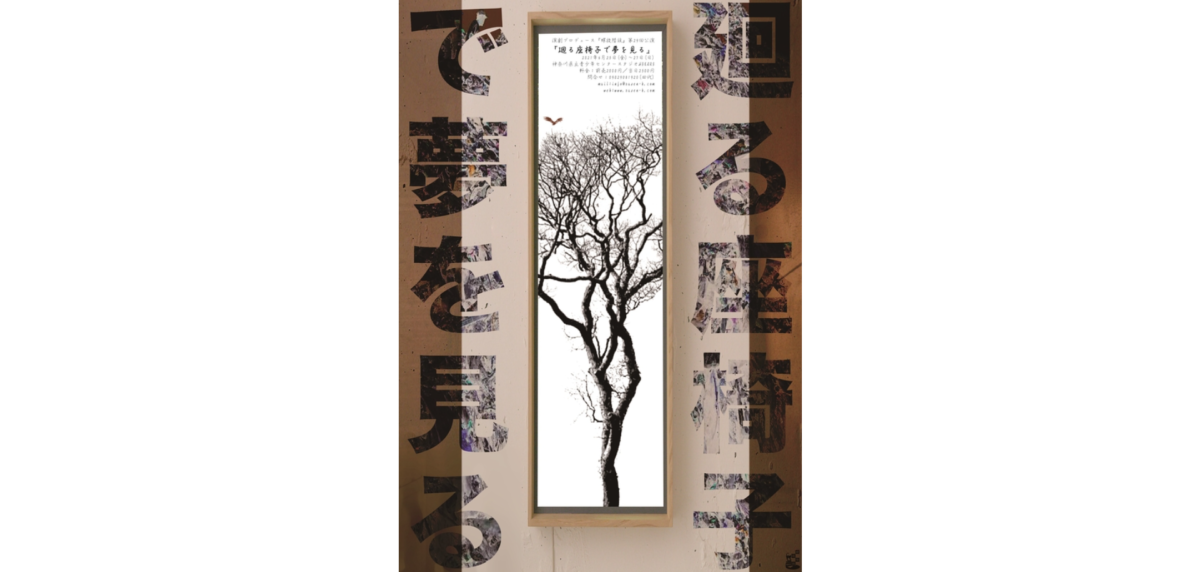 Theater / dance
2021.05.07
The 29th performance of theatrical production "Spiral Staircase"
Kanagawa Prefectural Youth Center Holding period: 2021.06.25 ~ 2021.06.27
2 days until the event
「"Dream in a rotating chair"」
(Please note that this page was created using Google's automatic translation service and understand that because of this, its translation may not necessarily be accurate.)
story
Early summer of 2020. Mariko Umeda was withdrawn at home.
The year when there was or wasn't the Corona or the Olympics. Kota Shimamoto came from the pension office to confirm the whereabouts of his father, Shinjiro Umeda.
Early summer 1998. The world has begun to shift media from video to DVD.
The parent company Yamaichiyama Construction Company went bankrupt in response to the recession caused by the bursting of the bubble economy that began around 1991.
The Umeda civil engineering company, which is a subcontractor, also went bankrupt in a domino style with a large amount of debt. Shinjiro was unemployed with his family.
My mother, Mayu, made lunch boxes for her working father every day. Mariko, the third daughter, couldn't get a job and lived in her parents' house as a part-time worker.
Toshiko, the second daughter, graduated from university and got a job at a first-class company. My father wasn't told by his family that the company was leaning and that he went bankrupt.
Keiko, the eldest daughter who had left her parents' house after graduating from high school, came back there. Keiko was accompanied by a man whose identity was unknown.
Keiko started an online shopping business that burns back videos to DVD and sells them for her family. A confused family and a father sitting in a chair.
Early summer of 2020. Mariko Umeda was withdrawn at home. Mariko started talking to Kota Shimamoto about her family.
"Dream in a rotating chair"
[Cast] Mikiya Rouki
Masami Tashiro
Ken Nemoto
Shinichiro Midori
Miyuki Okamoto (Miyuki's)
Fir Takeuchi (Theatrical company scramble)
Kimura Iori (Chi Reactors)
Sae Kageshima (Chi Reactors)
Ippei Ichihara (G / 9 Project Office, Warujie, North Exit Ticket Gate)
Asahi Sudo
[Staff] Written and directed by Shinichiro Midori
Stage director: Ayumu Watanabe (RESON Co., Ltd.)
Sound: Keishi Kamitsuma (SSED)
Lighting: Chihiro Emi
Performing arts: Hanami Nara
Produced by: Masami Tashiro and Natsuko Yamashita
Produced by: Theater Produce "Spiral Staircase"
[Date and time] June 25 (Friday) 18:30
Saturday, June 26, 13: 00/18: 00
June 27 (Sun) 13:00
* Opening is 30 minutes before the start of the performance.
[Venue] Youth Center 2nd Floor Studio HIKARI
[Fee] Advance sale 2,000 yen
2,500 yen on the day
High school students and younger advance sale 1,000 yen
Video distribution ticket 1500 yen
* We will inform you as soon as the delivery date is decided.
[Notes on purchase]
It is not a live delivery.
You need to register for a TwitCasting account.
A service usage fee of 100 yen (tax included) will be charged separately for each ticket.
In the case of convenience store payment, an additional purchase fee of 100 yen (tax included) will be charged.
(Total payment amount = ticket fee + 200 yen)
After distribution, you can enjoy the archived video as many times as you like for two weeks.
[Official website] https://www.pref.kanagawa.jp/docs/yi4/theatre/2021/rasenkaidan.html
[Contact] Email info@rasen-k.com
Telephone 090-2908-1920
[Organizer] Kanagawa Theater Produce "Spiral Staircase"
The Prefectural Youth Center is a facility that aims to foster the healthy development of young people and contribute to the improvement of the culture of the citizens of the prefecture. I am working on.
1. Development of human resources to promote experiential learning for young people
2. Response to youth withdrawal, school refusal, delinquency, etc.
3. Support for promoting youth science experience activities
4. Support for youth and prefectural performing arts activities
Address

9-1 Momijigaoka, Nishi-ku, Yokohama-shi, Kanagawa

TEL

045-263-4400

Business Hour

* Autumn leaves slope hall, studio HIKARI, practice room (excluding reception desk) 9: 00-22: 00 * Theater reference room 9: 00-22: 00 * Youth reference room 9: 00-17: 00 * Youth support plaza 9 : 00-21: 00 (until 17:00 on Sundays) [Closed] Year-end and New Year holidays (12 / 28-1 / 4) * However, the Youth Support Plaza, Youth Library, and Theater Library are closed every Monday. ..
Map