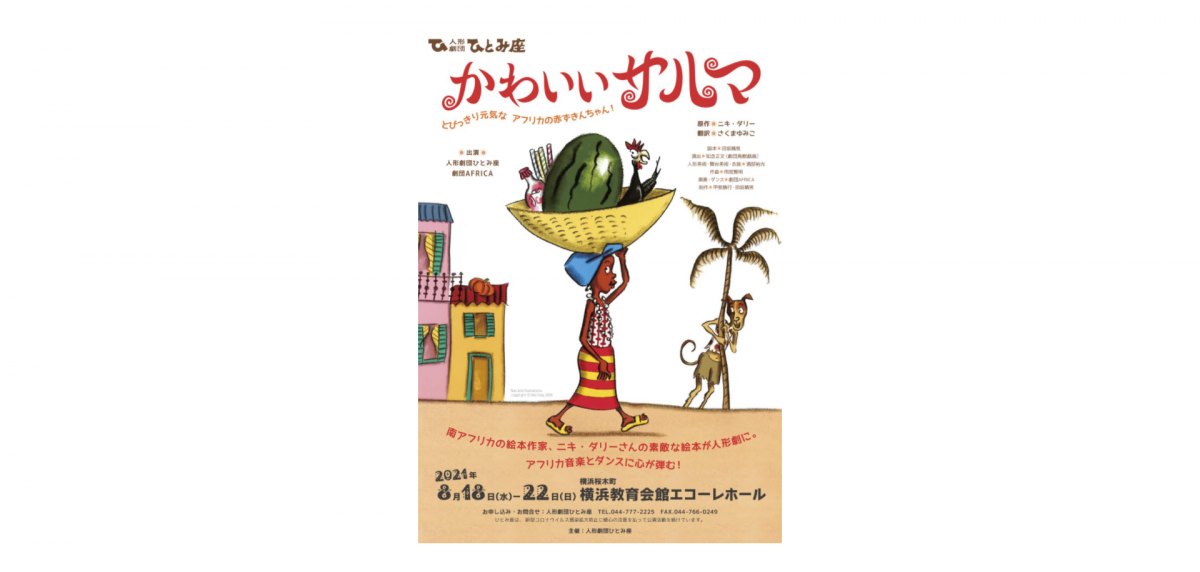 Theater / dance
2021.05.20
African Little Red Riding Hood Sarma Puppet Show
「Cute salma」
(Please note that this page was created using Google's automatic translation service and understand that because of this, its translation may not necessarily be accurate.)
Very energetic African Little Red Riding Hood!
A wonderful picture book by South African picture book writer Niki Dally becomes a puppet show.
Live African music and dance are exciting!
Salma goes shopping to the town with her beloved grandmother.
However, before I knew it, a suspicious dog came along.
It sounds like Little Red Riding Hood's story, but it's not a wolf, but a dog.
A colorful puppet show full of life in a modern African town, not the animals of the savanna!
Cute salma
[Date and time] August 18 (Wednesday) 14:00
Thursday, August 19th 11: 00/14: 00
Friday, August 20th 11: 00/14: 00
Saturday, August 21st 11:00
August 22 (Sun) 11: 00/14: 00
* Opening 60 minutes before the start of the performance
[Price] Advance general: 2600 yen Advance children: 2000 yen
General on the day: 3000 yen Children on the day: 2400 yen
Hitomiza Club: General: 2200 yen / Children: 1800 yen Group (10 people or more) 1800 yen
* All seats reserved / Children (3 years old to elementary school students)
[Ticket application]
Hitomiza Puppet Theater (sponsored)
(3-10-31 Ida, Nakahara-ku, Kawasaki)
TEL: 044-777-2225 (Monday-Friday AM10: 00-PM6: 00)
FAX: 044-766-0249 (all day available)
E-mail: puppet@hitomiza.jp
Application form: https://hitomiza.com/form/ticket.html
Confetti Confetti (Web reservation 7-Eleven ticketing)
URL: https://www.confetti-web.com/detail.php? tid = 60212 &
* Reserved seat voucher. Please exchange for a reserved seat ticket at the reception on the day.
[Venue name] Yokohama City Education Center Hall << Echore >>
(53 Momijigaoka, Nishi-ku, Yokohama)
[Access] 10 minutes walk from JR "Sakuragicho Station". 10 minutes walk from Municipal Subway "Sakuragicho"
Yokohama Station East Exit Bus Stop B Stairs 7 to 103 Bus Get off at "Tobe 1-chome" 1 minute walk
[Official website] http://hitomiza.com/news/000490.html
[Inquiries] Hitomiza Puppet Theater
TEL: 044-777-2225 MAIL: puppet@hitomiza.jp
[Organizer] Hitomiza Puppet Theater
[Countermeasures against infectious diseases]
We will implement the following measures in order to aim for a "puppet show that everyone can enjoy with peace of mind."
The spectator seats will be used with a space between the front, back, left and right (please consult with us when applying when visiting with small children).
Please wear a mask when you come to the venue. Also, please cooperate in measuring the temperature and disinfecting your hands when you come to the venue.
If you feel unwell on the day of the event, please refrain from visiting the venue.
Also, if the temperature measured at the time of admission shows a value of 37.5 degrees or higher,
We may refuse admission. In addition, we accept cancellation after reservation only if you feel unwell.