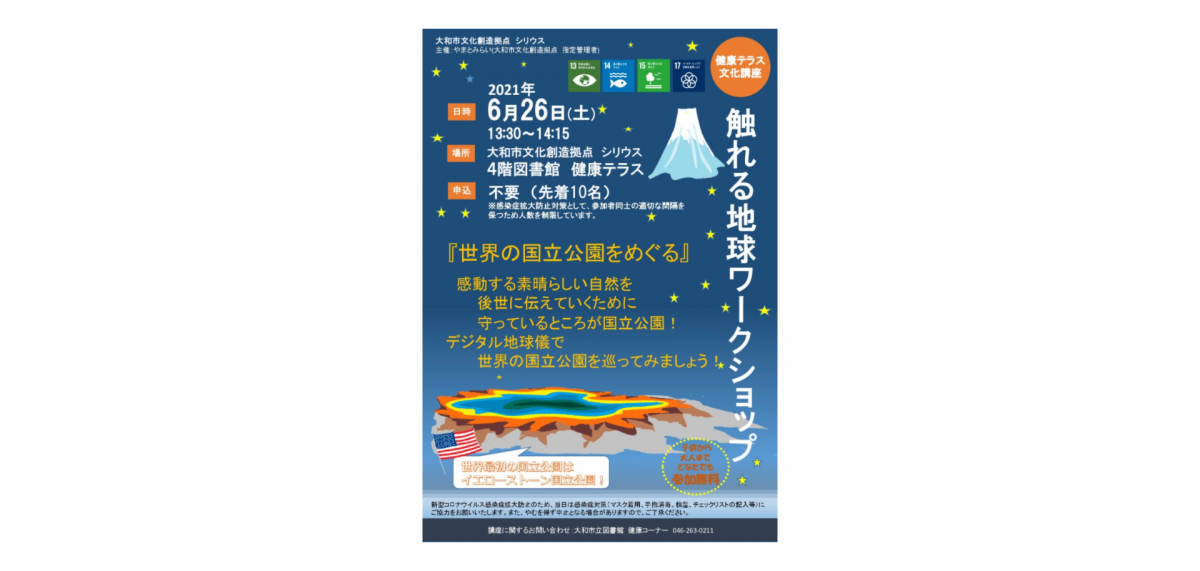 Lectures / Workshops
2021.06.10
Let's go around the world's national parks with a digital globe!
Yamato City Cultural Creation Center Sirius Date: 2021.06.26
3 days to hold
「Touching Earth Workshop」
(Please note that this page was created using Google's automatic translation service and understand that because of this, its translation may not necessarily be accurate.)
"Around the World's National Parks"
National parks are protected to pass on the wonderful and moving nature to future generations!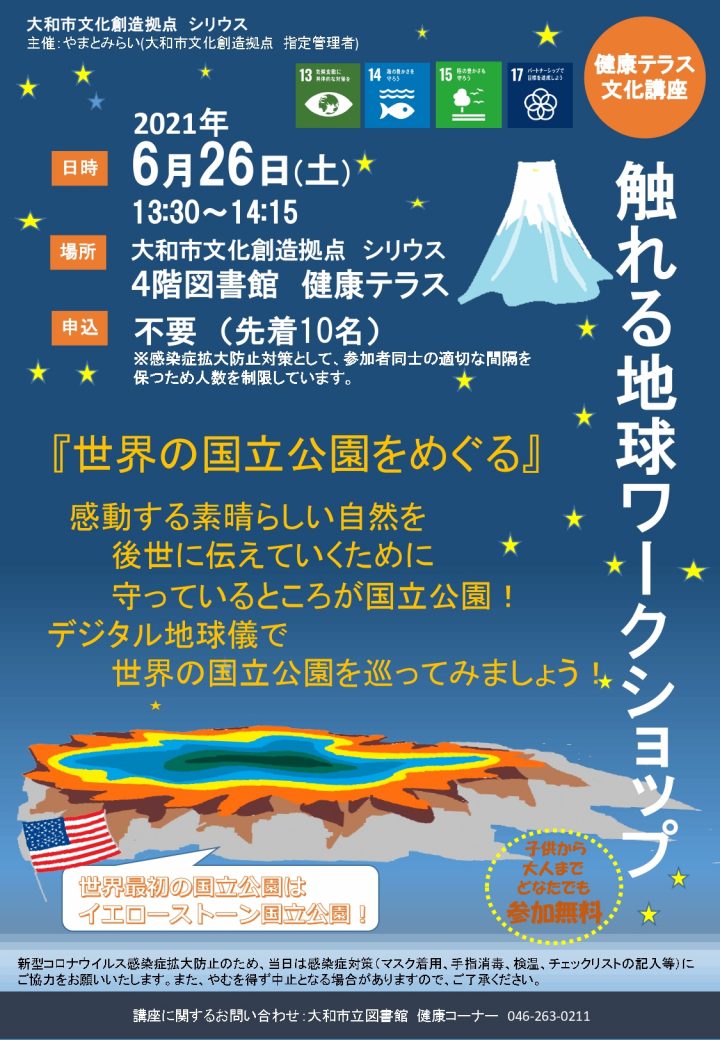 Touching Earth Workshop
[Schedule] Saturday, June 26, 2021
[Time] 13: 30-14: 15
[Venue] Yamato City Cultural Creation Center Sirius 4th Floor Health Terrace
[Fee] Free
[Capacity] First 10 people. Please come directly to the venue.
* As a measure to prevent the spread of infection, the number of participants is limited in order to maintain an appropriate distance between participants.
[Official website] https://yamato-bunka.jp/library/2021/007112.html
[Contact] Yamato City Library Health Corner 046-263-0211
Yamato City Cultural Creation Center (nickname: Sirius) provides many people from children to adults with the splendor of art culture and lifelong learning, new knowledge and exciting encounters with people, and a sense of unity in everyone's hearts. It was born as a place to create. At the core are the library, arts and culture hall, lifelong learning center, and indoor children's plaza. The four facilities will generate more energy through the fusion of their individuality, foster creativity that will lead to the future, and will become a guidepost for your artistic and cultural activities, and will continue to evolve day by day.
[1F / A place of sensibility and creativity that creates excitement] Main hall, sub-hall, gallery, general information, library, etc.
[2F / Citizen exchange floor where you can have fun talking] Citizen exchange lounge, library, Yamato City Hall Yamato Liaison Office, etc.
[3F / Yamato Children's Country to Play and Learn] Genkikko Square, Chibikko Square, Nursery Room, Counseling Room, Children's Library, Studio, etc.
[4F / Healthy city library where you can relax and get familiar with books] Health corner, health terrace, reserved book corner, etc.
[5F / Library to research and learn] Reference counter, information retrieval corner, reading room, etc.
[6F / Lifelong Learning Center for gathering and learning with friends] Citizens' exchange space Plat Yamato, training room, large conference room, etc.
(Slide image) © SS Co., Ltd. Toshihiko Kato
Address

1-8-1 Yamato Minami, Yamato City, Kanagawa Prefecture

Business Hour

(Arts and Culture Hall) 9:00 to 22:00 / (Lifelong Learning Center) 9:00 to 21:30 / (Library) 9:00 to 21:00 * Sundays and holidays until 20:00 / (Children's Library) 9 : 0: 00-19: 00 / (Indoor Children's Square) 9: 00-19: 00 / (Citizens' Exchange Lounge) 9: 00-21: 00 * Sundays and holidays until 20:00

Parking Area

Yes (charged) 8: 15-22: 30
Map