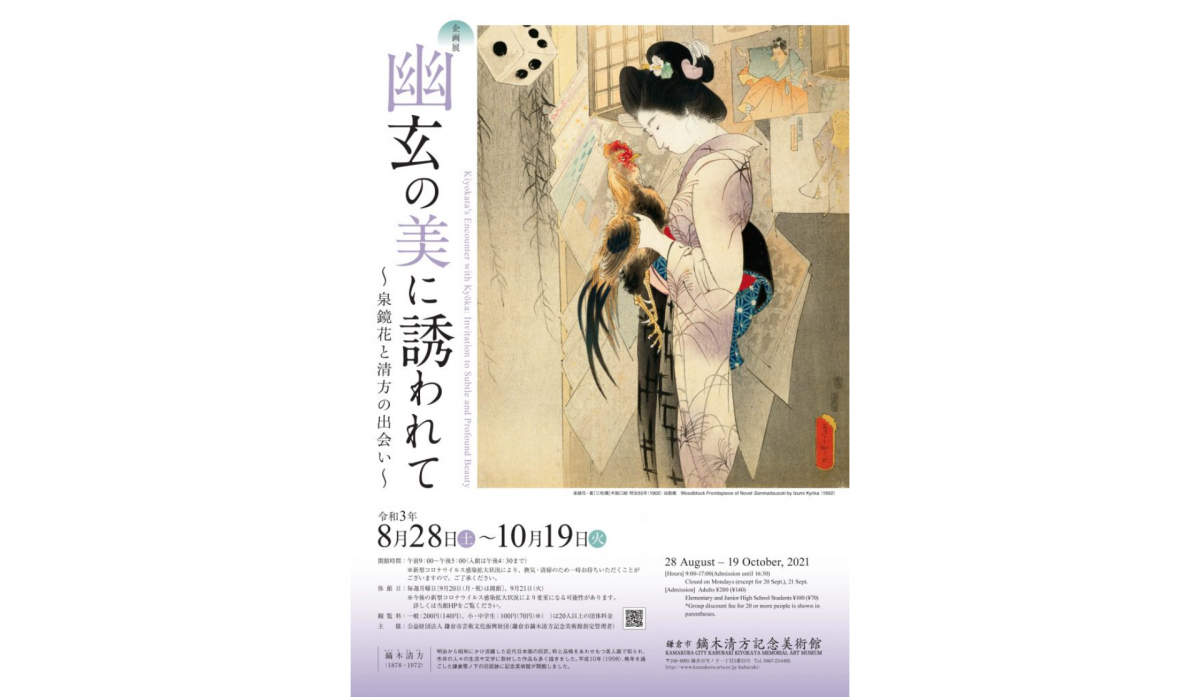 Art / photography
2021.07.19
Introducing the interaction between Kiyokata and Kaburagi and the expanse of art, focusing on the illustrations drawn for Kaburagi's novels and related Japanese paintings.
Kamakura City Kaburaki Kiyotaka Memorial Art Museum Holding period: 2021.08.28 ~ 2021.10.19
Ends in 31 days
「Invited by the mysterious beauty-Kyoka Izumi meets Kiyokata-」
(Please note that this page was created using Google's automatic translation service and understand that because of this, its translation may not necessarily be accurate.)
One of the characteristics of Kiyokata art is the influence of Kyoka Izumi, who has been deeply intimate with him for over 40 years.
Kiyokata, a young man, was an avid reader of Kaburagi's literary works, and was studying with the goal of drawing illustrations for Kaburagi's novels. Kiyokata, who eventually became an up-and-coming illustrator, was asked by Kaburagi, who heard his reputation, to cover the new book "Sanpaku" in the spring of 1901. In August of the same year, when I was working on drawing, I finally met Kyoka, who I admired, through Matsuya Yasuda. From the first meeting, the two of them hit it off like an old friend, and since then, Kiyokata has been working on illustrations and bindings for numerous Kyoka literary works. Even after moving to the Japanese art world, he liked to cover the literary world of Kyoka, and produced "Notebook", which is said to be a masterpiece of tabletop art.
In commemoration of the 120th anniversary of the encounter between the two, this exhibition will focus on the illustrations drawn for Kaburagi's novels and related Japanese paintings, as well as the interaction between Kiyokata and Kaburagi and the spread of art. I will introduce it.
* Subject to change depending on the spread of the new coronavirus.
Click here for measures to prevent the spread of new coronavirus infection
Invited by the mysterious beauty-Kyoka Izumi meets Kiyokata-
[Schedule] August 28th (Sat) -October 19th (Tue), 2021
* Closed: Every Monday (open on Monday, September 20th), Tuesday, September 21st
[Time] 9:00 to 17:00 (Last admission is until 16:30)
Ventilation cleaning time: 13: 00-13: 30 (Since the museum is temporarily closed, you cannot enter the museum)
[Place] Kamakura Kaburagi Kiyokata Memorial Museum
[Fee] General 200 yen, elementary and junior high school students 100 yen
[Official website] http://www.kamakura-arts.or.jp/kaburaki/exhibition/r02_kikaku_2.html
The museum was built on the site of the former residence of Yukinoshita Kamakura, the final land of the painter Kiyokata Kaburagi, a master of modern Japanese painting. A Japanese-style building has a neat appearance in a quiet residential area of the ancient city of Kamakura.
Kiyokata Kaburagi was born in Kanda, Tokyo in the 11th year of the Meiji era. I grew up familiar with literary arts from an early age, and the beginning of my painting business was from an illustrator. Later, the works, which were suitable for hand-painted paintings and were drawn with the main subjects of literature such as the pure and graceful female figure, lively common life, portraits, and favorite readings such as Higuchi Ichiyo and Izumi Kyoka, are for the people of Ichii. You can feel the eyes of empathy and charity. I have been associated with Kamakura since I settled in Zaimokuza in 1946. In 1954, from the year of receiving the Order of Culture, he opened a painting room here in Yukinoshita and spent the time until his death in 1972 at the age of 93. In his later years, Kiyokata called himself "playing with the citizens' style" and worked on many works on the subject of common people's lives. He has left many essays in Japanese paintings full of emotion and elegant writing style.
In 1994, the bereaved family donated works of art, materials, and land and buildings to Kamakura City with the intention of passing on the place of their painting and creation to posterity. In response to this, it opened as a memorial museum in April 1998. We hope that all visitors will have a relaxing time while remembering Kiyokata's art and life.
Address

1-5-25 Yukinoshita, Kamakura City, Kanagawa Prefecture

TEL

0467-23-6405

Business Hour

9:00 to 17:00 (admission until 16:30) [Closed] Monday (open on public holidays and closed on the following weekday), year-end and New Year holidays (December 29 to January 3), exhibition change period Such

Parking Area

None (There is no parking lot or bicycle parking lot, so please use public transportation.)

Average Usage

[Admission fee] <Special exhibition> General ¥ 200, Elementary and junior high school students ¥ 100, <Special exhibition> General ¥ 300, Elementary and junior high school students ¥ 150 * Admission fee is free (certificate required) ... (1) Elementary and junior high schools in Kamakura city Children who go to school or those who live in the city and go to elementary and junior high schools outside the city (2) Those who live in Kamakura City and are 65 years old or older (3) Physically handicapped person's notebook, nursing notebook, mentally handicapped person Those who have a health and welfare notebook and those who assist it (4) Those who have been issued a support qualification certificate based on the Kamakura City Atomic Bomb Victims Support Ordinance (March 37, 1973) (Notebook) Please show etc.)
Map