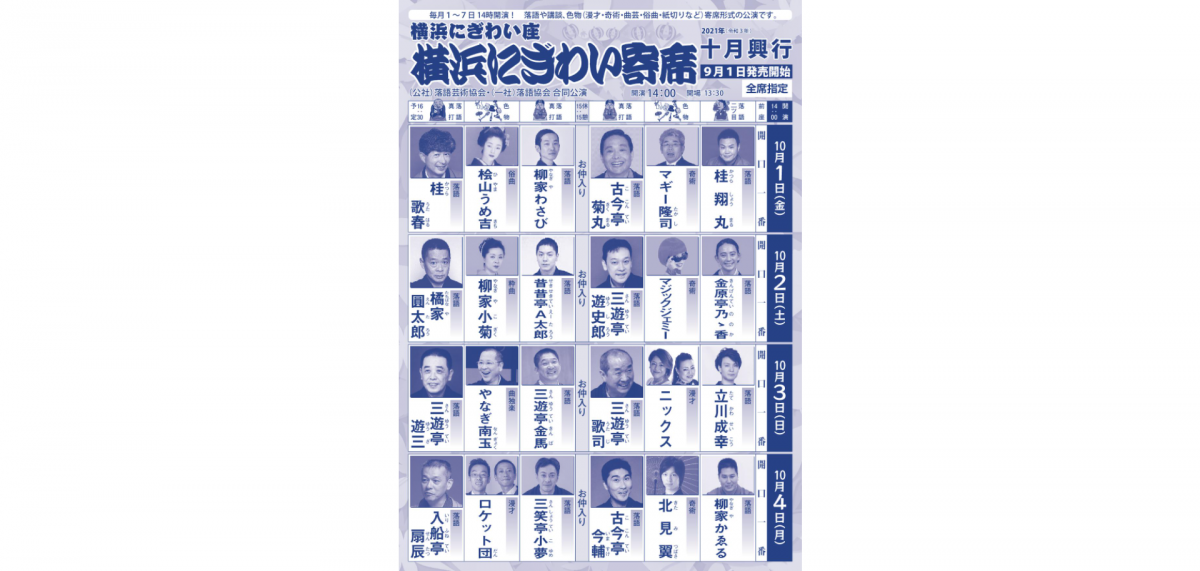 伝統芸能
Yose-style performance centered on rakugo "Yokohama Nigiwai Yose ⑤"
Enmaru, which has the characteristic brightness inherited from his master, Koyusan, has a precious Konobu pedestal made of oxidized silver. Hidahashi was born and raised in Kawasaki. Hayashiya Hana is the only female kamikiri in vaudeville. Don't miss the Kamigata manzai with the unique atmosphere of Tonbo Masami.
*Please sit with one seat left and one seat vacant. Customers who do not wear a mask will not be allowed to enter.
Yokohama bustle vaudeville ⑤
[Date] Tuesday, October 5, 2021
[Start] 14:00 (doors open at 13:30)
[Venue] Yokohama Nigiwaiza Performing Arts Hall
[Cast] Sakurako Kanda, Masami Tonbo, Konobu Yanagiya
《Fellowship》
Hatsuneya Left Bridge, Hayashiya Hana, Sanyutei Enmaru *In order of appearance
[Fee] All seats reserved
Adults ¥2,900 / Seniors (ages 65 and over) ¥2,800 / Students (high school and above) ¥1,600
Children (junior high school students and younger) 1,100 yen / Persons with a disability certificate (same price for up to one accompanying person) 1,600 yen
* Discount service after joining: You can enter for 2,100 yen after joining (break) on the day.
* If tickets are available on the day, we will inform you on Twitter at 10 am on the day.
[Official website] https://nigiwaiza.yafjp.org/perform/archives/22751