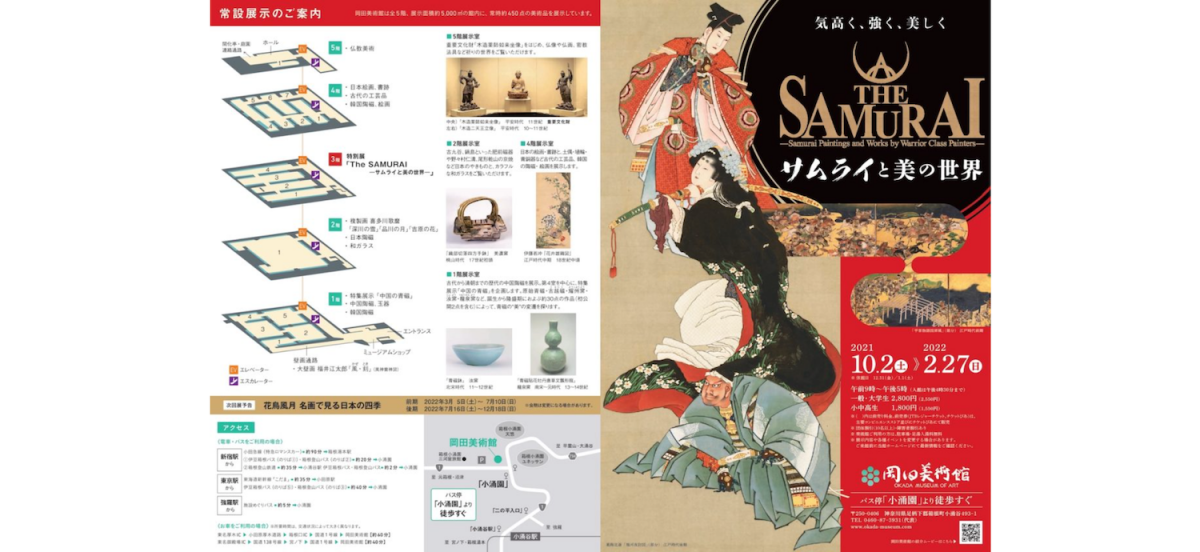 Art / photography
2021.10.01
Please enjoy the world of SAMURAI that has built the history of Japan.
Okada Museum of Art Holding period: 2021.10.02 ~ 2022.02.27
Ends in 92 days
「The SAMURAI-The World of Samurai and Beauty-」
(Please note that this page was created using Google's automatic translation service and understand that because of this, its translation may not necessarily be accurate.)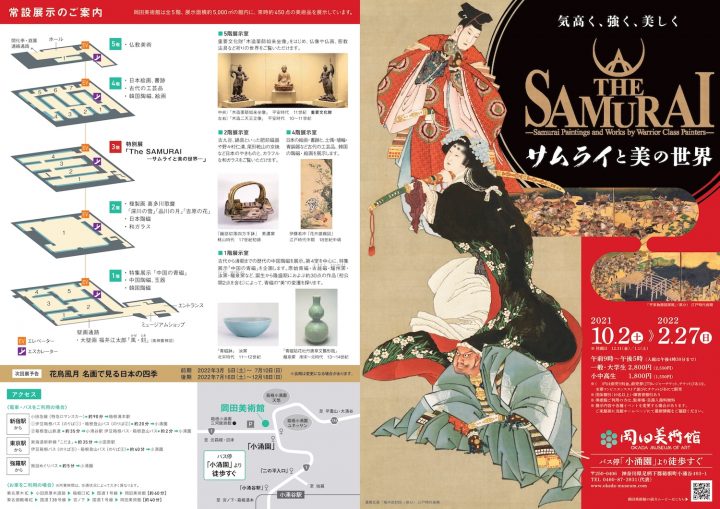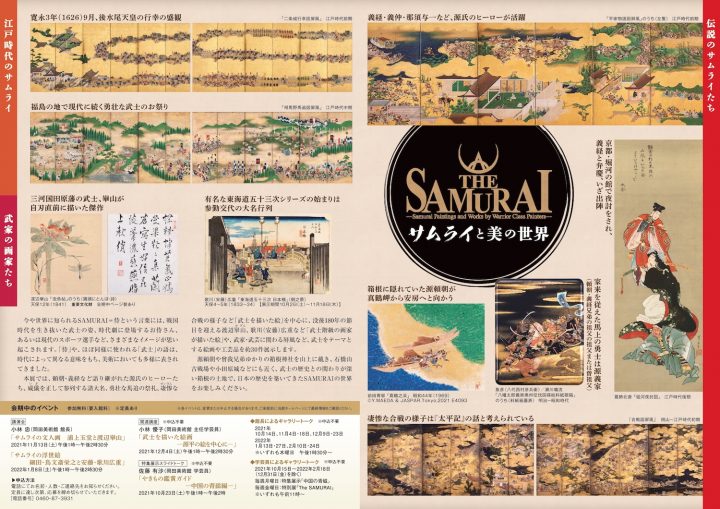 The word SAMURAI, now known to the world, reminds us of various images such as the figure of a samurai who survived the Warring States period, the samurai who appears in historical drama, or modern athletes. The words "samurai" and "samurai", which are used in almost the same way, have different meanings depending on the times and have been expressed in various ways in art.
In this exhibition, after his death, he will focus on "pictures depicting samurai" such as Genji's heroes who have been handed down such as Yoricho and Yoshitsune, various lords who attend with dignity, a brave horse pursuit festival, and a terrible battle. Approximately 30 paintings and crafts on the theme of samurai, such as "paintings drawn by samurai-class painters" such as Watanabe Kazan and Hiroshige Utagawa (Ando), who are celebrating the 180th anniversary, and samurai-related paintings and crafts are exhibited. increase.
The world of SAMURAI, which has built the history of Japan in the land of Hakone, which has a deep connection with the history of samurai, is located on the mountain with Hakone Shrine related to Minamoto no Yoritomo and the Soga brothers, and is close to the Ishibashiyama Battleground and Odawara Castle. Please enjoy.
The SAMURAI-The World of Samurai and Beauty-
[Schedule] October 2, 2021 (Sat) -February 27, 2022 (Sun)
* Closed days: December 31st, January 1st
[Time] 9:00 to 17:00 (Admission is until 16:30)
[Venue] Okada Museum of Art
[Admission fee] General / university students 2,800 yen / elementary, junior high and high school students 1,800 yen
Persons with a disability certificate (1) For the person only: 1,800 yen
(2) If you have a caregiver: 2,800 yen for two people
Garden entrance fee: 300 yen
Footbath bathing fee: Free for museum users / 500 yen for footbath only
Parking fee: Free for museum users
Free for 1 hour for those who use only Kaikatei / footbath (500 yen per hour thereafter)
Number of parking lots: 80 (including 2 for the physically challenged)
[Official homepage] Click here
The Okada Museum of Art opened in October 2013 in Kowakudani, Hakone. With a total of 5 floors and an exhibition area of about 5,000 m2, the vast hall boasts the largest indoor exhibition area in Hakone, and about 450 works of art such as Japanese and Oriental ceramics and paintings are always on display. The museum was conceived with the desire to carefully protect the works of art that have been passed down in Japan, share the joy of encountering beauty, and pass it on to the next generation. The front of the museum is decorated with the large mural "Kaze Toki" (2013) by the contemporary Japanese painter Kotaro Fukui, who is 12 meters long and 30 meters wide. After viewing, you can enjoy a footbath cafe that flows 100% from the source and a walk in the garden.
Address

493-1 Kowakudani, Hakone-machi, Ashigarashimo-gun, Kanagawa

TEL

0460-87-3931

Business Hour

[Opening hours] 9:00 to 17:00 (admission is until 16:30) [Closed days] December 31st, January 1st, temporarily closed due to exhibition changes

Parking Area

Yes (80 units, of which 2 are for disabled people). Parking is free for those who use the museum.

Average Usage

[Admission fee] General / university students ¥ 2,800, elementary, junior high and high school students ¥ 1,800
Map