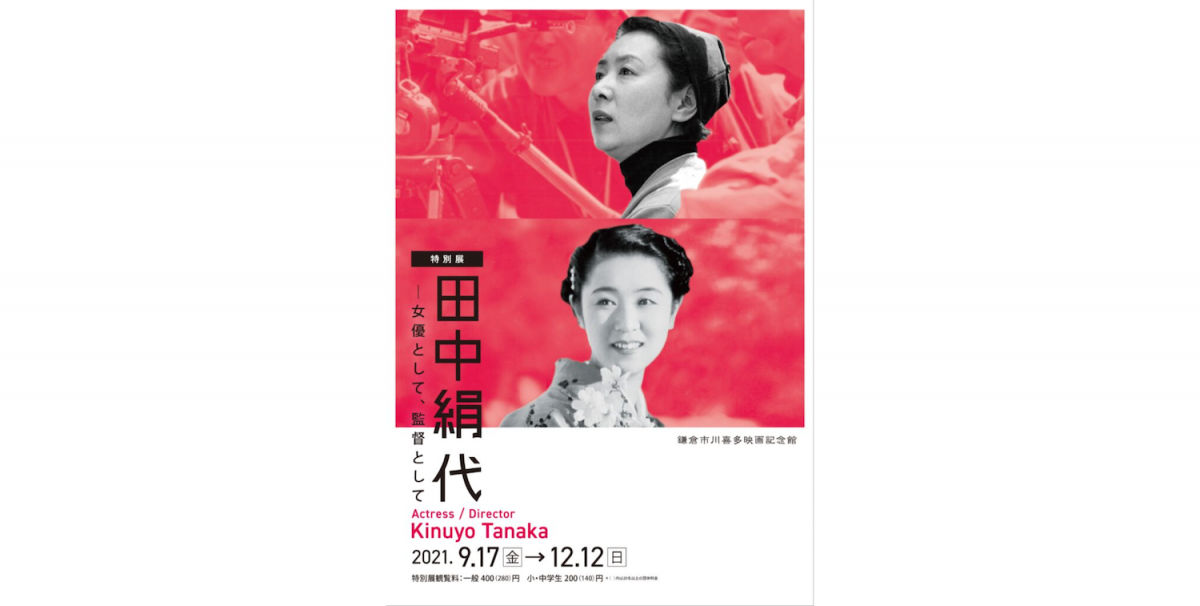 Introducing the footsteps of Kinuyo Tanaka, who is closely related to Kamakura, along with a number of valuable materials.
Kamakura City Kawakita Film Museum Holding period: 2021.09.17 ~ 2021.12.11
Ends in 14 days
「Special exhibition "Kinuyo Tanaka-as an actress and a director"」
(Please note that this page was created using Google's automatic translation service and understand that because of this, its translation may not necessarily be accurate.)
Kinuyo Tanaka (1909-1977), who made his movie debut at the age of 14, gained popularity as a pretty daughter in the era of silent movies, and even after becoming a talkie, he made numerous hits such as "The Neighbor's Wife" and "Aizen Katsura". Became the top actress of Shochiku. Eventually, he met Kenji Mizoguchi and opened his eyes to the acting sect. I have completed my life as an actress.
Kinuyo Tanaka, who has always had an adventurous spirit, traveled to the United States for three months as a Japan-US goodwill art envoy in 1949 under occupation, and made his directorial debut in the 1950s, working on six works. In the movie world, which is a male society, his achievements as an actress as well as a director should be talked about in this era.
Special exhibition "Kinuyo Tanaka-as an actress and a director"
[Schedule] September 17th (Friday) -December 12th (Sunday), 2021
* Every Monday (Open if Monday is a holiday, closed on the following weekday)
[Time] 9:00 to 17:00 (Admission is until 16:30)
[Venue] Kamakura Ichikawa Kita Movie Memorial Hall
[Admission fee] General 400 yen / Elementary and junior high school students 200 yen
[Exhibition cooperation] Kei Kumai Memorial Hall, Geiyukai, National Film Archive
Shimonoseki City / Kinuyo Tanaka Bunkakan (Shimonoseki City Cultural Promotion Foundation) (honorific titles omitted, in alphabetical order)
[Leaflet Design] Furuta Yosuke (ANP) / Photo: Yasuhiro Takeda, Yuta Takeda (Takeda Eizo Kikaku)
[Official homepage] https://kamakura-kawakita.org/exhibition/202109_tanakakinuyo/
The Kawakita Film Memorial Hall in Kamakura City was opened in April 2010 at the site of the former residence of Nagamasa Kawakita and Kashiko, who greatly contributed to the development of the film, in anticipation of the development of film culture in Kamakura City. At this memorial hall, you can display movie materials, screen movies, browse movie-related materials, and search the Web. We also hold lectures, lectures and workshops throughout the year.
The building is a one-story Japanese-style building that expresses the image of Sukiya-zukuri and is in harmony with the surrounding environment. The wooden fence has been restored to its original appearance, and the bright and wide opening of the exhibition room overlooks the lush garden, creating a calm atmosphere in the ancient city of Kamakura.
Although it is close to Komachi-dori, which is bustling every day, it is located in a quiet environment that you can't imagine just entering the back, and you can spend a relaxing time like the ancient city of Kamakura. In addition, although the lights of the movie theater have now gone out of Kamakura City, the theater equipped with a film projector regularly shows masterpieces from the east and west, so you can enjoy the movie on a big screen. ..
"access"
● Get off at JR Kamakura Station / Enoden Kamakura Station East Exit
● 8 minutes walk from Komachi Street toward Hachimangu Shrine
Address

2-2-12 Yukinoshita, Kamakura City, Kanagawa Prefecture

TEL

0467-23-2500

Business Hour

9:00 to 17:00 (admission is until 16:00) [Closed] Every Monday (Open if Monday is a holiday, closed on the following weekday), New Year holidays, exhibition change period, etc.

Credit Card

Impossible

Parking Area

None (There is no parking facility, so please use public transportation.) * However, there is one parking space for people with disabilities.

Reserve

Yes (Movie tickets are sold at the memorial hall window from the 3rd Saturday of the month before the screening date, but telephone reservations are not possible)
Map