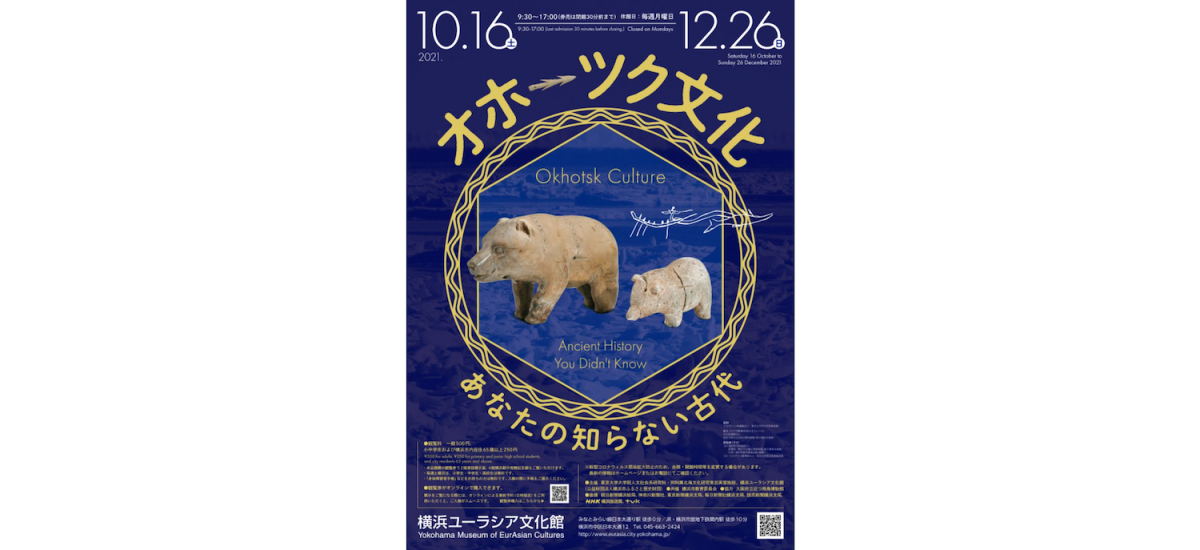 書
Based on the latest research results, including materials that will be exhibited for the first time on Honshu, the Okhotsk culture will be depicted, which is very different from the ancient culture of Honshu.
Okhotsk culture is an ancient culture that spread from the southern part of Sakhalin to the northeastern part of Hokkaido and the Kuril Islands around the 5th to 9th centuries. Speaking of Honshu, it corresponds to the period from the Kofun period to ancient times, and it is considered to be a continental culture that came from the north. Hunting and fishing of sea animals such as seals is the basis of their lives, and it is known that they performed unique rituals such as building an altar with bear heads piled up in the back of the pit-house.
The University of Tokyo Graduate School of Humanities and Social Sciences has been excavating and investigating many Okhotsk cultural sites, centered on the Tokoro Training Facility for the North Sea Culture Research, which was established in Kitami City, Hokkaido (formerly Tokoro Town).
Okhotsk Culture-Ancient You Don't Know-
[Schedule] October 16th (Sat) -December 26th (Sun), 2021
* Closed: Every Monday
[Time] 9: 30-17: 00 (Ticket sales until 16:30)
[Place] Yokohama Museum of Eurasian Culture 3rd floor special exhibition room, 2nd floor permanent exhibition room part
[Admission fee] General 500 yen / Elementary and junior high school students 250 yen / Yokohama city resident 65 years old and over 250 yen
[Organizer] The University of Tokyo Graduate School of Humanities and Social Sciences, Hokkaido Cultural Studies Tokoro Training Facility
Yokohama Museum of Eurasian Culture
[Co-sponsored] Yokohama City Board of Education
[Cooperation] Osaka Prefectural Asuka Museum
[Support] Asahi Shimbun Yokohama General Bureau / Kanagawa Shimbun, Tokyo Shimbun Yokohama Branch, Mainichi Shimbun Yokohama Branch
Yomiuri Shimbun Yokohama Branch, NHK Yokohama Broadcasting Center, TVK
[Official website] Click here
Outline of the event
Schedule
Place

Yokohama Museum of Eurasian Culture

Opened in March 2003. This museum houses about 2,500 items of archeology, history, art, and ethnic materials donated to the city of Yokohama by Orientalist Namio Egami, as well as 25,000 documents. The cultures of various parts of Eurasia are exhibited in the following sections: "Desert and Grassland", "Color and Form", "Technique", "Apparel", "Communicate", and "Communicate".
[Admission fee] General ¥200, elementary and junior high school students ¥100
*Prices may change during special exhibitions and planned exhibitions.

About the facility Access