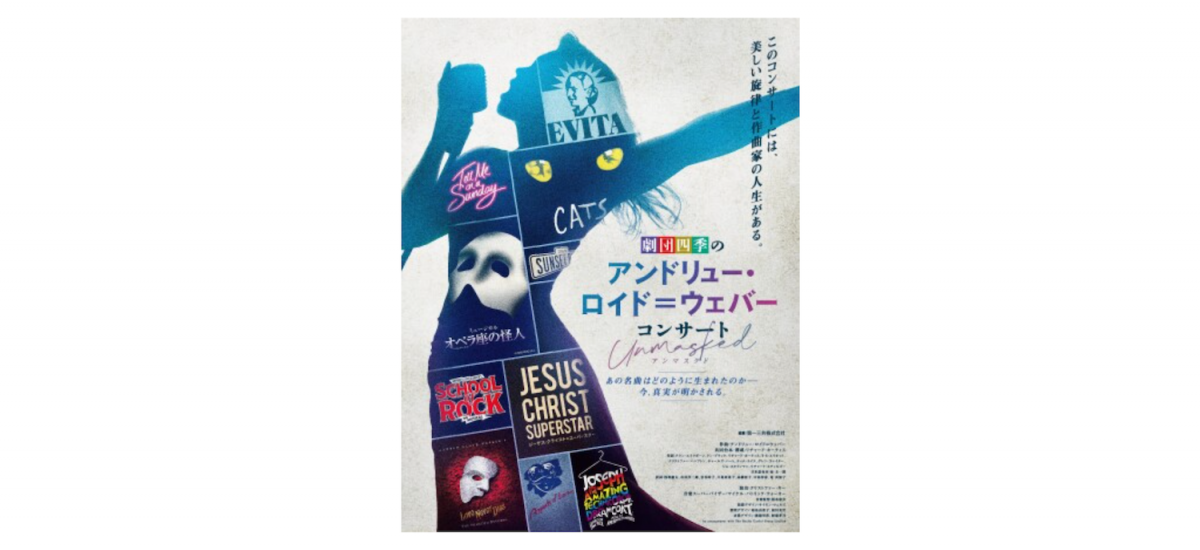 演劇・ダンス
A two-act luxury show concert that fully fascinates Lloyd Webber's songs with songs and live band performances.
From familiar songs by Shiki Theater Company to performances that have not been performed in Japan
It is a stage where you can enjoy the world of Lloyd Webber everywhere.
Workshop performance in London entitled "Unmasked" (2018),
After the performance in New Jersey, USA (2020), Shiki Theater Company will handle the performance in Japan.
Also, at this concert, Lloyd Webber himself appeared in the video and navigated each number.
The secret story of the creation and the inside story of a masterpiece musical are told.
Please enjoy a time full of surprises and excitement that is just right for the original title of "Unmasked" (= wiping the mask).
"Shiki Theater Company Andrew Lloyd Webber Concert-Unmasked-"
[Schedule] December 22nd (Wednesday) -26th (Sunday), 2021
[Start] December 22nd (Wednesday) 17:00
23rd (Thursday) 13: 00/17: 30
24th (Friday) 13:30
25th (Sat) 13: 00/17: 30
26th (Sun) 13:00
* Opening 45 minutes before the start of the performance
[Place] Kanagawa Arts Theater Hall
[Price] S seat 12,100 yen / A seat 8,800 yen / Side A seat 8,800 yen / B seat 6,600 yen
Side B seat 6,600 yen
[Official website] Click here
[Organizer / Inquiries] Shiki Theater Company Tokyo Sales Department TEL: 0570-008-110
Outline of the event
Schedule Schedule.
Place

KAAT Kanagawa Arts Theater

A facility dedicated to performing arts such as theater, musicals, and dance. With Akira Shirai, an actor and director, as the artistic director, we create and disseminate excellent performing arts works such as theater, musicals, and dance.

(Exterior photo) © Hideo Mori

About the facility Access