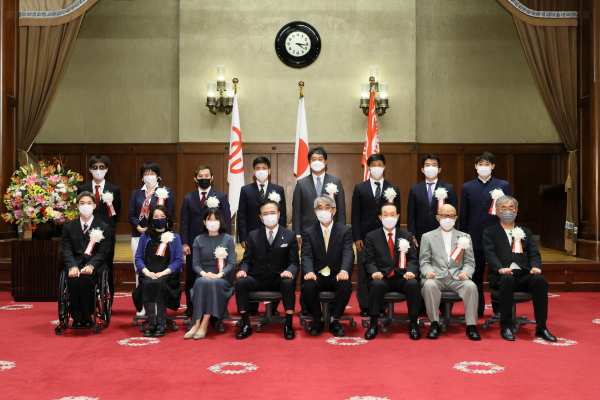 その他
We held a presentation ceremony for the Kanagawa Culture Award and Sports Award in the 3rd year of Reiwa (70th).
The Kanagawa Culture Award / Sports Award has been co-sponsored by Kanagawa Prefecture and Kanagawa Shimbun since 1952. Every year, it strives to improve and develop the culture of Kanagawa, and for individuals or groups whose achievements are remarkable. The "Kanagawa Culture Award" is presented, and the "Kanagawa Sports Award" is presented to individuals or groups who have made outstanding achievements in sports. In addition, since the 50th edition, the "Kanagawa Culture Award Future Award" has been presented every year to younger generation individuals (or groups) who are highly expected to play an active role in the future.
In the year of the Olympic and Paralympic Games, we also present the "Kanagawa Sports Award / Olympic Award" and the "Kanagawa Sports Award / Paralympic Award".
The presentation ceremony was held at the Kanagawa Prefectural Office on Wednesday, November 3rd, "Culture Day". Continuing from last year, this year's event was held on a smaller scale, such as by inviting only those involved, in order to prevent the spread of new coronavirus infections.
The award ceremony is broadcast on the official YouTube channel of Kanagawa Shimbun.
・ Fanfare ・ Greetings from the Governor ・ Introduction of winners by President Sudo ・ Presentation of awards

Winner interview, award comment
Kanagawa Cultural Award: Hideaki Anno, Kengo Kuma, Sadao Yamane, Kenji Ikemori
Kanagawa Culture Award Future Award: Rin Usami, Reina Taniho
Kanagawa Sports Award: Mr. Akira Ogata, Toin Gakuen High School Rugby Club, Tokai University Sagami High School Baseball Club

Winner interview, award comment
Kanagawa Sports Award / Olympic Award: Eri Yamada, Nayu Kiyohara, Naohisa Takato, Yuki Miyazawa, Tomoru Honda, Amuro Tsuzuki
Kanagawa Sports Award / Paralympic Award: Mr. Takuya Furusawa, Mr. Eiko Kakehata, Mr. Maki Ito, Mr. Satoru Yoneoka

・ Guest introduction ・ Guest congratulatory speech by Chair Kojima ・ Celebration performance by Kanagawa Philharmonic Orchestra

Click here for the presentation ceremony of the Kanagawa Culture Award / Sports Award in the 3rd year of Reiwa (70th)