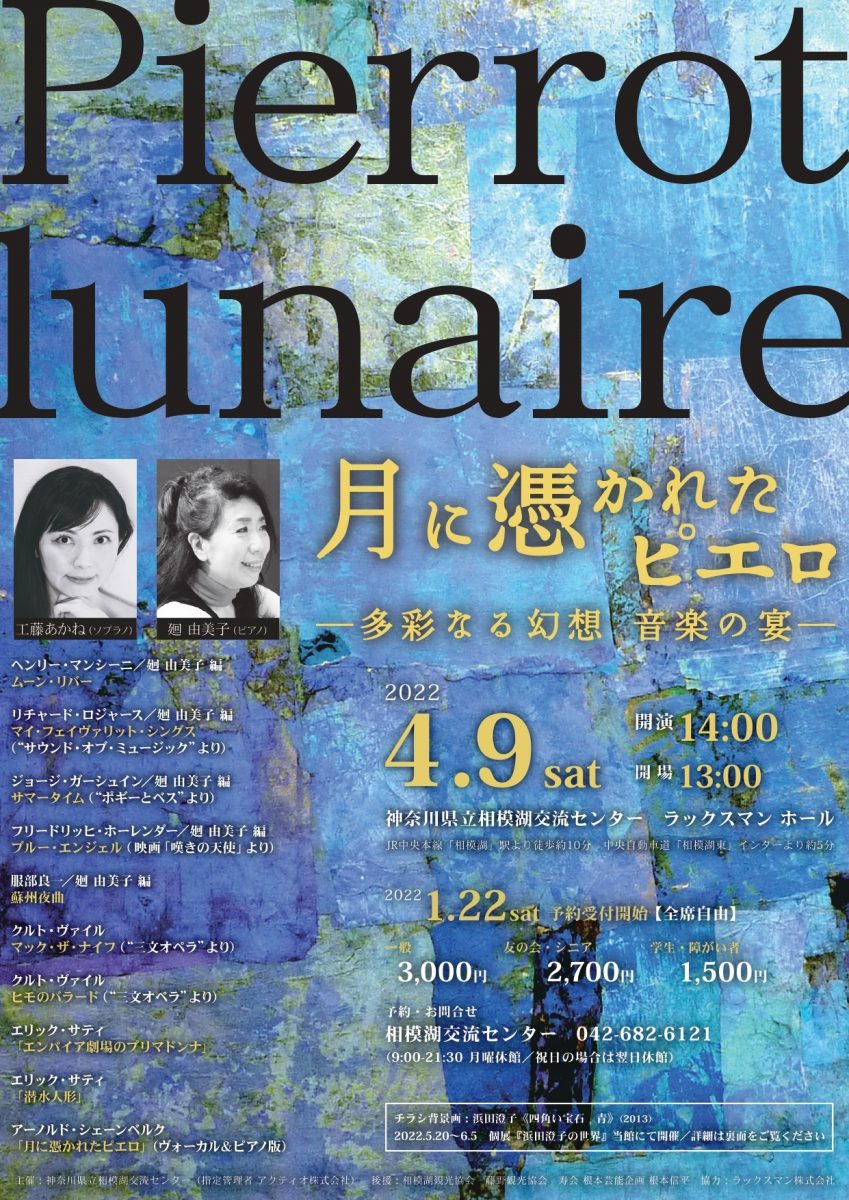 音楽
Surrender yourself to colorful music centered on Schoenberg's masterpieces.
Masterpieces that color movies and operas such as "Moon River" and "Mack the Knife".
And the title of the concert, "The Clown Possessed by the Moon"...
This is a slightly mysterious classical concert for those who want to escape from reality and immerse themselves in fantasy.
◇ Flyer background picture Sumiko Hamada "Square Jewel Blue" (2013)
Pierrot Possessed by the Moon -Variety of Illusions Music Banquet-
[Date] Saturday, April 9
[Time] 14:00 start (13:00 open)
[Venue] Luxman Hall
[Price] All seats are unreserved General: 3,000 yen Seniors/Friends' Club: 2,700 yen Students/Disabled: 1,500 yen
[Reservations] Reservations can be made at the counter or by telephone at 042-682-6121.
[Contact] Kanagawa Prefectural Sagamiko Exchange Center Telephone 042 (682) 6121
Reception hours: 9:00-21:30 *Closed on Mondays (If Monday is a holiday, the next day will be closed)
[Organizer] Kanagawa Prefectural Sagamiko Exchange Center (designated manager Actio Co., Ltd.)
[Sponsor] Sagamiko Tourism Association Fujino Tourism Association Kotobukikai Nemoto Performing Arts Planning Shinpei Nemoto
[Official website] Click here
[About new corona infectious disease measures]
Performances will be held in accordance with the following guidelines. Please check in advance before your visit.
" Guidelines for preventing the spread of new coronavirus infection at the Kanagawa Prefectural Sagamiko Exchange Center "