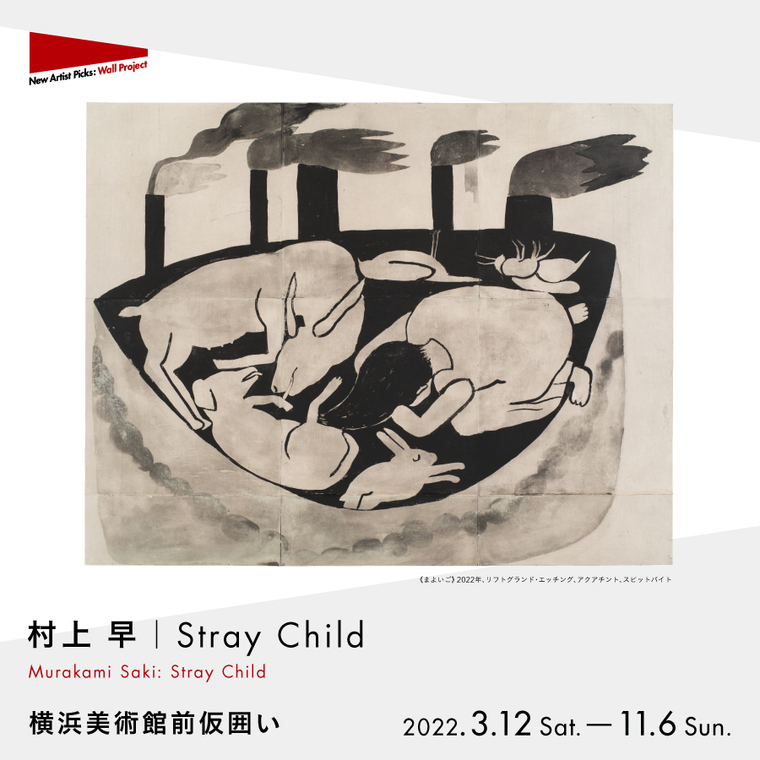 美術・写真
An exhibition of works by artists who draw motifs born from their own memories and trauma using techniques such as lift ground etching that corrodes lines drawn directly on the copper plate with a brush using poster colors.
Since 2007, the Yokohama Museum of Art has held a small exhibition "New Artist Picks" that introduces young artists who are expected to be active in the future in the exhibition space of the museum such as the art gallery.
This time, which is closed due to large-scale renovation work, as a special edition of the "Wall Project", young artists will be created twice in the temporary enclosure facing the Grand Mall Park "Art Square" in front of the Yokohama Museum of Art. to introduce.
In the first installment, we will introduce Saki Murakami (born in 1992), whose main expression method is copperplate prints.
New Artist Picks: Wall Project Saya Murakami | Stray Child
[Period] March 12th (Sat) -November 6th (Sun), 2022 * Scheduled
[Place] Temporary enclosure in front of Yokohama Museum of Art (Grand Mall Park "Art Square")
3-4-1 Minatomirai, Nishi-ku, Yokohama
[Admission fee] Free
[Organizer] Yokohama Museum of Art (Yokohama City Arts and Culture Promotion Foundation)
[Cooperation] Kobayashi Gallery
[Official homepage] Click here
Outline of the event
Schedule
Place

Yokohama Museum of Art

Yokohama Museum of Art opened to the public on November 3, 1989. It is one of the largest art institutions in Japan. With its iconic architecture, featuring the expansive space of the Grand Gallery, the museum is made up of a total of seven gallery spaces, as well as an Art Information and Media Center that holds over 110,000 art-related books, ateliers hosting a wide range of workshops for children and adults, and many other facilities.
Located in the international seaport city of Yokohama, the museum focuses on collecting and showing modern and contemporary art created since the late 19th century, when the port of Yokohama opened, alongside many special exhibitions.

【Photo】
The outward appearance:KASAGI Yasuyuki / Grand gallery:KASAGI Yasuyuki / Exhibition room:TANAKA Yuichiro

(※Closed days: 2021 Mar 1-2023)

About the facility Access