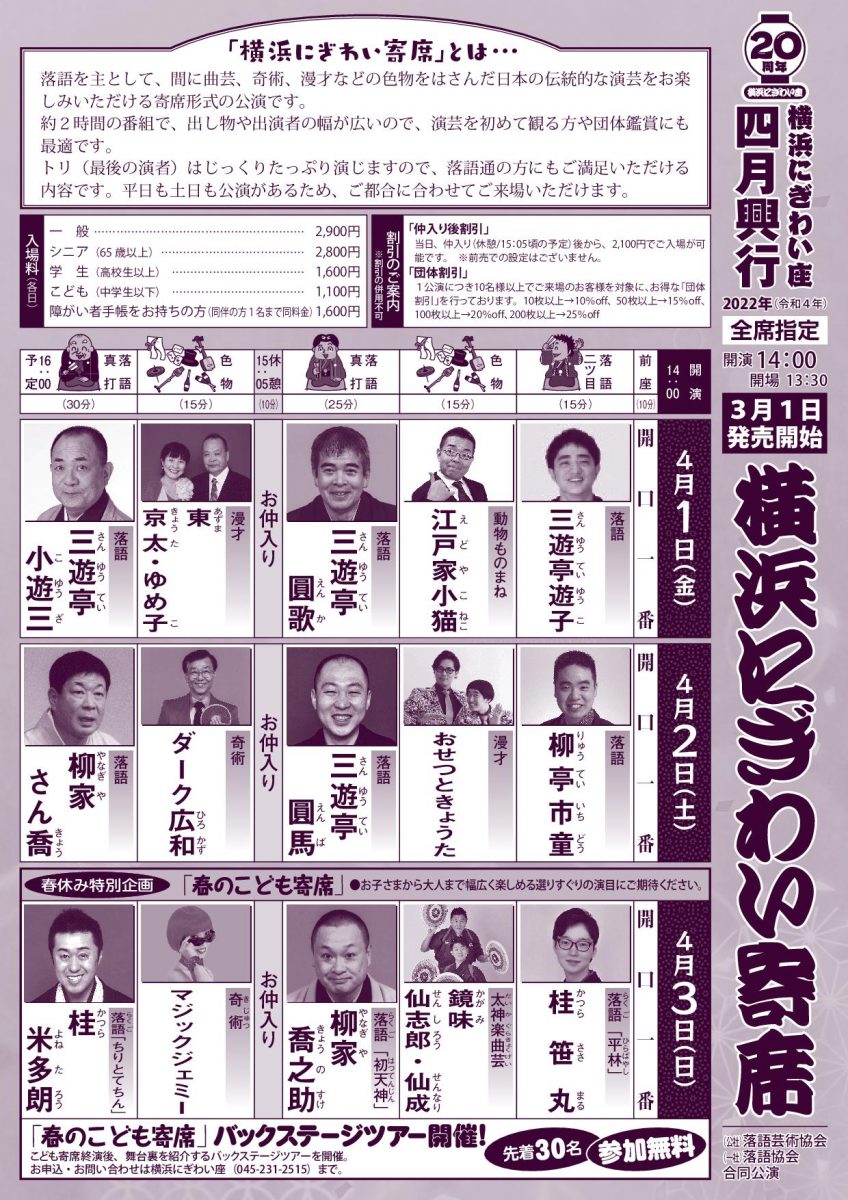 伝統芸能
You can enjoy the program with two performances centered on rakugo.
You can also enjoy less than an hour after joining.
Joint performance by the Rakugo Association and the Rakugo Geijutsu Kyokai (public corporation). It is a yose-style performance centered on rakugo.
*For the April performance, all seats on the front, back, left and right will be sold without any vacancies. Customers who do not wear a mask will not be allowed to enter.
20th Anniversary Performance Yokohama Lively Vaudeville 3 ~ Spring Children's Vaudeville
[Date] Sunday, April 3, 2022
[Start] 14:00 (doors open at 13:30)
[Place] Yokohama Nigiwaiza Performing Arts Hall
[Appearance] Sasamaru Katsura "Hirabayashi", Senshiro Kagami and Sensei (Taishin Musical Performers), Takanosuke Yanagiya "First Tenjin"
《Partnership》
Magic Jemmy (magic), Yonetaro Katsura "Chiritotechin"
*In order of appearance
[Fee] All seats reserved
Adults ¥2,900 / Seniors (ages 65 and over) ¥2,800 / Students (high school and above) ¥1,600
Children (junior high school students and younger) 1,100 yen / Persons with a disability certificate (same price for up to one accompanying person) 1,600 yen
* Discount service after joining: You can enter for 2,100 yen after joining (break) on the day.
[Homepage] Click here
[Contact] Yokohama Nigiwai-za (for tickets: 045-231-2515)