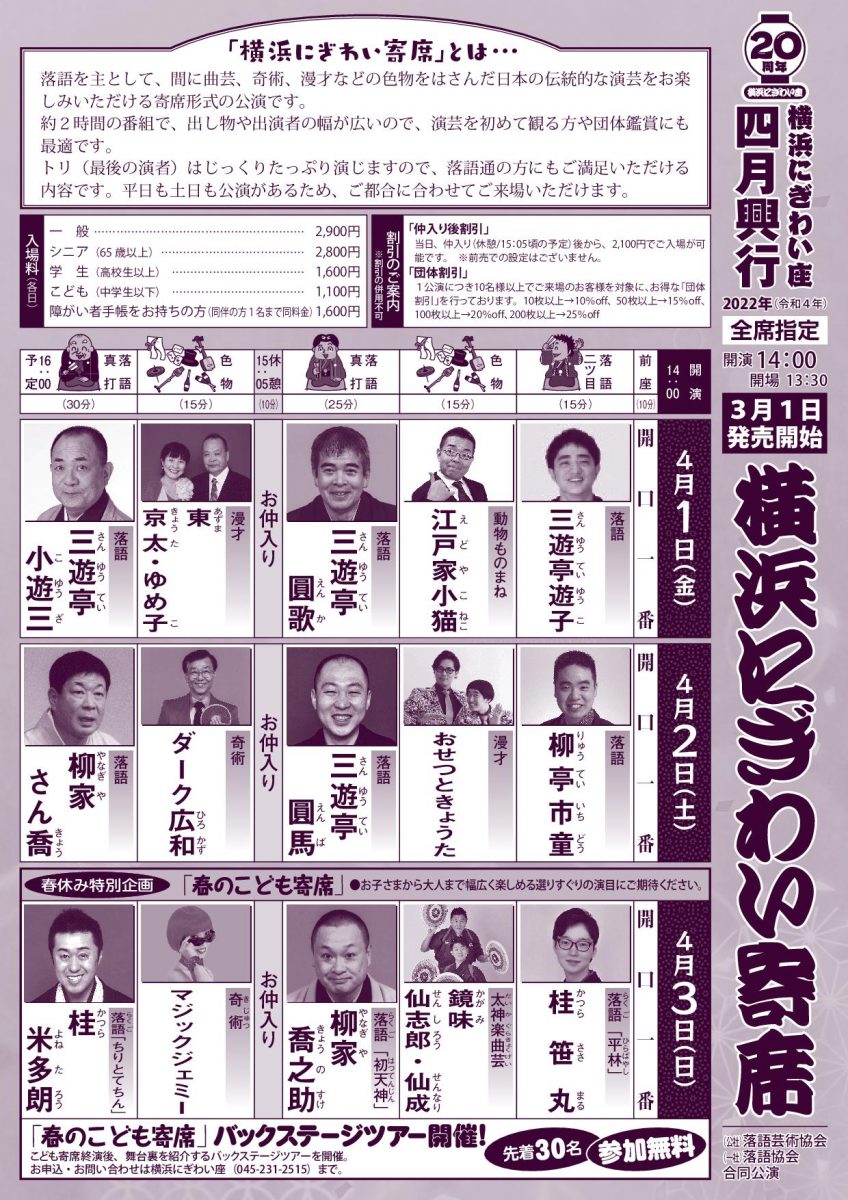 You can also enjoy a little less than an hour after getting along.
(One company) Rakugo Kyokai and (Kosha) Rakugo Kyokai joint performance. It is a yose-style performance centered on rakugo.
* April box office will sell the front, back, left and right seats without leaving one seat. Customers who do not wear a mask cannot enter.
20th Anniversary Performance Yokohama Nigiwai Yose ③-Spring Children's Yose
[Date] April 3, 2022 (Sun)
[Start] 14:00 (Open at 13:30)
[Place] Yokohama Nigiwai-za Performing Arts Hall
[Cast] Katsura Sasamaru "Hirabayashi", Kagami Senshiro / Sensei (Daikagura), Kyōnosuke Yanagiya "Hatsu Tenjin"
《Intermediate》
Magic Jemmy (magic), Yonetaro Katsura "Chiritotechin"
* Order of appearance
[Price] All seats reserved
General 2,900 yen / Senior (65 years old and over) 2,800 yen / Student (High school student and above) 1,600 yen
Children (junior high school students and younger) 1,100 yen / Persons with a disability certificate (same price for one accompanying person) 1,600 yen
* Discount service after getting in the middle: After getting in the middle (break) on the day, you can enter for 2,100 yen.
[Homepage] Click here
[Contact] Yokohama Nigiwai-za (Ticket only: 045-231-2515)