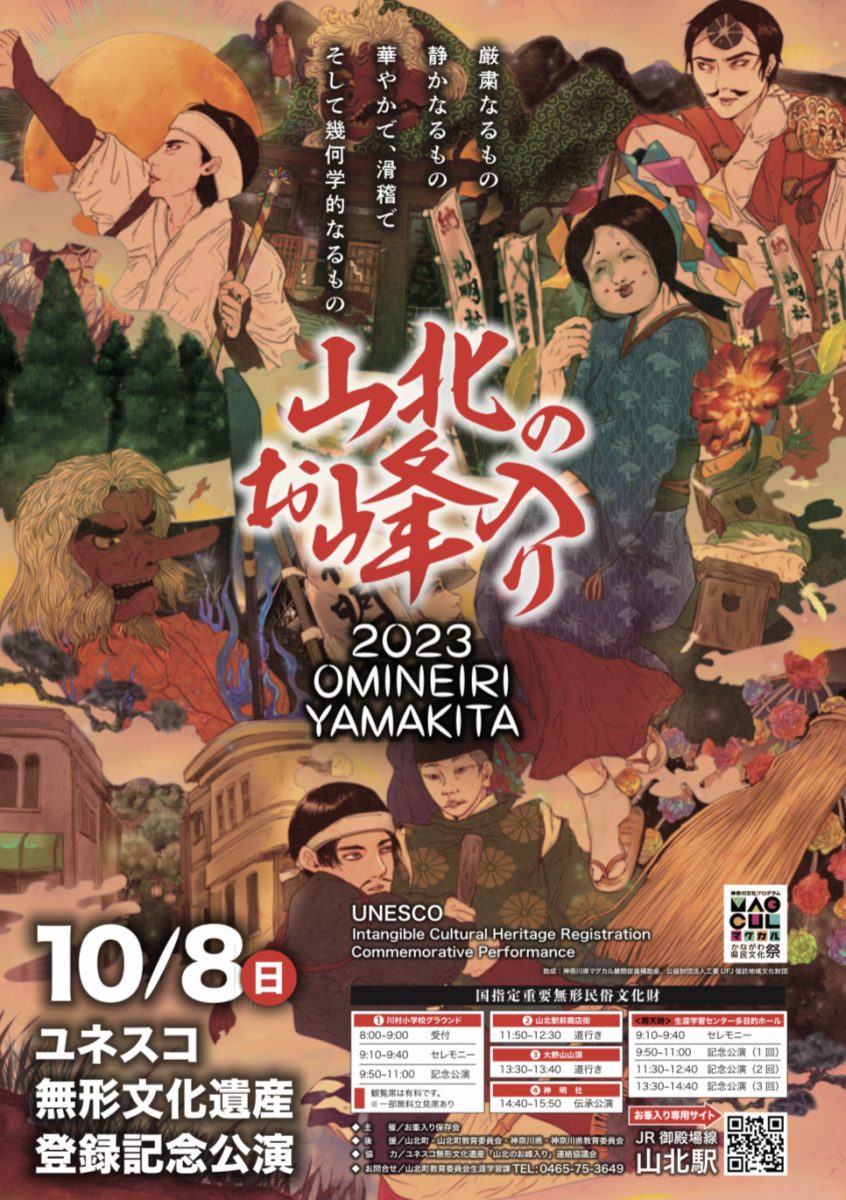 伝統芸能
"Yamakita no Omineiri" UNESCO Intangible Cultural Heritage Registration Commemorative Performance
It is a folk performing art that has been handed down from ancient times in the Kyowa district of Yamakita Town.
Omineiri means training in the mountains, and it is believed that the ritual of Shugendo became a performing art, and there is a legend that it originated when Imperial Prince Munenaga fled to Kawamura Castle during the period of the Northern and Southern Courts. There is, and the sound of flutes and drums and the lyrics make you feel the era of Manyo. There are 8 types of 11 performances, and 80 men perform roles such as Tengu, Lion, Okame, Yamabushi, Taiko, and Fue. All songs and dances have been handed down by word of mouth, and there is a record of a performance from 1863 during the Edo period. Since 2002, traditional performances have been held approximately every five years. On November 30, 2020, "Furyu Odori", which consists of 41 nationally designated important intangible folk cultural properties, including "Yamakita no Omineiri", was registered as a UNESCO Intangible Cultural Heritage. On October 8, 2015 (Sunday), we will hold a performance commemorating the registration of UNESCO Intangible Cultural Heritage.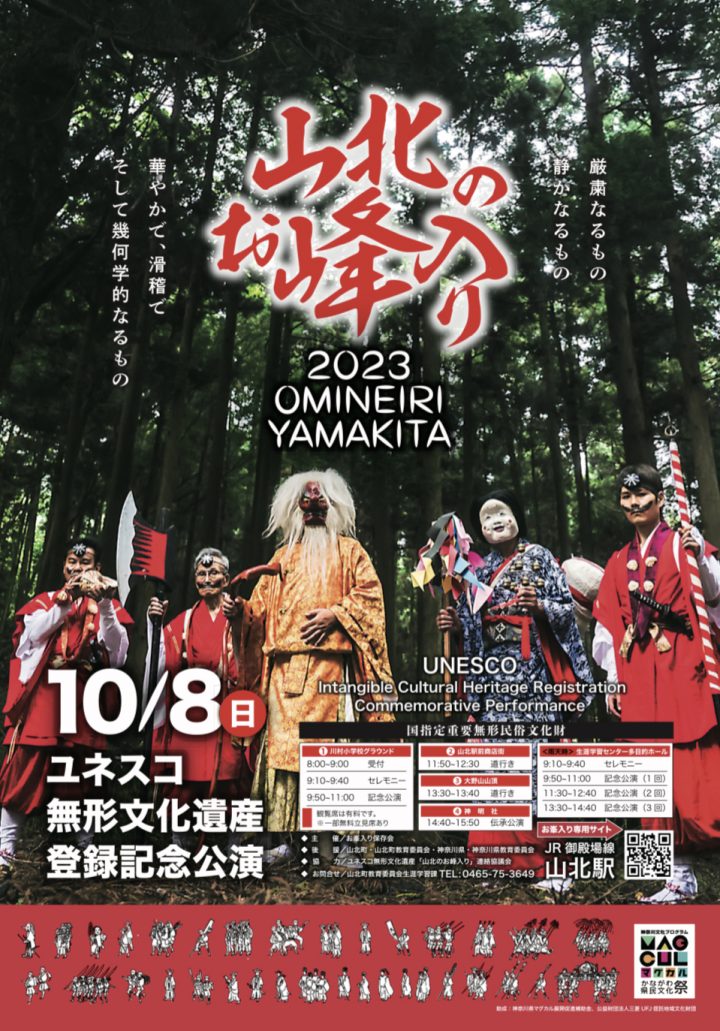 "Yamakita no Omineiri" UNESCO Intangible Cultural Heritage Registration Commemorative Performance
[Date] Sunday, October 8, 2023
[Time] Open: 08:00 / Online: 08:50 / Start: 09:10 / End: 11:00
[Place] Yamakita Municipal Kawamura Elementary School ground
[Fee] Delivery viewing only 1,000 yen
Non-reserved seat (chair seat) 2,500 yen
Unreserved seat (seat seat) 2,000 yen
Standing room free
* There is a charge for viewing the commemorative performance from chair seats and seat seats.
*Standing seats can be viewed for free, but please apply for tickets from the " Ticket Purchase Page ".
[Ticket purchase] Click here
If you cannot purchase using a PC or smartphone, please call the number below.
We will guide you through the payment method and arrange paper tickets (Purchase deadline: until September 25 (Monday))
Phone: 03-6416-5246 (Weekdays 13:00-17:00) *Summer holidays 8/11 (Friday) - 8/16 (Wednesday)
[Contact] Inquiry form
[Home Page] Click here
*If it is difficult to hold the event on the grounds of Kawamura Elementary School due to bad weather such as rain, the venue will be the Yamakita Municipal Lifelong Learning Center.
We will move to the "Multi-purpose Hall" and divide the performance into 3 times.
We will adjust the time to come depending on the ticket you purchased.
Standing room ticket (free) applicants can watch public viewing in the Lifelong Learning Center audiovisual room and conference room.
If you purchase a delivery ticket again, you will be able to watch it online.