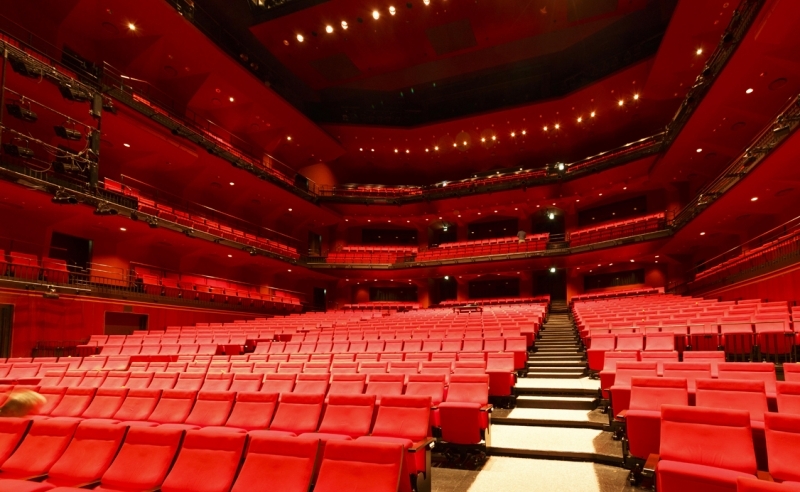 What kind of place is "KAAT" for performing arts? (1/2)
Mirea editorial department sneaks into the art space!
ART SPOT FILE – No.1
Location where people who love the performing arts attend
KAAT
Kanagawa Arts Theater

It is approximately 5 minutes on foot from Japan Boulevard Station on the Minato Mirai Line. This is Kanagawa Prefecture's leading performing arts theater known for its name "KAAT (cart)". As soon as entering the hall, it is the entrance of this colonnade that appears in front of you.
An escalator is installed to visit the entrance of the 30m high tall building, and as you climb, it arrives at the 5F main lobby.
tp: //mirea-web.jp/pic_data/event/ex/grl_02279911.jpg "alt =" "width =" 700 "height =" 466.375 "/>
This is the main lobby which is 5F. A large glass window is covered with white cloth, but the pattern like this lace seems to have been created by imagining "cocoon" from Yokohama which prospered by silk trade. As more sunshine goes in, you can enjoy the beautiful shadow installation on the floor and wall. I am sorry that the infiltration day was cloudy.
Also devised on the floor of the lobby!
Also in the carpet, a line that imaged a cocoon as well as a glass window is drawn, but can you see that there are ventilation openings when you look closely? Here is a high ceiling due to the colonnade, air conditioning Because it takes time to experience the set temperature, dare to bring the air conditioning outlet down. It is cool that summer is cool, in winter it is warm and you can welcome customers coming to the theater at a comfortable temperature.
Well, let's infiltrate further. This time, we will look into the hall which is the main venue of "KAAT". On the day of the performance, I will show the tickets in the lobby and enter inside. On the way to the hall, cloaks essential to the theater are prepared, people with lots of baggage and coats in winter can be temporarily deposited here.
Apart from cloaks, coin lockers are also available. It is 100 yen per time, but 100 yen will be returned properly after use with a coin bag type. I'm so happy ~.
"alt =" "width =" 700 "height =" 466.375 "/>
And, the time until the opening is a space foyer settled by indirect lighting.
If you arrive early, here you can read the pamphlet of the performance carefully, chat or talk to people …. People who hurriedly headed towards the theater on business after work are certainly comfortable to spend a relaxing and comfortable time. Until the performance, relax time here.
I also checked the toilet just in case!
It is a very stylish space using KAAT image color black × red red. The plate attached on the door was designed so that you can see at a glance whether or not it is in use. The worried signature for such a customer is also well designed.
I have finished the mast toilet check for a long time performance, this time it ends here. Well, next time I will infiltrate the main hall!