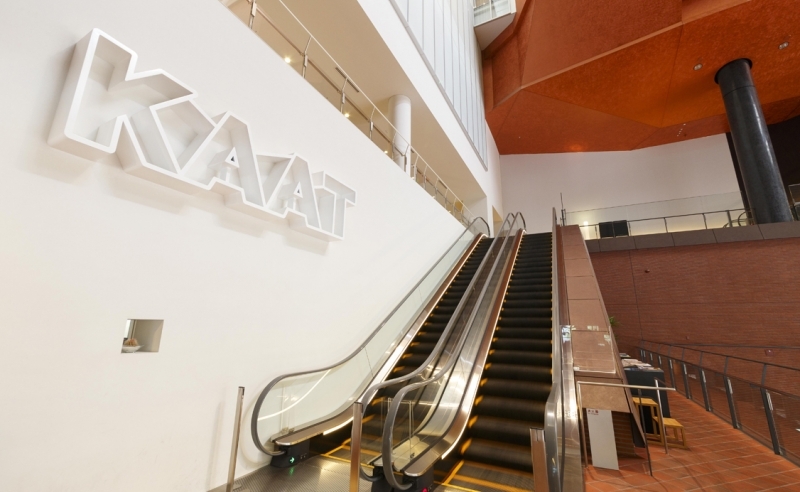 What kind of place is "KAAT" for performing arts? (2/2)
Mirea editorial department sneaks into the art space!
ART SPOT FILE – No.1
Location where people who love the performing arts attend
KAAT
Kanagawa Arts Theater

This time, we will deliver an infiltration report inside the hall of KAAT. It is immediately from the calm space foyer with indirect lighting introduced last time. Open the door and KAAT Kanagawa Arts Theater's main venue "Hall" will spread.

The "main hall" with a maximum distance of 25 meters and a maximum of 1,200 seats is a dramatic space where red and black seats lined up at the moment of entering the hall. I also use it a couple of times in private, such as dance performances, but expectations for the stage starting from this moment will increase from the moment you step in this space every time! And what this feature of this hole is this red Sheet, the content of the performance will raise and lower the seating floor, the seat shape will change!
First of all, the basic audience seats are here. It is clearly separated from 1F, 2F, 3F seats.

Shooting: Kōji Honda
In the dance performance etc, it will turn into a steep slope so that the dancer's feet will look better!


Shooting: Kōji Honda
That's right, 2F seats are gone! Yes, attaching a slope connects 1F and 2F seats. Will not many users have not noticed this change to date?
Furthermore! 1F The inter-flat pattern which removed the front chair and expanded the stage space.


Shooting: Kōji Honda
The stage where the flower road was installed, too.


Shooting: Kōji Honda
Next time, when using KAAT, please check out what kind of seats are prepared. In accordance with the performance content, we devised a way that customers can enjoy better.
In the hall, there is also a space for customers who use the wheelchair.


On the day we let in, we will hang props and equipment on the stage The ridge was under maintenance and inspection. I'm lucky to see the "backside of the stage" that I do not usually see!
In addition, the red seat we sit is also carefully checked for condition with a monopod.


Thank you for your fine inspection !!
Well, let 's leave the hall soon and look into another place to enjoy. It is "Hall Buffet" which can be used during performance between performances before the performance.

Shooting: Kōji Honda
It is fun to drink alcohol and pick up snacks while talking about the performance impressions here during the curtain.
There are also buffet counters where people buying drinks etc at the buffet break. It is a space recommended to soak in the lingering finish.

Lastly let's introduce other space. This is a dressing room used by the performers who appear in the main hall. I am preparing for costume change and make-up here!

"Large studio" which is also used as a theater, dance performances, and rehearsal space as a small theater with 220 seats.
.jpg "alt =" "width =" 700 "height =" 467.25 "/>

This is "middle studio / small studio (A)".

"Atelier (small studio B)" facing the roof garden is said to be used as a rehearsal place for theater, dance and so on.

Childcare room. KAAT Kanagawa Arts Theater has a baby-sitting service for certain performances as well.
Although it was coincidence in this interruption coverage, we could see the state of careful maintenance and inspection, such as the maintenance of the bridge and the seat on the stage. There are people who keep safe this way to create the best stage. Everyone too, in a dramatic space of red × black, you definitely have a performing art experience that remains in your heart!