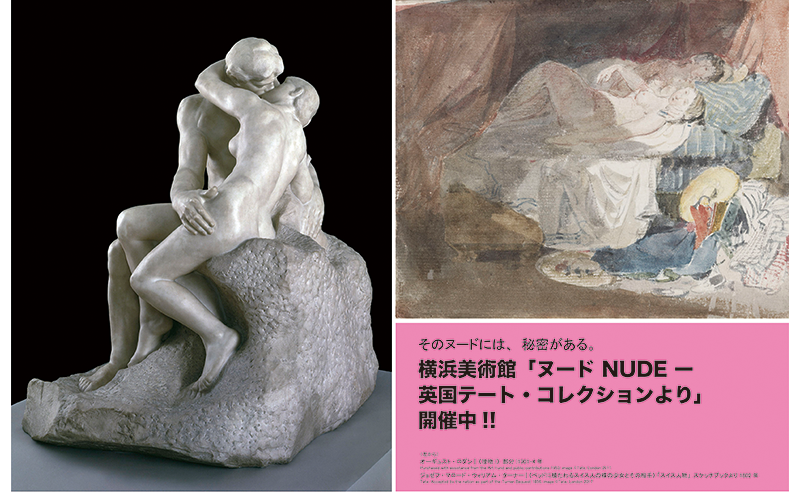 Seven secrets I would like to know before going to the Yokohama Museum of Art "Nude" exhibition
Before going to the exhibition "Nude NUDE – British Tate Collection" which is being held at the Yokohama Museum of Art from March 24 (Saturday), we have a bit of knowledge. We will introduce "secrets" of seven works of masterpieces that will give you more impression, as you asked Mr. Tako Hasegawa, curator in charge of the Yokohama Museum of Art.
SECRET-1
Auguste Rodin "Kiss"
1901 – 4 year Pentecolin marble


Purchased with assistance from the Art Fund and public contributions 1953, image © Tate, London 2017
Francesca who fell in love with her husband's brother Paolo. It is a sadly passionate embrace scene just before being killed by her husband, which appears in Dante "Kamikyoku". Although it will be exhibited in the city hall in 1913, it also brought many controversies, including sheets dealing with adultery, because of erotic reasons that sheets are applied.
====================================
SECRET-2
Henri Matisse "Nude wearing cloth"
1936 oil paint / canvas


Tate: Purchased 1959, image © Tate,London 2017
From the nude's body shape and unique pose, floral gowns, exotic plants behind you, you can see that this drawing depicts the odalisque (originally the Ottoman Turkish woman slave). Actually, Mattis was keenly interested in Odalisque, and he set up a set at the corner of the studio and had a time to continue drawing.
====================================
SECRET-3
Berkeley · H · Hendricks "Family · Jules: NNN (No Naked Niggahs [Naked blacks do not exist])
1974 oil paint / linen cloth


Tate: Lent by the American Fund for the Tate Gallery, courtesy of the North American Acquisitions Committee 2011, image © Tate, London 2017, © Estate of Barkley L. Hendricks. Courtesy of Jack Shainman Gallery, New York.
Whereas many white female nude figures are drawn, it is a work with a political message saying "Why black nude is not drawn?" It is also interesting to see that a white woman with a pattern of kimono looks at a nude black man who takes the pose of Odalisque drawn by Matisse.
====================================
SECRET-4
John Everett Millais "Night Elanto (Knight of the Itinerant)"
1870 oil paint / canvas


Tate: Presented by sir Henry Tate 1984, image © Tate, London 2017
A knight who helps captured naked ladies … It is a work that called for discussion in Britain at the time that expression was too glossy and sensual. Moreover, it is clear that it was a composition that women and knights had gazing at the beginning. When Japanese painter Shimomura Miyama got to work, it is also famous for copying this picture.
* Shimomura Miyama's copying is open to the simultaneous holding " Yokohama Museum Collection Exhibition "!
====================================
SECRET-5
Joseph Marode William Turner "A Swiss naked girl lying in bed and his opponent"
"Swiss people" sketchbook 1802 graphite, watercolor / paper


Tate: Accepted by the nation as part of the Turner Bequest 1856, image © Tate, London 2017
Erotic erotic sketch painted by Turner known as landscape painter. At that time in the UKIn order to protect the public image of manners = landscape painters, such nude pieces are incinerated in large quantities, and these sketches left behind in Tate are very valuable.
====================================
SECRET-6
David Hockney "Two men of 23 and four years old"
Presented in 1890 Oil on canvas / Canvas


Tate: Presented by the Trustees of the Chantrey Bequest 1890, image © Tate, London 2017
In the era when contemporary leading maestro David Hockney drew this work, homosexuality was prohibited in the UK and it was an era in which judgment was tried. Works drawn while overlapping with their own experiences appeared in the series this time, you can watch at once.
====================================
SECRET-7
Frederick Leighton "Bathing in Psyche"
From the illustration for 14 verses of poetry by CP Kavaffith 1966 etching, aquatint / paper


Tate: Purchased 1992 © David Hockney
Late 19th century, Leighton who played a pioneering role in expressing nude in historical paintings. This work is said to be an ideal female image pursued by combining good parts of several female models.
====================================
Those who told stories


Mr. Tado Hasegawa (Yokohama Museum of Art Kindergarten)
Rodin's Marble Statement "Kiss" Japan's First Public! Turner's Phantom's Nude Sketch Public! Publicly featured "Nude Nude – From the UK Tate Collection" until June 24 (Sun). Why do not you encounter masterpieces that will enrich your mind with Yokohama Minato Mirai, where the gentle sunshine and refreshing wind flow, the most pleasant season in the year. More information on the exhibition is here !!