First, you clean up.
—Tell us about how Fujisawa Konjaku machinaka Art Meguri came about.
Itoh:There were four of us at the time, including myself and Sasaki. We'd just left our respective art colleges and were putting ourselves out there in individual exhibits and artist-in-residence programs, mostly in Tokyo and Yokohama, places like that. But over time, we looked back at our home town and saw how empty it had become. There weren't really any museums or art galleries in Fujisawa to begin with, but as we were looking in the area for a place where we could make something like that, we started finding these old inns from the Edo period and the warring states period before that, and the Kamakura era, even the Heian era, and we realized that Fujisawa had been a gathering place for people from early on. At that point, we began to wonder if we might be able to preserve this place's historical legacy through art and bring it to life.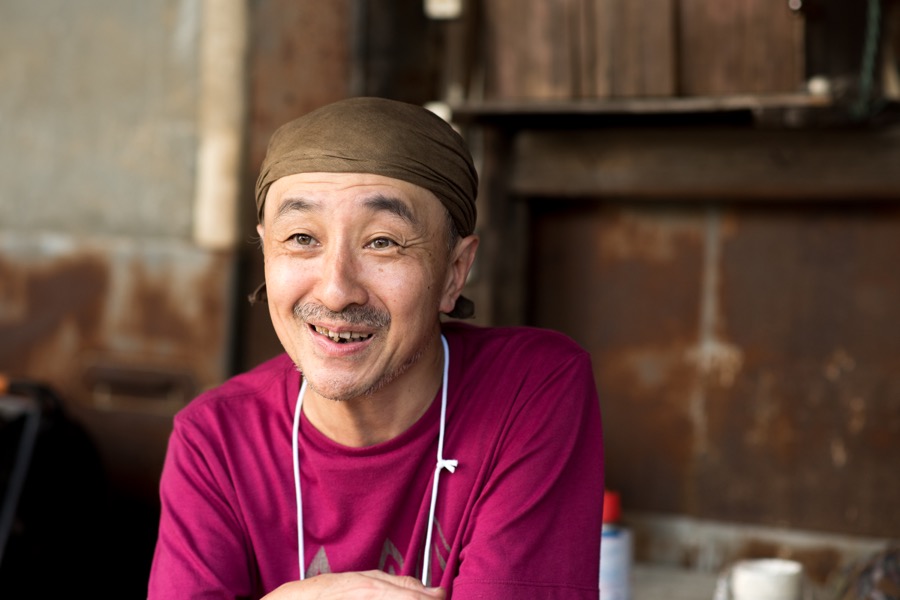 Naoaki Itoh, Fujisawa Konjaku Machinaka Art Executive Committee
 It all began at a kimono shop called Inamotoya, which is also one of our exhibition venues. It's a large shop, some would say representative of Fujisawa-juku. Emperor Meiji used to make imperial visits and stay here; there's even a plaque on the hill to the south that says so. There is still a garden and two of its warehouses left, and with the owner's very gracious permission we were allowed to erect galleries there and other such places in 2010. That was what started "Fujisawa Konjaku, and the Machinaka Art Meguri". Then in 2011, we spread the operation to the old Kamata shoten, which was primarily used in dealings with Japanese paper at the start of the Showa era, then in 2012 we expanded to Sekiji shoten, a rice fertilizer store in operation from the Meiji period onwards. Then came the Arida family, then Ishizone shoten in 2014. Step by step, we built an understanding of what we were trying to do.
 We've received the gracious support of Professor Asae Ozawa of Tokai University, who has studied a large number of Japanese architectural works. She's been working with us in some capacity since around the second year, it was easier to get approval for a venue when she was associated with it.
 Since last year, we've been doing outdoor exhibits as well: there's Shirahata Shrine, Yugyo-ji Temple, a place called Benkei-zuka owned by Joko-ji Temple, and a bush in the cemetery of the Horiuchi family, a family line that goes back to the Warring States period.
—Sounds like places that even local people aren't aware of.
Itoh:The sea side of Tsujido, where I've lived for a long time, is actually a relatively newly developed area. Thinking back to 1955–65 or so, there were only pine bushes and farms, not so many historical remnants. On the other hand, looking out to Fujisawa-juku, we're beginning to see that there's really a lot of things out there. But the things which have been studied were not put to any use, and access was limited. Recently, there have been more areas designated for preservation and being freshly surveyed. Inamotoya became a Registered Tangible Cultural Property last year, Sekiji this year. When they're open during exhibitions, we've had folks who've recently moved into nearby apartments come by, saying that this was the first they'd heard of the place.
Sasaki:I think we're beginning to get the hang of appreciating warehouses, temples, and other historical architecture, that kind of mindset, you know.
Itoh:It sure does change your perspective. After founding this event, I became qualified as a Heritage Manager for Kanagawa Prefecture in 2012. I've experienced management of artifacts, and suggested ideas for putting them to use.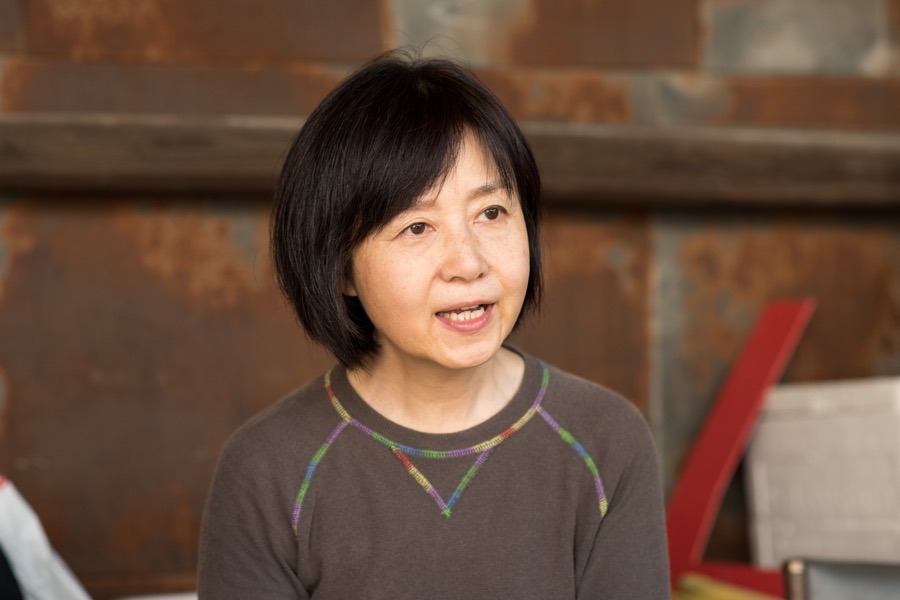 Kaoru Sasaki, Fujisawa Konjaku Machinaka Art Executive Committee
—What kind of state was the venue in when you arrived?
Itoh:Some places did need quite a bit of cleaning.
Sasaki:Once all the exhibitors are decided, everyone puts on masks, picks up a broom and starts by cleaning up, getting covered in dust.
Itoh:There was even an artist that turned that into a work of art.
Sasaki:If we're being allowed to use it, we make sure we keep it maintained and leave it cleaner than when we arrived.
Works born out of continued exhibits
—How do you decide on exhibitors and what is exhibited?
Itoh:It's not like you can just bring your work to an existing art museum or gallery and hang it on the wall. So we've been asking friendly local artists who understand and support what we're trying to do and get them on board. There's members from Chigasaki, Kamakura, Sakae Ward in Yokohama too.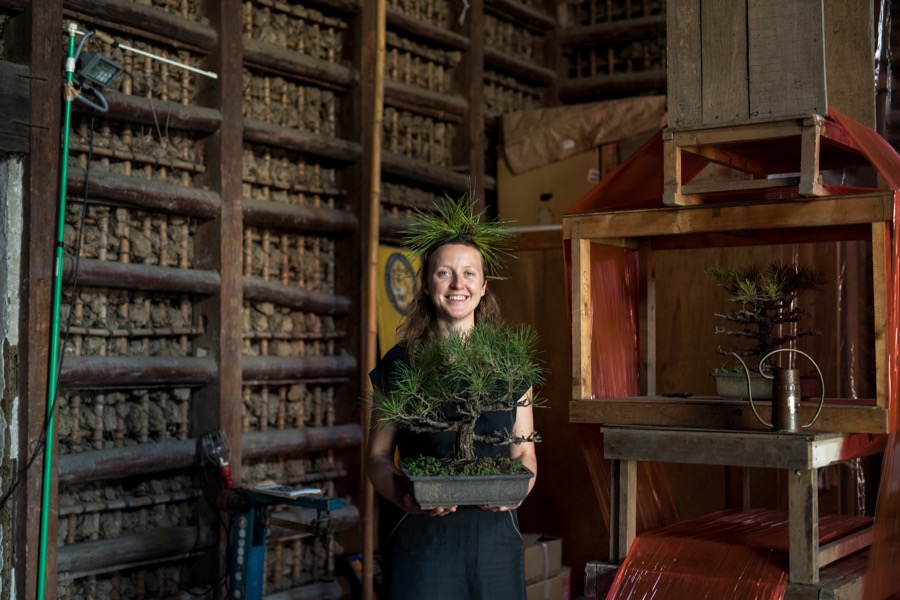 Asnate Bockis, a participant from latvia, focuses on pine trees as a common feature of Japan and Latvia
 Whether directly or indirectly, there are lots of works that have been influenced by the region's history, culture or environment, though we've left that up to each artist. There's cases where they might bring a theme they have been following and adapt it to the locale. Three years ago, an artist who exhibited in Ishizone shoten, which used to deal in footwear, used Japanese words associated with footwear; I've incorporated yellow, the color of the standard of the warlord during the Warring States period; it depends on the artist.
 Hisaya Itoh, who will be exhibiting this year in the Arida family house, saw that the head of the family ume-boshi every year, so he made an artwork by making ume-boshi with him and keeping a record of the process. You even get to taste it.
 Shinji Murakami is a photographic artist, he walked along the path walked by the 4th generation Yugyo shonin (leader) of the Ji-shu sect, from Muryoko-ji Temple, where his predecessor preached, to Seijoko-ji Temple (Yugyo-ji), taking photos along the way. During the exhibition, he'll be exhibiting slideshows and taking guerilla snaps on the road.
 When these exhibits are held over a longer period, you begin to notice things that you'd like to use for the following year. Mr Sasaki may have exhibited in the same place last year, but this year, you'll see how that same series has developed.
Sasaki:When you've done it a few times, you begin to get a feel of where and how you want to exhibit, it just comes to you. There are a lot of artists that match their works to the location.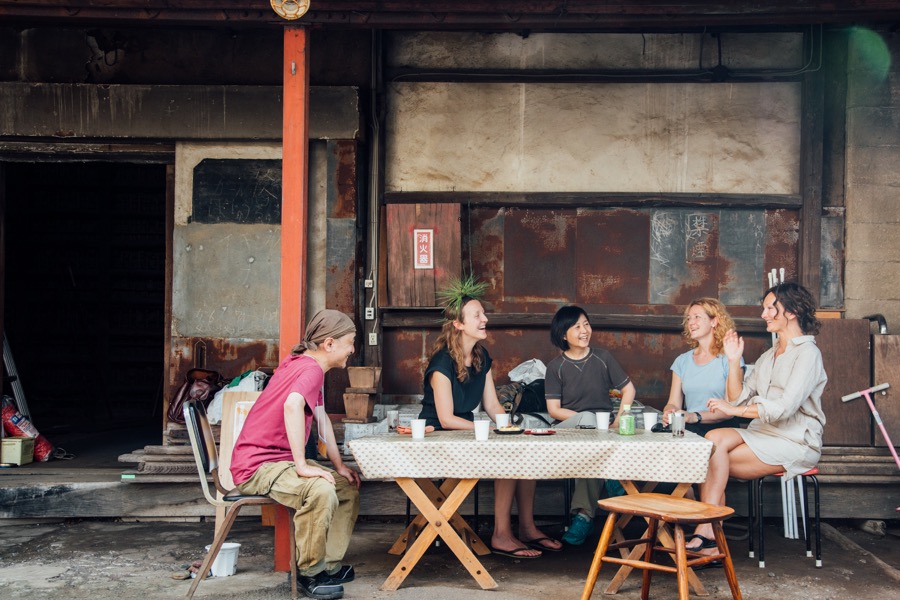 At Sekiji shoten, it's also nice taking a breather when the owner provides refreshments.
Re-evaluating local elements through cultural exchange
—Can you tell us about some highlights for this year?
Itoh:Our artist-in-residence programme is our biggest feature this year, with three artists from Latvia joining us. We'd really love for you to see their work. In the latter half, from the 22nd onwards, we'll also be providing illumination in the evening for 2 hours or so. We've been doing the illuminations since 2013, but since last year, we've had Fushimi Masayuki on board. He usually works in a team called the "Light Brothers" making illuminated landscapes, so the lighting has gained a real boost. He'll be exhibiting a video work this year in the outer warehouse south of Inamotoya.
 On the 22nd, the first day for the illuminations, we'll be meeting at the newly built Fujisawa Koryu-kan around 5:30pm and walk around each venue. We plan to have as many artists as possible around to provide some commentary and explain the significance of the buildings.
Sasaki:It's also possible to look at the map on the brochure and go around yourself. Plus, there'll be someone around at each venue. If you collect stamps from the venues, you can even win original items made by the artists.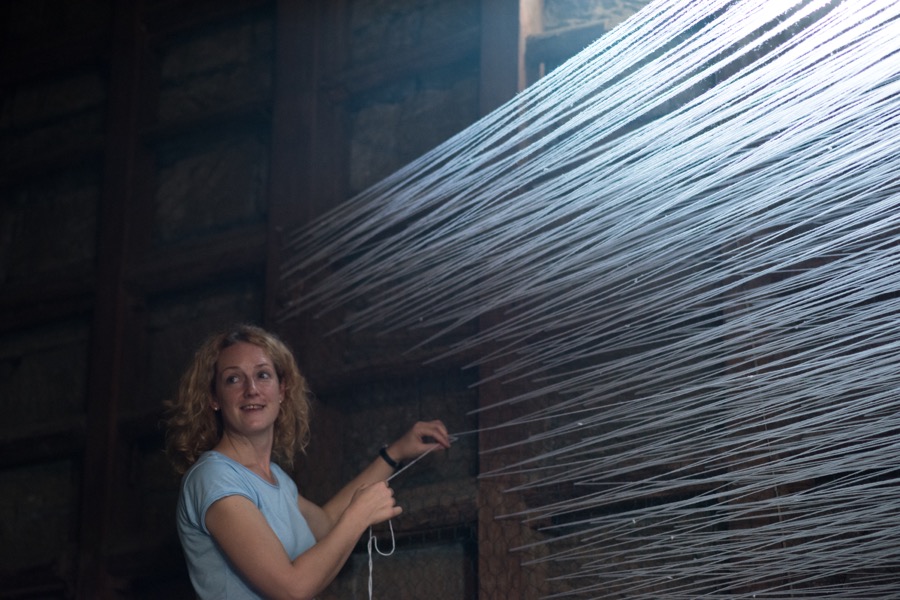 One of the Latvian artists who are with us this time, Ms Laura Feldeberga, will be exhibiting a work themed around collecting light.
—How did your collaboration with Latvia start?
Sasaki:In 2006, 2007, I was in residence at the "International Openair Expressions" exhibition in Hiki District, Saitama. Many artists had come from outside Japan, and Laura, one of our participants this time, was one of them. We got talking, and I really liked her. She had experience and plenty of skill to boot. Her father was also a sculptor, and coordinating a residence program in Latvia.
Itoh:She'd been coming for 2 years in a row, we showed her around galleries in Tokyo and kept in touch. When our project got off the ground, we contacted her, and had her participate from the first year. We also had an artist from Sweden join us the year before last. Going further back, we once invited a friendly artist from France. Latvia isn't very well known around here, so the more you study it, the more you learn.
 It became independent of the Russian Empire in 1918, just after World War I. It was re-integrated into the Soviet Union afterwards, but re-gained its independence in 1990. Through that history, it kept its own unique form of arts and crafts and plentiful natural resources. The old parts of Liga, the capital city, is registered as a World Heritage Site. It has endured a lot, but there's plenty to appreciate regarding its unique culture and ingenuity. Japan may come across as an economic heavyweight now, but as you gain an awareness of foreign cultures through initiatives like this, there's an opportunity to look again at ourselves, look at how we might advance and live as our population gets older and shrinks.
 Though she was absent last year, we've asked Laura to choose artists from Latvia for this year's exhibit. We also had the Latvian Ambassador in Japan make a trip here from the Embassy during our preparation period.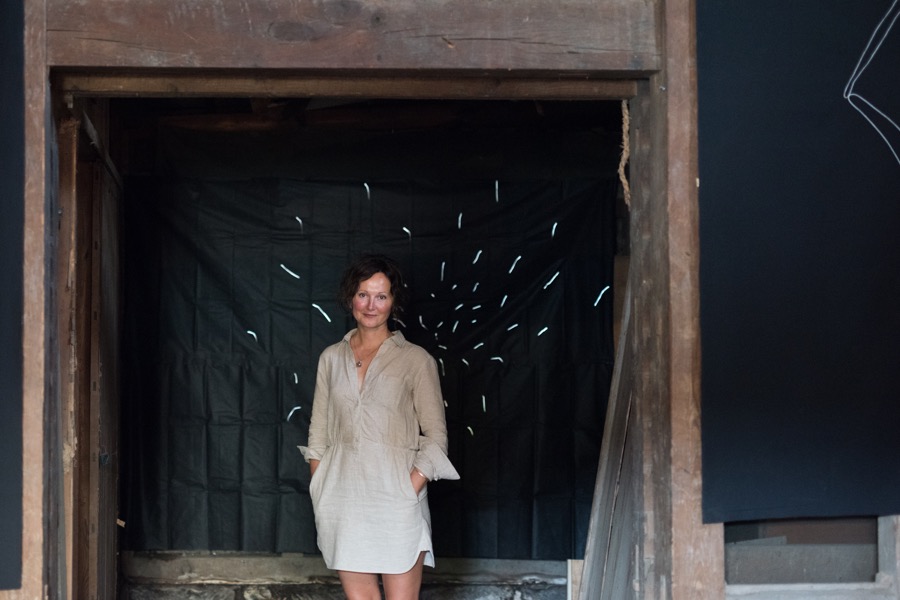 Exhibits themed around love for nature and eternity, Ms Ieva Maurite
Sasaki:They're all very keen on us getting to know more about Latvia, so they were thrilled when we asked them to talk about their country's culture and food using maps etc.
Itoh:We've never made a visit to Latvia, it'd be great to do work in residence over there.