Yokosuka Shimin Musical wo Tsukurukai (SUKA Myu)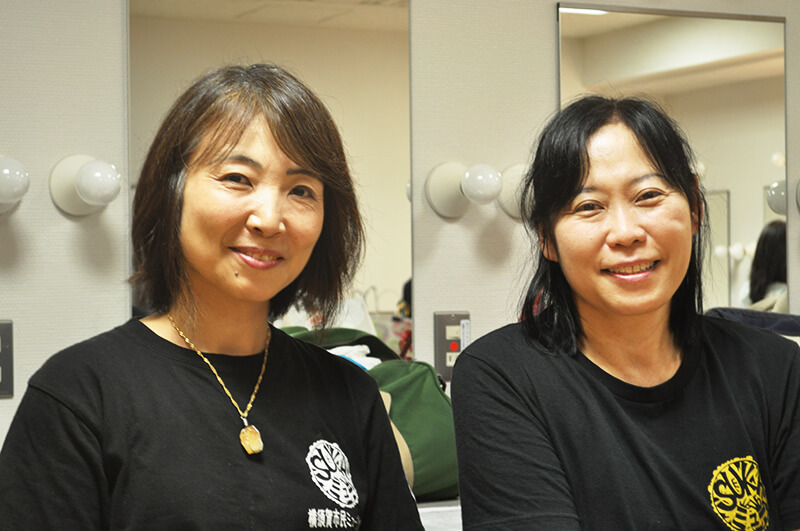 Hisami Yamasaki, SUKA Myu representative (right) and Mita, SUKA Myu staff (left)
-- I saw your website. The project has a long history indeed.
Yamasaki: That's right. It has been 15 years, since it started in 2001. It started when the local artists in Yokosuka decided to create an original musical of Yokosuka. We choose the history, myths, and buildings of Yokosuka as our subject, and look for stories that even the residents are unaware of. As a result, through our performances, we can teach the locals about Yokosuka as a city and show glimpses of its history, and advertise our city to the outsiders.
We do not have requirements for participation. As long as you are older than elementary school age, there is no upper limit to age. Therefore… (calling to a white-haired member in the dressing room), there is a member, who turns 84 this year. While it dancing may be too difficult, as long as there is passion, it is possible to get up on the stage, sing, and participate a little. There is truly a broad age range in our members, and through generational interactions, younger members learn a lot from the adults, and the elderly members are energized by the children. It is one of our goals is to cultivate both horizontal (regional) and vertical (generational) connections.
-- What do you enjoy about creating musicals with the local residents?
Yamasaki:A musical is "singing, dancing, and acting," as such, it is very challenging for inexperienced participants. We, however, say that not having a prior experience is fine. The instructors are all professionals in the field, and they teach in ways that match the individual needs.
With that said, we make a conscious effort to avoid our performances resembling a school play. We do not put small children in the front of the stage and assign lines evenly across the performers. Instead, we ultimately value the quality of performance. In this sense, we are strict, and aim to make the experience something that can lead to a next step, rather than just a memorable one, and an opportunity to get a glimpse of the essence of stage production.
There are SUKA Myu members, who became professional performers. We hope to nurture such potential in younger children, and also become a place that provides a sense of purpose for elderly members to continue performing. I find these things enjoyable.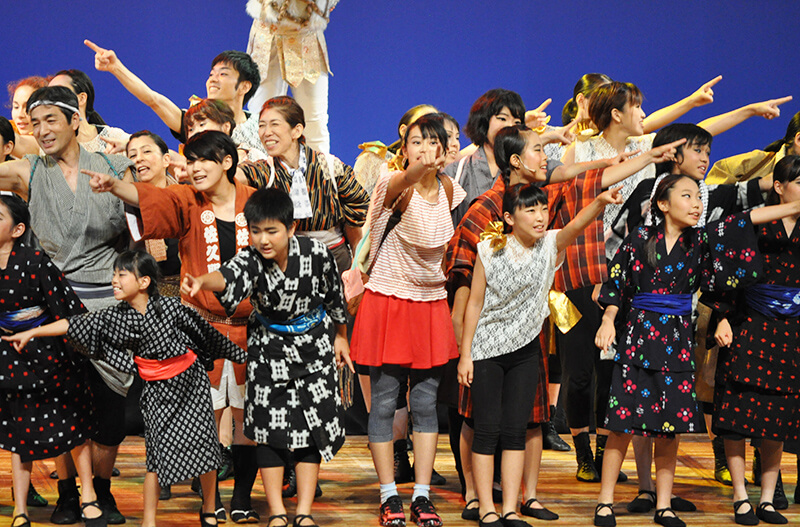 A scene from "Nami to Charu: Bunmei Kaika wa Yokosuka kara hajimatta! (Nami and Charu: Civilization began in Yokosuka!)"
-- Thank you. What is the program like this time?
Yamasaki: This time, it is "Nami to Charu,"SUKA Myu's only series piece. It is a time-travel fantasy about Nami, a girl who lives in Yokosuka, and Charu, the son of the white monkey from Sarushima's "Shiroi Saru no Densetsu (The legend of white monkey),"going back in time to visit Yokosuka in the past.
The stage is set at the end of Edo period at Yokosuka Seitetsujo, which later became a shipyard, the first French-style dock in Japan. The fact that last year was the 150th anniversary of Yokosuka Seitetsujo was largely advertised. It is a story about the strength of people in Yokosuka during the time of war and "Fukoku Kyohei (wealthy country and strong military)," a slogan capturing the goal of the government at that time, and Nami and Charu discovering what is important from being immersed in this environment.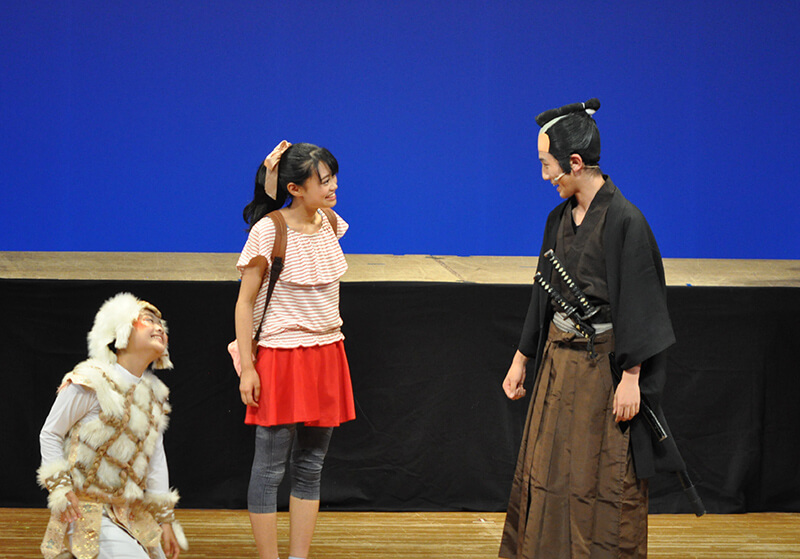 A scene from "Nami to Charu: Bunmei Kaika wa Yokosuka kara hajimatta! (Nami and Charu: Civilization began in Yokosuka!)"
-- We hope to spread awareness of musical performances by local residents through this musical summit. Do you have a special message to this end?
Yamasaki: I would like to have as many people as possible experience the joy of standing on stage and being in the limelight. It might be a bit of an overstatement, but truly, it should turn into the power to live. Let's promote musical performances by local resident groups together.
Despite the fact that its real performances start just next week, SUKA Myu had an amazing show as the first performer of the Musical Summit. The audience was oblivious to the fact that it was their first performance in 3 years. The story based on the historical facts of Yokosuka, as mentioned by Yamasaki, was very interesting, and the short 30-minute show was engaging.