Kohoku Musical Company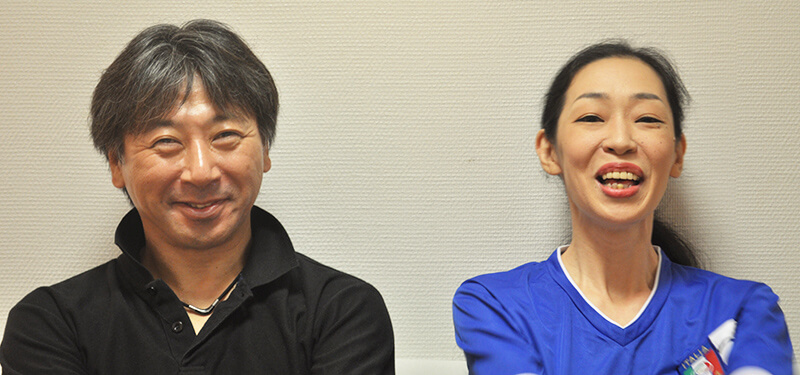 Writer/Producer Ichiro Jun (Left) and Cast Member Hiro Ueda (Right)
-- The terms "Community Based" and "Community Transmission" on your website left quite the impression.
Ueda: If the people of the community who wished to perform simply got together and did so it would just end in a one-time recital and may not lead to the further advancement of those involved. That's not what we want to pursue. By using community as our theme we can show what kind of creative work is going on here and create an atmosphere in which everyone tries to constantly improve.
 In Kohoku Musical Company we require participants to be at least fourth grade age but have no upper limit age restrictions. In the past, we've had people in wheelchairs and people with difficulty hearing perform with us as well. As long as their "bodies move," or, more precisely, their "hearts move," we allow anyone to perform with us.
 Ichiro Jun produced the company's current rendition in 2005 but there are still people who remember the original Kohoku Musical Company and excitedly await our every performance. They come because they know that they will have a good time and are always the first to contact the office to reserve tickets as soon as they go on sale. I think this is a result of the same person writing and producing for many years with the consistent theme of "Community Transmission."
-- This isn't just a private gathering of friends, people are coming for entertainment.
Ueda: There are some top-class people working with us with music, choreography and the like. On stage, as well, there are professional actors and actresses as well as those in the making. I feel like plays are somewhat like tennis. If two people who aren't very good play each other the rally won't last very long. However, if one rallies with a pro, that pro can send the ball back to an area that is easy to return from and the partner can quickly improve. This is one reason that we have opened our doors to professionals as well.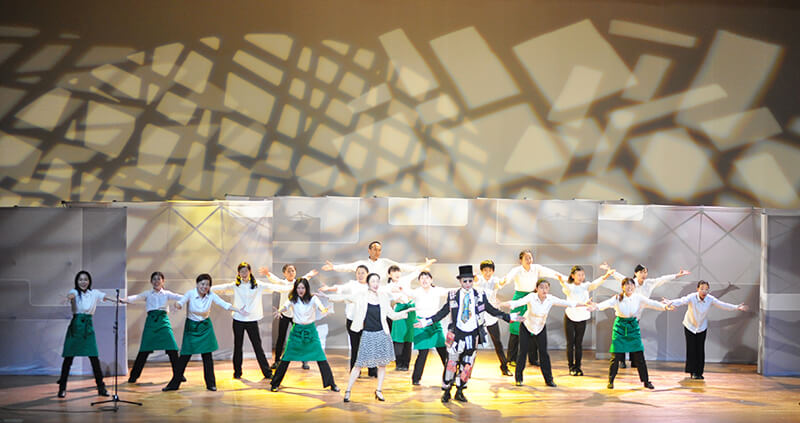 One Scene from "At Momijizaka"
-- What attracts professionals to come to your musical company?
Ueda: Actually, I am a professional as well and belong to a theatrical company. To put things bluntly, there is a side to the professional world that is very businesslike. All you have to do is arrange with the people you meet and the scenes you're in for each show. Here, however, we spend half a year in preparation. We have basic practice for the first three months and practice the script for the next three months. Because we take our time like this we can really work on communication between individuals. If a professional is suddenly told that they will be playing the part of husband and wife with someone they've just met they can do it. Amateurs, however, tend to be quite shy and have a harder time adjusting. We start from that kind of base level here to construct our performances.
 Another thing that draws in professionals is the sight of everyone really giving it their all. Our producer, Ichiro Jun, as well, doesn't say "That's good enough," but rather "Keep working on it!" He continually sets the bar higher and higher. Our members may cry or grit their teeth but always say, "One more time, please!"
 Having gone through this process of working so hard, the smiles on their faces upon finishing a performance are truly wonderful. It's surprising and almost funny how far some of our lesser experienced members grow through the experience. This gives us a good chance to look back on ourselves as well.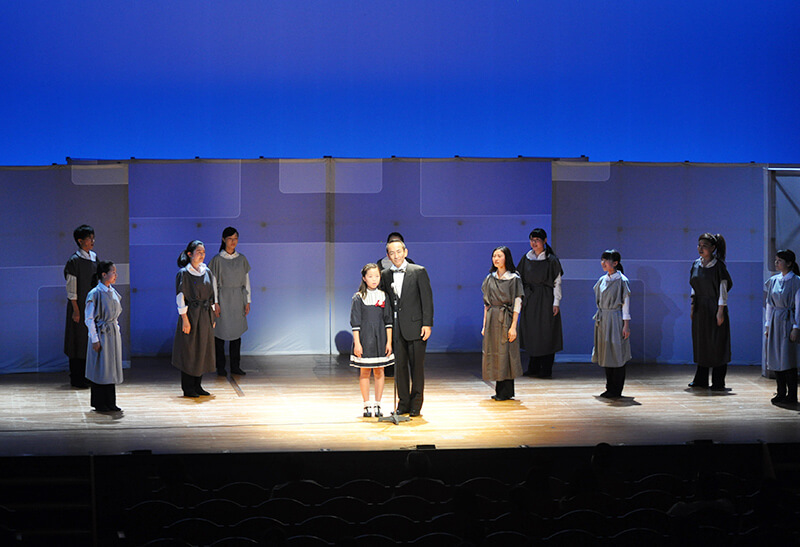 One Scene from "At Momijizaka"
-- How do you strike a balance between the two themes of entertainment and working with roots in community?
Ichiro Jun: That depends on how you think about citizen musicals. I don't want citizen musicals to stay in the realm of working "just hard enough" like a simple extension of a school arts festival. I don't believe that we are doing these performances for ourselves but rather for the sake of the people who come to watch us. I don't think it's right to use performances simply as material for communal exchange. I believe that one of the characteristics of our Kohoku Musical Company is that, if we're going to do a performance, everyone involved in creating that performance has the interests of the audience in mind.
 We professionals go on stage as well. Just as in sports, by performing exchange between amateurs and professionals the amateurs can experience the craft of the professionals and, by performing together, can lead to the future of further performances. Professional baseball players typically aren't seen playing grass-lot baseball with amateurs but we think that this is something that there should be more of. This experience will lead to the future of spectators, performers and stage hands 10 and even 20 years from now.
-- Could we receive a word for all the people who are interested in performing in musicals?
Ichiro Jun: Effort is important. We may be in a fairly self-centered era but the people who perform with us all work incredibly hard in order to put on a good performance and please their audiences. When hardships have meaning behind them, overcoming that severity will undoubtedly lead to personal growth not just on the stage but in one's school or work life as well.
Ueda: The doors are open wide so I would like everyone to come and try their hand at performance and to get a sense for the importance of continuing to work at something. Some people retire after the half-year practice but everyone who overcomes these hurdles gains self-confidence and experiences personal growth. I would like for everyone to at least try it out and to keep trying until the performance is over.
 These two gave us strict advice, "work extremely hard for the sake of the audience," but they did so with a smile. On stage, they performed a digest version of Kohoku Musical Company's famous works from the past. With a high level of singing ability and a production including part of the spectator seating in the performance it was truly a dignified event.