What are "reasonable accommodations" for people with disabilities?
"Unfair discriminatory treatment" includes such things as being refused entry to a shop, refused a rental agreement, or denied the chance to take an examination or enroll in a school because of a disability. "Reasonable accommodations" are accommodations made in keeping with the characteristics or challenges of the disability so that people with and without disabilities may be given an equal opportunity to participate in societal activities such as employment or education.
With the enforcement of the Act on the Elimination of Discrimination against Persons with Disabilities, public institutions such as administrative offices and schools are obligated to provide reasonable accommodations as much as possible. Ordinary companies and stores run by private business owners are also expected to endeavor to fulfill this obligation.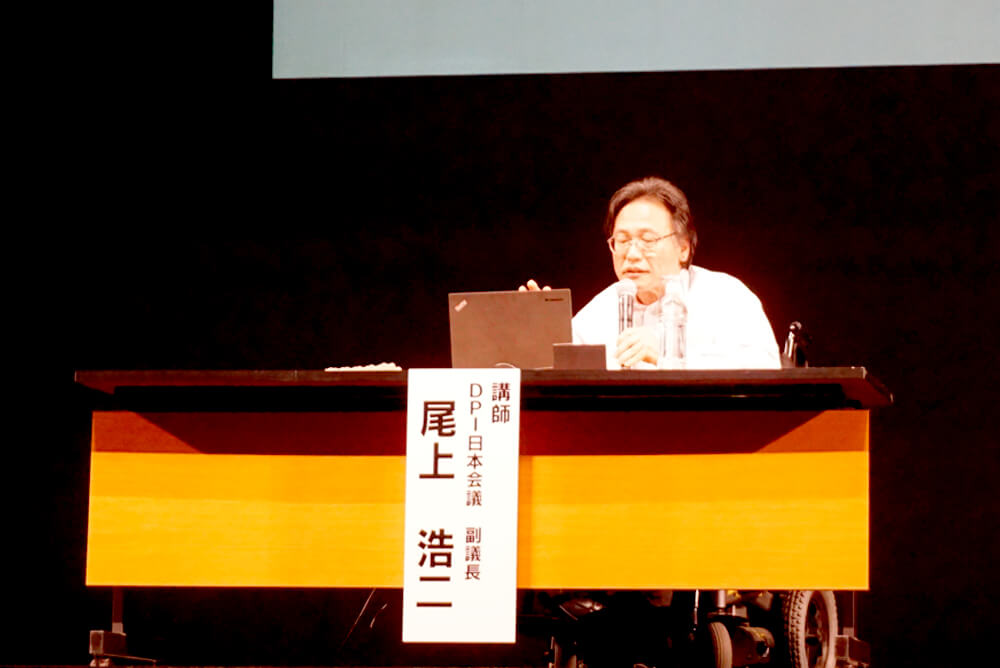 DPI (Disabled Peoples' International) Japan National Assembly Vice-Chairperson Koji Ono
The speaker for the first section, Koji Ono, who uses a wheelchair due to a leg disability, gave this clear explanation of reasonable accommodations.
"A person who uses a wheelchair was able to attend the concert of a rock band they love. However, when they arrived at the location in their wheelchair, they were told by event staff that it was expected to be crowded, and asked if they would leave several songs before the end of the concert.
This person really wanted to stay until the encore, so they said that they didn't mind waiting to leave the venue last so they could stay to see the encore, but the staff would not give permission, saying, 'But if something were to happen...'
They persistently negotiated with the event staff, and in the end, they were able to see the encore and be the last person to leave. But when remembering the concert, which should have been fun, that unpleasant conversation also comes to mind, giving them mixed feelings about the memory."
After telling this story, Mr. Ono asked us what the event staff were missing when they said, "But if something were to happen..."
He said it was that they had not thought specifically about the situation in which something actually did happen. Without thinking of that, they are giving the responsibility for and coping with "when something happens" to the person with the disability.
Through imagining each possibility of what could occur "when something happens," and considering what to do in this case or that case, it is possible to do specific problem-solving and implement policies to provide the necessary facilities, create rules, or make improvements.
By doing this, more people with disabilities can enjoy concerts in the same way as those without disabilities. This is the meaning of offering reasonable accommodations.
Simply saying "We cannot give you preferential treatment," or "There is no precedent for that," is acting without thinking. He said that when people remain indifferent to the needs of people with disabilities and do not change their own way of thinking, it is disability discrimination, a major barrier to reasonable accommodation.