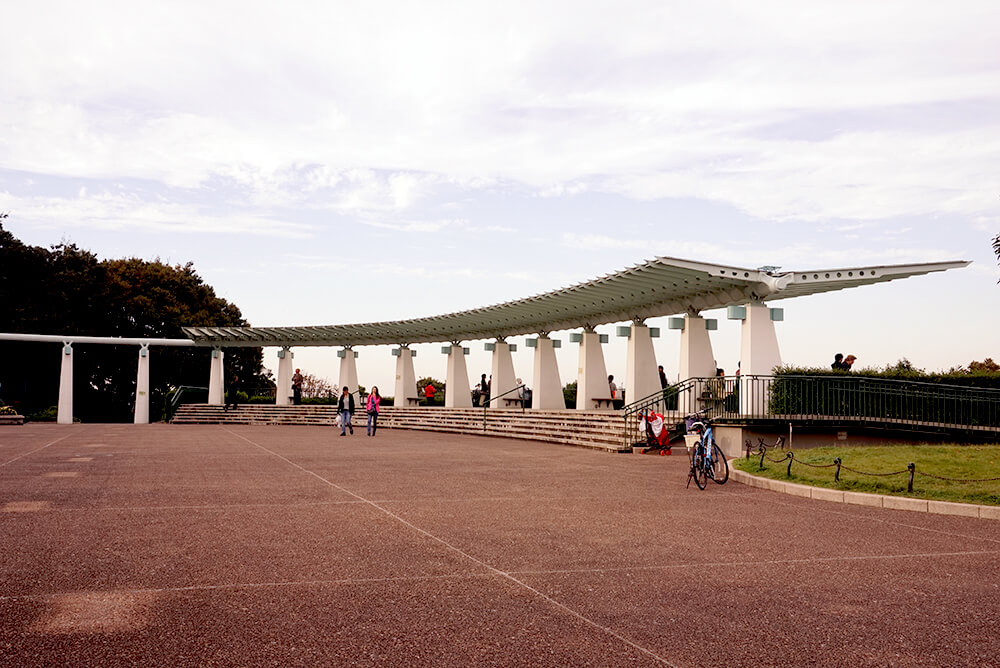 The Kanagawa Museum of Modern Literature stands in the corner of Harbor View Park
– On my way here to the Museum, I passed through Harbor View Park. I noticed how quiet and wonderful the location is, with the beautiful view and many trees especially on this side of the bridge.
Please start by telling us about the Museum facilities.

Handa:The Museum opened in 1984, so this year marks its 32nd anniversary. It is a "museum" preserving and displaying materials that feature writers and writings connected with Kanagawa, but it is also a "library" specializing in Japan's modern literature, as well as an "event hall" holding lectures.

Under the title "The Landscape and Literature of Kanagawa", the permanent exhibition presents the manuscripts and documents of Atsushi Nakajima, Yukio Mishima, Ryunosuke Akutagawa, Hakushu Kitahara, Soseki Natsume, and other writers who have close ties with the five areas of Kanagawa: Yokohama, Kawasaki, Kamakura, Miura Shonan, and Odawara.

– I see that Kanagawa has many towns associated with famous writers.

Handa:Yes. The literary works on display are accompanied and enlivened by seasonal photos of corresponding towns.

We even have a replica of Soseki Natsume's study. When NHK was making a drama featuring Mr. and Mrs. Natsume (Saturday drama "Soseki Natsume's Wife") that aired this autumn, their production staff came to use this display as reference.

The Special Exhibition this autumn is currently showing "Shotaro Yasuoka: From I to History" until November 27th (Sun).

– What has the Special Exhibition featured so far? Which ones have been popular?

Handa:Naturally, exhibitions of famous authors are well-liked. In recent years, we featured Chuya Nakahara in 2013, Osamu Dazai in 2014, and last year we featured Junichiro Tanizaki, and Yoko Sano who wrote "The Cat That Lived A Million Times".
This year's Soseki Natsume Exhibition (Special Exhibition "100 Year Reunion With Soseki Natsume", held from March 26th (Sat) until May 22nd (Sun)) was successful and attracted many visitors.
About "Shotaro Yasuoka: From I to History" currently on show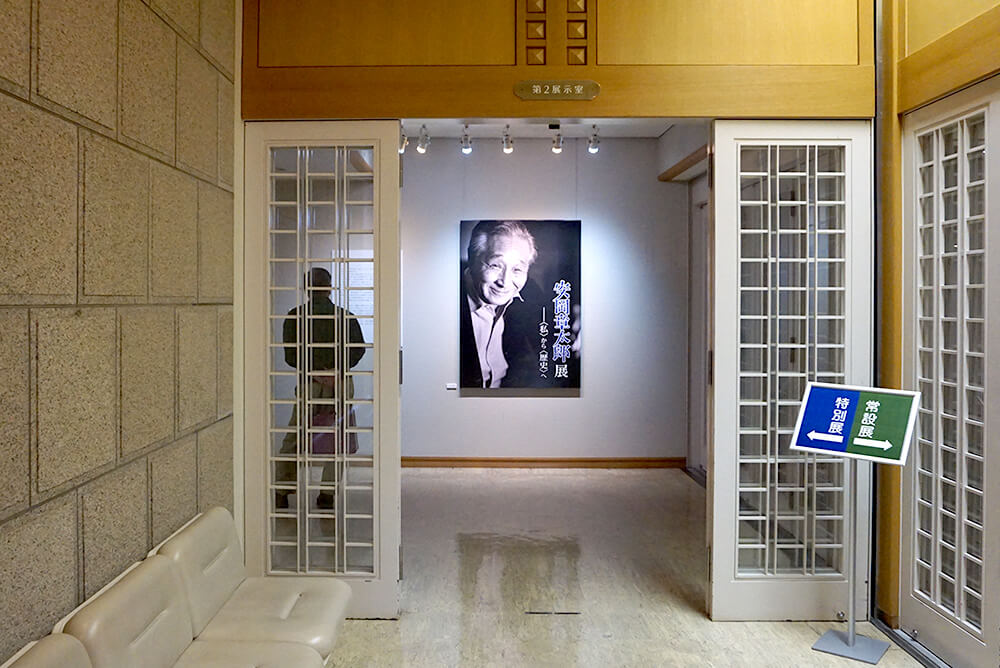 The Special Exhibition is currently featuring Shotaro Yasuoka
– Can you tell us about the "Shotaro Yasuoka Exhibition" currently on show?

Handa:Yes, it is the first exhibition to comprehensively explore the life of Akutagawa Prize winner Shotaro Yasuoka (1920-2013) and his writings.
Born in Kochi, Shotaro Yasuoka moved often as a child because of his father's work, which caused him to become a "school-refuser". He was sent to university, but he had poor grades and a bad behavior.
At the start of World War II, he was conscripted into the army at the age of 24, but he suffered tuberculosis in the field and was sent home.

– (Looking at the display) But it says that, later, his entire unit was destroyed on Leyte Island. He must have been a very lucky man. Although it was probably unwise to say so back then...

Handa:He also lived to the ripe old age of 93.
But his house in Tokyo burned down in an air raid, and his struggle with illness continued even after the war. In the midst of all this, he began to write novels, and his works portraying himself as a slacker and loafer gained worldwide attention. In addition to humorous essays that were also popular, he wrote a historical novel set in the last days of the Tokugawa Shogunate about his ancestor on his father's side who was a loyalist of the Tosa Domain.

– I see that he engaged a wide range of activities for a long time. The displays not only show manuscripts, but also letters, suggesting he was an energetic correspondent. There are also many photos, but was he interested in photography?

Handa:At the 1964 Tokyo Olympics, he was invited by film director Kon Ichikawa to join the crew for his film "Tokyo Olympiad", which he did.

- Wow! So he was more than a hobbyist photographer.
The display also shows materials such as picture scrolls, family trees, and old letters from the final years of the Edo period in relation to his hometown Kochi.

Handa:His long novel "Ryuritan" depicts an ancestor of the Yasuoka family, who was a samurai of the Tosa Domain during the end of the Edo period. It's a historical novel about his forefather, Kasuke Yasuoka, a member of the Tosa Loyalist Party and follower of the Sonno Joi ideology, who was involved in the murder of Toyo Yoshida. This work also explores his own roots.

– The Tosa Loyalist Party! ...That would mean his ancestor was active in Tosa during the same period as Ryoma Sakamoto and Hanpeita Takechi.
I have never read any of Shotaro Yasuoka's works, but this exhibition made me curious. This kind of opportunity certainly has impact.

Handa:Absolutely. Here at the Museum, we are always planning opportunities that would familiarize people with literature and attract them to it. For example, Haruki Murakami contributed an essay to be included in the catalog for this Special Exhibition.
Murakami said he was greatly influenced by Yasuoka's writing style, and provided the essay willingly.
Displaying Haruki Murakami's contribution here has also attracted many of his fans.
"Bungo Stray Dogs" Reaching the younger generations with literature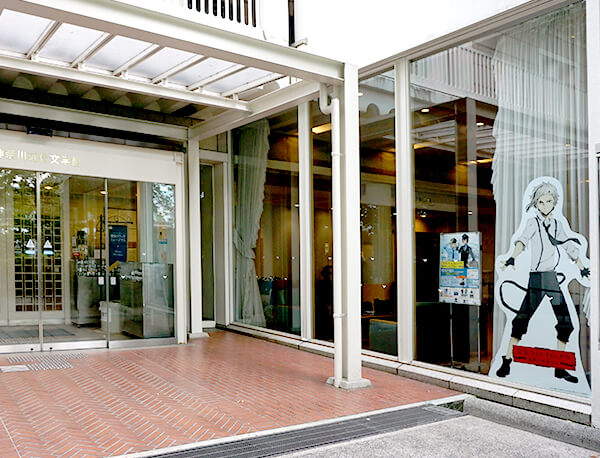 Manga protagonist Atsushi Nakajima displayed by the main entrance
– When I entered the building today, I noticed a large cutout of a character at the entrance.

Handa:A manga/anime called "Bungo Stray Dogs" is trending among the younger generations, and a stamp rally collaboration between Yokohama City and KADOKAWA Corporation was held in October. (From October 1st to the 31st. *The Museum is closed on the 31st and Mondays.)
The Museum was one of the stations in the rally, and attracted many fans.

– Why was the Museum included in the rally?

Handa:The characters in "Bungo Stray Dogs" are named after real literary figures. The protagonist is named after Atsushi Nakajima, famous for "Tiger Poet", who taught at a girls' school in Yamate and is closely connected with Yokohama.
The Museum is also an "Atsushi Nakajima library" and keeps practically all of his manuscripts and related documents totalling around 4,700 items.

This is why the protagonist Atsushi Nakajima's stamp is placed here. This is our third stamp rally event, but it is very popular among young fans.

We installed an area for fans visiting the Museum to write messages in notebooks that will be sent to the editorial department and author of the series after the event. This has become so popular that people even line up on weekends to write in this notebook.

Many voiced how the series prompted them to read Atsushi Nakajima, Osamu Dazai, and Ryunosuke Akutagawa.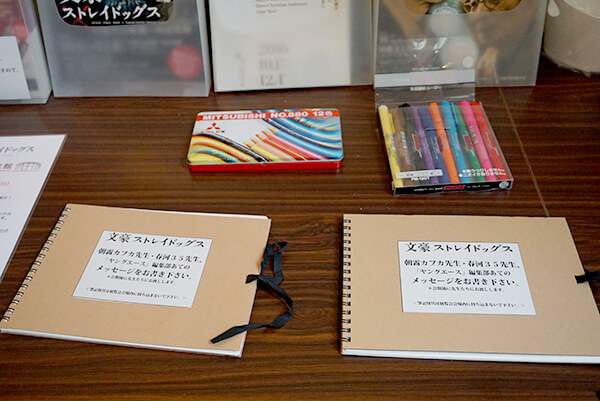 Notebooks filled with passion for the series
- (Looking inside the notebooks) It's wonderful to hear how they've taken an interest in literature! Their illustrations are very good too!

Handa:I was impressed to see elementary and junior high school children writing proper kanji. They don't come here just to stamp, but they also look at the Permanent Exhibition and Special Exhibition. I'm delighted that manga and anime are sparking a broader interest in literature.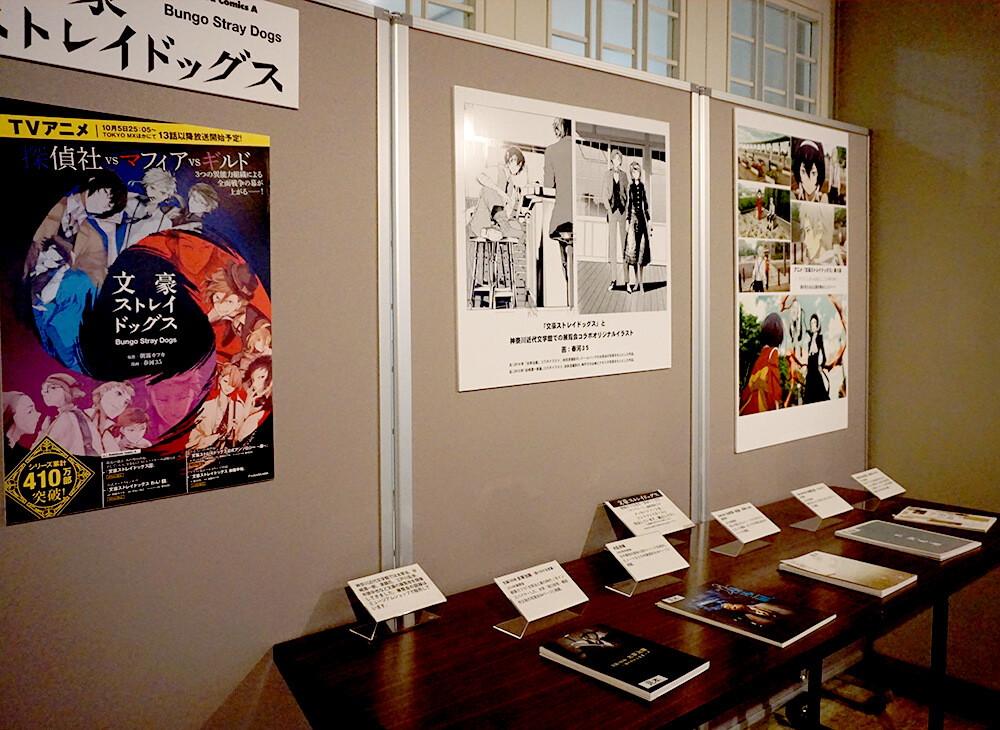 Collaboration pieces between the Museum and Bungo Stray Dogs were displayed during the stamp rally
– The story is set in Yokohama, so I hope fans will also come here to make their anime "pilgrimages" (visiting locations used in their favorite series).

Handa:Yes. There are many landscapes around the Museum that appear in the series.

It's been a while since we saw a drop in young people reading books, but we want to keep planning exhibitions that will prompt and encourage them to enter the literary world so that their lives may be enriched through the power of literature.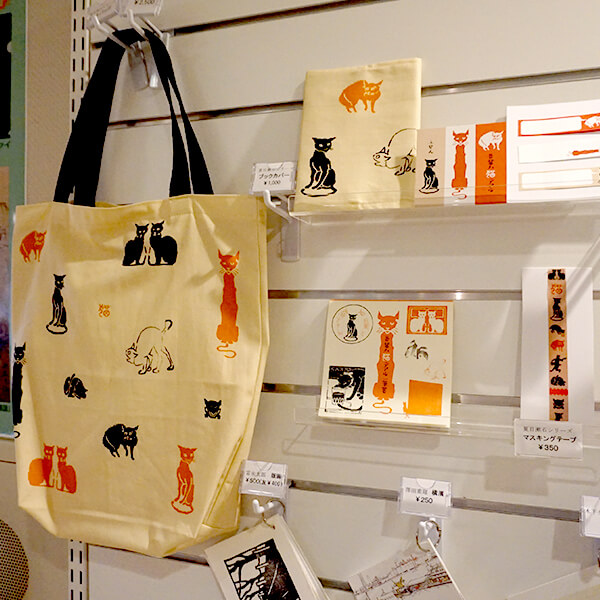 The Museum is also making an effort in developing products
Handa:Aside from exhibitions, we also offer lectures, book recitals, and lifelong learning support and other activities to promote literature.

Our archives is available for free in the reading room on the first floor of the building (loan unavailable). We have many valuable literary materials that are difficult to obtain, and we hope they will be useful to you in your studies, research, and other activities.

The Kanagawa Museum of Modern Literature is approximately 10 minutes walk from Motomachi-Chukagai Station. Drop in for a look if you're taking a stroll, enjoying the sights of the Yokohama harbor, the Western-style buildings in Yamate, and the gardens of Harbor View Park.
The Kanagawa Museum of Modern Literature
Address: 110 Yamate, Naka-ku, Yokohama, Kanagawa
Tel: 045-622-6666
Closed: On Mondays (open on holidays), while changing displays, and around the turn of the year
Opening Hours: 9:30 a.m. to 5:00 p.m.
 * The reading room is open until 6:30 p.m. on weekdays (open until 5:00 p.m. on weekends and holidays)
Unavailable: On Mondays (open on holidays), the last weekday of the month, and from February 1st to the 10th
Special Exhibition "Shotaro Yasuoka: From I to History"
Period: October 1st (Sat) to November 27th (Sun), 2016 Closed on Mondays (open on October 10th)
Opening Hours: 9:30 a.m. to 5:00 p.m. (last admission at 4:30 p.m.)
Venue: Kanagawa Museum of Modern Literature, Exhibition Room 2 and 3
Tickets: Adults ¥600 (¥400), 65 years and up/under 20 ¥300 (¥200), high school students ¥100, free for junior high school students and under
*Prices in parentheses ( ) indicate fee for groups over 20
*Free for those with a physical disability certificate, medical rehabilitation certificate, or a mental disability certificate (please inquire for more details)
*Free if you have a hisai/risai disaster certificate from the Great East Japan Earthquake
Bungo Stray Dogs
A popular manga series selling over 4,100,000 books, written by Kafka Asagiri and illustrated by Sango Harukawa.
The action/battle manga is set in Yokohama with characters named after real literary figures such as Atsushi Nakajima and Osamu Dazai, who fight using supernatural powers. The series is adapted into various media including novels and anime.