The crowd is excited to hear about "Castles with No Castle?"!
The speaking event with Mr. Shota Shunputei, Mr. Yoshihiro Senda, and Ms. Sachiko Hagiwara was held on Christmas Eve (the 24th), the middle day of Castle EXPO2016.

The three were pleased that so many castle fans gathered in Yokohama for an event about Japanese castles, even though it was Christmas Eve.

Not to mention the fact that this speaking event wasn't about the better known castles with donjons, but instead about the rarer charm of mountain castles! These were some serious fans!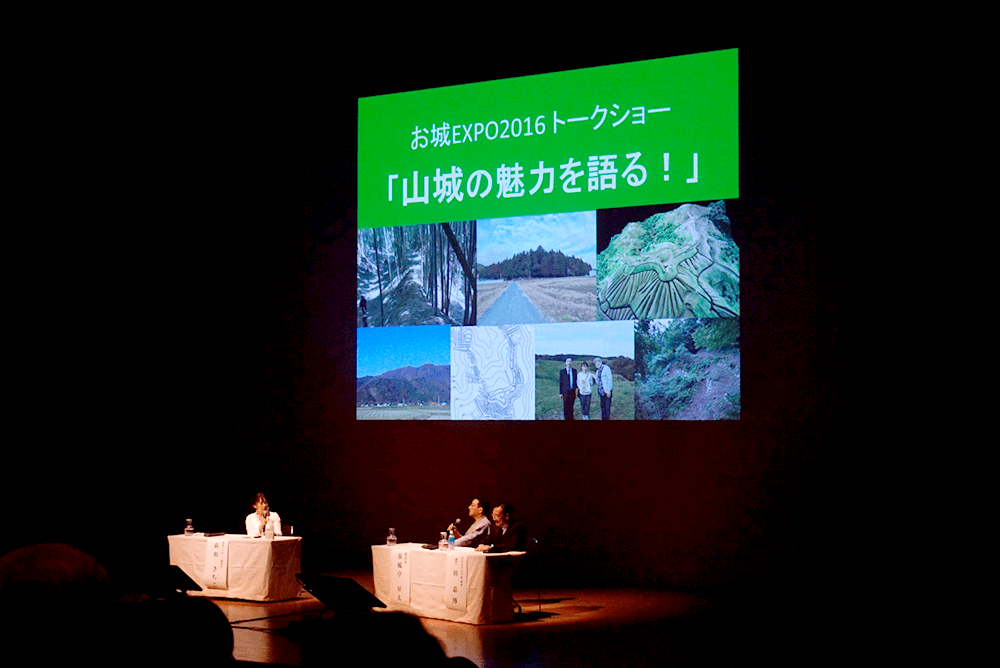 Shota began the talk by saying, "Before we get started, everyone should note that we won't be seeing any spectacular photos of castle towers during this talk. All you're going to see here are boring pictures of brown and green! Ha ha ha!"

As you might expect from a rakugo comedian, it made the entire audience roar with laughter!

Usually when you think of castles, you think about splendid towers like the ones at Himeji Castle or Osaka Castle, as well as moats and stone walls.

But the truth is that, during the Warring States era before Oda Nobunaga, most castles were mountain castles.
Mountain castles were strongholds that used the shape of the mountain itself, enhanced with moats, traps, and earthworks. The mountain itself became a fortress, difficult to attack.

・Medieval castles were mainly mountain castles! / Early modern castles were mainly on hills or plains!
・Medieval castles had walls made of earth! / Early modern castles had walls made of stone!

Many people may think a castle without a tower is somewhat lacking as a sightseeing spot, but a castle isn't just a tower, it's a fortress that also includes the moats and mansions.

Medieval castles in particular were often built to conform to the terrain of the mountains and rivers. Compared to the average castle built after the time of Nobunaga (which to us means castles in general), these castles have uniquely interesting personalities.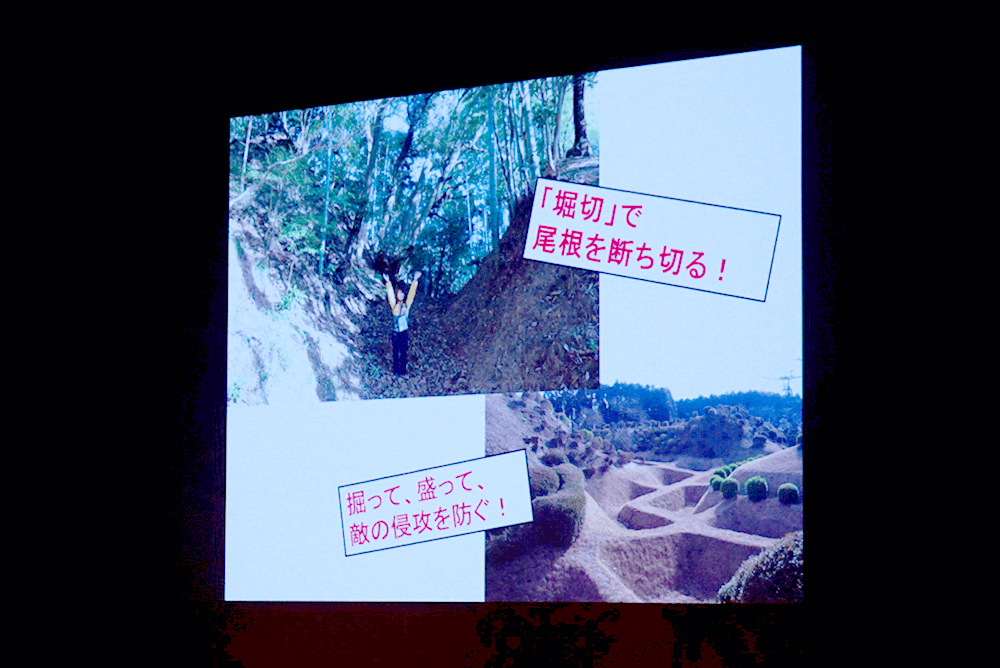 Shota prefers mountain castles to castles that have towers. As he speaks with Mr. Senda and Ms. Hagiwara, the discussion bounces back and forth as they view the slides!

Now, most mountain castles have been overgrown with trees and look like ordinary mountains.

But if you walk around, you start to discover man-made valleys, giant stones that seem to have some purpose, earthen walls that were fortified over and over against the fires of war, and many other traces. Imagining what these traces looked like in ancient times is the core of love for mountain castles; to walk around a number of these sites is to truly "come to see". (It's a deep world.)

Ms. Hagiwara can get wrapped up in daydreaming about the besiegers just by looking at the bare ground and thinking, "This might have been where the foot soldiers camped!" (It's a deep world.)

There's more! If you go to a mountain castle, you can enjoy it doubly by imagining what it was like to attack as you go in and imagining what it was like to defend as you leave! (It's a really deep world.)

The three of them said that they were pleased that the charm of mountain castles was becoming better known through the recent castle tourism boom.

Thanks to the boom, mountain castles that had been neglected are now being tended by local people so that their grounds are now more walkable and the shapes of their moats and earthworks are clearly visible.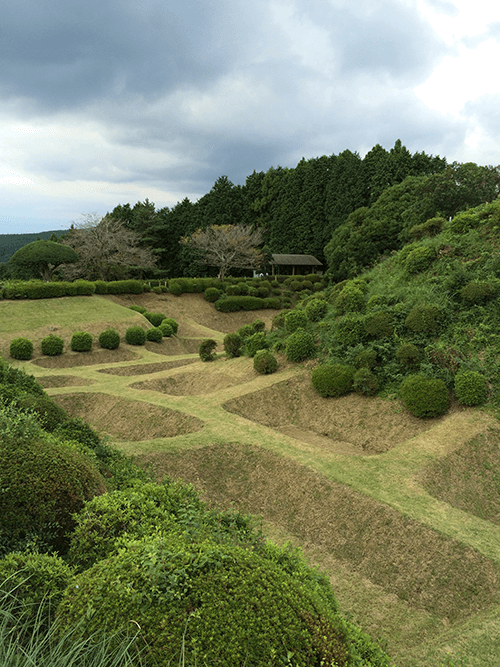 The Shoji-style Moat of Shizuoka Prefecture's Yamanaka Castle, which has been restored.
When Shota has visited areas for his work, he tells people that he is going to visit mountain castles. Sometimes the locals kindly but desperately warn him away, saying "There's nothing there!" or "You'll really be disappointed!" (Ha ha...)

But recently when he says "I saw such-and-such castle before I came here," more and more locals say "How nice!" Even local people didn't know much about their castles, but more and more have learned about them.

Ms. Hagiwara also said that, as a woman wandering around on a mountain by herself, she would often be mistaken for someone "searching for a final resting place".

Mr. Senda said that twenty years ago, only men visited mountain castles. But it's amazing that the number of women has increased so much.

He said that he wished he had been born later, so that he could have used "I know a place that has some really cool earthworks and a moat. Do you want to come with me?" as a line to invite women on a date. (Haha!)
The three are excited to speak about castles while showing slides.(Nagano Castle Restoration Model from Kitakyushu Museum of Natural History & Human History Archive)
Thus, the hour-and-a-half talk about mountain castles seemed to pass in no time at all. Thanks to Ms. Hagiwara's tempo and skillful navigation of the topic, Mr. Senda's clear explanations of even specialist knowledge, and Shota's extraordinary conversational skills, the trio's enthusiasm for mountain castles was in full bloom.

In closing, Shota said proudly, "Until now, 'castle' may have meant donjon, but really Japan's representative castle is the medieval mountain castle. I've been saying so for a long time. And when I say something's good, people will definitely come! This is the age of mountain castles!"

2017 will be an extraordinary year for the mountain castle boom... don't you think?
Interview with Mr. Shota Shunputei
Following the speaking event, Castle EXPO2016 was able to further speak with Shota at a coverage meeting for the History Channel show "Touring Japan's Old Castles" (will air from 1/23 until 1/31) in which Shota will appear.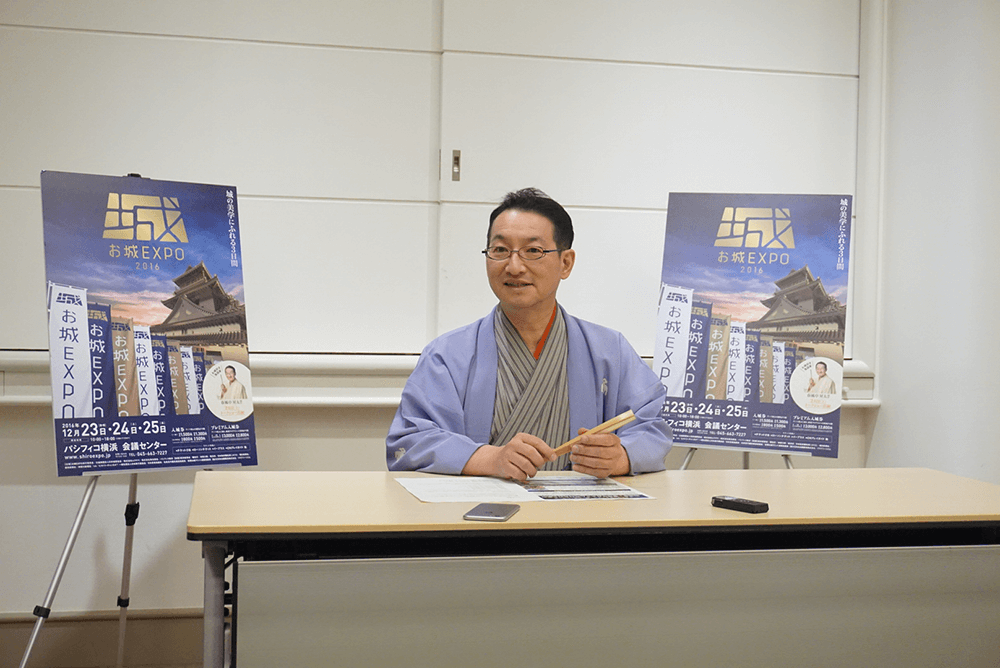 --Shota, we know that you like castles so much that you take the smallest opportunity to tour castle ruins when you're traveling for work. Can you tell us your impression of this Castle EXPO2016 event?

Shota:Until now, events concerning castles have mainly been aimed at either locals or specialists, but Castle EXPO2016 is aimed at a general audience. As a fan of castles, I was thrilled; I thought "Finally the time has come!"

--It seems like the tickets for your speaking event were sold out. What do you think has prompted the popularity of castles?

Shota:Japan's medieval period, the Warring States era, is about as popular a topic of taiga dramas and other media as the Bakumatsu era, but it's less commonly researched, and even if you go to history museums, you're more likely to see exhibits about ancient times or the early modern era.

But in the last few years, research on the middle ages has advanced and a lot of things have become clear about medieval fortresses. Most medieval castles were mountain castles, and we're told there may have been between thirty and fifty thousand of these in Japan.

It's becoming widely known that castles don't just include the ones with donjons.

Local governments have begun to understand the value of their mountain castles, and thanks to restoration efforts such as tree removal, these mountain castles have become more accessible.
Coupled with the existing popularity of the Warring States era, this has lit the fire under the popularity of castles.

--I see. Incidentally, there's one thing I'd like to ask you, since you know so much. What castle do you recommend the most?

Shota:Oh, there are too many...! Ha ha. That's a difficult question. I like medieval mountain castles, so if I were to recommend one of those...
Yamanaka Castle is close to Hakone and if the weather is clear, you can see Mt. Fuji...
So yes, Yamanaka Castle in Mishima City, Shizuoka Prefecture. It has been nicely restored and you can easily see the shape of the shoji-style moats, so I recommend it.
I would also suggest Takiyama Castle in Tokyo as well as Obata Castle in Ibaraki Prefecture.

--Thank you very much. One other thing I'd like to ask: what prompted you to become interested in castles?

Shota:Well, I'm originally from Shimizu in Shizuoka Prefecture. Once, when I was around twelve or thirteen years old, I was rummaging around in a chest of drawers in my house, and I dug up a paulownia box that had my umbilical cord in it. The box had "Shimizu, Ninomaru-machi" written on it; maybe it was the old address of the place (hospital?) that I was born in.

"Ninomaru" refers to a castle's second keep, but why would a place without a castle be called that? is what I asked myself, and so I went to the library and looked it up. I found out that long ago, there had been a castle there called Ejiri Castle.

After that, I went to a lot of Shizuoka's castles, and I was always pleased to find even the faintest remains of castles that no longer exist.
The reason I like mountain castles more than ones with a tower is because, the ones I was interested initially in no longer really existed. Maybe it would have been different if I'd started off by looking at Kumamoto Castle or Himeji Castle. Ha ha.

--So that was your starting point. And now you've written a book about castles, haven't you?

Shota:I studied history in college, but once I started rakugo, that's the road that I set off on. So I felt like writing that thesis I never got a chance to write.

※Mr. Shota Shunputei's book on castles, "Recommended Castle Walks", was published by Shogakukan in 2011.

--Speaking of Shizuoka, you'll be performing the role of the Shizuoka-born Warring States era daimyo, Yoshimoto Imagawa, in the NHK 2017 taiga drama "Naotora: The Lady Warlord". Can you give us a few words about that?

Shota:As a local, I have always been partial to Imagawa, so I was pleased to receive this role.
I am, however, concerned that by playing Imagawa, I will only worsen his image even further. Ha ha!
In historical novels and whatnot, Yoshimoto Imagawa is painted as a foolish lord to serve as a foil for Oda Nobunaga, but the truth is that he wasn't such a feeble-minded person after all.
I hope people will enjoy the drama as something different from historical reality. Ha ha.

--We're looking forward to the broadcast. By the way, this Castle EXPO2016 is being held in Yokohama, and if we're talking Kanagawa Prefecture, there's Odawara Castle. Do you have any pointers on how best to enjoy Odawara Castle?

Shota:Speaking of Odawara Castle, obviously Hideyoshi's siege is the most famous, but Hojo clan defended against that siege by enclosing the entire town in a "total fortification" of moats and earthworks.
It was on a scale not seen elsewhere.

Recently, the remnants of this total fortification have been cleared of brush and restored to a visible state. I believe the archaeological excavations have made the original appearance clearer and clearer.

The castle tower has been renovated as well. So you have not just Warring States-period earthworks and moats, but also a tower to enjoy. I think it's an excellent castle!

Apart from that, I also recommend Yokohama's Kozukue Castle. It's Christmas, but after this I'd much rather go to Kozukue Castle than Cinderella's castle! Ha ha!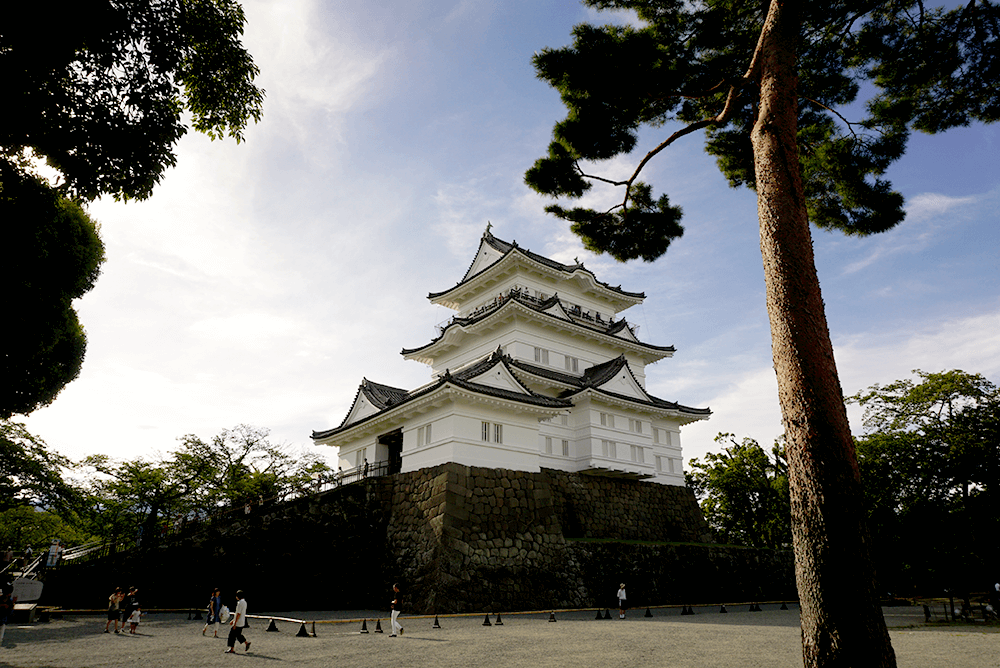 Odawara Castle, renovated last year. You can enjoy walking around the castle ruin park as well as the whole town!
Today we've been able to hear plenty about the charm of mountain castles and how to enjoy them.

Of course, we've also heard about not just mountain castles at this Castle EXPO2016.

We've also had panel exhibits about castles designated as "Japan's Top 100 Castles", corners for each region's tourism information and local products, dioramas and models of existing castle towers—it's a smorgasbord of castles!

Furthermore, we have a full line-up of local mascots including Kumamoto Castle's Higomaru and Hikone Castle's Hikonyan!

We'll be introducing each corner and display in the second half of our report on Castle EXPO2016, so please look forward to it!