EVENT OUTLINE
'Kanagawa Re-Coten 2016' in Kanagawa.
Date
:September 19th, 2016 (national holiday).
* Crafts from the Gion Festival of Enshu Yamana Shrine. (Nationally-designated as an important intangible cultural property.)
* Rakuto by Sanza Yanagiya.
* Odawara-bayashi (Festival Drum Songs). (Prefecturally-designated important intangible cultural property.)
* Kashima Dance of Terayama Shrine. (An Odawara city-, and prefecturally-designated important intangible cultural property asset.)
* Yutate Shishimai (Lion Dance) of Hakone. (National-, Prefectural-, and Hakone-selected designated intangible folk cultural assets.)
* The Medicine Peddler's Pitch
Part 2: Doors open: 6:00pm. Performance starts: 6:30pm. Expected performance closure: 9:00pm.
* Performance from Koichi Makigami [[[(FOOD with Arzhan Suu)]]].
* Hoshoryu Takinoh Noh Performance of 'Youchi Soga' (Night Revenge of the Soga Brother). Kogen (traditional Japanese comic theater) performance of 'Bunzo'.
Venue
:Honmaru Square Special Stage in Odawara Castle Ruins Park.
6-1 Jonai, Odawara City, Kanagawa Prefecture, Japan.
*Please note that the performance will be held at Odawara Citizen Hall in the event of stormy weather.
Price
:Part 1 – Free.
Part 2 – Advance Ticket: 3,000 yen. On the Doors: 3,500 yen. (Only 1,000 seats available. All seats are unreserved.)
*Please see here
(http://re-coten2016.com/?page_id=5)
to check where advance tickets can be purchased.
Reenacting the classics can bring truly traditional culture to everyone.
―― FM Odawara is undertaking all of the preparations for this year's 'Re-Coten' project. Can you tell me some more details about the project, please?

Suzuki:FM Odawara is a community-based broadcasting station which launched 10 years ago. As you can imagine, all kinds of local information is collected here at the station. This information can be broadcast over the radio of course, but in order to provide this information to a wider audience, we have begun to undertake tasks for local events in the last couple of years. We have also launched regional development projects, such as the 'Odawara Kankitsu (Citrus) Club', where we sell cider made from the honey of Odawara tangerine flowers. We were entrusted with the preparations for 'Re-Coten' through doing these kinds of activities that enforce the community and aim to revitalize the area.

――'Re-Coten' is a project that tries to show others the traditional culture of Kanagawa Prefecture in a new way. How did 'Re-Coten' captivate yourself, Mr. Suzuki?

Suzuki:I wondered what 'Re-' (playback) meant. There are various ways to express the collaboration between traditional entertainment and modern dance. I had my doubts over how it would look. After considering the matter, I came to the conclusion that the 'playback' itself can be achieved by just performing genuine traditional entertainment to young people today. That's why we have resurrected all kinds of traditional culture in this years performance of 'Re-Coten', and perform them as they would have been originally performed.

――You say that, but it still feels new.

Suzuki:We promoted the collaboration between the overall host, DJ Robert Harris, and the performance by musician Koichi Makigami. But, performing Takinoh at Odawara Castle is, in itself, the 'Re-' part of the event – the playback, or the reenactment. Actually, Takinoh was performed at Odawara Castle until it got suspended in 2009. We tried again during this event in the hope of a future revival of the performance.

However, the past Takinoh performances were in the Kanze style. I have requested they perform it in the Hosho style this year. The reason for this is that the Odawara City Cultural Properties Department looked through old documents about the styles to find that the Hosho style was exchanged by the Hojo Clan. Upon hearing this, we decided to perform 'Youchi Soga' in the Hosho style among the lush green of Odawara.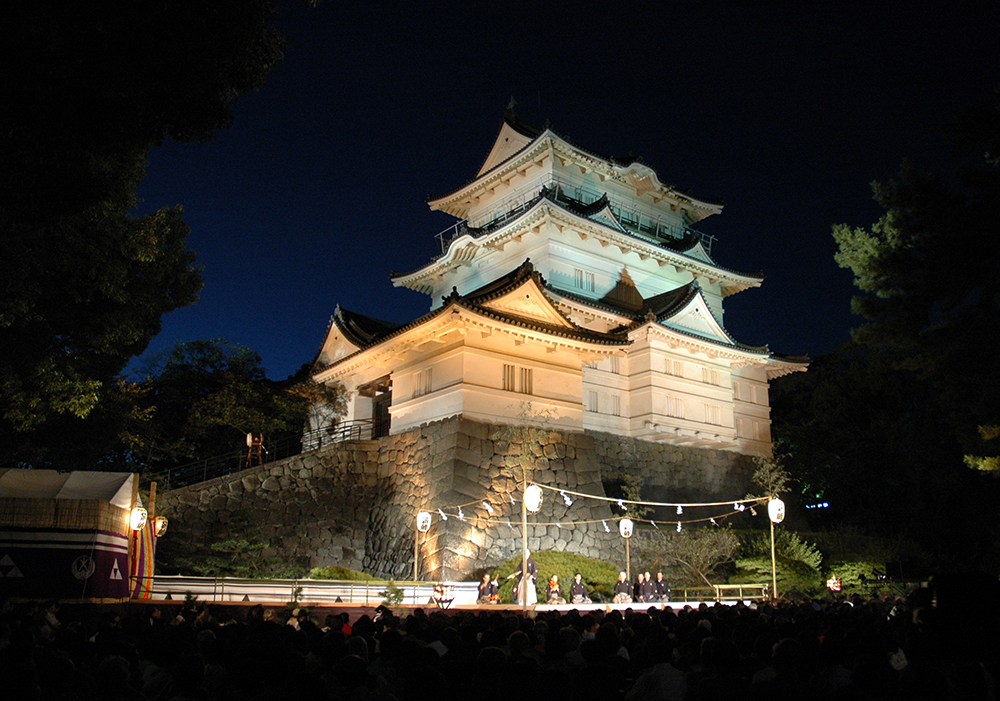 Takinoh in 2014 (Sponsors: Odawara Digital Archives).
――What kind of program can we expect for the Kyoden 'Bunzo'?

Suzuki:You can expect a program that follows 'Genpei Seisuiki' (The Rise and Fall of the Minamoto and Taira clans) in the Battle of Ishibashiyama. Minamoto no Yoritomo raised an army in Ishibashiyama (near present-day Odawara). Sanada Reisha Shrine is where the vassal and bunzo for Yoshitada Sanada, one of the first to die in the Battle of Ishibashiyama, is enshrined. Actually, I was also born in Ishibashi. It went from small talk such as 'There's a Bunzo statue there', to it being resurrected for the Odawara program.

――It really is closely connected to the community!

Suzuki:A lot of the performers also have a connection with Odawara. I used to belong to the Odawara High School Noh Song Association. I became a band member upon graduation, and later became a music producer. But 10 years on, I decided that if I was going to get another job, it had to be sooner rather than later. I came back to Odawara, and I got in touch with lots of people in town, including people from Odawara High School and my music producing era.

――Can you give an example of who you contacted?

Suzuki:Koichi Makigami, who might perform with me during this event, was my senior at Odawara High School. The Rakuto storyteller, Sanza Yanagiya, also graduated from Odawara High School. Even the overall host, Robert Harris, is from Yokohama.

――It was quite unexpected that Koichi Makigami would perform hikashu.

Suzuki: He isn't directly involved in Takinoh itself, but he will play on the Noh stage. He will play the bamboo flute and the theremin (an electronic musical instrument), etc. We have also included into the performance the 'Odawara Wind Chime', made via a traditional casting style. [[[FOOD]]] will also play alongside them. (FOOD is a avant-garde jazz unit consisting of British saxophone player, Iain Ballamy and Norwegian drummer, Thomas Stronen.) I think it will be interesting just to see them standing on the unusual setting of a Noh stage!
The traditional culture circle that spreads out from 'Re-Coten'.
――May I now ask you about the program for Part 1. There's a lot going on despite the free entrance – Rakugo from Sanza Yanagiya, Crafts from the Gion Festival of Enshu Yamana Shrine, Odawara-bayashi (Festival Drum Songs), etc.

Suzuki:We will also have Kashima dancing from Terayama Shrine, Yutate Shishimai (Lion Dance) from Hakone, and The Medicine Peddler's pitch. It's not everyday that the average person can see so much traditional entertainment like this in one place. The number of visitors to Odawara Castle has increased recently due to the renovations having been completed. So I hope that this event will attract the attention of lots of those who come to the Castle Ruins Park. After all – it's a free event! Some people might come in after seeing Sanza Yanagiya's name advertized. So we are using him as a kind of bait to attract people. Haha! Robert Harris made fun of us for doing that.

――The Gion Festival of Enshu Yamana Shrine is actually from Shizuoka Prefecture, right? Why did you add it to the event program?

Suzuki:Actually, it is also connected with Odawara. The 'Uiro' medicine trading business, 'Uiro, Inc', was established 650 years ago in Odawara. 'Uiro' is similar to a present-day pharmacy. It was introduced to Hakata in 1300 AD by China, and later moved to Kyoto. It was actually Uiro who made the 'Toroyama' mantis floats. They made their base near Honno-ji Temple. It is even rumored in folklore that Nobunaga Oda became a Uiro...! Haha

After that, Uiro was moved to Odawara by Soun Hojo. But it is said that he also told the mantis dance to Enshu, an area between Odawara and Kyoto. The dance is still a ritual during the Gion Festival of Yamana Shrine, but it has never been shown in Odawara before. That's when I thought that this event was the perfect opportunity to show it for the first time.

――The chosen location of Odawara Castle Ruins Park is quite spectacular.

Suzuki:I proactively aimed to hold the event here once the renovation was complete. Around 4,000 people visit here on a weekend – it can get really lively. There have also been wedding ceremonies held in front of the castle itself.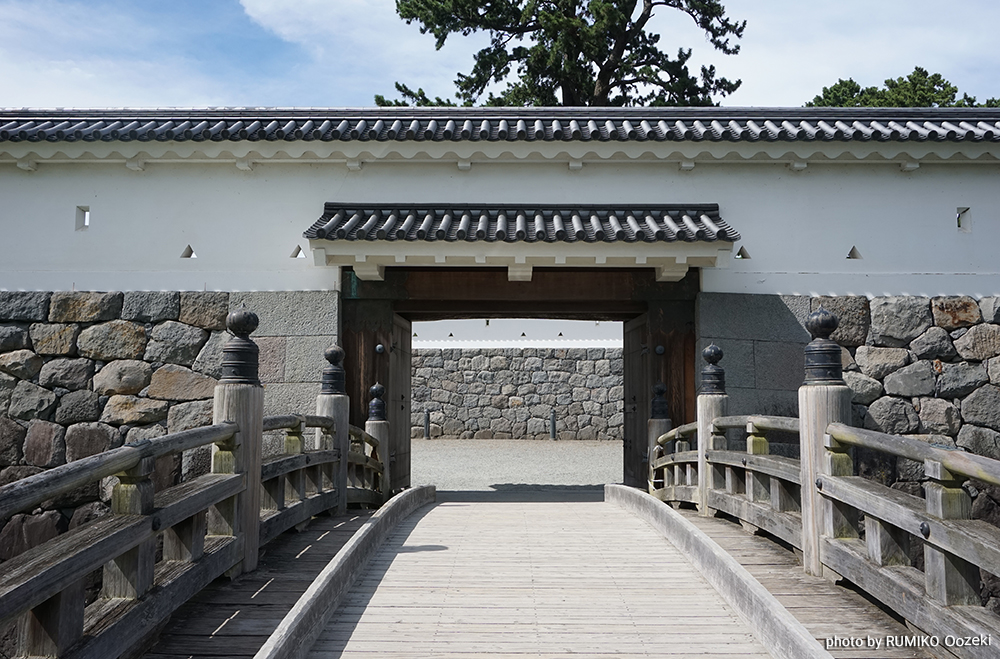 ――Was there anything new that you discovered after taking part in this years 'Re-Coten' project?

Suzuki:I was continuously discovering new things. It's all thanks to this program that I know about Kyogen's 'Bunzo'. I also realized how hard it is to decide which part of history to use! Hideyoshi Toyotomi attacked Odawara Castle, and the Hojo Clan destroyed it. So the only thing left of the Hojo Clan is the 'Uiro-ya' (Medicine Peddlers House). The Odawara Castle that Hideyoshi Toyotomi attacked wasn't even in the same location as it today. It was a mountain Castle situated near Odawara High School. Nobody taught me that when I was a child! You are able to see more and more the more you follow the course of history.

――What kind of collaboration system did you make with the prefecture?

Suzuki:As stated a little while ago, the Kashima dance of Terayama Shrine also lives on in Shizuoka. We aim to cooperative with the prefecture to piece together the separated bits of traditional culture. I consider it a joint venture to decide how to exhibit the prefectures' intangible folk cultural assets.

――It looks like the project will develop even further in the future.

Suzuki:As there were lots of people who wanted to see the revival of Takinoh, we would like to see it being performed in the coming years, too. After all, there's sadly hardly any events in Odawara itself. I'd love to see this opportunity liven the place up a little.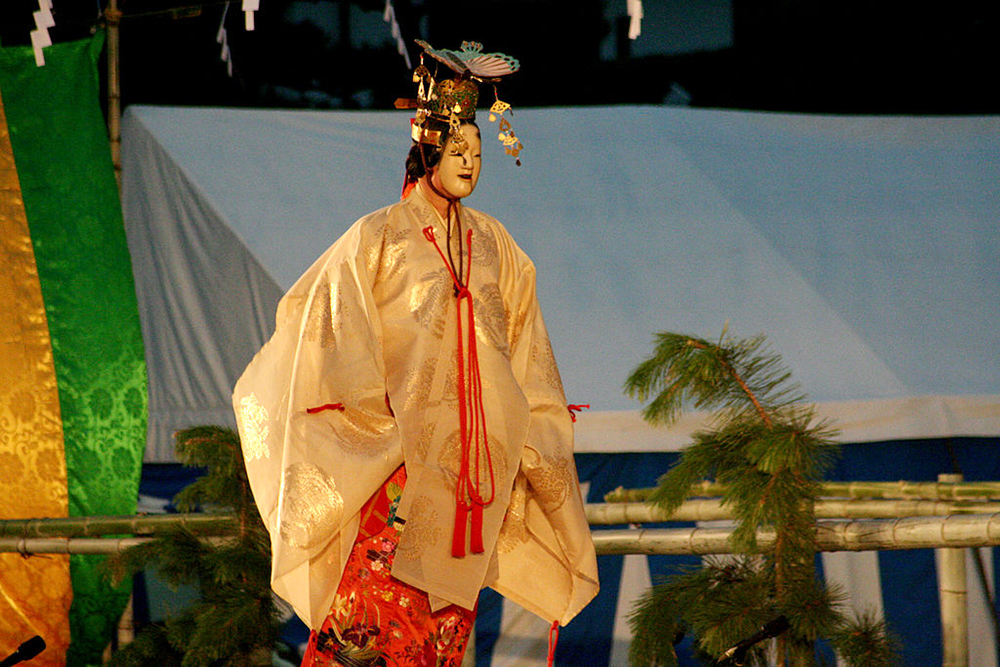 Himeji Takinoh, as performed in 2009. (c) Corpse Reviver
These kind of events also end up developing the regional area. The renewal of Odawara Castle Tower was introduced on various television programmes, but the more tourists that wander around, the more financial results we can expect. 'Re-Coten' isn't the most uniform way of doing things, but we would like to continue to attract lots of people with the event.

――Finally, please make one last appeal to us as to why we should attend the upcoming 'Kanagawa Re-Coten 2016 in Odawara' on September 19th.

Suzuki:We would love to see young people coming. They probably wouldn't get to see Takinoh without this kind of event being given to them. It's also a chance to see world-renowned Koichi Makigami on stage! Please drop by and get to experience some genuine Japanese culture.

- - -
Kanagawa Re-Coten Project 2016 Odawara:http://re-coten2016.com/
FM Odawara:http://fm-odawara.com/