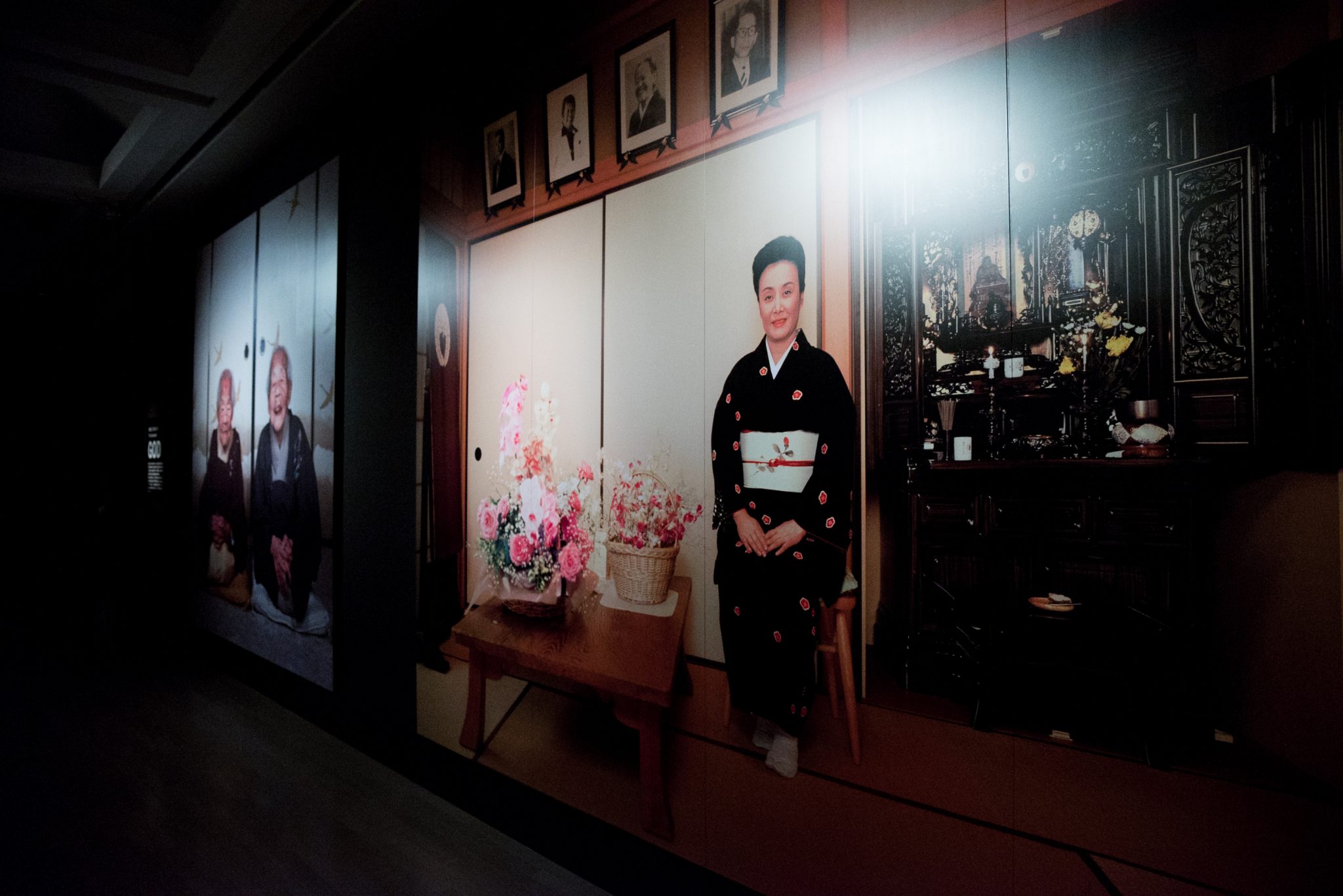 ―― Your exhibition "Kishin Shinoyama: The Power of a Photograph" has been touring the country until now, but I'm told that at each venue, you've done a special exhibit of photographs with some connection to the local area. I heard that here at Yokohama Museum of Art, the special exhibit will be photos of Ms. Hibari Misora. This time you have two photos of Ms. Hibari Misora, including one large work depicting her sitting in a chair in a room with a Buddhist altar.

Shinoyama: This is a photo of Ms. Hibari in her final year. At the time, her physical condition too poor for her to easily get to a studio, so she requested that I take the photo for her album cover in her home. So I was able to visit her home to take the photo. The picture for the album cover was taken in a different room, but I caught a glimpse of the next room and saw the enormous altar and flowers... behind it on the wall, there were photos of the deceased. Of her father, mother, siblings... Most of Ms. Hibari's family passed before she did. I thought, "Wow, what a room!" and asked if we could take a picture in there, and she said yes.

―― So this was a rather fortuitous shot, then.

Shinoyama: Yes. It was something I took without having announced it or anything. Soon after Ms. Hibari passed away, it came out in a magazine.

―― This is a precious work.

Shinoyama: When I took it, Ms. Hibari wasn't very well, you know? I said she was sitting in a chair, even though it was a Japanese-style room, right? By that point she couldn't kneel on a cushion. Certainly, she passed away just about a year after that. And then, next to that photo is one more, a small one of Ms. Hibari. That's another one I took of her on her sofa at home, and this one is limited to the Yokohama venue.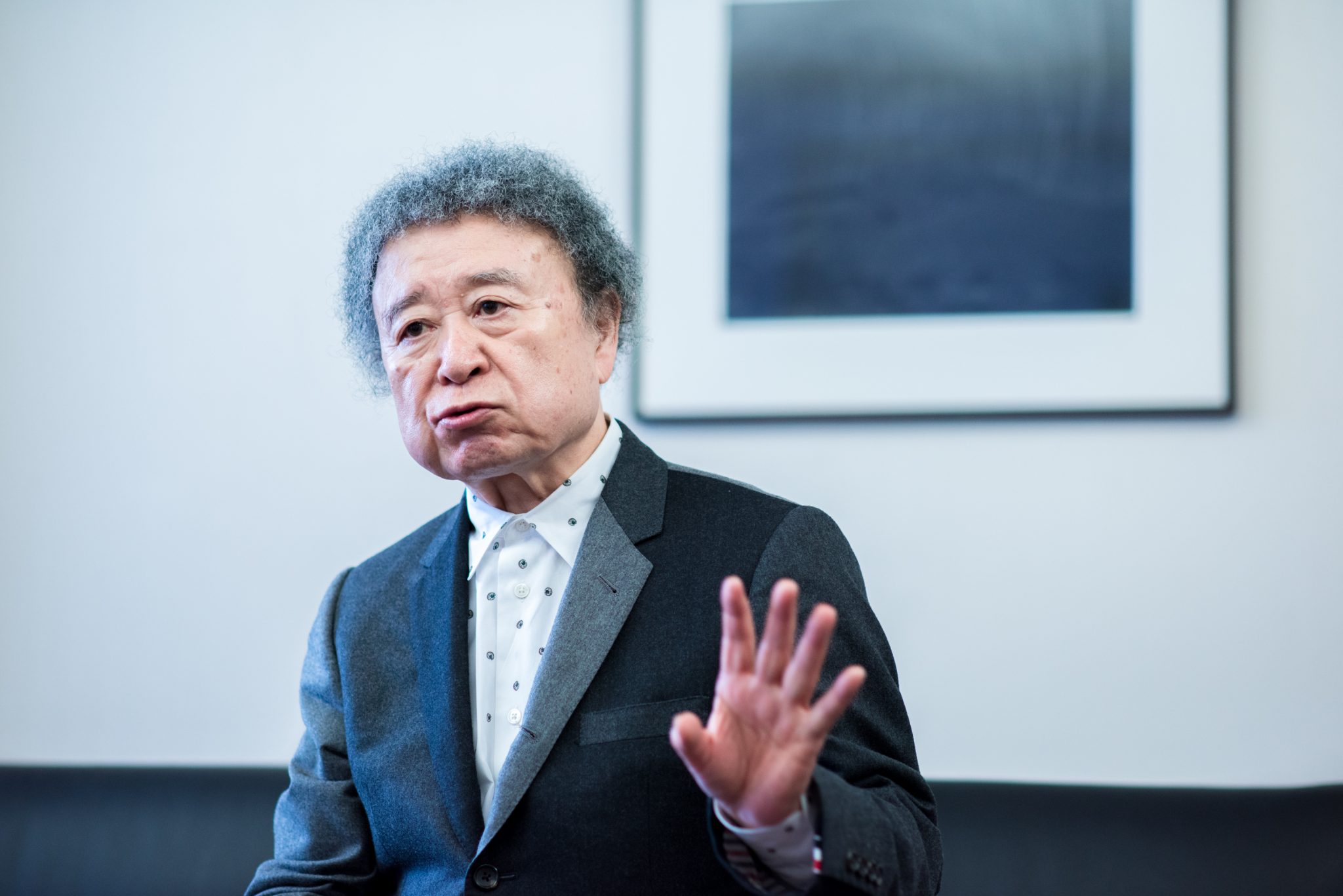 ―― Apart from Ms. Hibari, are there any other photos of individuals that we can see specially in Yokohama?

Shinoyama: We'll have Yuzu, Ms. Mitsuko Kusabue, Mr. Daisuke Miura, Mr. Riki Takeuchi, Ms. Tabaimo, and Ms. Eiko Koike as well. Ms. Koike isn't from Yokohama, but I have one photo of her from when she shot a Yokohama-themed DVD. I shot it in front of a red brick warehouse. The lighting on the red brick is very lovely.

―― By the way, what do you think are some photogenic spots in Yokohama?

Shinoyama: Hmm, there are a lot of photogenic spots. I often use the Yokohama Foreign General Cemetery in shoots. The Western-style house there is a studio. I often take pictures there.

―― The photo of Yuzu has a natural atmosphere and is quite lovely.

Shinoyama: Thanks. The young woman between the two members of Yuzu is Yuppi, and at the time of the photo (2008), she was still in her teens and singing songs as a busker. Yuppi came to see this exhibition. It seems nowadays she's not singing but instead studying to get into university. She said she wanted to become a doctor.

―― She must have very strong feelings. And how did you take the photo of Ms. Mitsuko Kusabue?

Shinoyama: It was for the fashion page of the magazine "Household Pictorial".

―― Taken in 2016. So that's pretty recent.

Shinoyama: Yeah. Both I and Ms. Kusabue have been around for a long time, but this was the first time I'd taken a photo of her. But it was very comfortable; she has a lot of experience. Ha ha.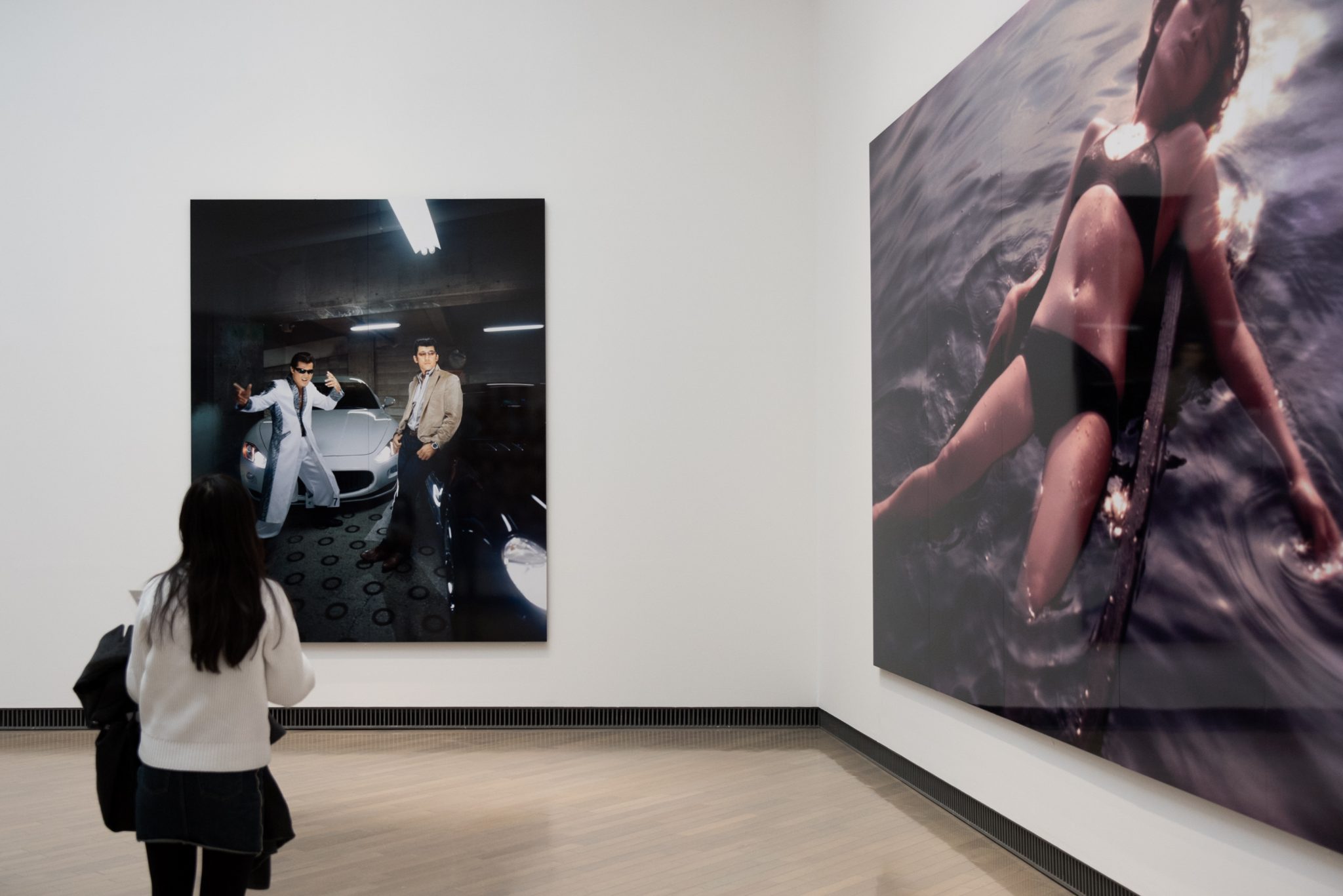 <!—nextpage-->
―― The shot of Mr. Daisuke Miura, the regrettably retired "Boss of 'Hama", and the two shots of Mr. Riki Takeuchi are a nice gift to the people of Kanagawa Prefecture. They're very impressive, and since Mr. Miura's theme song was the song "Resent Blues," sung by Mr. Takeuchi, seeing the two together will bring back some memories of the era when they were active.

Shinoyama: Yeah, those are some good pictures. I took them for an ongoing feature "Human Relations" in the magazine『BRUTUS』. I switched to digital early on, but just for this feature, I shot those pictures analog, on 8x10 large format film.

―― We'd love to get attention on these Yokohama venue-limited works. This exhibition "The Power of a Photograph" launched in 2012 and has been touring the nation ever since. This will be your fifth year already.

Shinoyama: The exhibition started in the Contemporary Art Museum of Kumamoto and was originally planned to show in five museums, with Tokyo following Kumamoto, and then Niigata after that. But once we got started in each area, art museums across the country asked us to come one after another. I'm surprised it's gone on this long!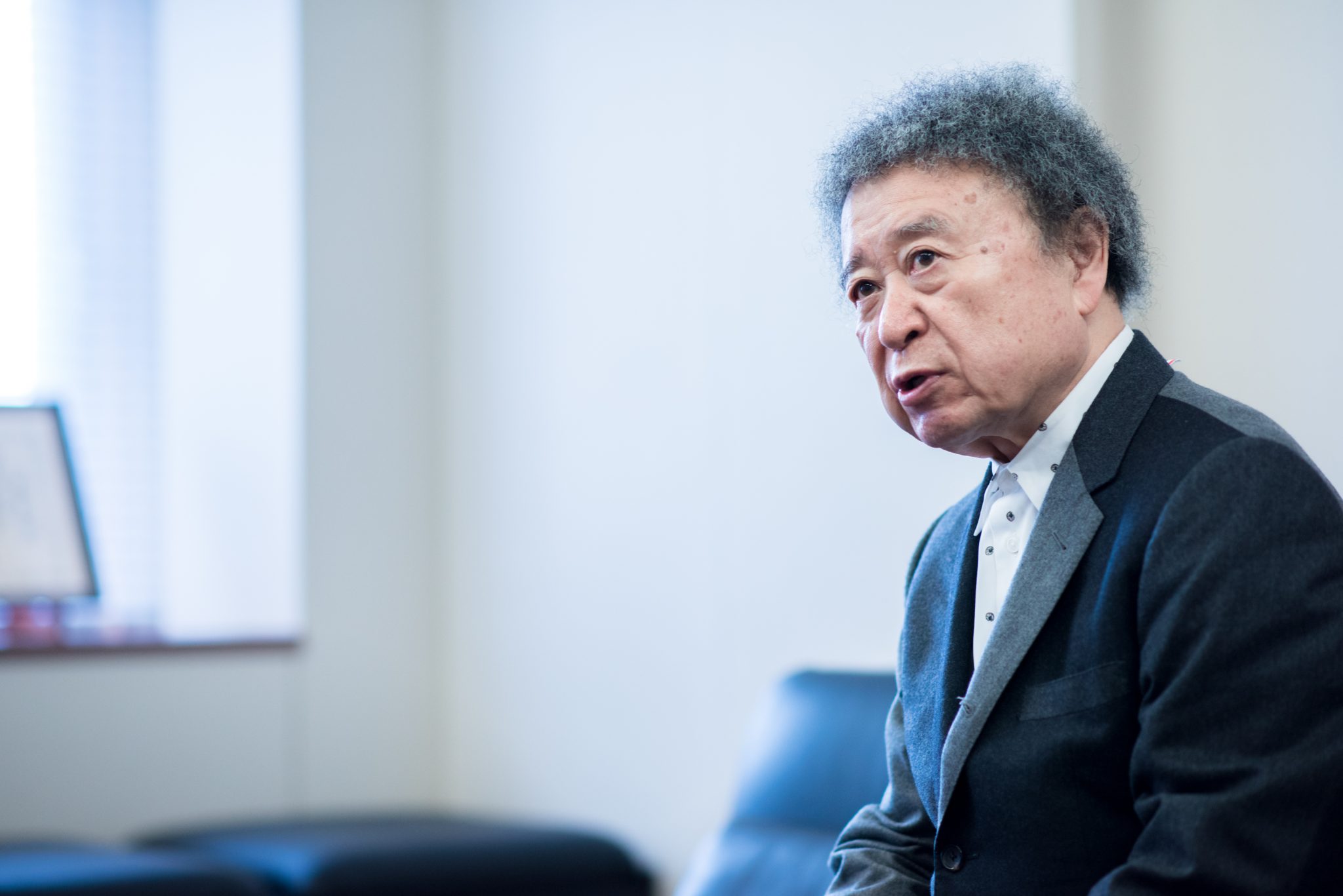 ―― The organization of the exhibition, divided into five sections, is also impressive.

Shinoyama: I wanted to have everyone look at pictures of people, in particular famous people that everyone knows, so I started off by broadly dividing the photos of famous people into four corners. And the last is portraits of those who are victims of the Great East Japan Earthquake. The earthquake victims aren't famous people, but they've experienced something completely unbelievable that normal people will never experience.

―― This section, titled "ACCIDENTS - Portraits of the Victims of the Great East Japan Earthquake of March 11th, 2011", is quite different from the sections of photos of famous people. It's very quiet and moving.

Shinoyama: These photos were taken sixty days after the earthquake, so at that time everyone was in turmoil. There would have been a tumult of loss of hope combined with a need to keep on going. And a camera really captures that complex feeling. I thought that fit with "The Power of the Photograph", so I added a separate room at the end of the exhibition for it.

―― The mountains of rubble are captured in the backgrounds of the portraits. How did you shoot these?

Shinoyama: I used the same 8×10 format as I mentioned before. An 8×10 camera is fairly large, so all you can do is stick it on a tripod and plunk it down. I asked the people to stand in front of it, got them in focus, slotted in the big cartridge of film... hmm, maybe two cartridges... and I hit the shutter. While I was doing it, I didn't say anything like "Smile!" or "Look happy!" at all. It would have been extraneous. But when I said "Look at the camera," I got the most complicated expressions, and the camera captured them. Not me. That's "The Power of a Photograph", yeah?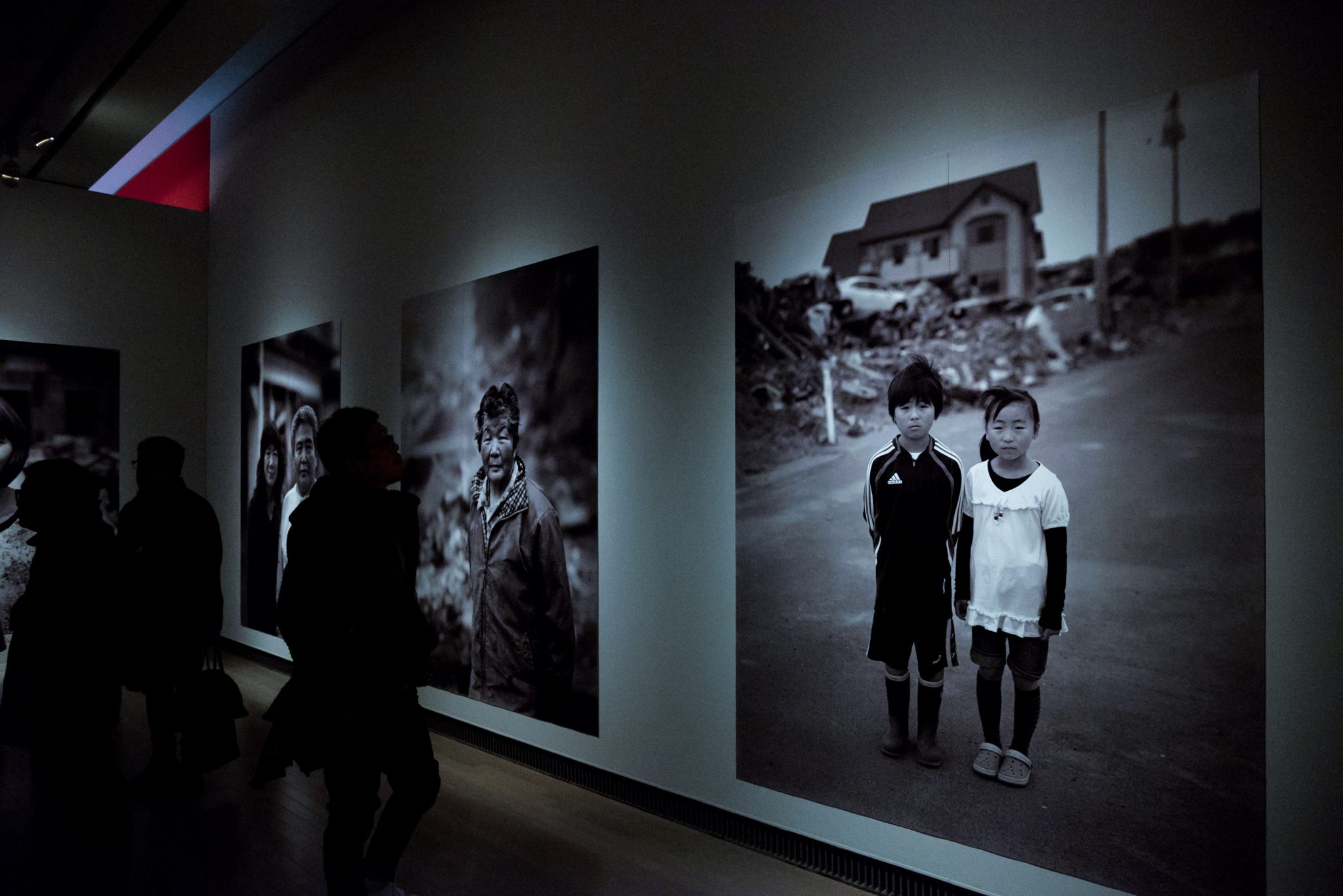 ―― So conversely, you took the magazine photographs of famous people while chatting with the subjects?

Shinoyama: Mmm, that's right. But even then, it's hard to get friendly all at once with someone I don't know. The ideal would be having a harmonious atmosphere with a minimum of necessary words, so that the subject isn't nervous. It's bad to be gazing down at someone from above like a specimen, but also bad to try and butter them up like they're superior. It's best to connect naturally and take the shot with an "All right, let's go!"

―― It's important to have a natural attitude. The subject will show you their true face in that case.

Shinoyama: They will. And for that, I think digital cameras are very convenient. Once you take the picture, you can show it to the person right away. That's good.

―― The subject will also relax if they can check to see how the shot came out.

Shinoyama: Exactly.

―― So that's another trick for taking a good portrait?

Shinoyama: Yeah. But you still have to be good, otherwise they'll still get annoyed. You have to be good at taking pictures. Ha ha ha.

―― So you can get these shots because you're you!

Shinoyama: Hahaha, I guess so.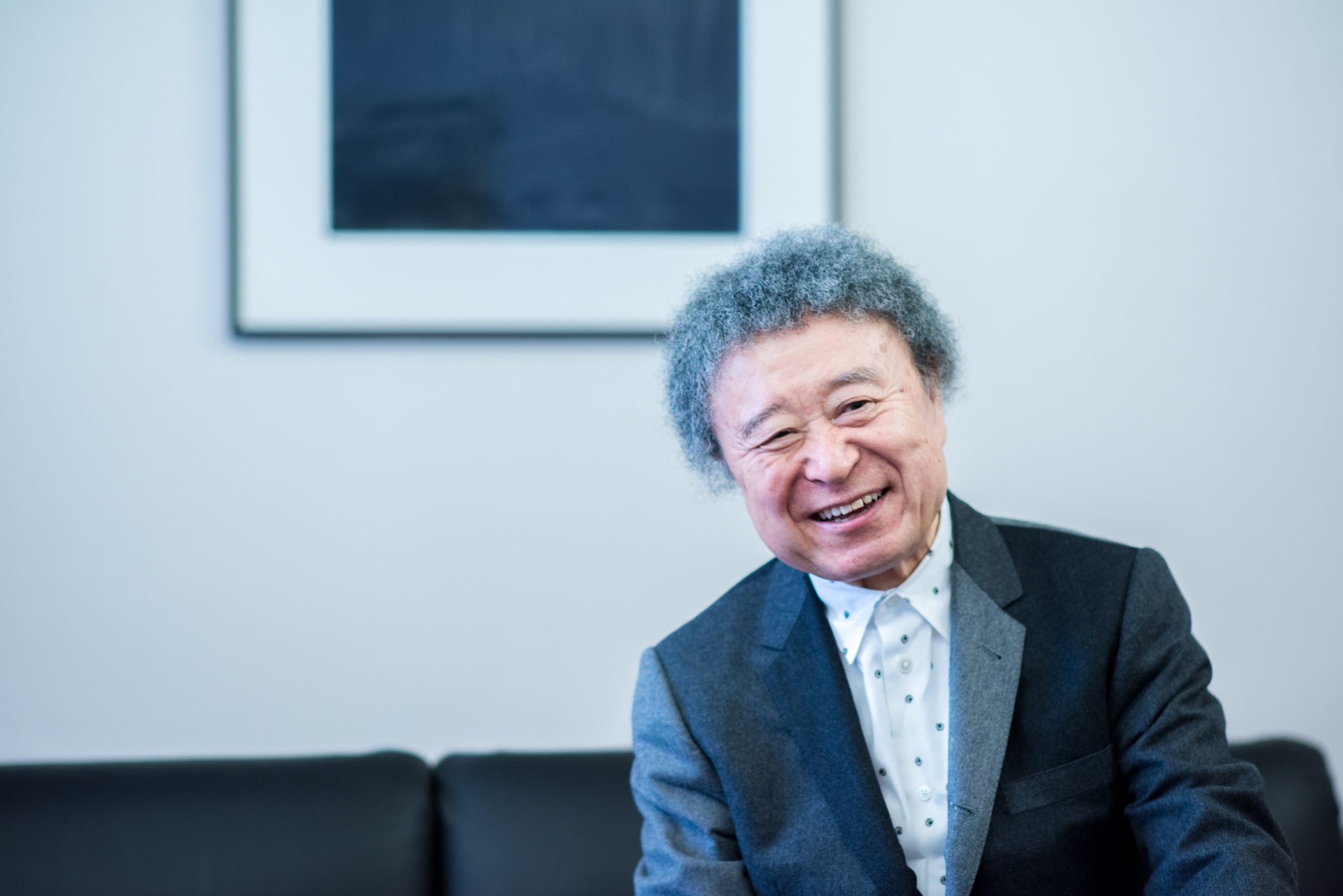 ―― You've continued to stand at the forefront of photography throughout your career of more than fifty years. In that time, what have you felt about it?

Shinoyama: You'll see what I mean when you see the exhibition, but I've taken photos throughout this era of famous people, who became famous during this time, right? Not all of them were ones that I negotiated to take because I wanted to nor ones that I was asked to do by the media. They're various people who have stood out throughout this time period. An era is the product of people, events, and things, so I have boldly approached all of those and taken my pictures with the best timing and from the best angle. In doing that for so long, after a while I felt that I'd started to see the era itself somehow.

―― So this exhibition is familiar, since anyone can enjoy the memories they've seen without thinking too hard, because the photos have been taken in the course of this era.

Shinoyama: Right. There isn't a single photo in this exhibition that I took specifically to display in an art museum. Ha ha.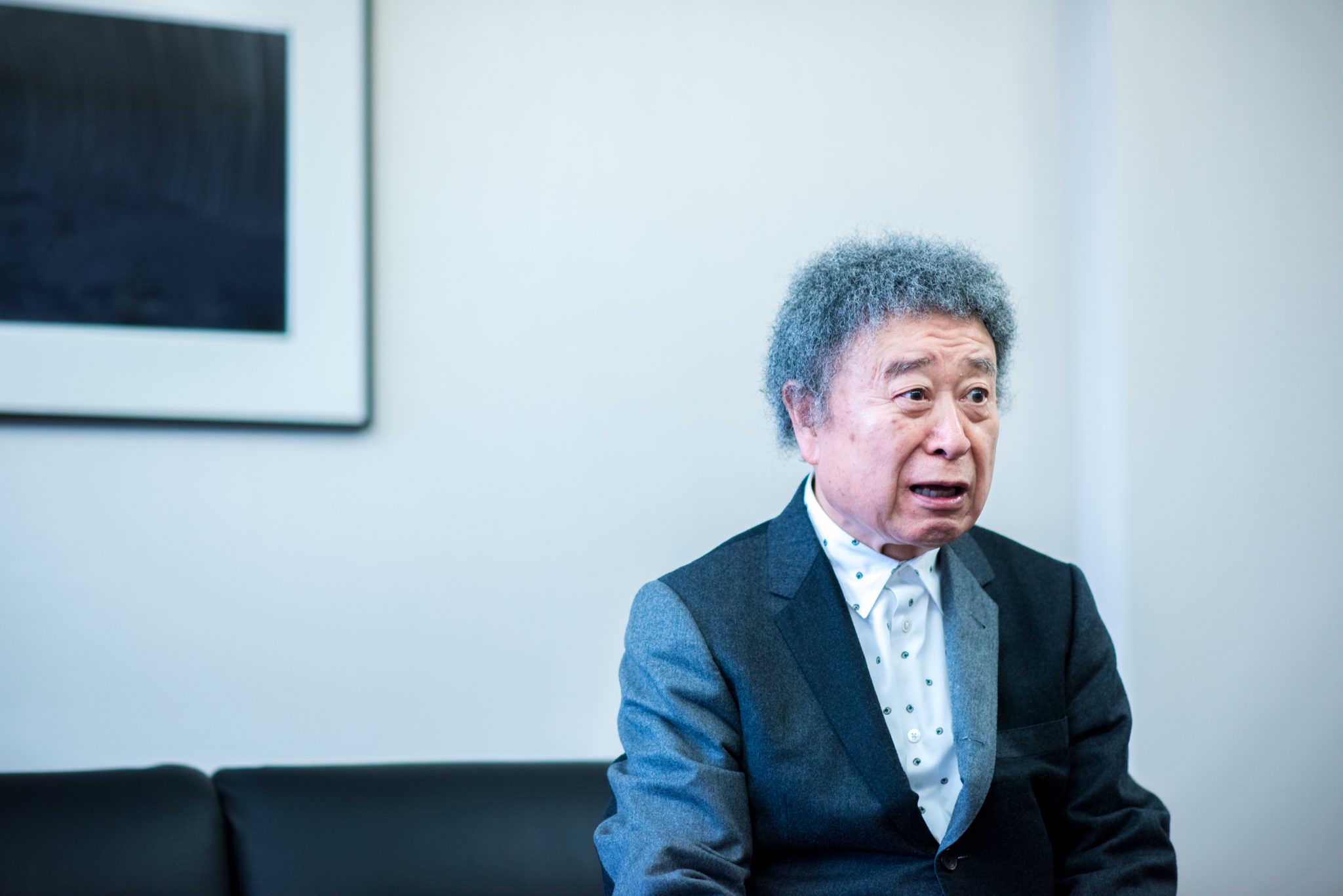 ―― And what is the origin of the vitality you need to take photos unrelentingly, without a break?

Shinoyama: I've needed physical strength and curiosity to keep pace with the era. If I have those, I can keep shooting.

―― But as we get older, we tend to lose strength and curiosity.

Shinoyama: Yes, we do lose strength and become incurious. When that happens, we get left behind. I think I'll keep shooting as long as I can keep pace with the era. I've still got it. I like to say "Instead of AKB48, how about Keyaki 46!" and I'm still taking lots of pictures of new people, so for the moment, I'm still okay! Ha ha!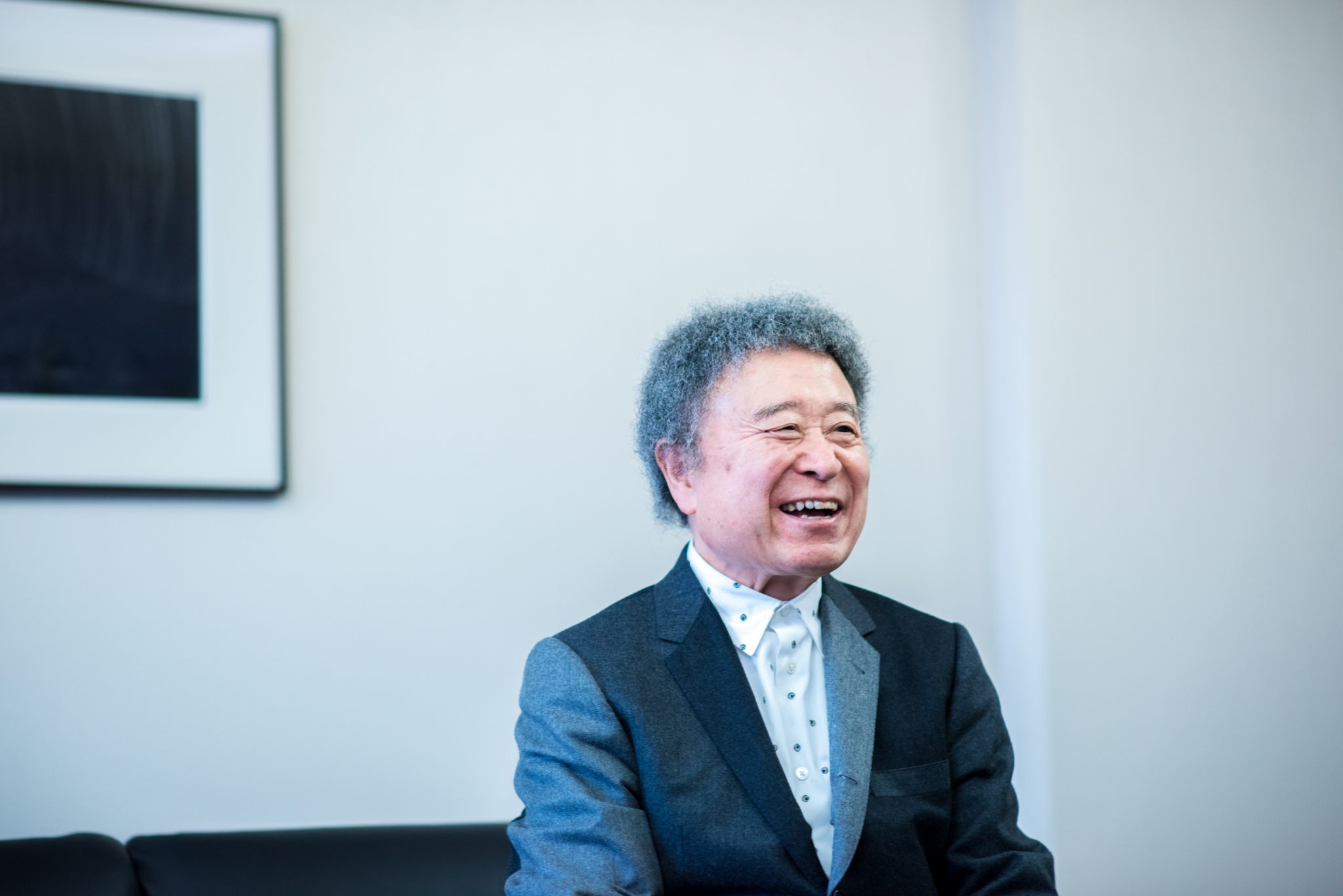 ―― So you're continuing to add new works to the collection.

Shinoyama: Yeah. I often get asked about this exhibition, "Which picture left the biggest impression on you?", but there are only 130 pictures from more than 50 years in here. Any one of them has an anecdote behind it, and I've only put in ones that make me think "the god of photography has descended upon me". So to that question, I can only say "It's the next photograph I'm going to take after this!" Ha ha ha.

―― Then, if I were to ask you, "What photo do you want to take next?" you would say...

Shinoyama: "Please ask the era."

―― How very like you to answer that way.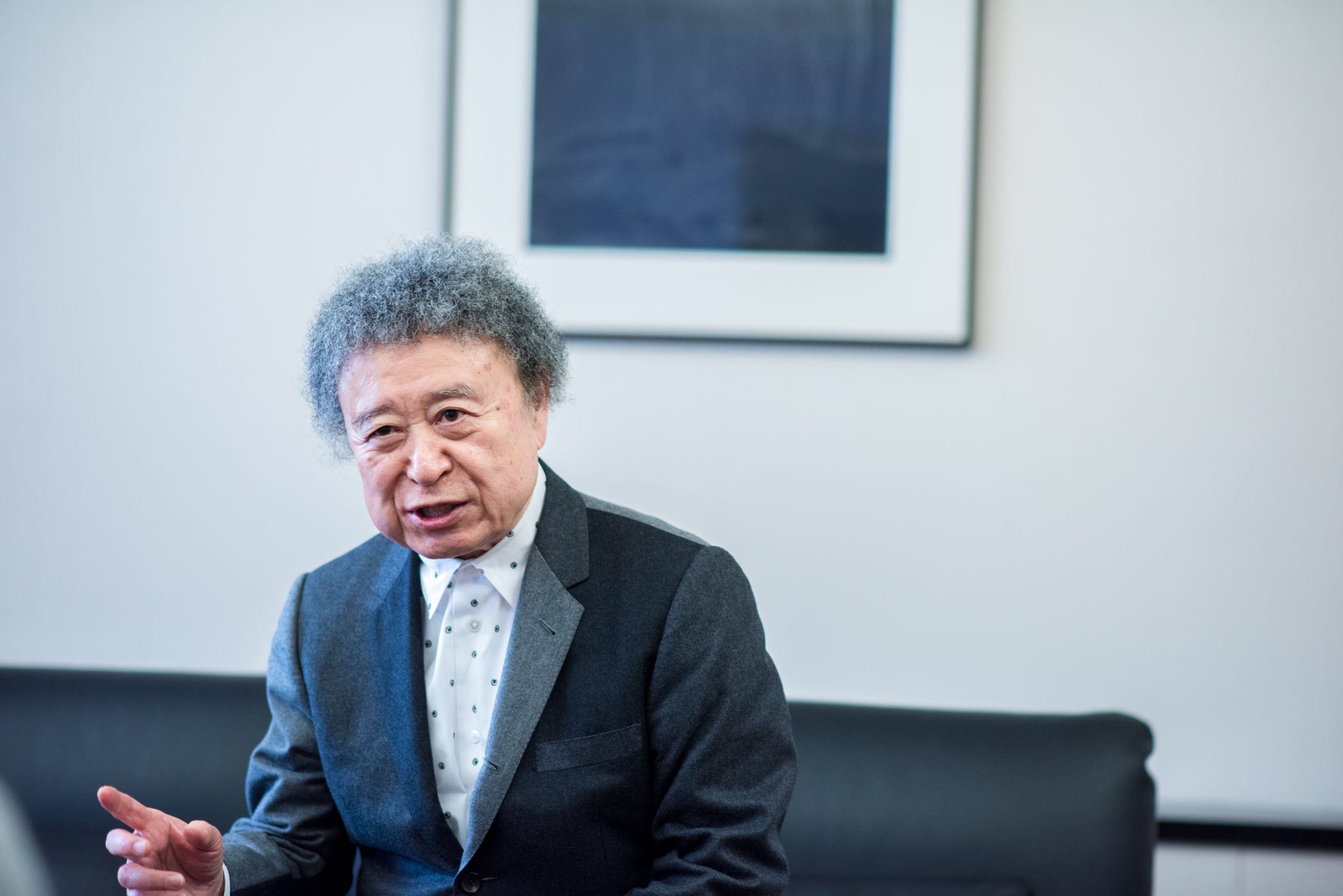 Shinoyama: Photographs, you know, contain a single, definitive instant on one sheet of paper. I think that's stronger than moving videos in terms of seeing what a person was feeling at that moment in time. If there's one thing that ballet dancers or kabuki performers want to leave behind of themselves, it's photographs. Why not a DVD with sound, color and movements? But no, "the Power of a Photograph" is to put together many things, not just feelings, in a definitive single page. That's why photographs are so incredible. This exhibition is unique in that the photos lined up here are enlarged to such a size, and standing before them is a special sensation. I hope you'll be able to come and feel this "sensation" for yourself.
The Power of a Photograph THE PEOPLE by KISHIN ◇Opening Period: January 4th, 2017 (Wednesday) ~ February 28th (Tuesday)
◇Hours: 10:00 a.m. ~ 6:00 p.m. * 2/23 (Thu) will close at 4:00 p.m. and 2/24 (Fri) will close at 8:30 p.m. (You may enter the museum until 30 minutes prior to closing.)
◇Location: Yokohama Museum of Art (3 Chome-4-1 Minatomirai, Nishi Ward, Yokohama, Kanagawa Prefecture)
◇Fee: General admission ¥1,500 / College or High School Student ¥900 / Middle School Student ¥600 / Elementary School Age and Under Free / Age 65 and Over ¥1,400 (If you require a receipt, please purchase your ticket at the Museum's ticket window only.)

See Here for Details
For a report on the status of "Kishin Shinoyama: THE PEOPLE by KISHIN The Power of a Photograph" and the contents of the January 7th, 2017 (Saturday) press announcement and Artist Talk, please see our next issue!
Hope you look forward to it!