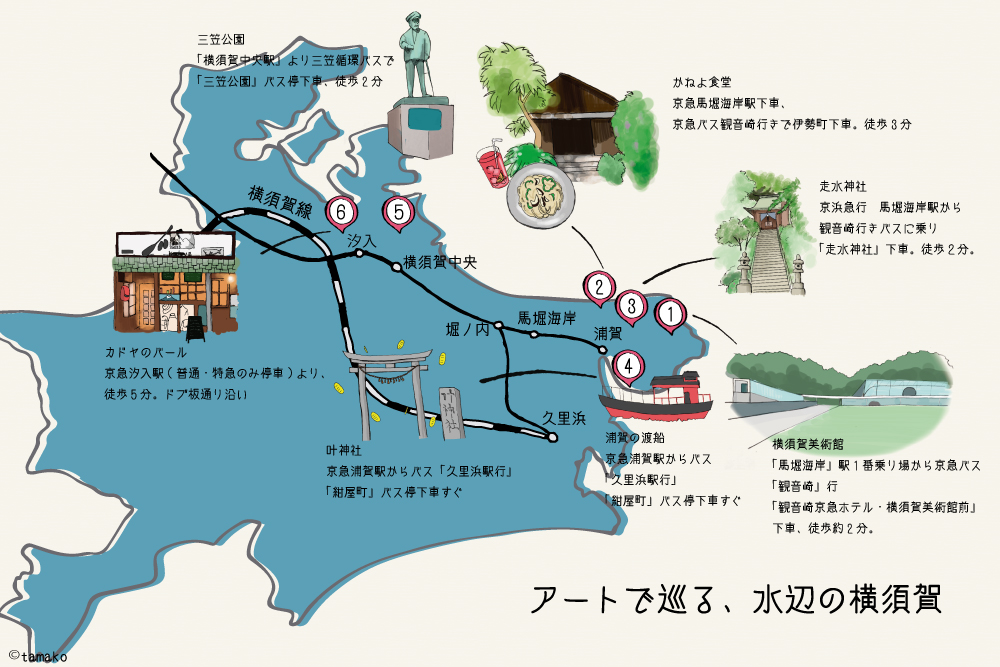 ENTER HERE for the data of the illustrated map
Yokosuka Museum of Art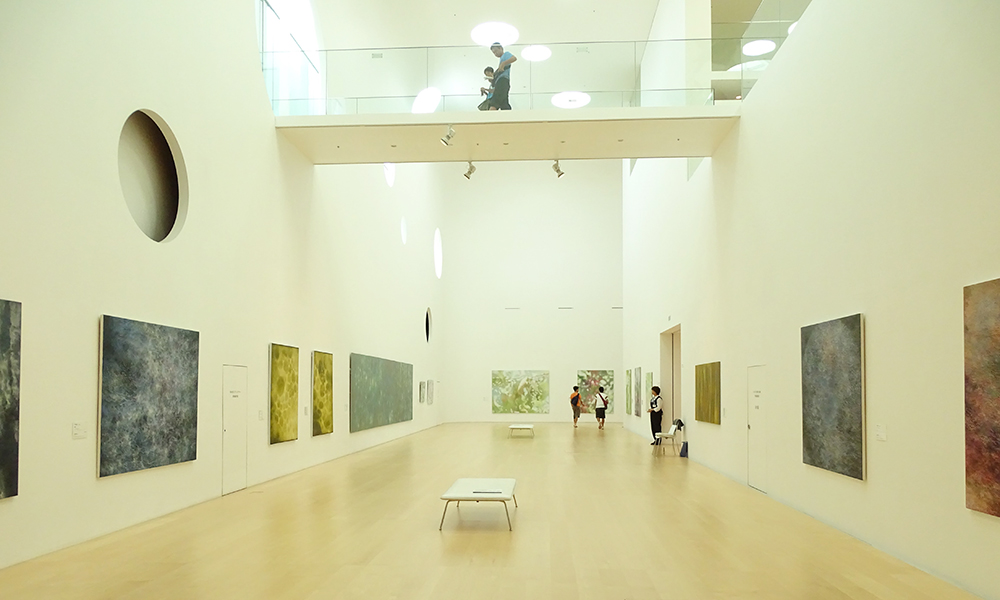 The art works of artist Yuko Kawada, giving off different impressions depending on its view position.
Being surrounded by mountains on three sides, Yokosuka Museum of Art has two grass squares, one on the seaside and the other on the mountain side, such open environment is thus a great charm of this museum. At the "Sea Plaza",located in front of the main entrance, open-air cinemas are screened out every year. Terrace seats are available in the restaurant placed facing the plaza. There are abundant spots to relax and enjoy other than the exibits, such as a library and a rooftop with free binoculars installed.

The museum covered with glass,has holes opened in its inner walls,allowing soft natural light inside. During the Museum Collection Exhibition,held 4 times a year, we exhibit Japanese modern art works and art works of artists having a relation to the city of Yokosuka. As it will be the museum's 10th anniversary on 2017, we have an ongoing popularity vote of our museum collection until December 11th.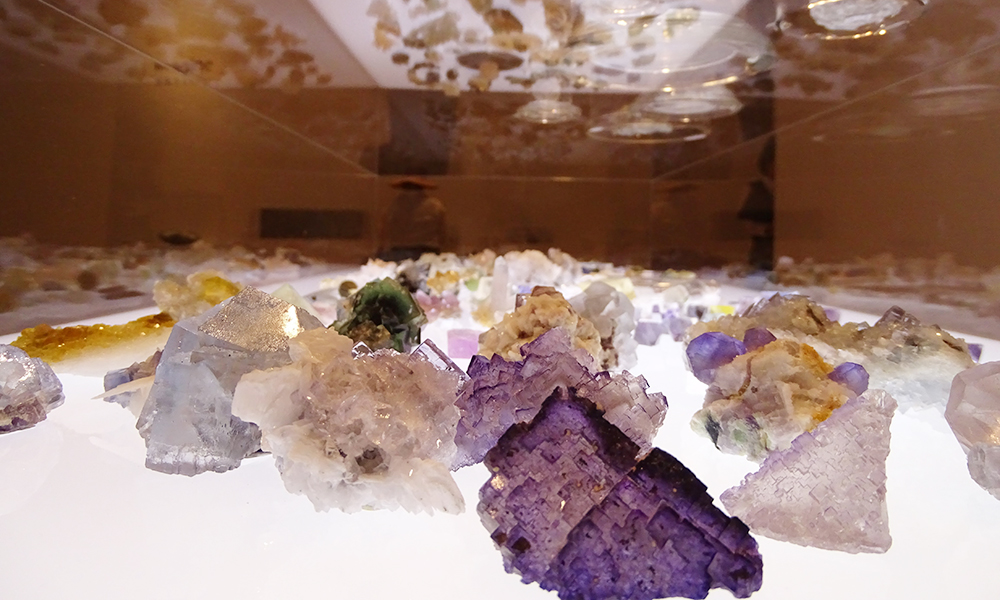 At the summer exhibition "Specimen Exhibition of Nature and Arts", mineral coordinators and laboratory of painting tools has participated, where art works,specimens of rocks,insects and plants from Yokosuka's nature and the city museum, was excibited all under one roof,thus being an exhibition of great value.
Address:4-1, Kamoi, Yokosuka-shi, Kanagawa, 239-0813, Japan
Opening Hours:10:00-18:00
Entrance Fee:General - 310¥, Senior high student,College student,and over 65 years old - 210¥
※Includes the mansion house of Rokuro Taniuchi
*Under junior high school,Yokosuka city residents or Senior high students residing in the city are free of charge.

「特集:川田祐子 千年の翠」展
会期:2016年7月9日(土)~9月25日(日)
休館日:9月5日(月)
http://www.yokosuka-moa.jp
Kaneyo Shokudou (Kaneyo Dining Hall)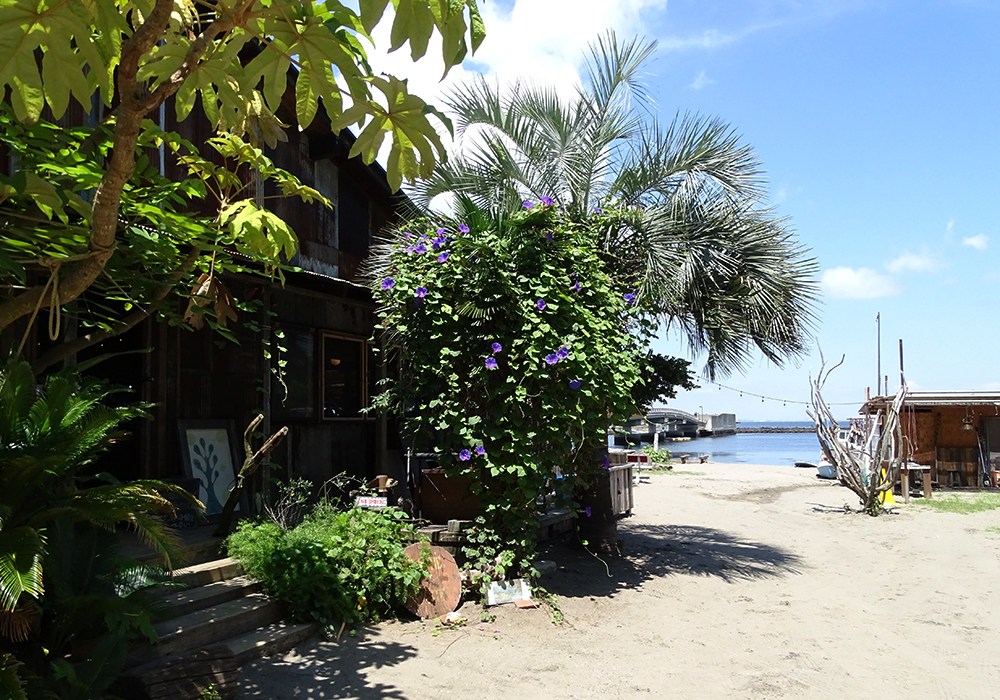 Hashirimizu beach with a tropical atmosphere.
On the way to Yokosuka Museum of Art from Maborikaigan Station, at the edge of Hashirimizu bathing beach, still stands "Kaneyo Shokudou",which is an interaction point of the region for men and women of all ages visiting the beach. Kaneyo Shokudou,runs its business as a cafe & art studio in its building which was formerly a fisherman hut,which was dismantled and rebuilt at its current location. Seafood caught through free diving by Hitoshi Kanazawa,known as "John", who grew up at the region and has a father who is a fisherman, is included in the menu from time to time. During winter,they also cultivate seaweed and kelp. How about taking a break gazing the slowly changing scenery created by the tides, accompanied by food and beverages apealing to the eye.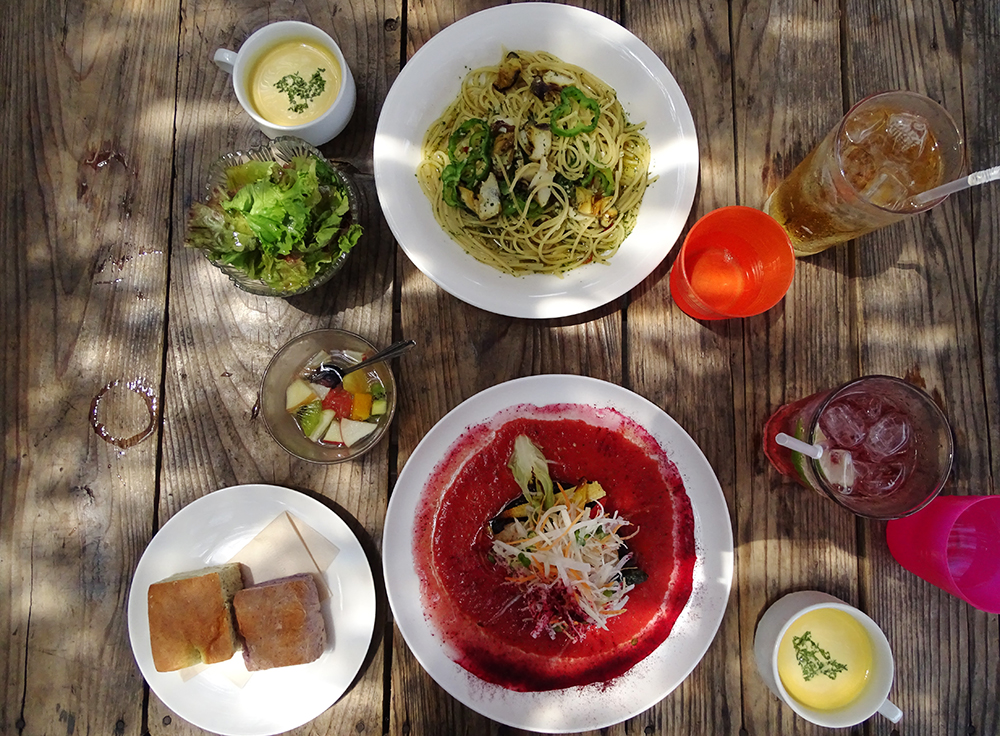 The colorful apealing food brings excitement!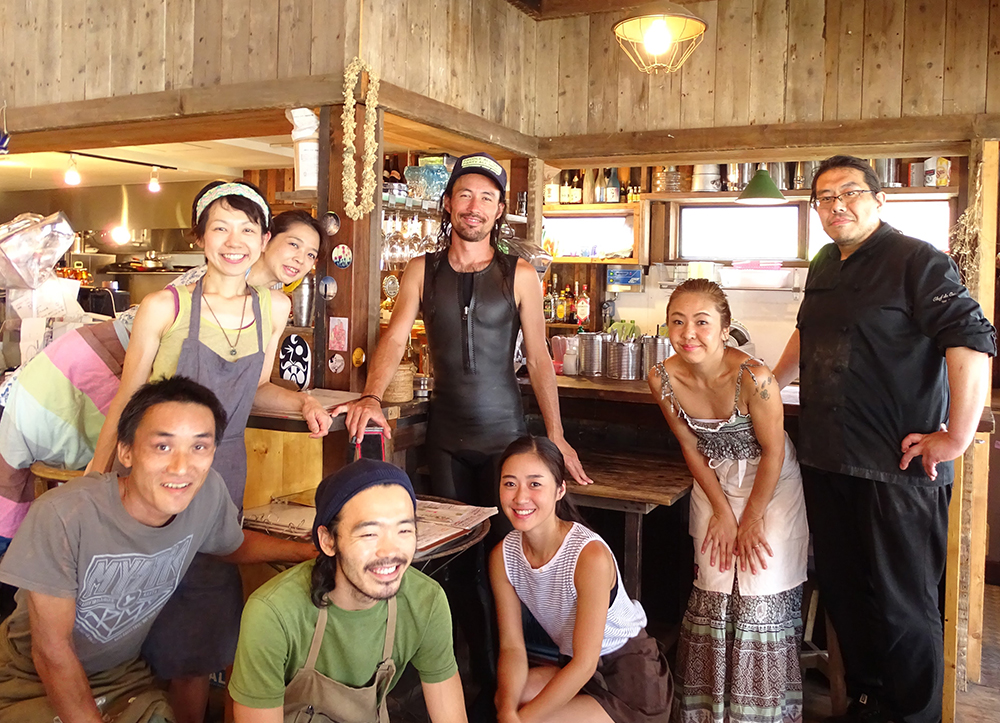 John,who just came out of the sea,and everyone of Kaneyo Shokudou.
Address:1-6-4, Hashirimizu, Yokosuka-shi, Kanagawa, 239-0811, Japan
Opening Hours:11:00-22:00
Closed:Monday ※During events & private reserved occasions,please check our homepage.
TEL:046-841-9881
http://art-onthebeach.com/
Hashirimizujinja (Hashirimizu Shrine)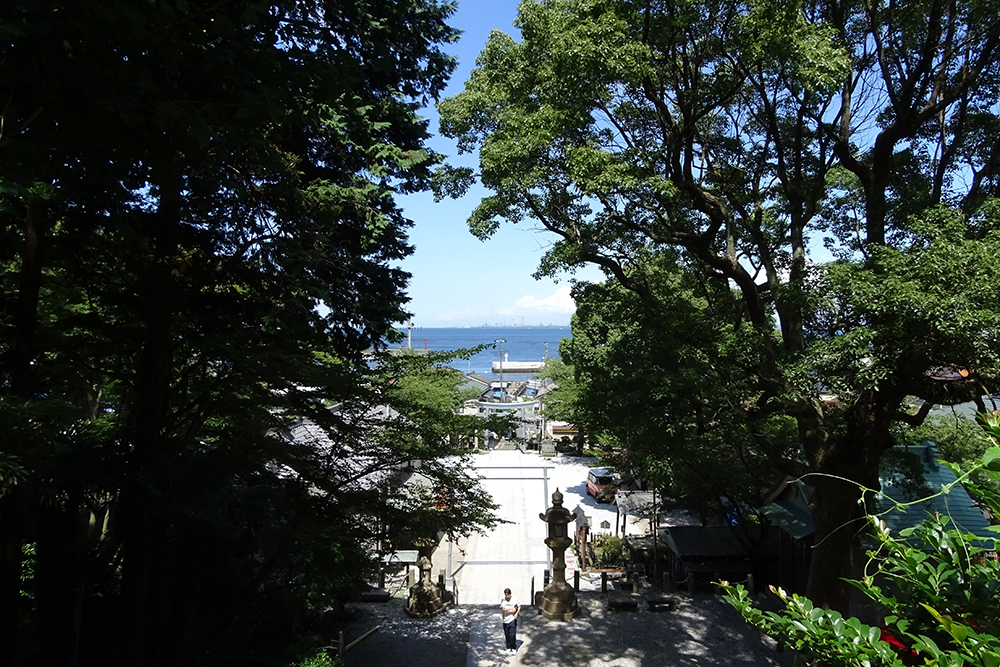 A straight road continues from the sea to the main shrine building.
Hashirimizujinja,which is located further to the Kannonzaki direction from Kaneyo Shokudou in the inland side,is a power spot for women and marriage. It enshrines the couple Gods of Japanese mythology, the great man,Yamatotakerunomikoto and the princess God,Ototachibanahimenomikoto. It has been told that whilst Ototachibanahimenomikoto traveled on boat along with Yamatotakerunomikoto to go to Boso Peninsula from Miura Peninsula, the sea got rough and so she jumped into the sea to calm the anger of the God of the sea,thus protecting Yamatotakerunomikoto.

At Chōzuya(a place for ritual,cleansing of hands and mouth with water when visiting shrines),miraculous water of Mount Fuji,known to well up after taking a long time,is available for take out.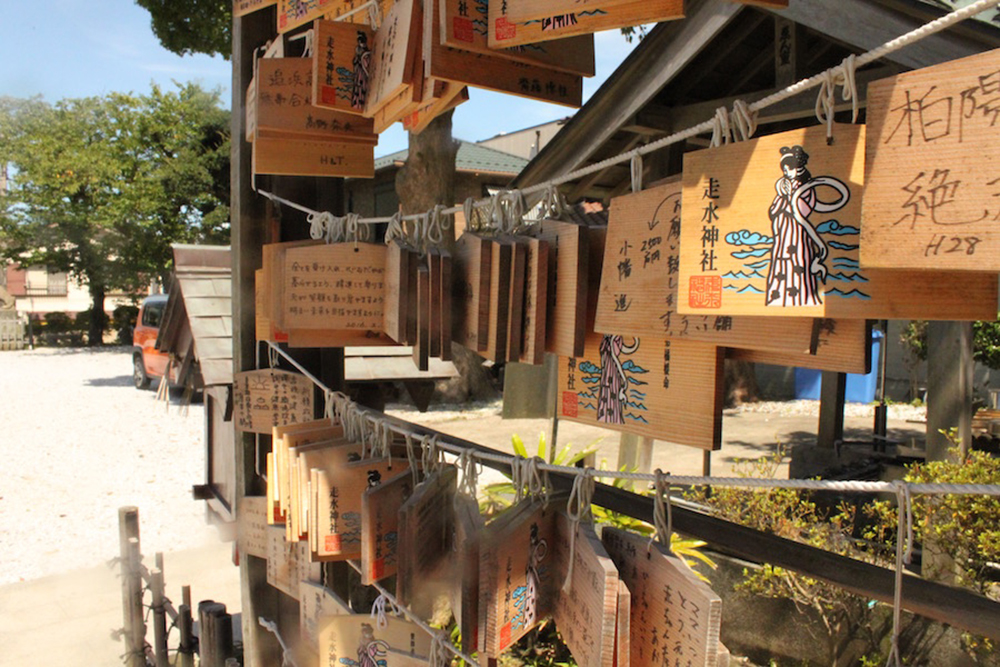 Might be a little scarry to risk one own's life to save your husband...
Address:2-12-5, Hashirimizu, Yokosuka-shi, Kanagawa, 239-0811, Japan
Shrine Office:9:00-15:00
http://www12.plala.or.jp/hasirimizujinjya/
Ferry of Uraga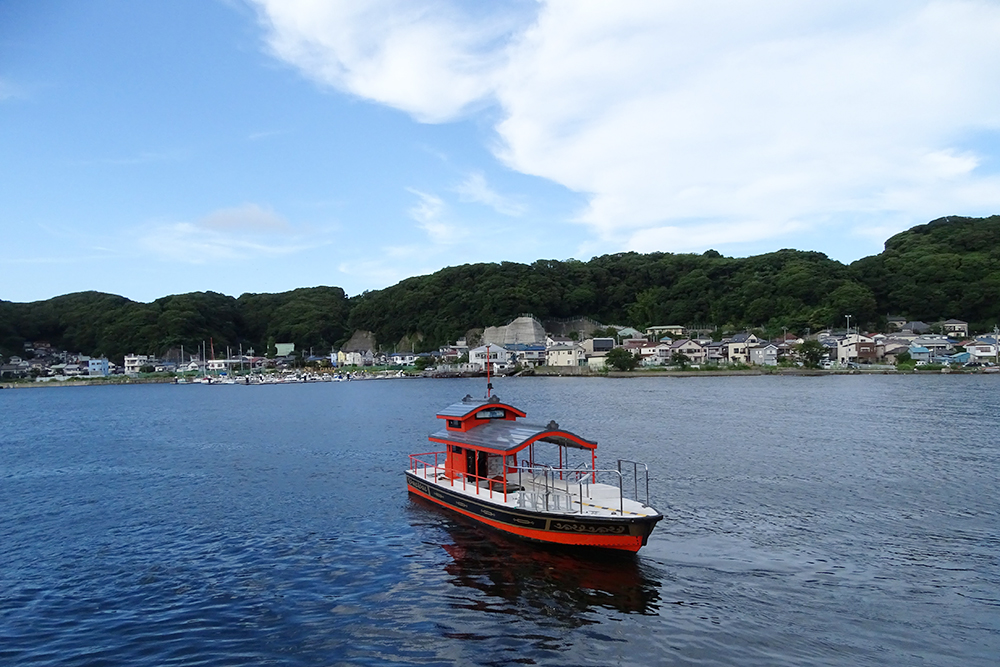 "Atago Maru"lovely in red color.
A 5 minute ride on bus from Keikyu Uraga Station,you arrive at the dock where you can ride the Ferry of Uraga,familiarly known by the nickname Ponpon Boat,has been a symbol of Uraga nearly 300 years. The gulf being aproximately 1.5 kilometers inward,the ferry is also an important means of transportation for the people. A sea route,rare nationwide was designated as a city road on water(Route2073) and has been named " Uragakaidou".

There is no time table,when the ferry is on the opposite shore, push the calling button and Atagomaru,dressed up in red like a boat reserved for nobles will arrive immediately. The total boarding time being about 3 minutes and short but when it is not in a hurry,the captain will stop the ferry for awhile. The crane and dock built on Uragazousenjyouatochi can be observed from the sea.

"Kanou Shrine" standing on the East and West side with Uragakaidou in between, is a power spot in which wishes come true when worshiped.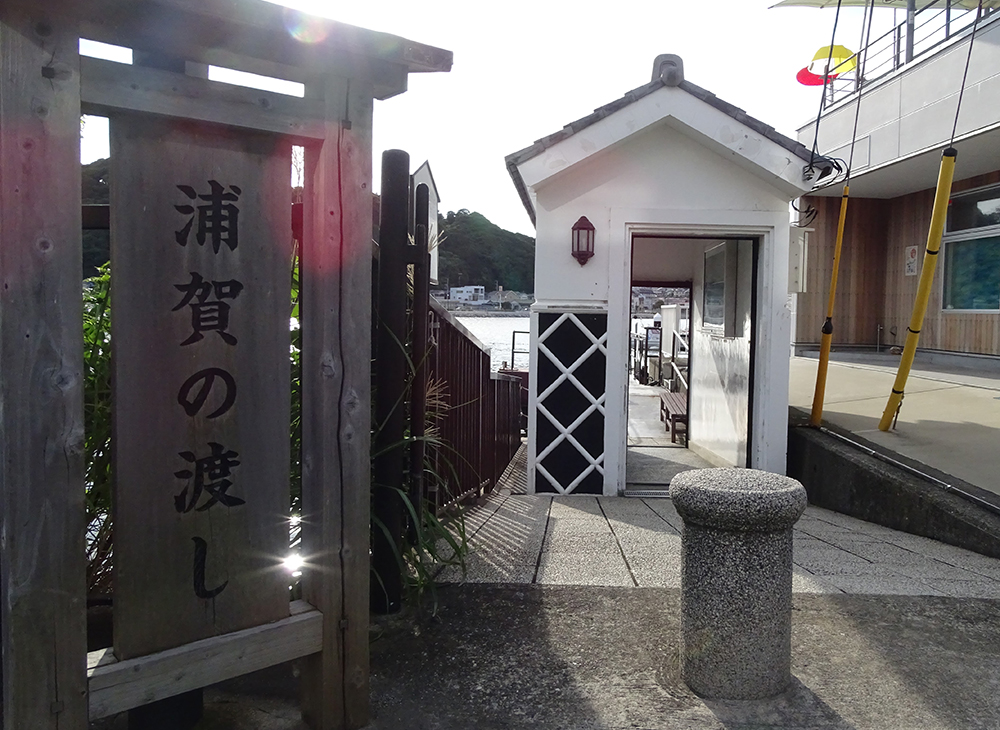 There is also an art gallery beside the East Ferry dock.
Address:Higashi Tosenba(Saki, 2-22, Higashiuraga, Yokosuka-shi, Kanagawa, 239-0824, Japan)、Nishi Tosenba(Saki, 1-1, Nishiuraga, Yokosuka-shi, Kanagawa, 239-0824, Japan)
Entrance Fee:Adult 200¥, Elementary school/Junior High School 100¥, Other(bycicle etc.) 50¥
Opening Hours:7:00-until about18:00 ※Lunch Break 12:00-13:00
Closed:December 31~January 3, during stormy weather
For queries on service status:Miura Souken Co., Ltd. 046-841-9881
https://www.city.yokosuka.kanagawa.jp/5610/tosen-main.html
Mikasa Kouen (Mikasa Park)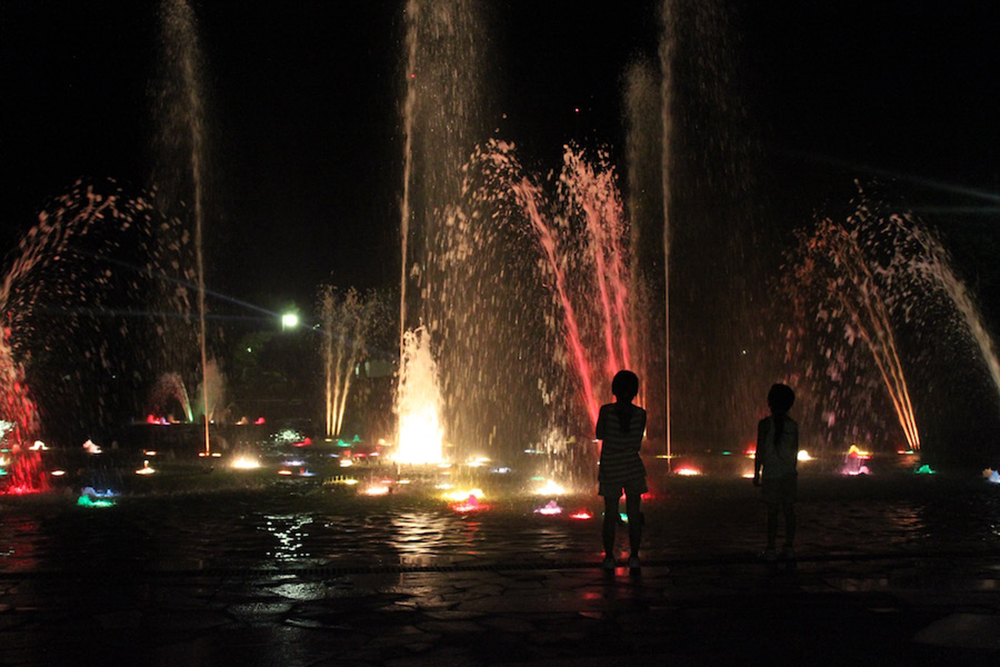 You will get quite wet if you get close.
One of the world's top three memorial warship "Mikasa" which partook an active part at the Russo‐Japanese War, is being conserved at the Mikasa Park. "Water Light & Sound" being its theme, there is a music fountain which could be enjoyed after sun down too. Children cheer excitingly as the colorful water dynamically dances along classic and pop music. The performance lasts a good full quarter of an hour. At the "Wall Fountain" in the back,a mural comes up to the surface out of the falling water.

Address:82 Inaoka-cho Yokosuka-shi Kanagawa-ken 238-0003 JAPAN
Opening Hours:8:00-21:00(April~October) 9:00-20:00(November~March)
http://www.kanagawaparks.com/verny-mikasa/mikasa/
Kadoyanobar (Kadoya's Bar)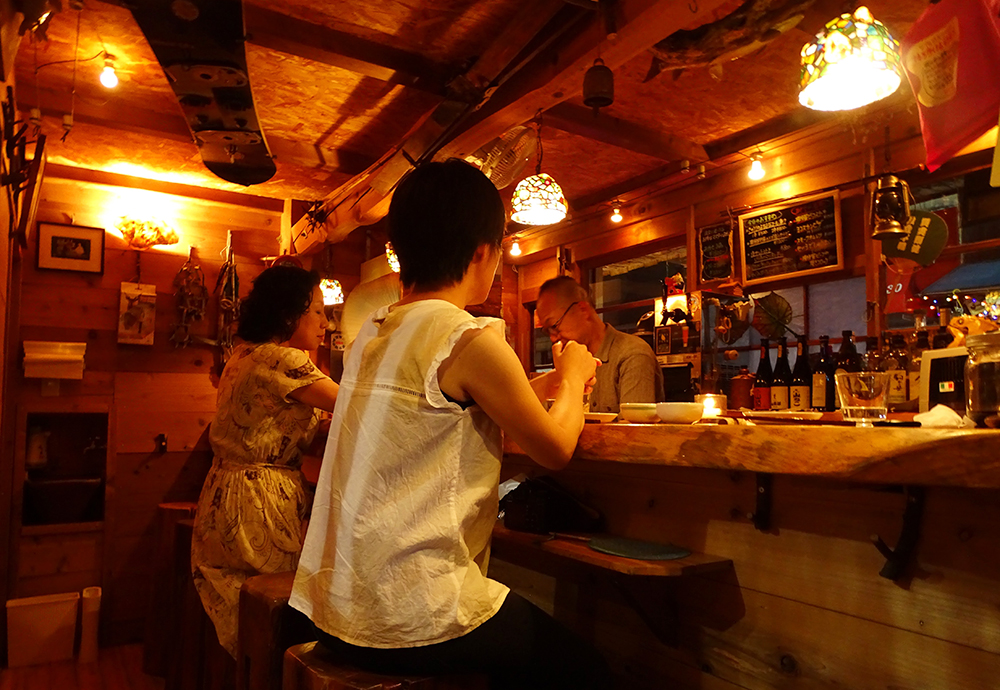 Cozy shop interior with only bar seats.
"Dobuzakashoutengai" an area that makes you feel like you are visiting America whilst being in Japan. Whilst passing through japanese souvenir jacket specialty stores and bars in which U.S. Armed Forces party people gather, Kadoyanobar installed paralell to an outdoor shop is a cozy bar with only 7 seats in which alcohol and appetizers are served in a mountain hut like atmosphere interior. Drink menu includes rare draft beers such as "Yonayona Ale"and "Dougo Beer", and has a line up of mainly domestic alcohol products. Food using local ingredients such as Yokosuka beef, Hashirimizu produced oyster and Yokosuka vegetables made by the shop master Shinji Nakaya,who was originally a regular customer of the shop,are menus he is proud of. You might have a nice chat with customers who love Yokosuka.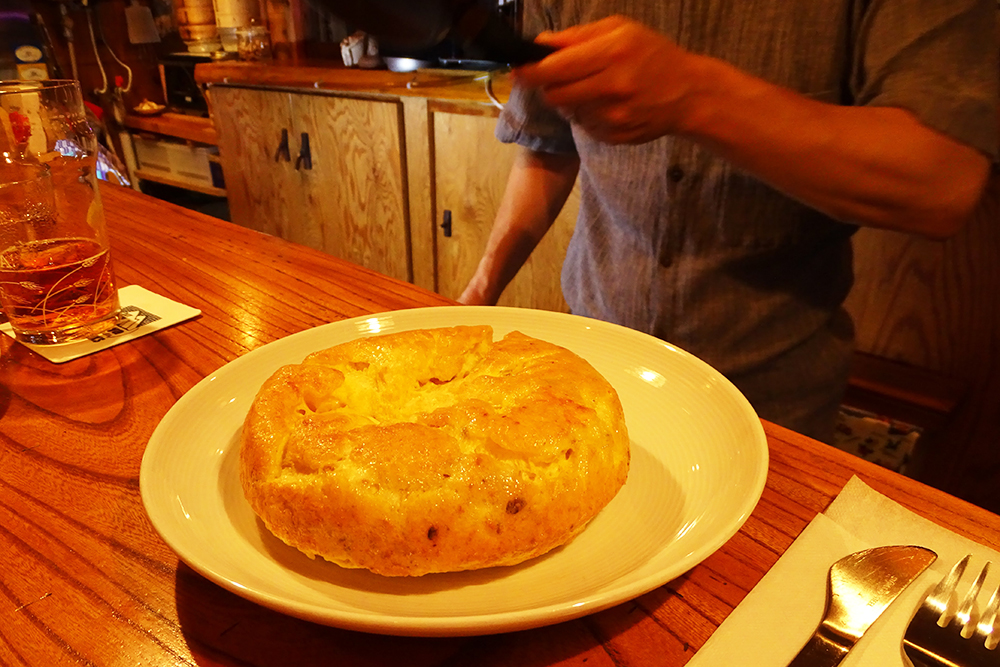 Smoked omelette made using 2 Yokosuka produced chicken eggs mixed with homemade smoked cheese with pistachio nuts.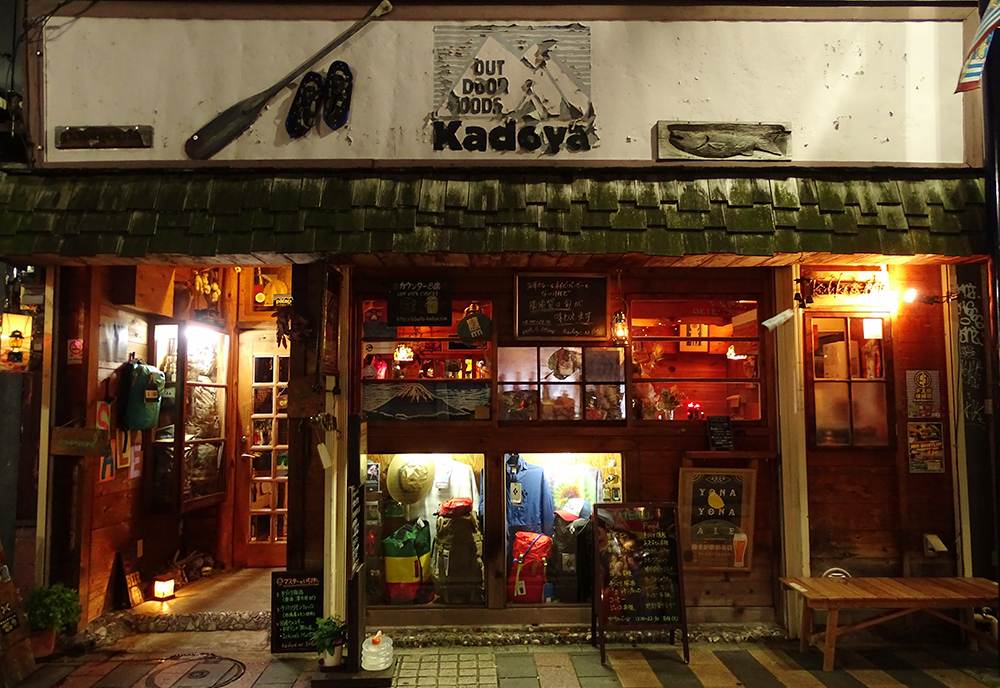 There are customers that open the small window outside the store and purchase draft beer for takeout on their way home from Shioiri station.
Opening Hours:Monday・Wednsday・Thursday・Sunday 12:00-22:30(L.O.22:00)
Friday・Saturday・day before national holiday 12:00-23:00(L.O.22:30)
Closed:Tuesday
TEL:046-827-8957
http://dobuita-kadoya.com/index.html