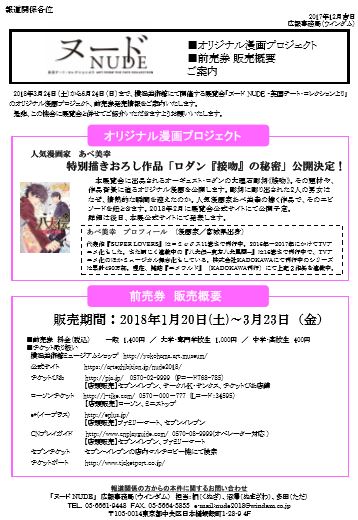 Art / Photography
"Nude NUDE - From the UK Tate Collection"
2018.03.24〜2018.06.24
横浜美術館(公益財団法人横浜市芸術文化振興財団)、読売新聞社は「ヌード NUDE ―英国テート・ コレクションより」を 2018 年 3 月 24 日(土)から 6 月 24 日(日)にかけて横浜美術館で開催します。
■開催趣旨
ヌード――人間にとって最も身近といえるこのテーマに、西洋の芸術家たちは絶えず向き合い、挑み続けてき ました。美の象徴として、愛の表現として、また内面を映しだす表象として、ヌードはいつの時代においても永 遠のテーマとしてあり続け、ときに批判や論争の対象にもなりました。
本展は、世界屈指の西洋近現代美術コレクションを誇る英国テートの所蔵作品により、19 世紀後半のヴィクト リア朝の神話画から現代の身体表現まで、西洋美術の 200 年にわたる裸体表現の歴史を紐ときます。フレデリッ ク・ロード・レイトンが神話を題材として描いた理想化された裸体から、ボナールらの室内の親密なヌード、男 女の愛を永遠にとどめたロダンの大理石彫刻《接吻》[日本初公開]やシュルレアリスムの裸体表現、人間の真実 に肉迫するフランシス・ベーコン、さらにはバークレー・L・ヘンドリックスやシンディ・シャーマンなど、現 代における身体の解釈をとおして、ヌードをめぐる表現がいかに時代とともに変化し、また芸術表現としてどの ような意味をもちうるのか、絵画、彫刻、版画、写真など約 130 点でたどります。
2016 年のオーストラリアを皮切りにニュージーランド、韓国へと国際巡回する本展。待望の日本上陸です。
■本展のみどころ
【話題の英国テートより、珠玉のコレクションが一挙来日!】
昨年の新館オープンで話題の英国国立美術館、テート。1897 年の開館以来、世界屈指の近現代美術コレクショ ンと先進的な活動で、常に美術界をリードしてきました。本展では、テート・コレクションの至高の作品群より、 ターナーやヘンリー・ムーア、フランシス・ベーコンなど英国を代表する芸術家をはじめ、マティスやピカソな ど、西洋美術における 19 世紀から現代に至る「ヌード」の傑作が集結します。
【ロダンの大理石彫刻《接吻》が日本初公開!】
ロダンの代表作であり、男女の愛を永遠にとどめた《接吻》. The pure appearance of two passionate and attracted people is wrapped in a sweet shine. "Romance is the flower of life" * 1, For Rodin who talks like this, loving is it to live, it can be said that it was the origin of production. It is a "Kiss" widely known as a bronze statue, but only three bodies of powerful marble produced in the scale of about 180 cm in height are in the world. One of them is finally open to the public in Japan. * 1 Source: Translation by Mitsutaro Takamura, Hiromasa Takada, Kazuo Kikuchi edited "Rodin's Wordshopper" (Iwanami Shoten, 1964) p.34
【The topic international tour will finally come to Yokohama!】
An exhibition that is a sensational theme and a high-quality work, which is reading a big topic around the world, finally landed in Yokohama. After visiting Sydney, Auckland and Seoul, this exhibition, which will be a venue in Japan, includes works of several works such as oil paintings by Francis Beckon (collection of the National Museum of Modern Art, Toyama Prefectural Museum of Art) and photograph collection of the Yokohama Museum of Art Additional exhibition. We will deliver in a fulfilling lineup.
"Miyuki Abe Miyuki Original Project" was released on this exhibition official website.
Official website: http://clk.nxlk.jp/DuUglZxV
■ "Miyuki Abe · Original Cartoon Project"
Special drawn works "The secret of Rodin" Kiss "Finally released!
Marble sculpture "Kiss" of Auguste Rodin which is exhibited at this exhibition.
The subject and the original manga close to the work background were released.
Why did the two men and women engraved in sculpture have a passionate moment?
A popular cartoonist Miyuki Abe paintings, I will string that episode.
The secret of cartoon Rodin "Kiss": http://clk.nxlk.jp/mrYTqm0L
Area

Yokohama Bay Area (Naka-ku and Nishi Ward)

Start Day

2018-03-24

End Day

2018-06-24

Hour

10: 00 ~ 18: 00 (Admission is until 17:30)

Place

Yokohama Museum of Art

Address

3-4-1 Minato Mirai, Nishi-ku Yokohama-shi, Kanagawa Prefecture 220-0012

Close Day

Thursday, May 7th (Monday) However May 3 (Thursday, congratulation) is open

Ticket type / Fee

General ¥ 1,600 (1,400 / 1,500) / University / vocational school student ¥ 1,200 (1,000 / 1,100) / junior high / high school student ¥ 600 (400/500) ※ Elementary school student or less free ※ above age 65 ¥ 1,500 (required certificate, museum ticket sale (Only available at the place.) ※ In parentheses, advance sales and group fee of over 20 paid groups (only available at the venue, advance booking required TEL: 045-221-0300) * Person who has a handicapped Person and who needs nursing care 1 person) free * View only "Yokohama Museum Collection Exhibition" with viewing tickets of this exhibition only on the day of viewing

Ticket Info

"Miyuki Abe Miyuki Original Project" and "Advance Ticket Sales Overview" will be announced. ■ "Miyuki Abe Momoko Original Project" Special Drawing Work "The Secret of Rodin" Kiss "is Opened! Marble sculpture "Kiss" of Auguste Rodin which is exhibited at this exhibition. We publish the subject and the original manga that approaches the work background. Why did the two men and women engraved in sculpture have a passionate moment? A popular cartoonist Miyuki Abe paintings, I will string that episode. It will be released on the exhibition official website in February 2018. Details will be announced at the exhibition official website at a later date.

URL

Sponsor

Organizer: Yokohama Museum of Art, Yomiuri Newspaper Company, After Tate: British Council, J-Wave