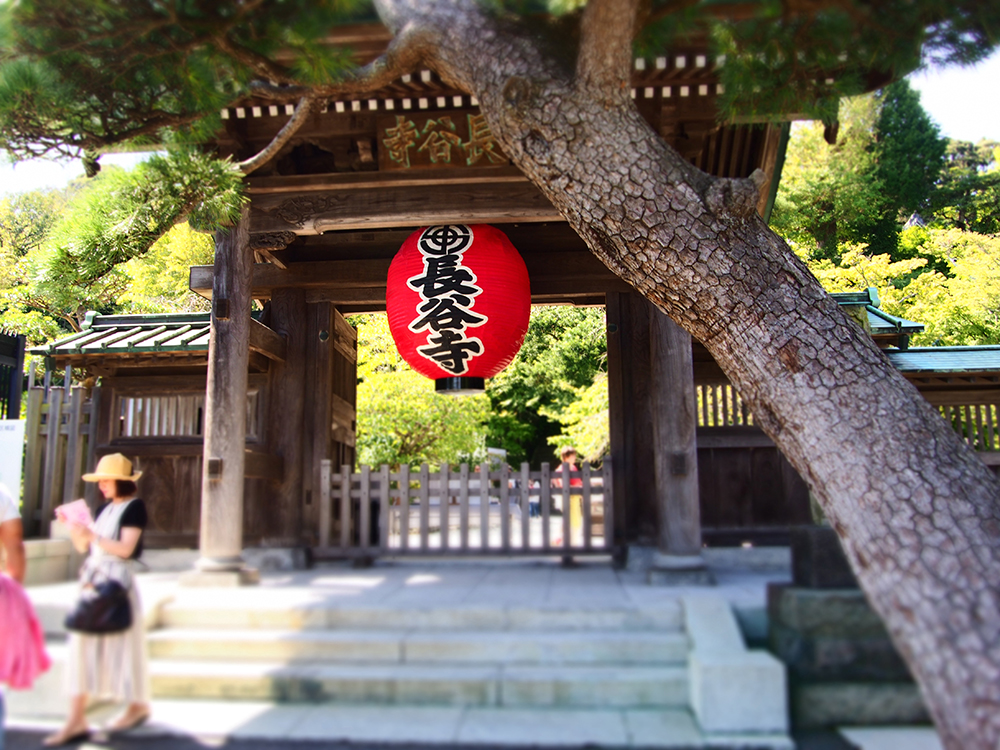 Hasedera, which has been known as "Hase Kannon" since ancient times, is officially called "Kaikozan Jishoin Hase-dera". It is said to have been founded in the 8th year of Tenpei (736) during the Nara period, and is one of the oldest temples in Kamakura, which was designated as a shrine under the reign of Emperor Shomu. The principal image is the eleven-faced Kanzeon Bosatsu statue. This mountain, which is one of the largest wooden Buddha statues in Japan (9.18m in height) and is the fourth of the Bando Sanjusansho Kannon Sacred Grounds, has made its lanterns a symbol of the Kannon Sacred Grounds that represent the eastern country. I'm telling you.
The precincts that stretch from the foot of Mt. Kannon, which is deep in green, to the middle of the mountain are called "Kamakura's Western Paradise Jodo," where flowers never cease throughout the four seasons, and the colors of the flowers and trees soothe the hearts of visitors. In addition to the various temples, there is a viewing platform overlooking the sea and cityscape of Kamakura, and when you go up the footpath, you can see the view of Sagami Bay and the atmosphere of 2,500 hydrangeas of 40 types that shine in the rainy season, which is one of the most scenic spots in Kamakura. It is touted as.
Address

3-11-2 Hase, Kamakura City, Kanagawa Prefecture

TEL

0467-22-6300

Business Hour

[Opening time] << Summer time March-September >> 8:00 to 17:00 (Mine closing 17:30) / << Winter time October-February >> 8:00 to 16:30 (Mine closing 17:00)

Parking Area

Yes (30 ordinary cars <30 minutes ¥ 350> / 4 buses / medium-sized cars or more <30 minutes ¥ 1,000>) * Business hours << March-September >> 8: 00-17: 00 / << October-February >> 8:00 to 16:30 * Reservations and parking lots are not available.

Pet

Not allowed * Pets are not allowed to enter the mountain, but if you are unavoidably accompanied, please put it in a carry case (cage), carry bag, or pet cart and give due consideration to other visitors. Do not open the lid or zipper in the precincts with the whole body fully inserted. Even in that case, you cannot enter the temples and precincts. Assistance dogs (guide dogs, service dogs, hearing dogs) can be accompanied by all mountains. Depending on the size and type of pet, we may not be allowed to accompany you.
Map