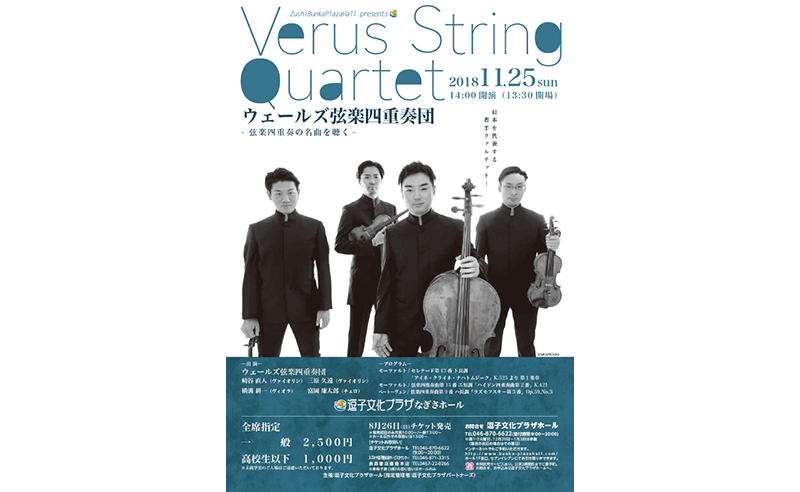 musics
11/25 (Sunday) Get 3 tickets for the Welsh String Quartet for 6 people !!
Young quartet, representative of Japan – Proficient players who won the first prize in 38 years since Tokyo Quartet as a Japanese at the 2008 Munich International Music Competition. Show off the masterpieces of the string quartet which the great composer left. Excellent sound full of transparency, expectations are expected for the performance of an up-and-coming string quartet playing a new era.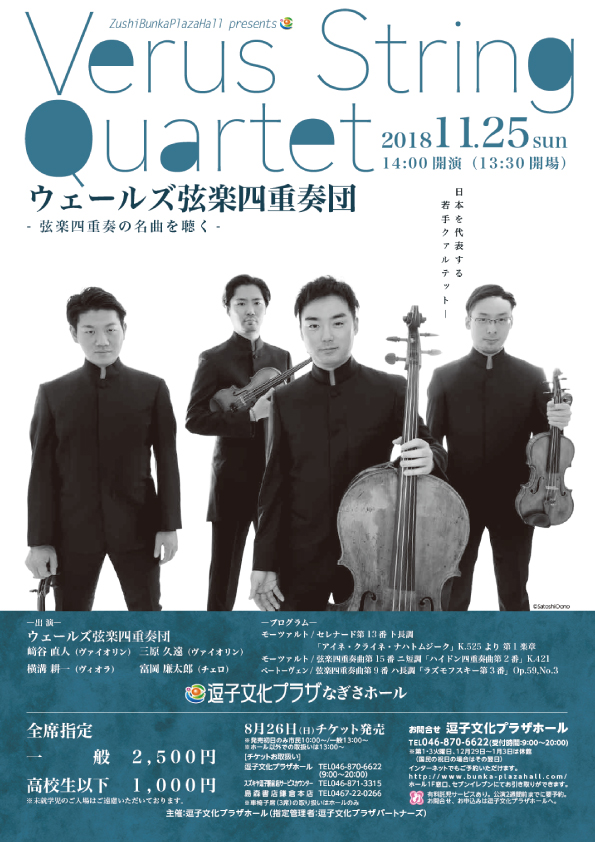 Wales String Quartet
– Listen to famous pieces of string quartet –
[Date and time] November 25 (Sun) 14: 00 ~ (13: 30 opening)
[Venue] Zushi Cultural Plaza Hall Nagisa Hall
[Cast] Wales String Quartet Naoto Sakiya (Violin), Kunisaku Mihara (Violin), Koichi Yokomizo (Viola), Rentaro Tomioka (Cello)
[Tune] Mozart: Serenade No. 13 major, Aene Kleene Nacht Musique K.525 first movement, Mozart: string quartet No. 15 D minor "Haydn Quartet No. 2" K.421, Beethoven: String Quartet No. 9 in C major, "Razumovsky No. 3" Op. 59, No. 3
* Programs are subject to change. Please note.
[Fare] (All seats specified) General ¥ 2,500, High School student ¥ 1,000
[Ticket sales]
■ Zushi Culture Plaza Hall 1F Contact (visit) 9: 00 ~ 20: 00 /
Telephone reservation TEL.046 – 870 – 6622 (9: 00 – 20: 00) /
Click here for WEB reservationFrom!
[TEL] 046 – 870 – 6622 (Zushi Culture Plaza Hall)
***********************************
【Outline of application】
From Wednesday, November 25 (Sun) at 14:00, Zelko Culture Plaza Hall Nagisa Hall will hold the Welsh String Quartet – listen to the famous string quartet of string quartet – for 3 pairs for 6 people.
【Application method】
If you would like to have a presentation ticket gift, please respond to the questionnaire from the application form below and apply. We are waiting for your entries.
【Application deadline】
Wednesday, November 14 (Wednesday) until 24:00
【Lottery · Winning Announcement】
We will notify the winner by e-mail, so please note spam settings etc. Mail will be informed from the Magcart · Dot · Net Management Office (info.magcul@gmail.com).
We will replace the winning announcement with winning contact with the above e-mail. On the performance day, please present election notice e-mail at "Zushi Cultural Plaza Hall Nagisa Hall" window at the venue. We will give you a ticket from the staff.
* We do not use personal information we have at all for purposes other than lottery.